POPSUGAR Photography | Hajar Larbah
Out of all the amazing, comforting, nourishing healthy soups out there, chicken noodle soup is a classic that's hard to beat. But it can be improved on, and that's the case with this Instant Pot chicken noodle soup recipe. Light yet filling, flavorful, and quick to pull together, it's basically soup heaven.
The five key ingredients for any chicken noodle soup are chicken, egg noodles, chicken broth, carrots, and celery. Equally as important are fresh herbs and spices, which are what take chicken noodle soup from zero to 100. And they're especially important when you're cooking chicken soup in an Instant Pot. Since Instant Pot chicken noodle soup cooks for less time, the flavors also have less time to marry — but the combination of oregano, thyme, and parsley in this harmonious dish pack a flavorful punch that delivers all the nostalgic goodness of a chicken noodle soup that's been simmered on a stove top for hours.
When we say it's quick to pull together, by the way, we mean quick. After you've done your shopping and chopping, this Instant Pot chicken noodle soup will be done in less than 15 minutes. Convinced? Swipe through for step-by-step instructions on how to make this easy Instant Pot chicken noodle soup recipe.
Instant Pot Chicken Noodle Soup Ingredients
Here's everything you will need.
2 tablespoons butter
2 tablespoons olive oil
1 heart of celery, chopped
3 large carrots, chopped
3 cloves garlic, minced
1 small onion, diced
2 tablespoons flour
10 ounces wide egg noodles
3 large chicken thighs (bone in and skin on)
5 cups low-sodium chicken broth
3 cups water
1 tablespoon fresh thyme
1 tablespoon fresh parsley, chopped
1/4 teaspoon dill
1 teaspoon oregano
1/2 teaspoon paprika
1/4 teaspoon turmeric
1/2 teaspoon black pepper
Salt, to taste
1 lemon, juiced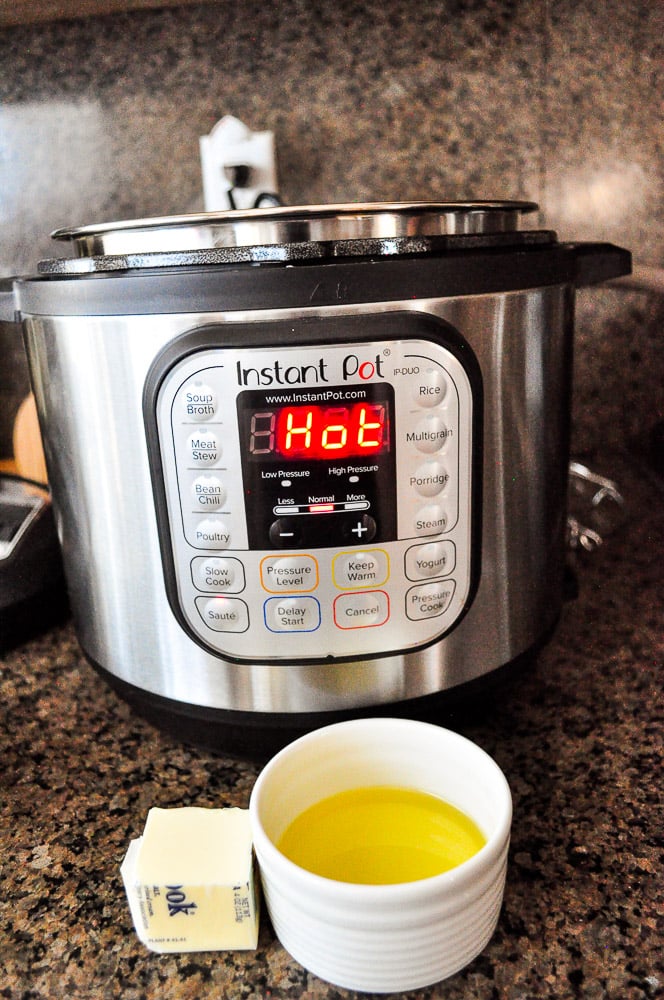 How to Make Instant Pot Chicken Noodle Soup
To start, plug in the Instant Pot and turn it on. Set it to Sauté. Then, add the butter, olive oil, celery, carrots, garlic, onion, and flour. Mix all together, season with a pinch of salt, and sauté for four to five minutes.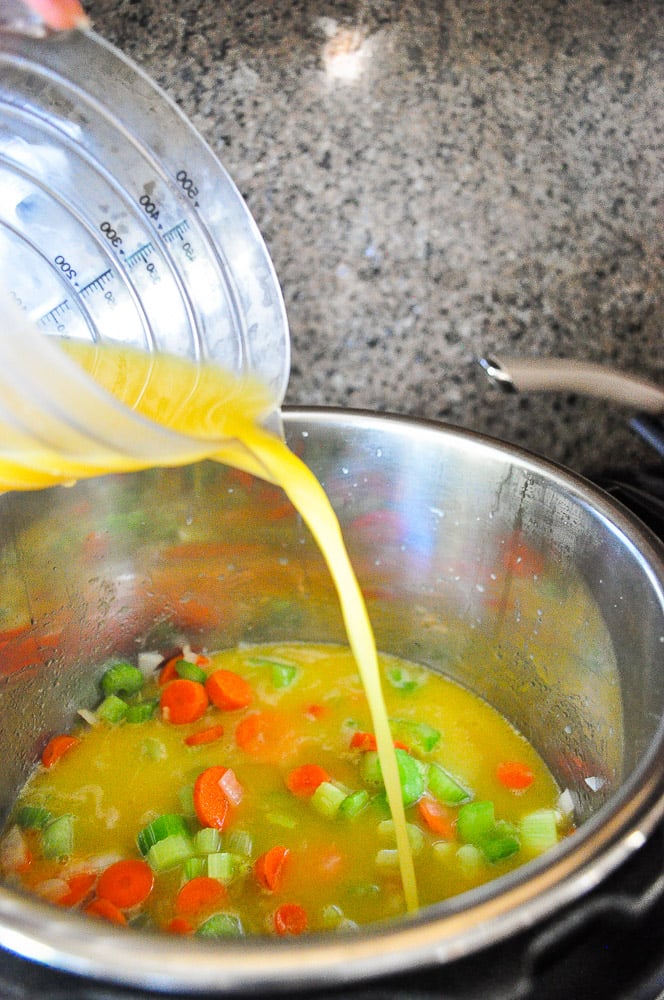 Add the Rest of the Instant Pot Chicken Noodle Soup Ingredients
Add the egg noodles, chicken thighs, chicken broth, water, all the herbs and spices, and lemon juice.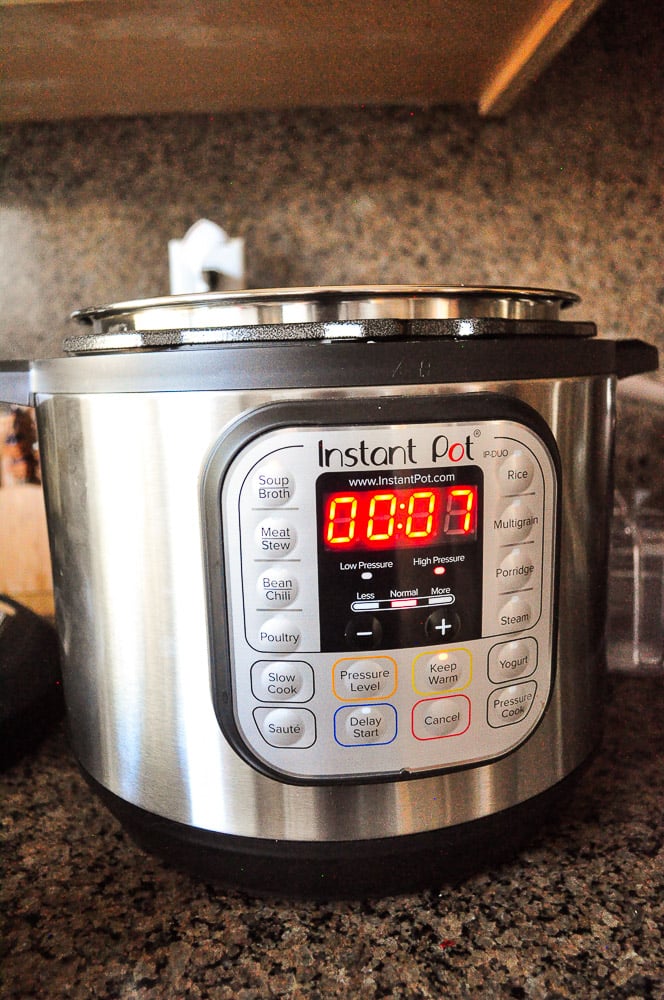 Cover the Instant Pot and Cook!
Change the setting from Sauté to Soup and set the timer to seven minutes. Cover and close the lid.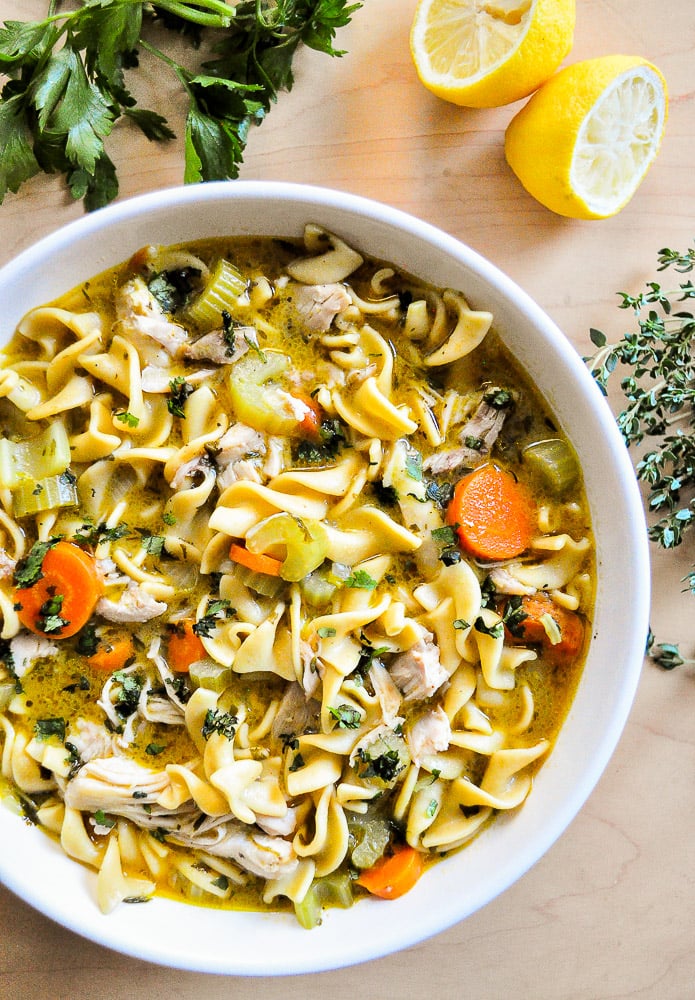 Serve the Instant Pot Chicken Noodle Soup — and Enjoy!
Once the timer goes off, allow the Instant Pot to ventilate for a few minutes until completely depressurized. Remove the lid and take out the chicken thighs.
Use a fork to shred the chicken. Return the chicken into the soup and give it a stir. Use a ladle to serve the soup in a bowl.
We love this hearty and protein-filled Instant Pot chicken noodle soup on its own, but it's also great with a slice of crusty bread, a few crackers crumbled into it, or a dash of hot sauce mixed in.