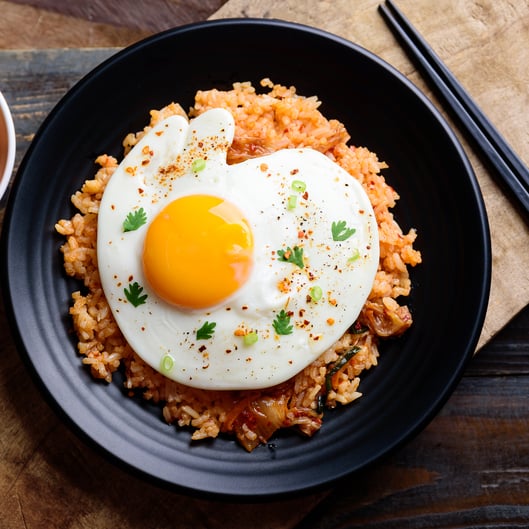 Known to some as the "Bento Box Queen," Jessica Woo's TikTok is filled with mouthwatering recipes that are easy to make, kid-friendly, delicious, and so pretty. Woo originally went viral on TikTok after people saw the adorable school lunches she made for her children every day, but after a quick look on her page, it's apparent that she also has other great recipes sans a bento box (although we also kinda want to try all of those school lunches!). Complete with everything from Britney Spears's favorite summer sandwich (it has chicken and turkey in it) to TikTok's famous pesto eggs to traditional Korean dishes, Woo's recipes are full of flavor and ideal if you want to shake things up in the kitchen. Get inspiration from Woo ahead, and make TikTok your new favorite cookbook!
01
Fresh Kimchi Salad Recipe
Craving a delicious salad? We are, too! With rich flavors and fresh cabbage, this dish is the perfect side to any meal.
02
Pesto Eggs Recipe
Pesto eggs went viral for a reason: they're so. damn. good. This recipe will leave you with a thick pesto sauce, perfectly cooked eggs, and the breakfast of your dreams.
03
Britney Spears's Favorite Summer Sandwich Recipe
Turkey and chicken are a power duo when it comes to this iconic sandwich. Complete with goat cheese and fresh produce, we now want every one of Britney Spears's recipes!
04
Korean Egg Omelet Recipe
OK, how cute is this Korean egg omelet? Complete with little edible "flowers," this meal is sure to make any morning better.
05
Bulgogi Recipe
Fresh apples and pears work together to make this recipe stand out. With a rich marinade and hearty meat, there's nothing about this dish that you won't love.
06
Mango Pineapple Salsa Recipe
OK, if you're looking for a fresh, light, and absolutely drool-worthy salsa recipe, we've got just the thing for you! With mango, tomatoes, pineapples, onions, and jalapeños, this salsa is full of flavor.
07
Rice-Cake Soup Recipe
This traditional rice-cake soup recipe will give you all the best flavors of Korea in one dish. This is usually made for New Year's, but you can enjoy it any time you please.
08
Hawaiian-Style Mac Salad Recipe
Hearty, flavorful, and super easy to make, this Hawaiian-style macaroni salad is a summertime staple. It's filling enough to eat on its own, so don't worry about pairing it with any sides.
09
Croissant Waffles Recipe
Take your breakfast to the next level when you cook up cinnamon-sugar "croffles"! They're sweet, delicious, and almost too easy to make. Top them off with your favorite fruit, and you're ready to dig in.
10
Bloomin' Onion Recipe
Oh, yes! This bloomin' onion recipe is a treat for your taste buds. Pair it with wings, chicken tenders, or a hearty salad for best results.
11
Kimchi Spam Fried Rice Recipe
Tell us, is there anything better than butter and kimchi? This recipe is easy to whip up, and wow, are the flavors divine.
12
Frozen-Banana Snickers Recipe
Healthy, easy, and absolutely delicious, these "Snickers" are a perfect afternoon snack. You can use any nut butter you like, and we suggest adding extra dark-chocolate drizzle for best results.
13
Tacos al Pastor Recipe
Make Taco Tuesday a daily event when you have this fun recipe to whip up. With a zesty marinade and hearty meat, these tacos will become your new go-to meal.
14
Tomato Soup Recipe
Want to make fresh tomato soup to pair with your grilled cheese? This is the recipe for you! It's full of flavor, healthy, and rich, and it'll make that canned option one of the past. Enjoy!
15
Boozy Shamrock Shake Recipe
When vanilla ice cream is involved, you know you can't go wrong. With mint-flavored Oreos and Baileys, you'll be tempted to enjoy this shake with every meal.