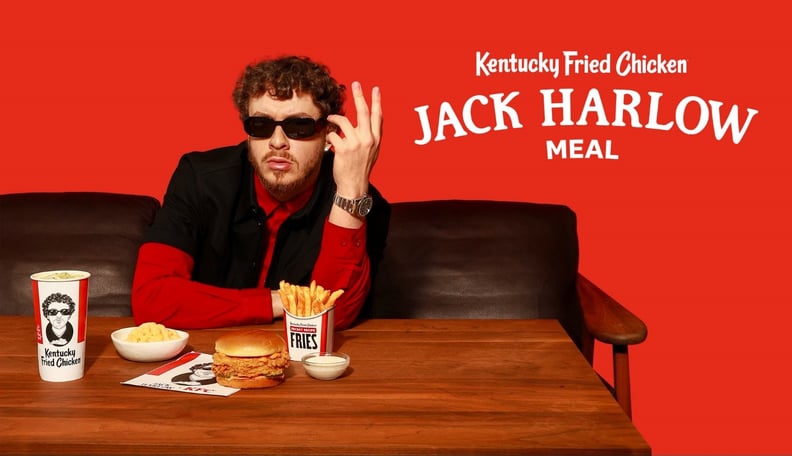 KFC
KFC
Two of Kentucky's finest exports are teaming up for — what else? — a delicious-looking fried-chicken meal. That's right: Jack Harlow is dropping his very own Kentucky Fried Chicken combo meal at the popular fast-food chain, complete with limited-edition packaging (featuring Harlow's face on the side of the drink cup, of course) and a small KFC-themed poster of the rapper. The meal will be available starting June 6 nationwide.
"When KFC asked me to create my own meal, I knew it couldn't be just any meal," Harlow said in a KFC press release announcing the collab. He spent time at KFC headquarters in Louisville, KY, sampling the chain's entire menu (yes, I'm jealous) before he made his selections, and he says the meal combines his "childhood favorites" with a new go-to sandwich. So, let's get to the (finger-lickin') good stuff. (I promise that's the last time I'll use that line.) Here's what you'll be dining on if you order the Jack Harlow Meal from KFC:
KFC Spicy Chicken Sandwich
Mac & Cheese
Secret Recipe Fries
Side of Ranch
Lemonade
Harlow and KFC will also be dropping a line of cobranded merch available until supplies last.
Harlow announced the collaboration on Instagram and posted the new commercial advertising it, writing that he'd "always dreamed of being the biggest artist to come from Kentucky. Now I'm teaming up with @KFC, the biggest brand to come out of Kentucky. For the next year, we're gonna do some big things together." He's not just talking about the meal collab: in the same post, Harlow announced that he and KFC "will be donating $250k to the @americanredcross in support of relief efforts" following the deadly Kentucky tornadoes in December 2021.
If you're a Harlow and/or KFC fan, keep an eye out — this powerhouse partnership is set to last a full year, so we'll see what else gets cooked up out in Kentucky.