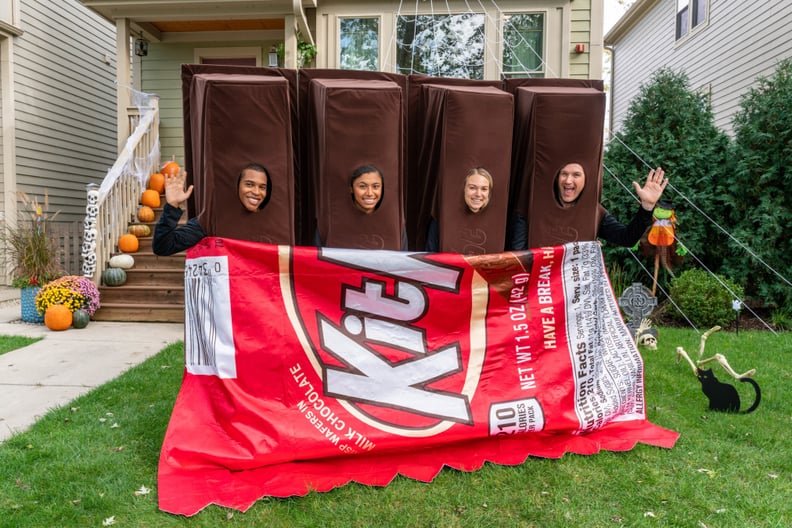 Hershey Company
No amount of full-size candy bars can compete with Hershey's newest invention: a seven-foot-tall Kit Kat bar. The only catch? It isn't edible. Made specifically for Halloween, the massive treat is actually a four-person group costume that breaks apart like a real chocolate bar, and Timothée Chalamet's Willy Wonka needs to get on making an edible version ASAP.
Complete with four wafer candy costumes and a magnetic wrapper, the sweet outfit can be worn together or apart, but we highly recommend sticking with the group and including a fifth friend dressed up as Mr. Wonka for a hilarious photo op. A one-of-a-kind creation, the giant Kit Kat costume isn't available at Spirit Halloween or any of our regular costume haunts. Instead, Hershey's is holding a sweepstakes open to residents 18 years or older of the 50 US states and the District of Columbia through Oct. 27 at 11:59:59 p.m. ET.
To enter, all you have to do is track down Kit Kat's Facebook and Instagram posts about the contest and comment by tagging three friends and including #KitKatSweepstakes. The winner will be selected a day or two after the campaign and be notified within 24 hours of being chosen. We can't all break off a piece of this Kit Kat bar, but we can sneak a peek at the costume with (and without) the wrapper here.