A Hash Brown McMuffin? McDonald's Introduces Fan-Inspired Menu Items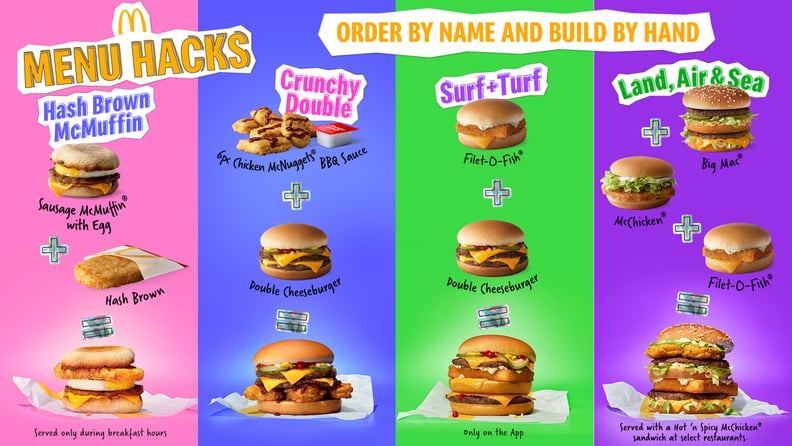 McDonald's
McDonald's
Did someone say Hash Brown McMuffin? McDonald's has decided to take a page from its customers' playbooks with its latest menu additions. With so many popular McDonald's hacks eating up the internet (primarily on TikTok), more and more people are swinging through the McDonald's golden arches to order menu items with a unique twist. Whether it be hash browns on McChickens or chicken nuggets layered into a Sausage McMuffin, there's no limit to the mashups people can (and continue to) create. Thankfully, McDonald's is recognizing its customers' unique menu requests by adding four fan-favorite orders to its menu, courtesy of the self-proclaimed "menu-hack masters." And each new item sounds strangely good.
Starting Monday, Jan. 31, you can visit your local participating McDonald's and order three creations: a Hash Brown McMuffin, the Crunchy Double, and the Land, Air & Sea. The fourth creation, the Surf and Turf, is only available to order through the McDonald's App and via McDelivery. Each new item has its own special selection of ingredients that will make your taste buds go wild. If you're liking the sound of this or have your own unusual McDonald's order, tag @McDonalds on social media with the hashtag #McDonaldsHacks to snag its attention. Read on to learn more about each new menu item — straight from the creators themselves.
The Hash Brown McMuffin
"I've been saying for years that the Hash Brown goes inside of the Sausage McMuffin with Egg . . . that extra little crispy bite is the real breakfast cheat code," Sarah Sandlin says.
The Crunchy Double
"It's simple, yet so tasty . . . Chicken McNuggets topped with a Double Cheeseburger, then drizzled with Tangy Barbeque Sauce. Order it now and thank me later," Greg Simms says.
The Land, Air & Sea
"A McChicken stacked on a Big Mac, stacked on a Filet-O-Fish . . . it's the flavor I never knew I needed until I needed it. Go big baby!" Julian Broadway says.
The Surf and Turf
"Sometimes I'm craving the flaky crunch of a Filet-O-Fish, sometimes I want the juiciness of a Double Cheeseburger, and sometimes I want both. So why choose?" PJ Mattingly says.