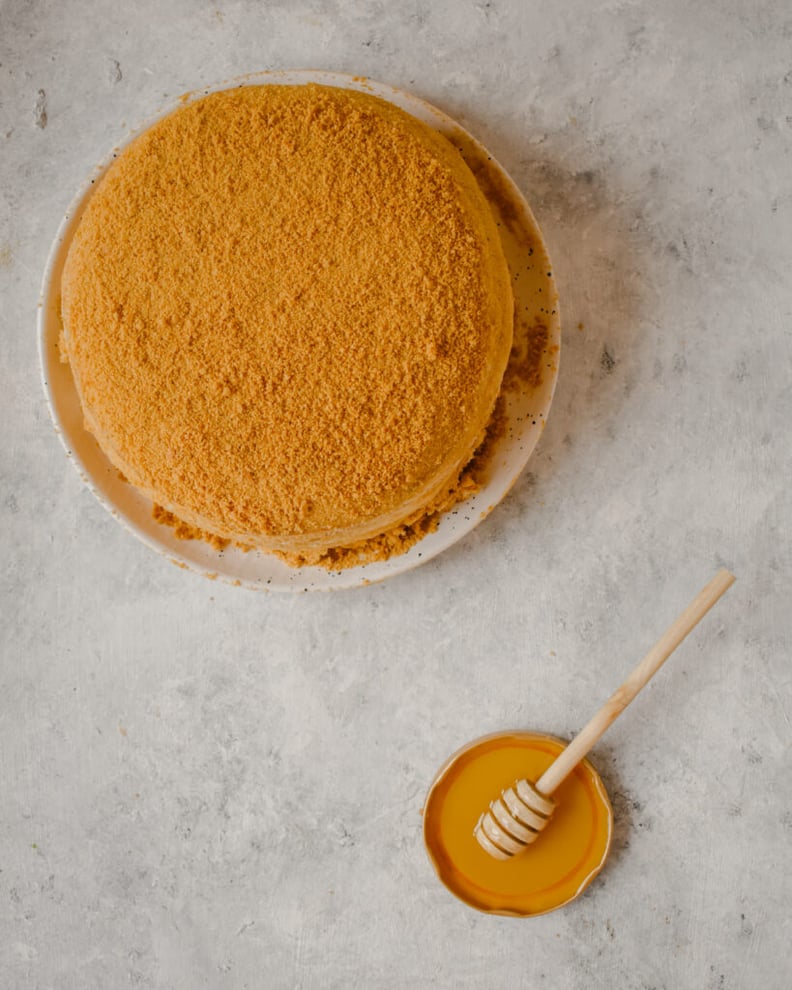 POPSUGAR Photography | Melanie Hamilton
POPSUGAR Photography | Melanie Hamilton
Medovik, or Russian honey cake, is like if a graham cracker and a cheesecake had a baby. The dessert has just the right amount of sweetness from the honey, and there's a delicious yet subtle tang from the sour cream. There are many different ways to make this cake, and not a single one of them is short or simple, but the end result is always completely worth it. And after many years of making this cake, I like to think I've cut down on the prep time without skimping on any of the flavor.
If you aren't familiar with Medovik, it all started in early 19th-century Russia with an ambitious confectioner and the future tsarina (empress) in St. Petersburg. Originally from Baden, Elizabeth Alexeievna was whisked off to Russia to wed future Tsar (emperor) Alexander I, and the sunshine yellow Winter Palace became her official residence. She had a real chip on her shoulder with anything to do with honey — the smell, taste, and sight of it drove her mad. Until one day, eager to impress, a new chef whipped up a layered cake made from honey and sour cream. Tsarina Elizabeth was a quick convert, and voila, Medovik was born.
Two or so centuries, some tsars, dictators, revolutions, and the rise and fall of the Soviet Union later, Medovik is still a huge hit. In fact, it not only survived the Soviet Union food shortages, but it thrived. Most of the ingredients required were regularly and widely available. Thanks to this, it's still a popular dessert in former USSR states such as Estonia, Latvia, Ukraine, Belarus, and my favorite, Georgia.
This cake features layers of smooth frosting and a crunchy finish made up of baked cake scraps, so you're definitely not wasting any ingredients. Keep reading for the full recipe and step-by-step photos on how to make it.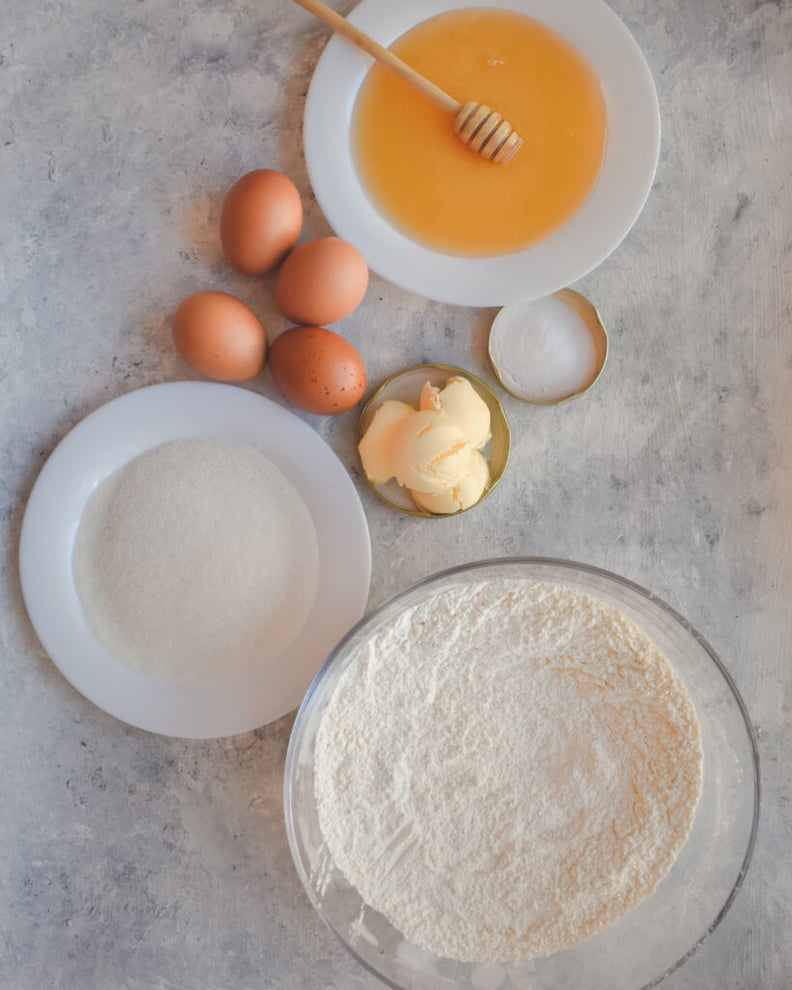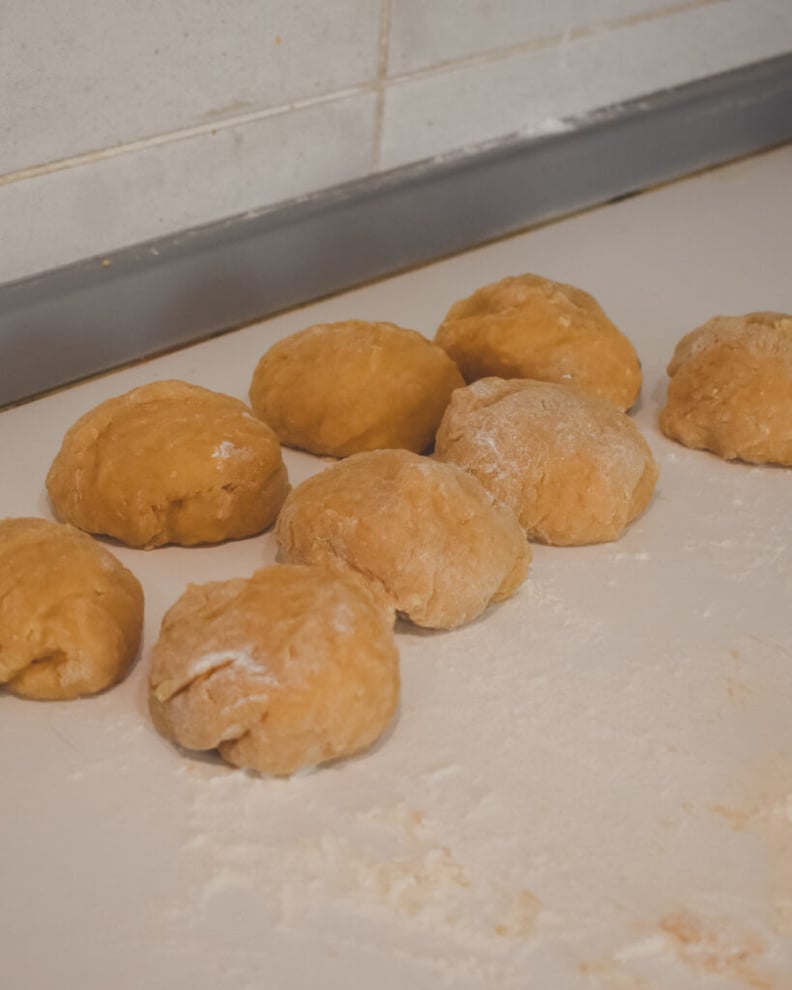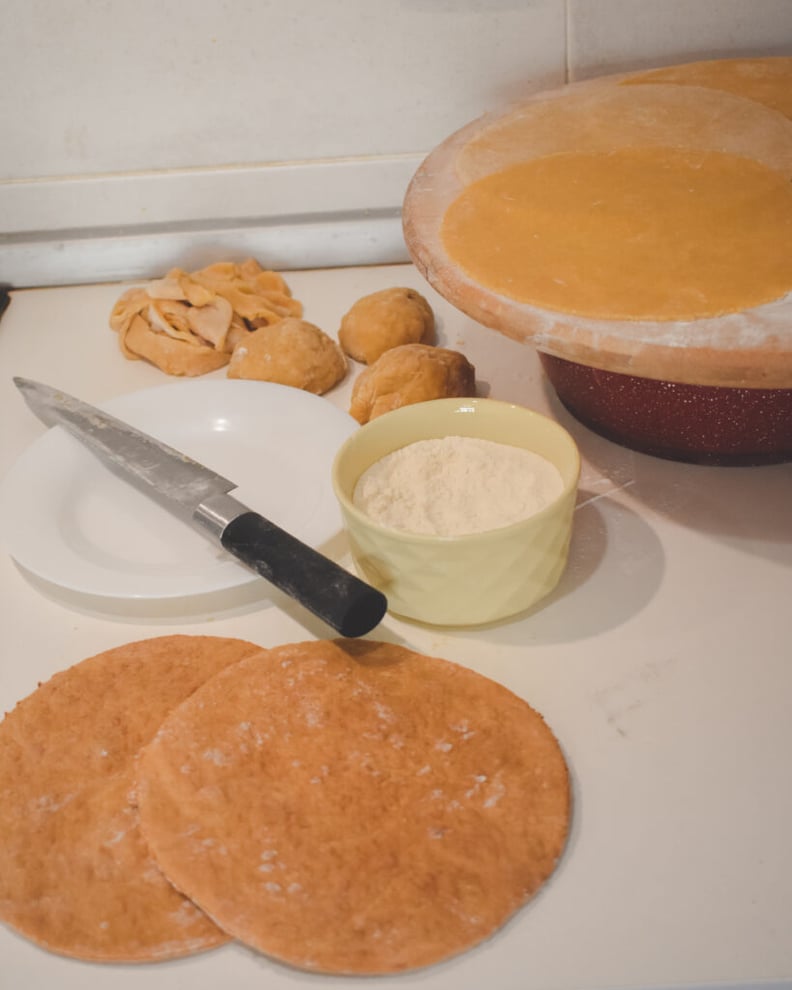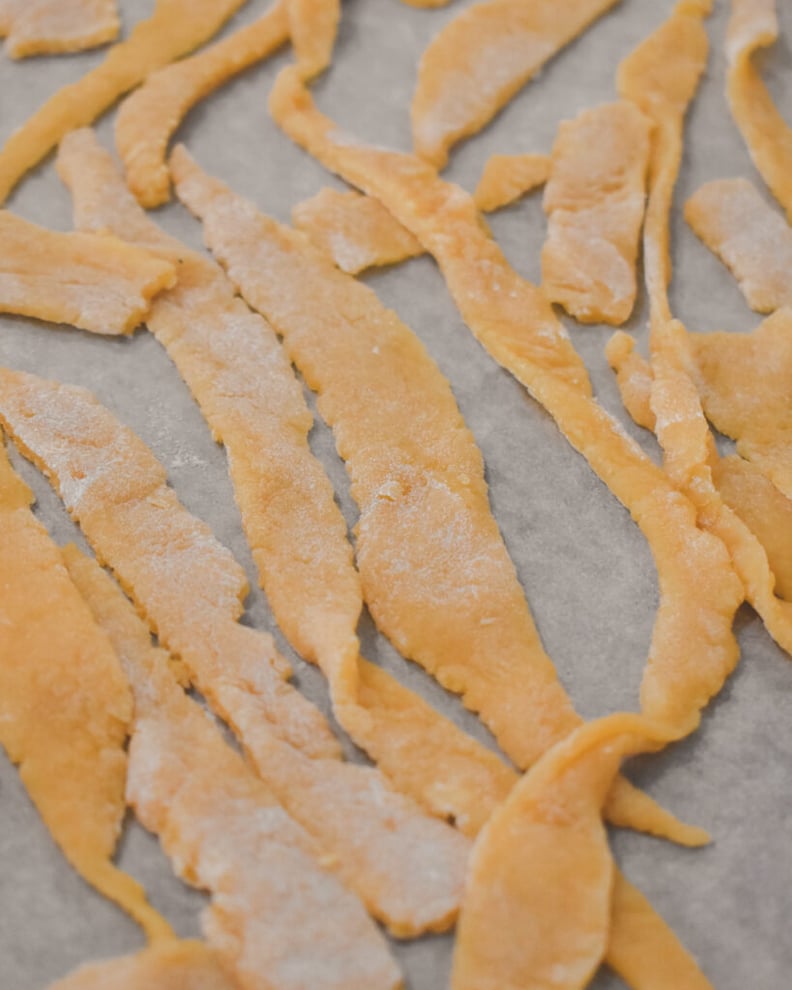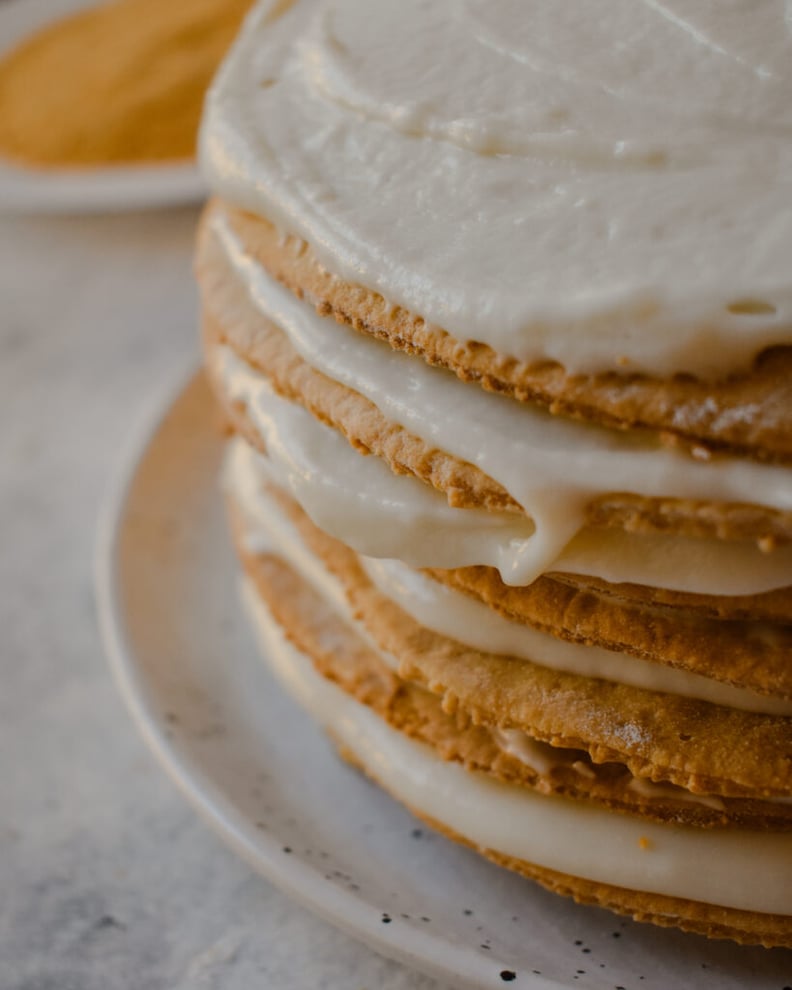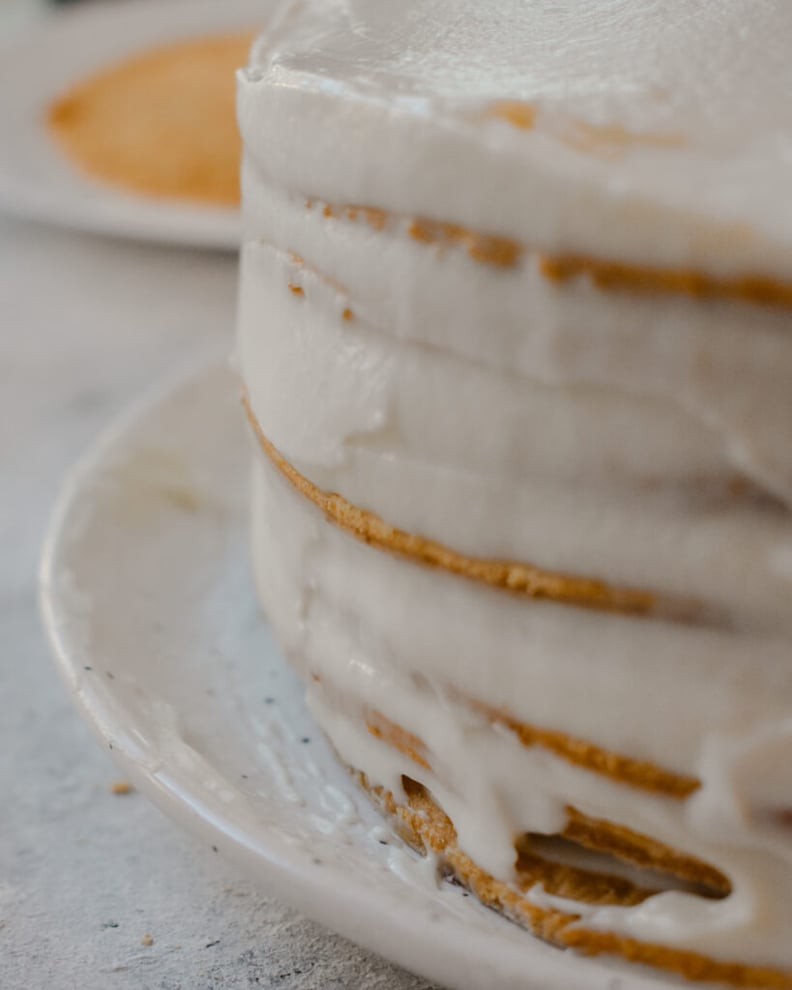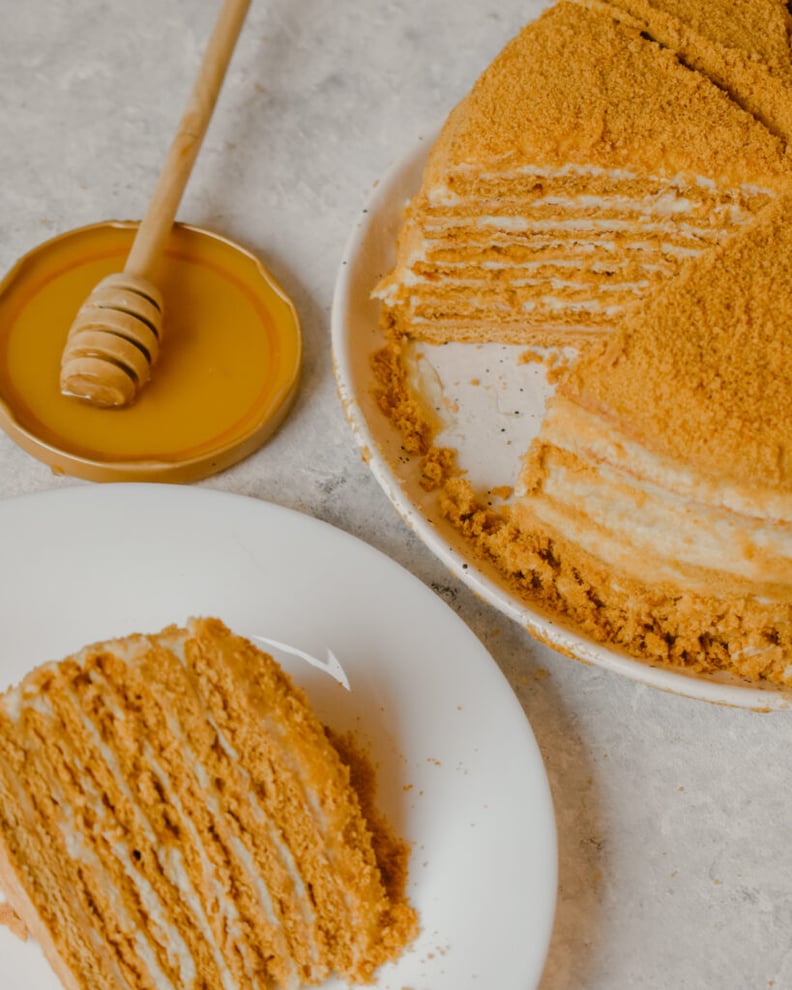 Medovik Russian Honey Cake Recipe
Ingredients
For the Frosting:
2 cups sour cream
1/2 cup heavy whipping cream
1 teaspoon vanilla extract
2 cups powdered sugar
For the Cake Layers:
1/2 cup honey
1/2 cup sugar
1/3 cup butter
1 1/4 teaspoon baking soda
3 cups all-purpose flour
4 eggs, beaten smooth with a fork
Directions
Preheat the oven to 350°F.
To make the frosting, beat or whip the whipping cream until it forms stiff peaks. Fold in the sour cream, then vanilla and powdered sugar. (Feel free to use less powdered sugar to your liking.) Set in the fridge.
To make the biscuit layers, add the honey, sugar, and butter to a pot. Place on the stove and bring to medium heat (any hotter and you'll wind up with a scorched bottom). Allow to bubble for five minutes while stirring continuously.
Once the honey, sugar, and butter mixture has simmered for five minutes, remove from heat. Place the pot on a heat-friendly surface and whisk the baking soda into the mixture until no lumps remain. Then, add the eggs in just a little bit at a time. (You'll need to constantly whisk to ensure you don't wind up with scrambled eggs.) You want a smooth batter, so be sure to whisk fast and only add a little at a time.
Next, add your flour one cup at a time and combine until you get a workable dough. You want it smooth enough that you can move and roll the dough around without it sticking, but you don't want it so floured that it becomes more of a bread and less of a cake. Once your dough has formed, divide into eight equal pieces.
Roll each dough portion out to around 1/8-inch thick and trim to about eight inches in diameter (I used a plate for this). Save all the scraps, as you'll need them later! Bake two at a time in the center of the oven for four minutes, rotating halfway through.
Once your disks are finished, add the scraps to a baking sheet and bake for five minutes.
After the scraps have cooked, add them to a bag and crush or blend them until they turn to a powder. Set aside.
Assemble the cake by layering disk/frosting/disk/frosting.
Frost the sides and top of the cake.
Cover the cake with the powdered scraps. Cover and refrigerate for at least 12 hours before serving, and enjoy!