Not to Be Dramatic, but Nacho Tables Are the Greatest Culinary Creation of Our Time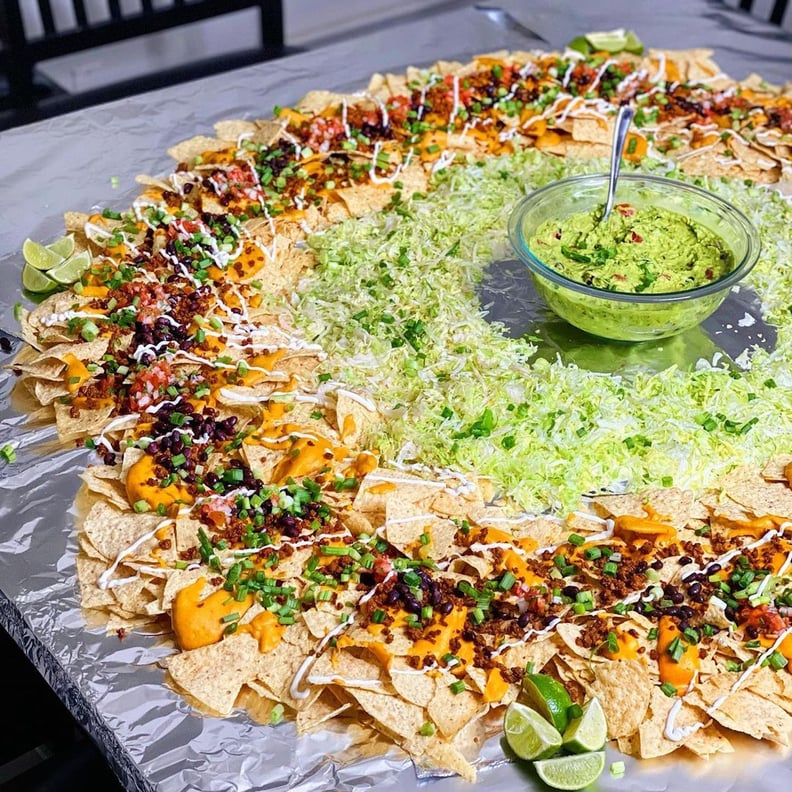 Why confine nachos to a wimpy platter when you can make a ginormous, yards-long spread of 'em? That's the mindset behind TikTok's nacho table trend, which involves — yep, you guessed it! — laying out heaps of the savory snack on a table or countertop. The genius concept has been circulating on social media for the past year or so, and it's about damn time we shine a spotlight on the trend in all its cheesy, food baby-inducing glory.
To bring your own nacho table to life at home, you'll need to add some or all of the following ingredients to your grocery list, depending on how loaded you prefer them: shredded cheese (Monterey Jack, cheddar, or pepper jack), queso dip, ground beef (or steak or shredded chicken), salsa, sour cream, guacamole, shredded lettuce, corn, black beans, refried beans, sliced black olives, cilantro, and, of course, a sh*t ton of tortilla chips. Plus, don't forget to roll out some foil on the surface before piling on the toppings for a breezy cleanup process.
To make things as safe as possible, we advise assembling and subsequently devouring your nacho table with the people in your "pod," such as roommates or family members. Read ahead to see how the drool-worthy, Super-Bowl-party-friendly masterpieces come together.