Easy Gluten-Free Chocolate Chip Muffin Recipe
I Had to Stop Myself From Eating This Entire Batch of Gluten-Free Chocolate Chip Muffins
As POPSUGAR editors, we independently select and write about stuff we love and think you'll like too. If you buy a product we have recommended, we may receive affiliate commission, which in turn supports our work.
Image Source: POPSUGAR Photography / Chanel Vargas
Bread makes the world go 'round, and being gluten intolerant means it's always a little bit heartbreaking when I have to decline a freshly baked batch of cupcakes, warm pita bread, or a gooey slice of apple pie. But some brands like Partake do make cookies and other desserts that satisfy my sweet tooth, so when I saw that it had released a new Partake 5-in-1 Baking Mix ($24), I decided to make the most of it. With a massive craving for chocolate chip muffins and a backup bar of chocolate to snack on just in case things didn't go as planned, I set to work and may have baked the best batch of gluten-free muffins I've ever made.
Following the instructions on the back of the bag was easy, but I was skeptical that the muffins would still come out of the oven looking lumpy and dry like most of my other gluten-free muffin recipes. Because it's what I had on hand, I substituted margarine for butter and coconut sugar for cane sugar, which gave the muffins a more robust maple flavor. Once the batter was the color and consistency of runny peanut butter, I folded in a pack of dark chocolate chips (measured with the heart), but semisweet or milk chocolate (or a mix of both) would also be a great add-in.
Image Source: POPSUGAR Photography / Chanel Vargas
After 20 minutes of baking and 10 more minutes of waiting for them to cool off, I popped the muffins out of the cupcake molds and dug in. The flavor of the muffins themselves was not as sweet as I was expecting, but it balanced out the sweetness of the chocolate chips perfectly, and the fluffy texture was super satisfying. They even held their shape when I went in for a cross-section shot. Since they were thick and slightly chewy, I could easily see the baking mix working for pancakes, waffles, birthday cake, and more. Plus, the list of ingredients is super clean, using a mix of oat flour, buckwheat flour, and tapioca flour as the base.
I might stir in some chopped nuts or sprinkle a streusel on top next time, but this baking mix is definitely one of my new pantry staples. See how to whip up the chocolate chip muffins — and how mine turned out — ahead.
Partake Gluten-Free Chocolate Chip Muffins
Partake Foods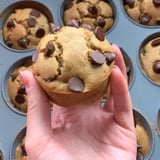 Ingredients
2 1/2 cups Partake 5-in-1 Baking Mix
3/4 cups water
1/2 cup butter (softened)*
3/4 cups sugar
1 tablespoon vanilla extract
1 cup chocolate chips
*You can replace the butter with margarine, coconut oil, shortening, or an allergy-friendly butter of your choice.
Information
Category

Desserts, Pastries

Yield

12 muffins

Prep Time

10 minutes

Cook Time

20 minutes

Total Time

29 minutes, 59 seconds
Image Source: POPSUGAR Photography / Chanel Vargas