Best Gluten-Free Pizza Dough Recipe
This 4-Ingredient, Gluten-Free Dough Is the Reason I Can Finally Enjoy Pizza Night Again
As POPSUGAR editors, we independently select and write about stuff we love and think you'll like too. If you buy a product we have recommended, we may receive affiliate commission, which in turn supports our work.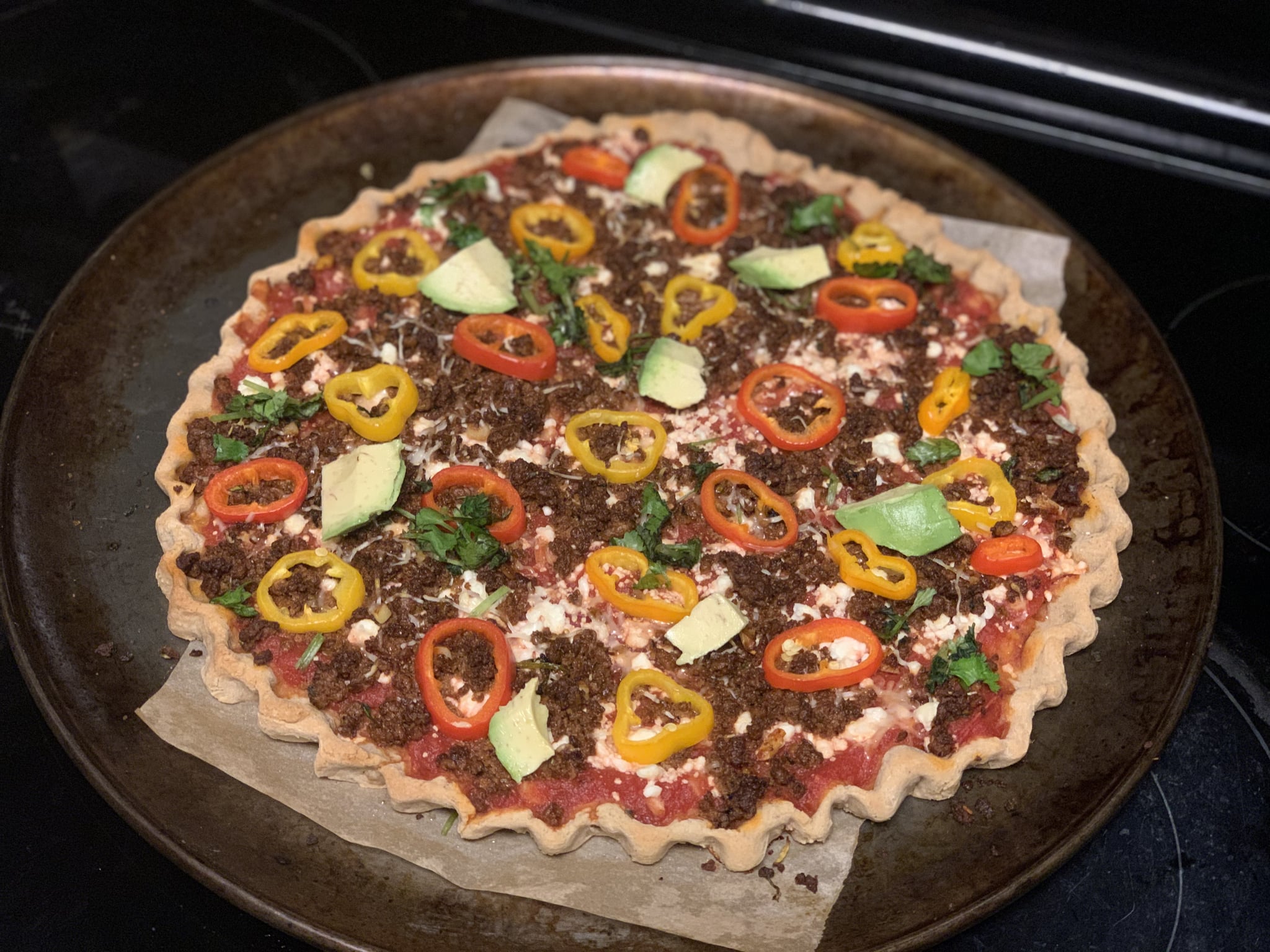 Image Source: POPSUGAR Photography / Chanel Vargas
Being gluten-free means putting up with a lot of takeout pizza that's dry, burnt, and sometimes so crunchy that it could be mistaken for drywall. And any attempts at making my own pizza dough have usually ended up in a crumbly mess that can't hold a single pepperoni. So when I saw that Partake Foods released a baking mix made specifically for pizza crusts and the like, I broke out the Parmesan and got to work with three criteria in mind: flavor, texture, and stability.
Constructing a quality pizza is typically about the quality of the toppings, but none of that matters if the crust underneath is a soggy mess. So I started off by following the ingredients on the back of the package, letting my (optional) active dry yeast sit, and mixing together all the dry and wet ingredients until I had a paste-like ball of dough. At this point in my gluten-free baking endeavors, my dough is usually more the consistency of wet sand, so the fact that this one was actually moldable and held its shape was already promising. I was even able to crimp the edges of the dough to form an actual crust, something I've never been able to do with homemade, gluten-free pizza dough before.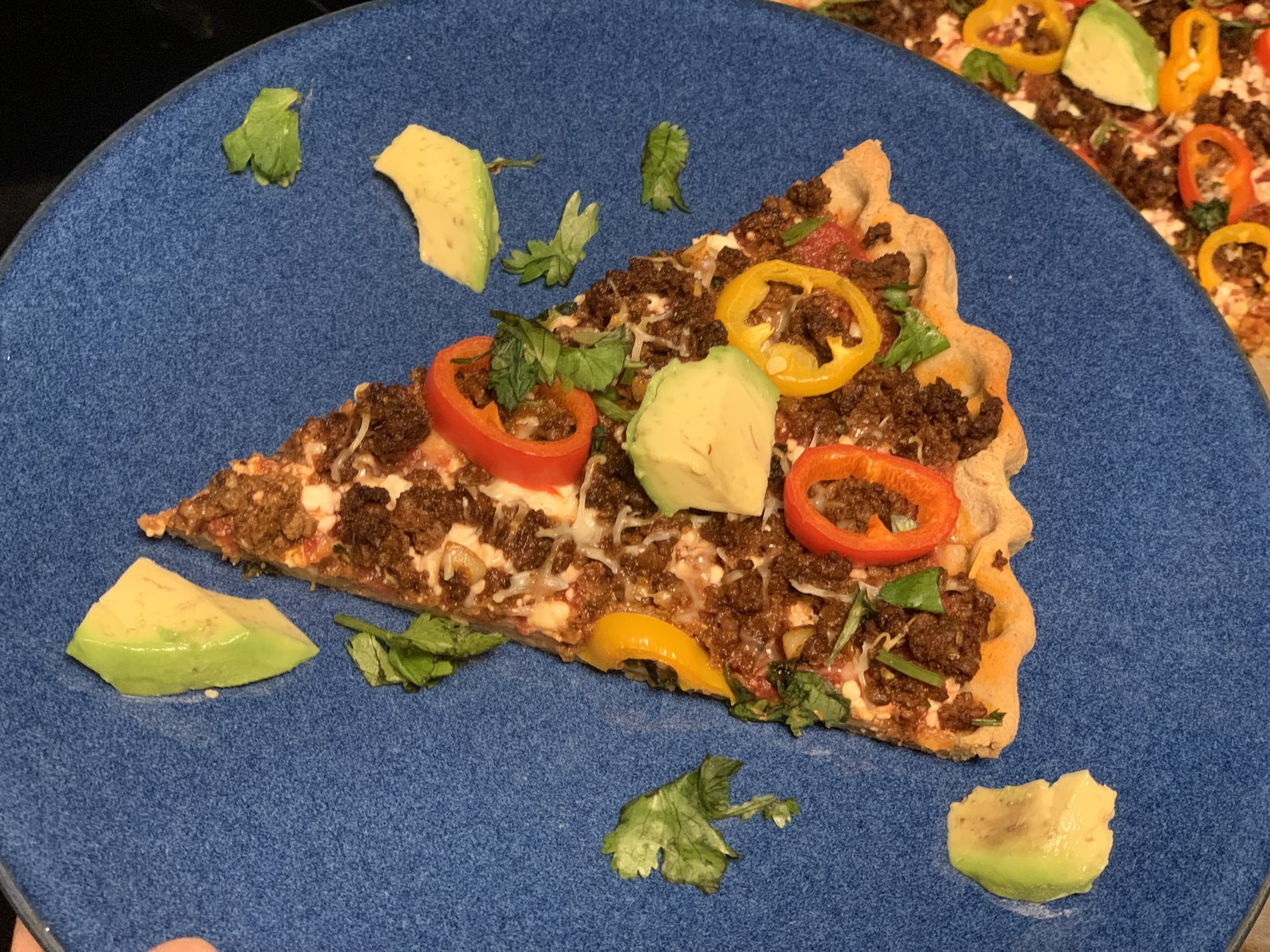 Image Source: POPSUGAR Photography / Chanel Vargas
For my toppings, I went with Impossible Meat flavored with chorizo seasonings, sweet bell peppers, feta, Parmesan, and a tomato-sauce base. (but pepperoni and mozzarella or any other favorites would be just as delicious). After popping the crust in the oven for a pre-bake, adding my toppings, and baking it for about 10 more minutes, my pizza was complete, and it was time to put it to the test. The crust itself held together nicely and didn't threaten to fall apart for a single second. Plus, the dough had a nice bready flavor that kind of makes me want to turn it into breadsticks and dip it into garlic butter or marinara sauce next time.
Considering the texture, taste, and durability, this is probably the best gluten-free pizza crust I've ever had. Find out how to turn the Partake Crust Baking Mix ($24) into a delicious pizza dinner of your own — and see how mine turned out — ahead.
Partake Gluten-Free Pizza Dough
Partake Foods
Notes
Step 6: Doing this on a sheet of greased parchment paper that's already on your baking pan means you won't have to transfer the uncooked crust and risk it losing its shape. If you plan to crimp the edges or create a design around the crust, now is the time to do it.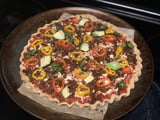 Ingredients
1 Bag Partake Crust Baking Mix
1 cup water
2 tablespoons olive oil
1 tablespoon apple cider vinegar
1-1/2 tablespoons active dry yeast (optional)
1/2 teaspoon onion powder (optional)
1/2 teaspoon garlic powder (optional)
Directions
Preheat the oven to 400° Fahrenheit.
If you're using active dry yeast, dissolve the yeast in a small bowl with one cup of warm water and let it stand until foamy, about five minutes. If the water is too cold, the yeast will not activate, and if it's too hot, the yeast will die, so aim for a lukewarm temperature.
Next, stir together the mix, olive oil, apple cider vinegar (if using), and any spices of your choice to the bowl.
Add in the water or active dry yeast water and stir.
Form the dough into a tight ball and let it sit for about 10 minutes.
Roll the dough out onto a clean, flat surface and press it down with oiled hands until it's about 1/4-inch thick. Any thinner and the dough might crack all the way through.
Allow the flattened dough to sit for 10 minutes.
Bake the crust for 12 minutes and prepare any toppings you plan to add in the meantime.
After 12 minutes, remove the crust from the oven and add your toppings.
Bake for an additional 10-12 minutes and let the pizza cool for at least five minutes before serving. Enjoy!
Information
Category

Main Dishes, Pizza

Yield

1 pizza crust

Prep Time

35 minutes

Cook Time

24 minutes

Total Time

58 minutes, 59 seconds
Image Source: POPSUGAR Photography / Chanel Vargas