Pumpkin Cacio e Pepe Recipe
Take a Break From Baking With Pumpkin, and Try This Quick Pumpkin Cacio e Pepe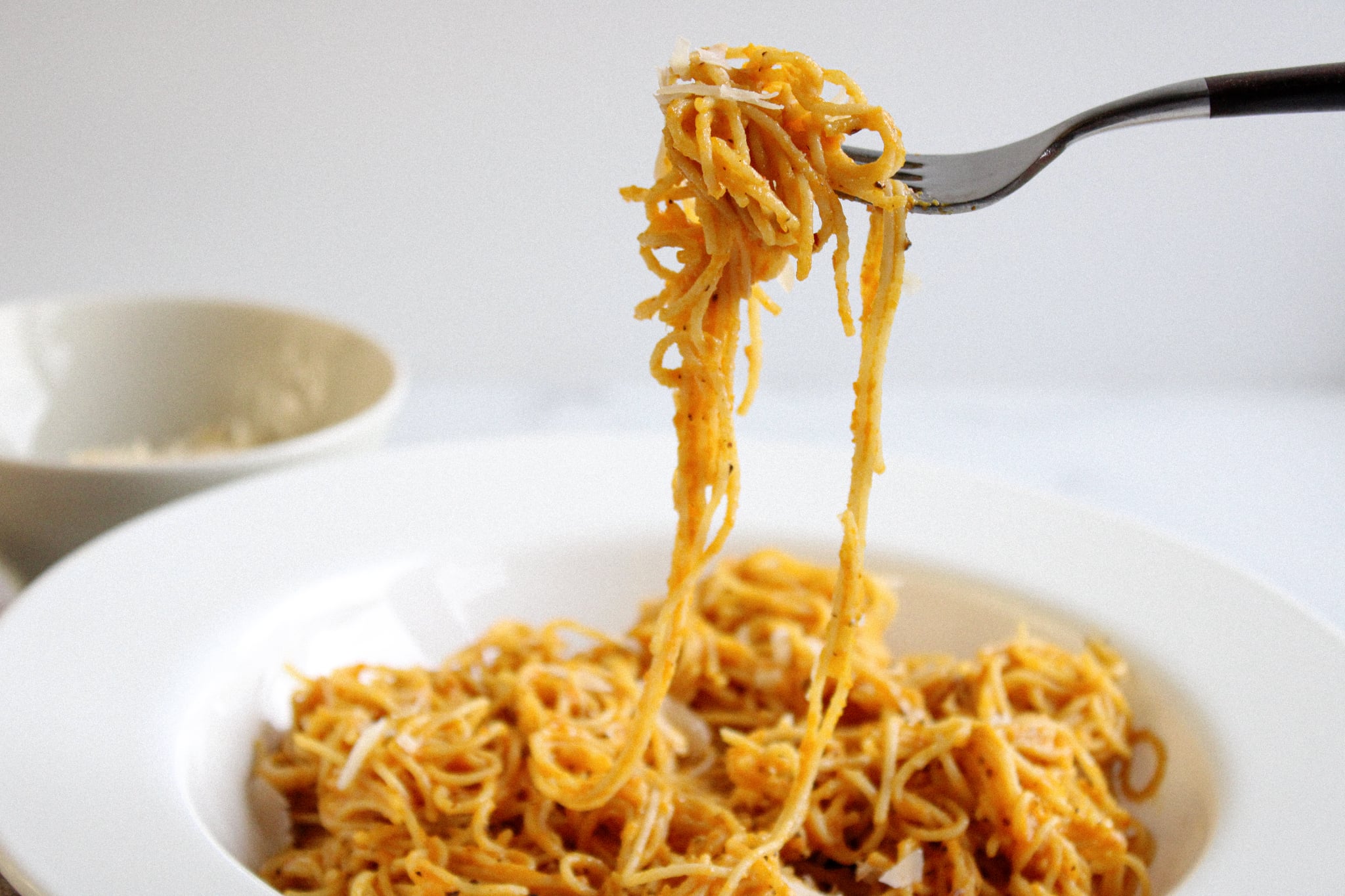 This recipe is a perfect marriage of two of my all-time favorites: pumpkin and pasta. This creamy dish will have you completely hooked and cooking on repeat all season long. The simple ingredients and very little cooking time make this a great option for a weeknight dinner or a party food for your next potluck. And although I do love to bake all the sweet treats with pumpkin, this is my new favorite way to use it.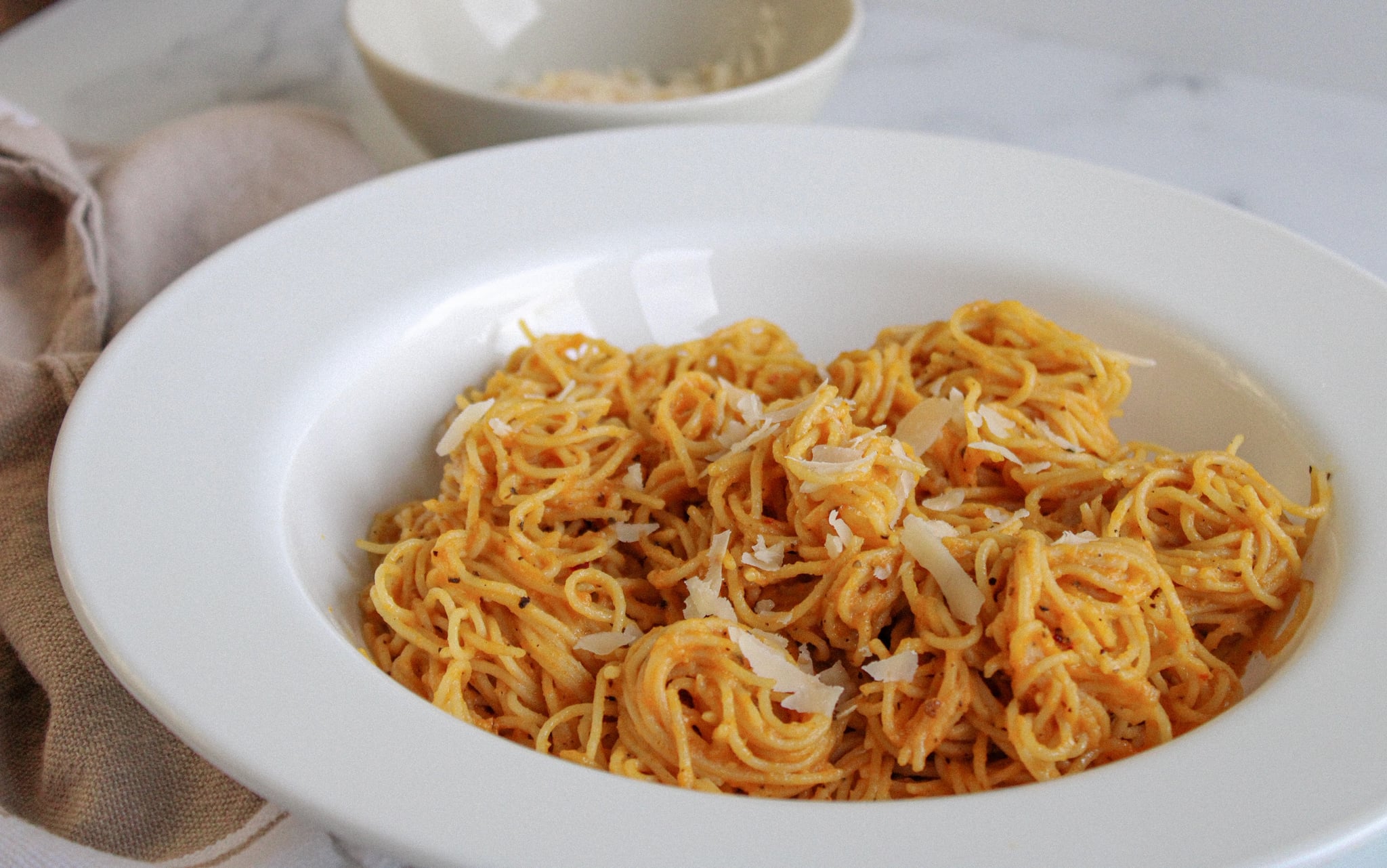 You'll need 1/2 cup salted boiled pasta water, so you'll want to cook your pasta first. At peak boil, use a ladle to carefully scoop out about 1/2 cup pasta water to set aside for your sauce. Feel free to use any type of pasta you have on hand, although I love using spaghetti or angel hair for this dish. I've also made it with quinoa brown rice rotini and chickpea pastas, and it tastes just as amazing. For the perfect "al dente" angel hair, boil pasta for exactly four minutes, then strain immediately. Once strained, put back into the pot and lightly drizzle with olive oil. This helps the pasta keep from sticking together while you cook your sauce. Drizzling with olive oil or even tossing with a tablespoon of butter is an important step, otherwise you'll have a mushy ball of pasta.
Melt your butter in your pan on medium heat so you don't risk burning it. Then add in your spices, and you will immediately smell their fragrance come to life as the heat blends the fat from the butter and your garlic and onion powders. Add in your pumpkin puree, pasta water, and grated parmesan cheese. Mix well, and let simmer for five to seven minutes before adding in your cooked pasta. It cannot get any easier, and I promise this will give you all the comfort-food vibes.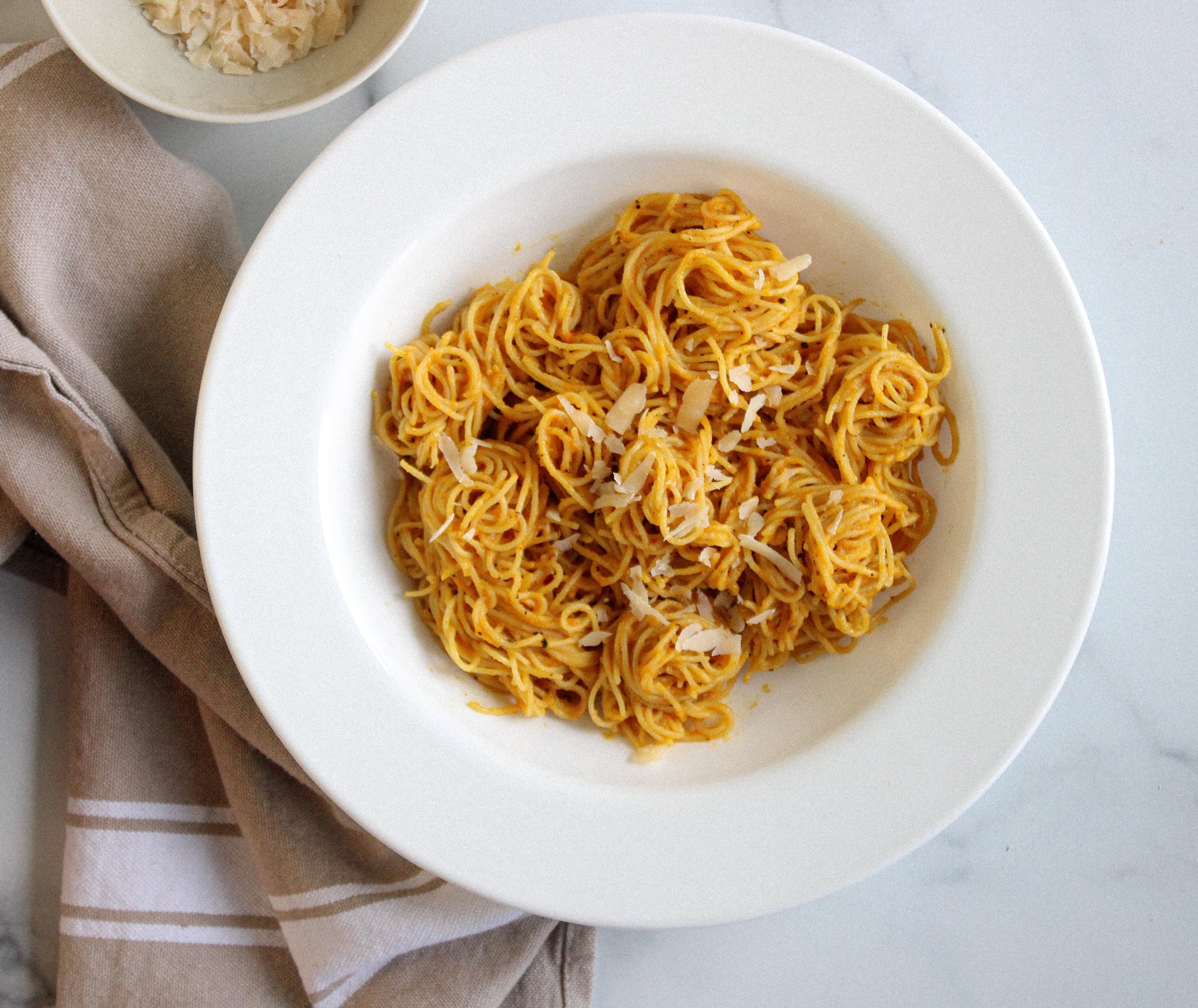 Pumpkin Cacio e Pepe
Original Recipe by Taylor Celentano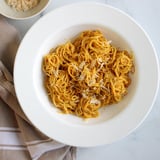 Ingredients
1/2 pound angel hair spaghetti
4 tablespoons butter
1/2 cup salted pasta water
1 teaspoon black ground pepper
1 teaspoon everyday seasoning
1 teaspoon garlic powder
1 teaspoon onion powder
1/2 cup grated parmesan cheese
1/2 cup pumpkin puree
Olive oil
Directions
Set a medium pot filled with water to boil for your pasta (salt your water).
Cook your pasta for about 4 minutes for the perfect al dente noodle. Keep 1/2 cup pasta water before straining.
Strain and put your pasta back into the pot, drizzle very lightly with olive oil, and mix gently.
In a saucepan, melt your butter and season with black pepper and seasonings. Add your pasta water, pumpkin puree, and grated parmesan.
Let simmer on medium heat, mixing frequently for about five minutes.
Add your cooked pasta directly into the sauce and mix well, making sure to coat all your noodles.
Scoop onto your plate, top with a sprinkle of grated parmesan, and enjoy!
Information
Category

Pasta, Main Dishes

Cuisine

Italian

Yield

2 servings

Prep Time

10 minutes

Cook Time

10 minutes

Total Time

19 minutes, 59 seconds