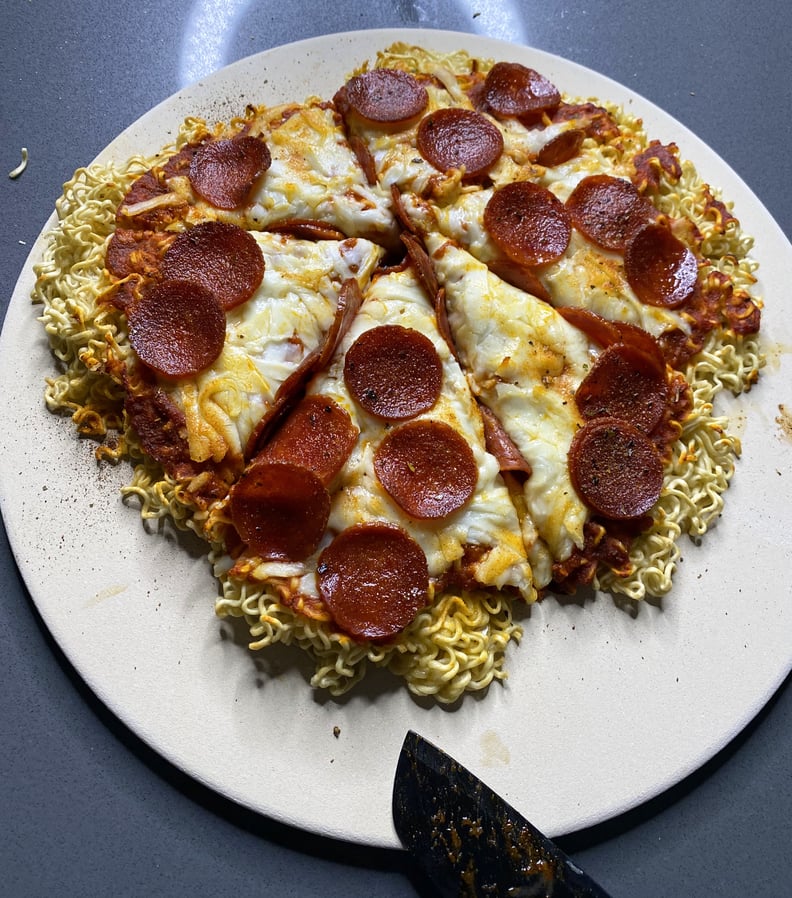 Ivan McCombs
Ivan McCombs
If you're like me, the most effort you've ever put into preparing a packet of ramen is deciding between beef, chicken, or shrimp (chicken every time, please). But TikToker Ivan McCombs, aka the Ramen King, is on a mission to turn the noodles into pretty much any dish you can imagine. Strawberry cheesecake, pizza, ice cream, nachos, and buffalo wings are just a few of the recipes he's put to the test, and most of them turn out tastier than they sound.
"They try to make it impossible, but nothing's impossible when you have ramen."
In college, ramen was a staple for Ivan, but the potential to make something truly delicious kept staring him in the face, until he whipped up his first ramen grilled cheese, which turned out to be surprisingly amazing. Eventually, he started posting his recipes on TikTok and taking requests from followers to see how creative he could get with the salty snack. "They try to make it impossible, but nothing's impossible when you have ramen," he told POPSUGAR.
Most of the time, he can just step in the kitchen and let the ramen work its magic, but some dishes involve a little more trial and error. Ramen ice cream, in particular, was a big letdown. "It looked amazing, but it did not taste good," he said. "I got another request to make rocky road ice cream ramen, so I'm going to try that one. Maybe the chocolate will cover up the taste." To make his food experiments palatable, Ivan tosses aside the flavor packets and sticks with the dry ramen, which he turns into unique yet tasty meals, including "sardine surprise." "That was a request from a follower, and I thought it was going to be gross because I don't usually eat sardines," he said. "It looked like a mushy mess, but then I ate it and it was actually really good."
At the end of the day, Ivan prefers his ramen with homemade broth, fresh vegetables, and a soft egg. Next up on the menu, the Ramen King is working on beef wellington, peanut butter candy bars, coffee, and Hot Pockets (all made with ramen), thanks to plenty of interesting suggestions from his 1.7 million followers. "I'm just glad other people have an interest in the videos and the ramen concoctions that I made, because I never thought in a million years people would actually be interested in what I make," he said. Check out Ivan's unconventional ramen recipes ahead and let the creative (noodle) juices flow.
Spicy Ramen Mozzarella Balls
Ramen Sardine Surprise (With Jerky)
Ramen Strawberry Cheesecake