This Meal Subscription Box Allowed Me to Make Delicious Dinners in Under 10 Minutes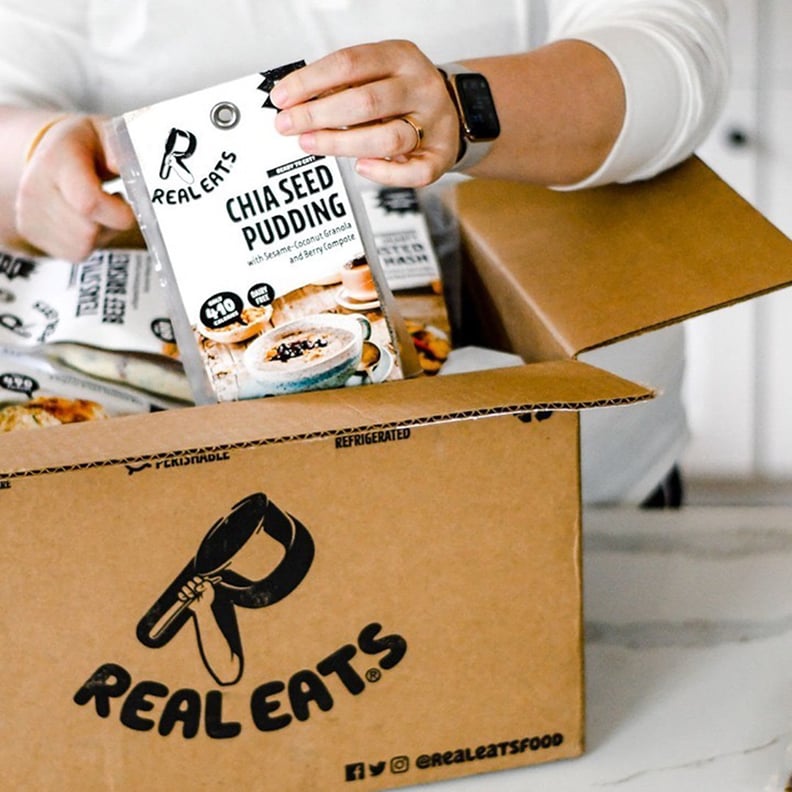 As POPSUGAR editors, we independently select and write about stuff we love and think you'll like too. If you buy a product we have recommended, we may receive affiliate commission, which in turn supports our work.
Everyone who knows me knows that cooking has never been my forte. I'm geographically challenged when it comes to the grocery store (shout-out to grocery delivery services) and I'm not gifted enough to look inside my refrigerator and know which ingredients to use for what. My lack of cooking skills has resulted in lots of salad for dinner, and on nights when I'm really feeling lazy, I'll have a quick and filling snack like yogurt and granola. However, I do love food, so in order to make sure I'm consuming a proper dinner rather than a strange breakfast-like snack, a meal subscription box felt like an appropriate option. And while there are tons of meal services out there, RealEats (subscriptions starting at $14.99/meal) seemed fitting.
Based out of the Finger Lakes agricultural region of New York, RealEats delivers to a handful of nearby states. I'm currently located in southern Maine, so it made me feel better knowing my food was traveling from a drivable distance rather than across the country. I had six dinners delivered to me (as dinner always seems to be my problem) that price out to $9 per meal according to the RealEats website. The food was shipped on a Tuesday in an insulated box with chilled ice, and I immediately placed the vacuum-sealed pouches into my refrigerator — they were so easy to store!
My favorite part about RealEats is how effortless the meals are. I'd finish work, head to the gym, and come back to a fully cooked meal that'd take under 10 minutes to prepare — which saved me so much time. Each package clearly states the meal's nutrition facts with directions on how to make it (you can microwave it for three minutes or boil it on the stove). The microwave ended up being my go-to due to how quick and easy the meals were to make.
As for the food itself, I thought it was good with all things considered! The vacuum-sealed pouches kept everything nice and fresh, and for a three-minute heat-up? I'd give this meal subscription box another go. The BBQ Tofu was one of my favorite meals, and the salmon was packed with flavor. While I felt a few items could be spruced up with seasoning or a dollop of butter, I kept them plain and simple for the sake of the review. By the end of the week, I was sad for the convenience of it all to go away — it was all so simple!
While I received six dinners in my box, RealEats offers as many as 12 and as few as four dinners per week depending on your needs . You can also tack breakfast onto the deal so your days are extra convenient. Just a heads up that if you're gluten-free, vegan, or vegetarian, the options on the RealEats website are limited.
If you're looking for a convenient batch of meals that'll fit into your everyday life, RealEats could be a true fit! Keep reading to see how each meal tasted for me.
01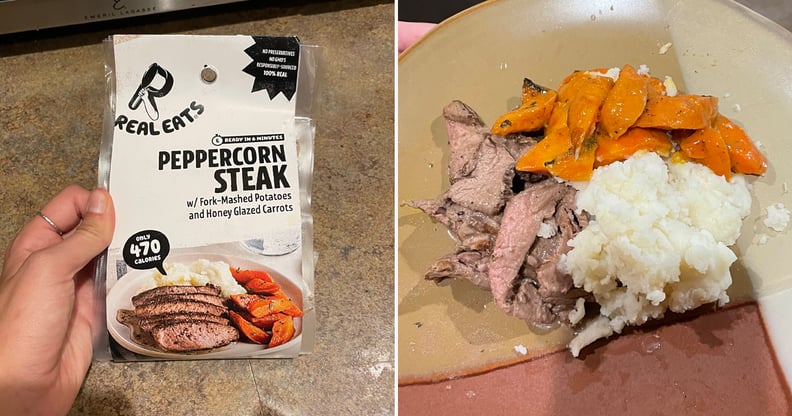 Peppercorn Steak
Made with fork-mashed potatoes and honey-glazed carrots, I thought this meal wasn't too shabby! The steak and carrots had a lot of flavor to them. The mashed potatoes were a little dry, so I'd recommend adding butter to make them creamier.
02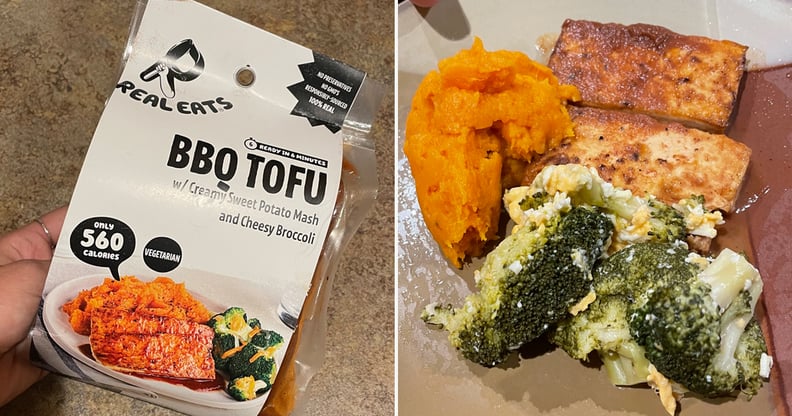 BBQ Tofu
The BBQ Tofu was by far my favorite meal. The tofu was sweet and delicious with flavor packed in every bite, the sweet potatoes had a great texture to them, and the broccoli was good! While it claimed to be "cheesy broccoli," the cheese didn't really melt over the broccoli as I'd hoped, but overall, it was a standout for me.
03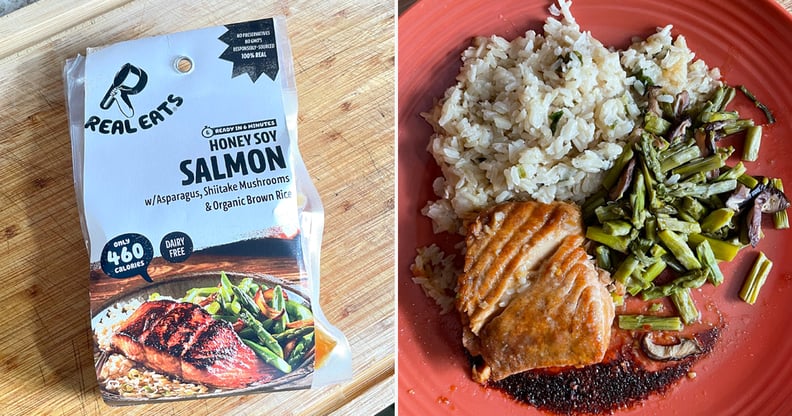 Honey Soy Salmon
The Honey Soy Salmon really surprised me; the marinade was super flavorful and the salmon had great texture and didn't taste too fishy. The rice was also really good and cooked perfectly. The asparagus and mushrooms were kind of bland, but they could easily be doctored up with a few spices.
04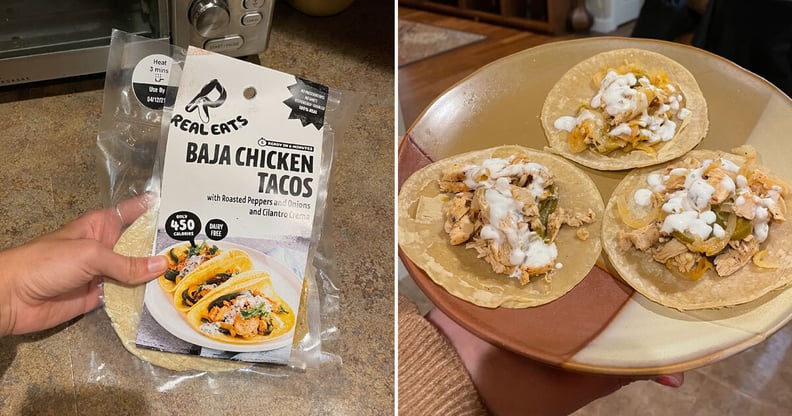 Baja Chicken Tacos
The Baja Chicken Tacos came with roasted peppers, onions, and a dairy-free cilantro crema that all tasted great bundled up into one. You could really taste the garlic and cilantro, and the chicken was cooked to a good consistency.
05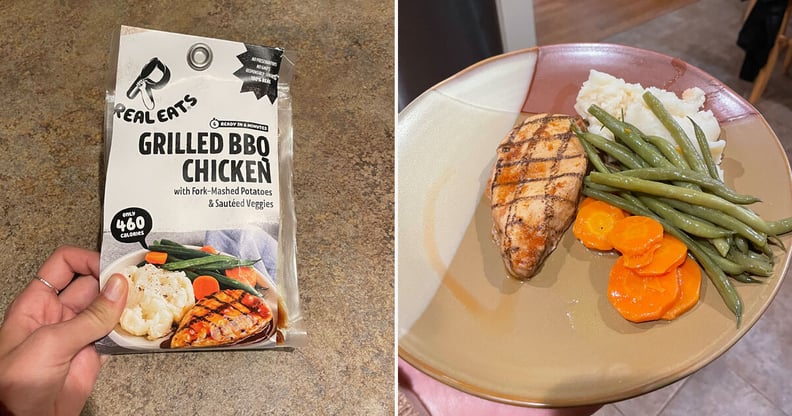 Grilled BBQ Chicken
The Grilled BBQ Chicken came with green beans, carrots, and mashed potatoes that overall made for a pleasant meal. The consistency of the chicken was a little weird to me at first but it ended up tasting just fine! The carrots, green beans, and mashed potatoes really helped complete the meal.
06
Sustainable Miso Salmon
I'm not sure if I cooked this one wrong, but the salmon came out super watery and the rice was undercooked. The roasted summer squash stole the show and was very flavorful. Out of all the RealEats meals I received, this one was probably my least favorite.