Shrimp and Vegetable Curry Bowl Recipe With Photos
Bored of Your Usual Dinner Ideas? Switch Things Up With This Shrimp Curry Stir-Fry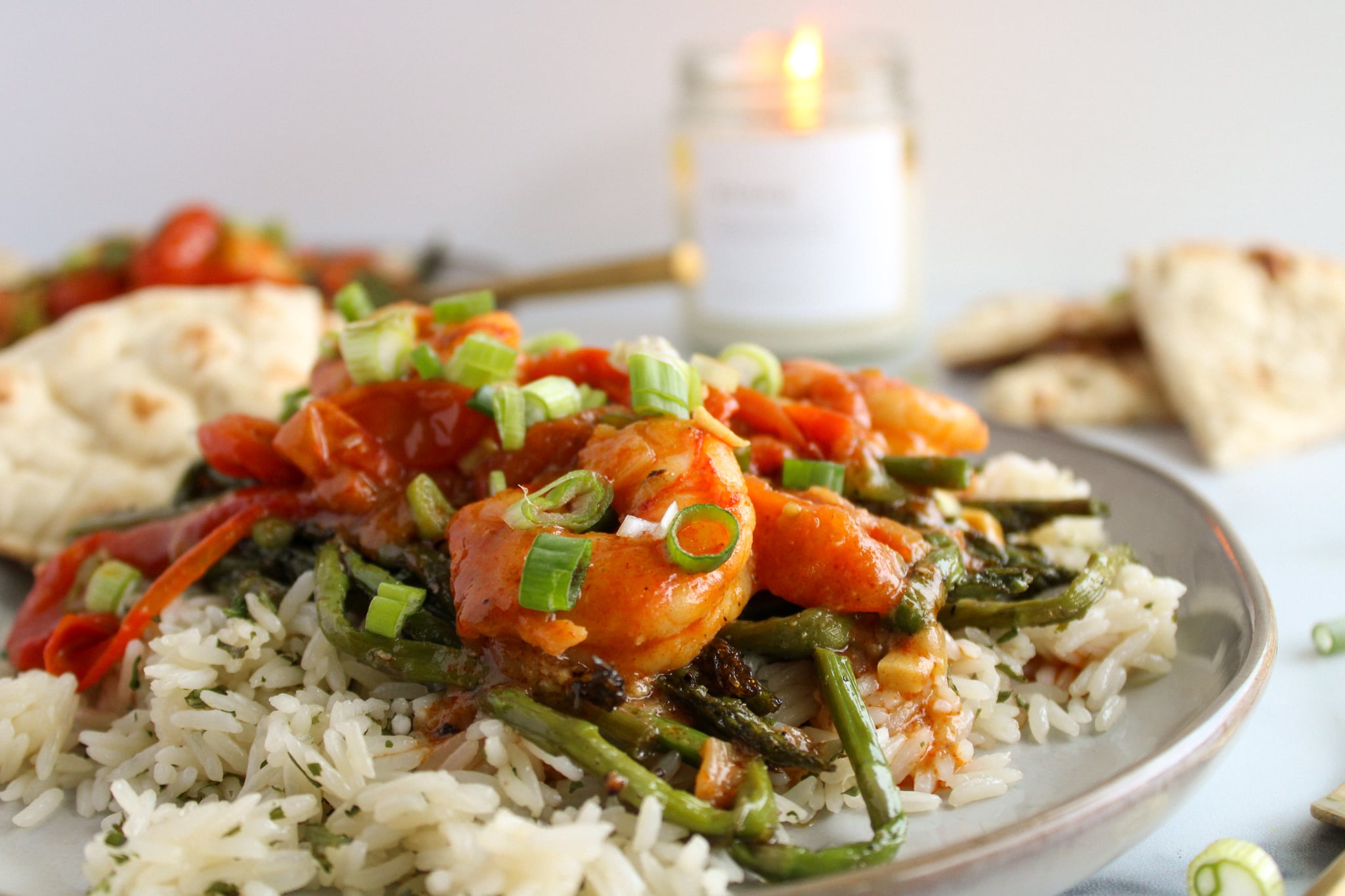 I'm always looking to switch things up in the kitchen, especially when I get into a routine of making the same meals every week. If you're also looking for a way to freshen up your weekly dinner rotation, I have just the hack for you. On your next trip to the grocery store, stop and browse the sauce and marinade aisle. I love to do this on my weekend trips to Trader Joe's to see what's new and what I haven't experimented with yet, and get tons of inspiration for new meal ideas. Using a new sauce or marinade can elevate a plain dish to what feels like a brand-new meal!
The idea behind this dish was just that — I was browsing sauces that I had never cooked with before in hopes of finding something fun to pair with a bag of shrimp, and the Trader Joe's Thai Red Curry Sauce saved the day. I use some simple ingredients to elevate it a bit, round out the flavors, and give it a personal touch, and let me tell you I haven't looked back since. This dish now has a permanent spot in my meal rotation and I always make sure to grab a jar of this sauce for a quick and flavorful dinner.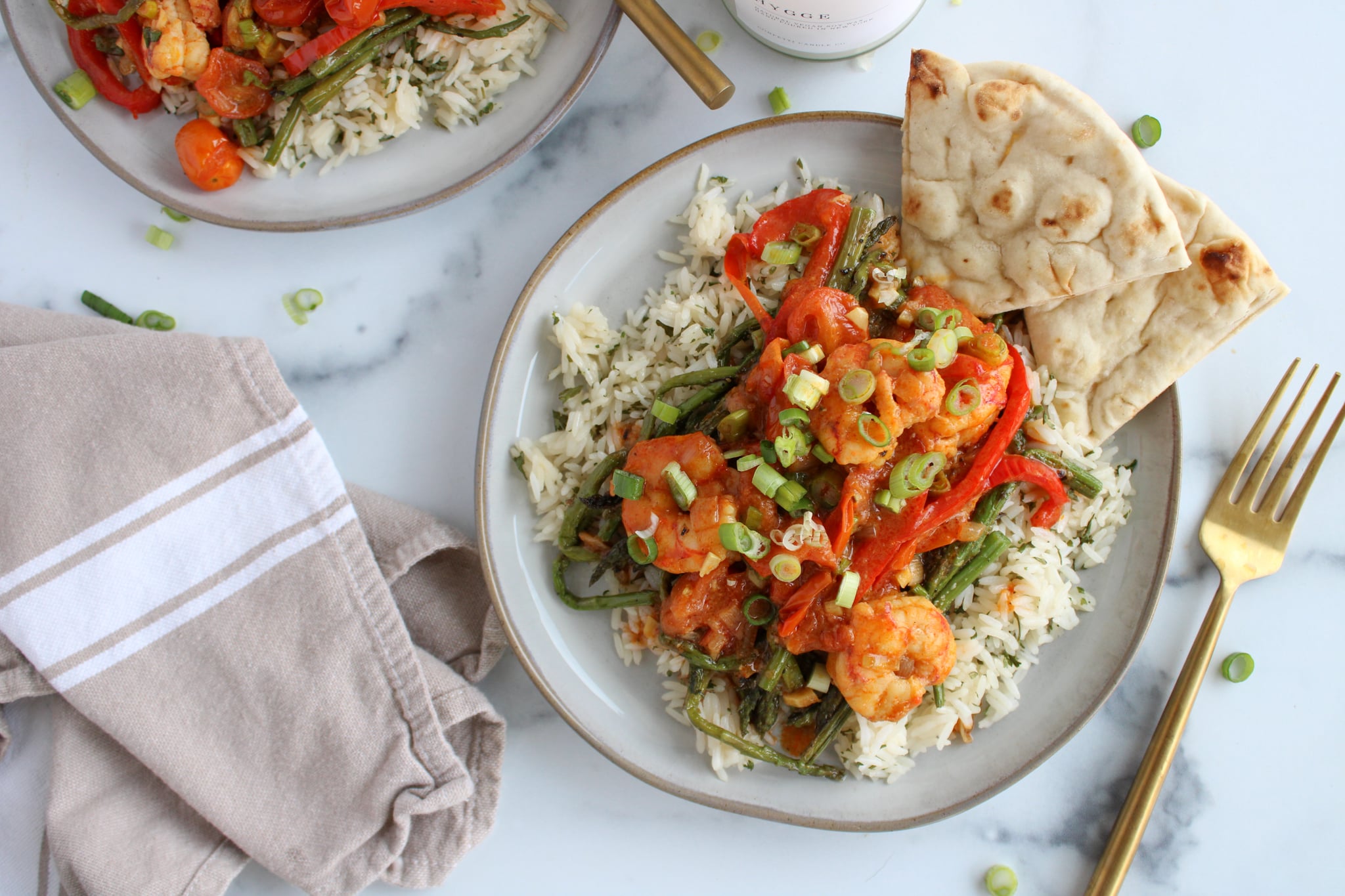 I use frozen shrimp for this recipe but this sauce is universal. Feel free to sub the shrimp for chicken, beef, even tofu — any protein works. The bulk of your work is cutting up all of your veggies, and after you've prepped all the ingredients the cooking process goes pretty quickly. For that reason I suggest getting all of your components prepped and ready to be thrown into your pan. The red bell pepper, onion, and garlic create a delicious base for this sauce, and the aroma of these three ingredients sautéing in your pan will make your mouth water. It's very important to simmer your sauce with fresh basil leaves before serving. Do not skip this step as it's a crucial flavor element that adds a bit of sweetness but also hints of pepper and anise! You can find step-by-step instructions on how to make this delicious dish over on my YouTube channel.
Shrimp and Vegetable Curry Bowl
Adapted Recipe by Taylor Celentano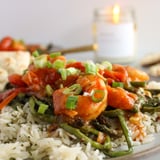 Ingredients
1 bag frozen shrimp
1 jar Trader Joe's Thai Red Curry Sauce
5-7 green onions
1 shallot or sweet onion, chopped
7-10 garlic cloves, minced
2 cups cherry tomatoes, halved
1 red bell pepper
2-3 bundles of fresh or frozen asparagus
10-15 fresh basil leaves
Salt and pepper
1/2 tablespoon garlic powder
4 tablespoons olive oil
2 tablespoons butter
1/3 cup chicken broth
2-3 cups Jasmin rice, cooked
Heated naan bread for dipping (optional)
Directions
Preheat your oven to 400°F. Lay your asparagus out onto your baking sheet, drizzle with olive oil, salt, pepper, and garlic powder, and bake for 22-25 minutes.
In your sauté pan, heat up two tablespoons of olive oil, toss in your sliced red bell peppers, sprinkle salt and pepper, and cook for 5-7 minutes while stirring occasionally.
Add in your shallot/onion mix and cook for another 5-10 minutes or until your peppers and onions are soft.
Add in your minced garlic and sauté for another 2-3 minutes, then add in your halved tomatoes and cook for another 5-7 minutes.
Add in your curry sauce. Add 1/3 cup of chicken broth to your curry sauce jar, shake well to get all sauce off the sides, and pour into your pan.
Toss in your fresh basil leaves, mix well, and let sauce simmer (stirring occasionally) on medium-low heat while you prep your shrimp.
Add your butter to a frying pan, then add your frozen shrimp to the pan and let "boil" in the butter and water that melts into the pan as the shrimp heat up. Let cook for 8-10 minutes.
Add shrimp (using tongs) directly to your sauce to finish cooking while also soaking up the flavors of the sauce for another 7-10 minutes.
Turn heat off and sprinkle your green onions on top.
Cook your rice (I used microwaveable packets).
Plate your rice, lay a handful of your asparagus on top, and then scoop a healthy serving of your stir-fry on top. Finish with a sprinkle of green onions and a piece of naan, and enjoy!
Information
Category

Main Dishes, Shellfish

Cuisine

Indian

Yield

4 Servings

Prep Time

10 minutes

Cook Time

30 minutes

Total Time

39 minutes, 59 seconds