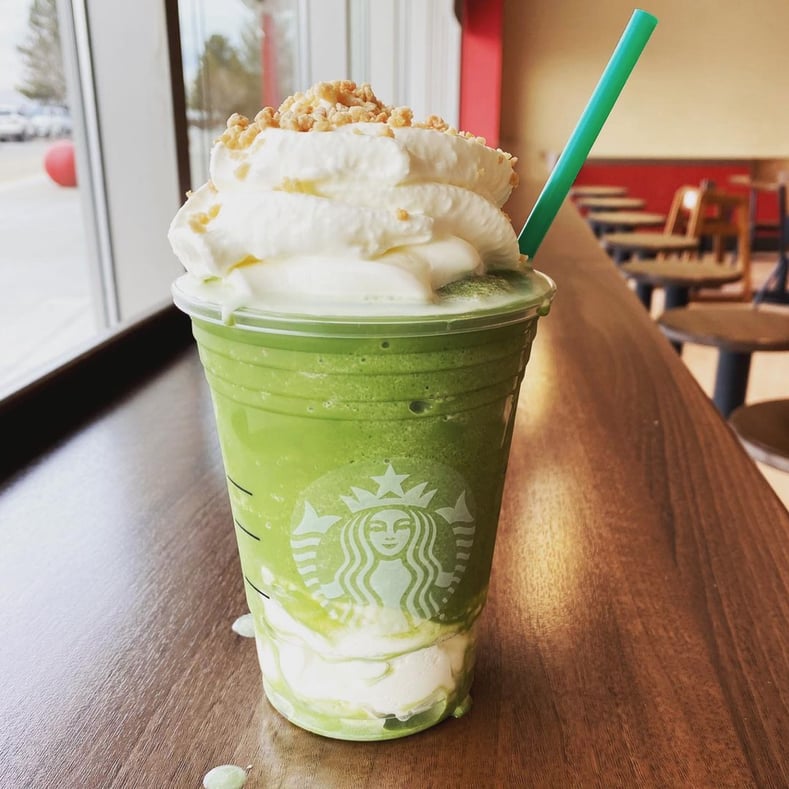 McDonald's beloved Shamrock Shake is back for St. Patrick's Day, which means we're ready to load up on everything green and mint-flavored for the next few weeks. But while we love the creamy shake, sometimes we want a festive drink with a stronger pick-me-up to tackle the day ahead — aka caffeine. That's where Starbucks's Lucky Leprechaun Frappuccino off their secret menu comes in! Inspired by the taste and color of matcha green tea, this blended drink is topped with caramel crunchies (or leprechaun's gold), and comes with a thick base of whipped cream. Sounds pretty delicious, right?
In celebration of the Irish holiday, totallythebomb.com has handy instructions for ordering the drink that you can keep stored on your phone for your next Starbucks run (if you love matcha and caramel, you're going to want to scribble this down). Here's how to order the secret Lucky Leprechaun Frappuccino:
Order a Matcha Green Tea Creme Frappuccino with peppermint syrup.
Kindly ask your barista to add a layer of whipped cream at the bottom of the cup (before pouring the frap).
Request more whipped cream on top and caramel crunchies.
Thank your barista!
But that's not all! There's also another way to order a secret Leprechaun Frappuccino that gives it more a crunch with the addition of java chips:
Order a Green Tea Frappuccino.
Add peppermint syrup (1 pump for a tall, 2 pumps for a grande, and 3 pumps for a venti).
Add java chips.
Thank your barista!
No matter which way you order it, we're feeling pretty lucky that we now know about these frapp hacks so we can enjoy the drink all March long.
Leprechaun Frappuccino With Java Chips
Leprechaun Frappuccino Without Java Chips but With Caramel Syrup
Leprechaun Frappuccino With Java Chips
Leprechaun Frappuccino Without Java Chips but With Caramel Crunchies