Stuffed Zucchini Recipe With Photos
It's Squash Season, and This Stuffed Zucchini Recipe Is Ready to Spice Up Your Life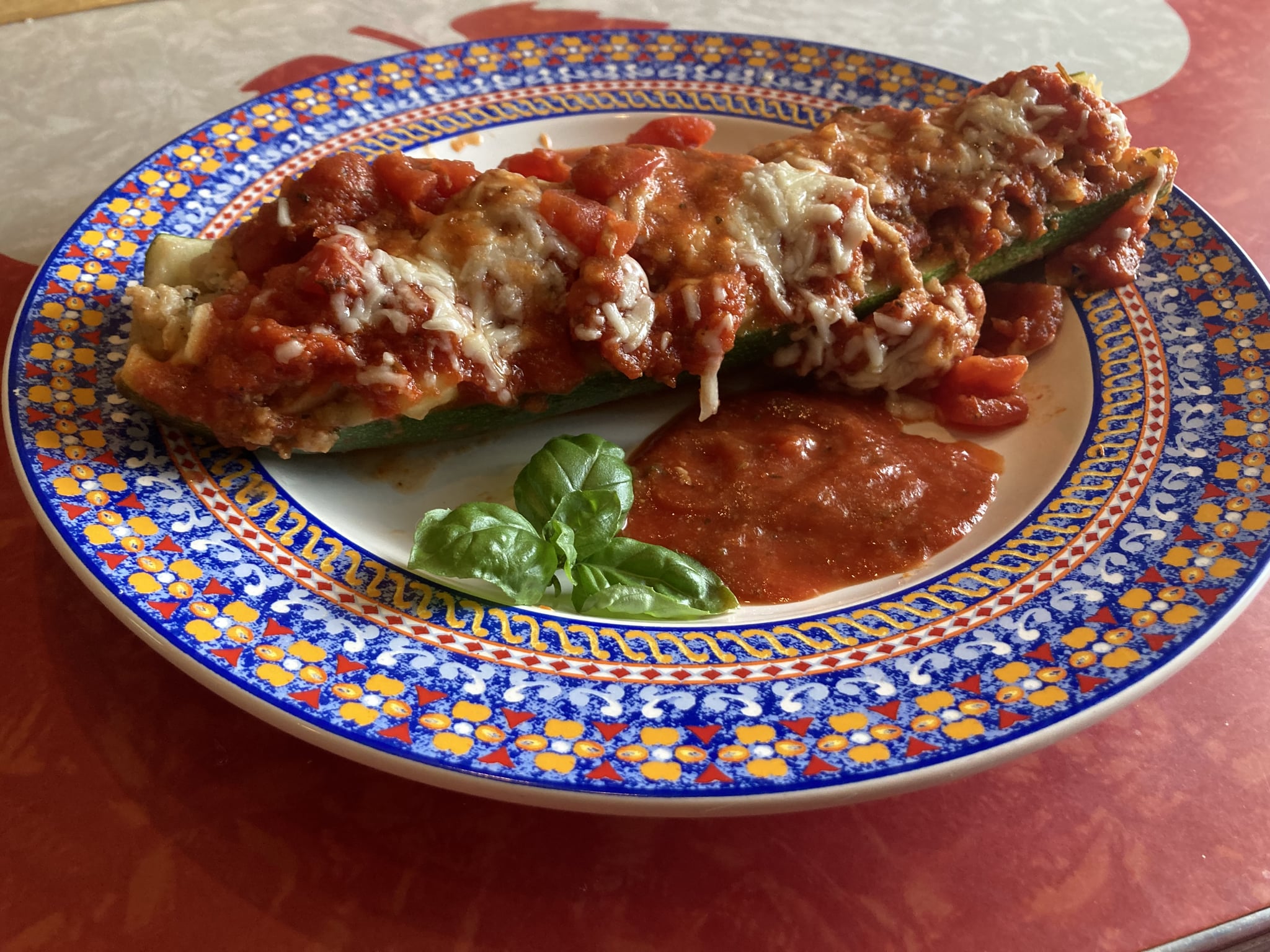 There's something irresistible about a local farmers' market in late summer. There are so many yummy fruits and vegetables in season right now — including zucchini. I love zucchini and often buy it to use in soups or to sauté as a healthy side dish. But seeing the huge zucchini grown by local farmers this year inspired me to try something different. I had heard of stuffed zucchini in the past but never attempted to make my own. My first instinct was to look for a great recipe, so I did some research. Unfortunately, I couldn't find the recipe I was looking for: one that was covered in tomato sauce, stuffed with seasoned meat, covered in cheese, and not wasting any of the tasty and nutritious zucchini itself. So I created my own recipe, and wow, did it turn out good.
Note that though this is not a "quick and easy" dinner to make, it's not highly complicated, either. It took me about 35 minutes to prep everything, and the dish itself needs to cook for approximately 50-60 minutes, depending on the size of your zucchini. Trust me, it is well worth the time and effort. If you want to make something truly impressive and delicious for a special someone — or as a special treat for yourself — this is the recipe for you.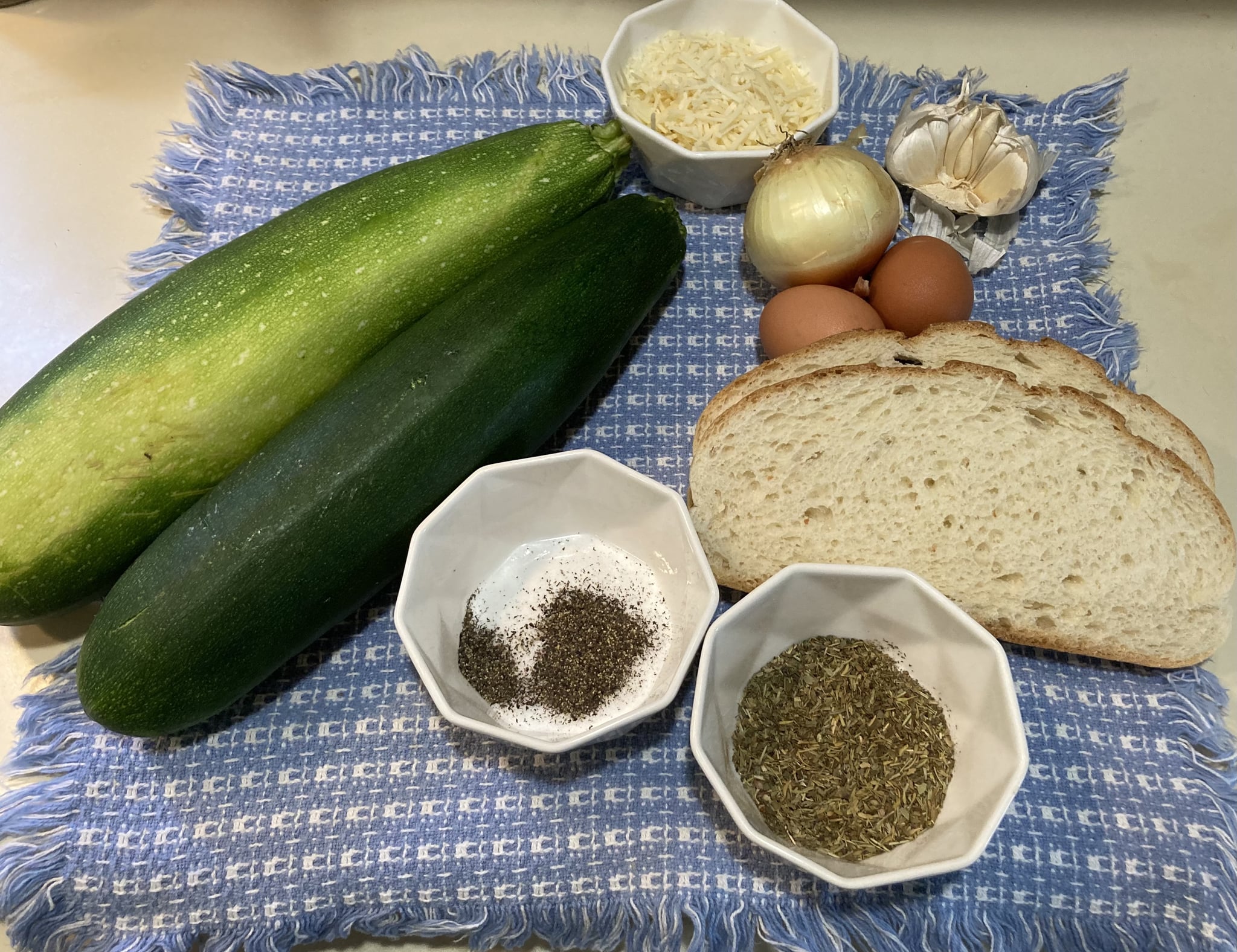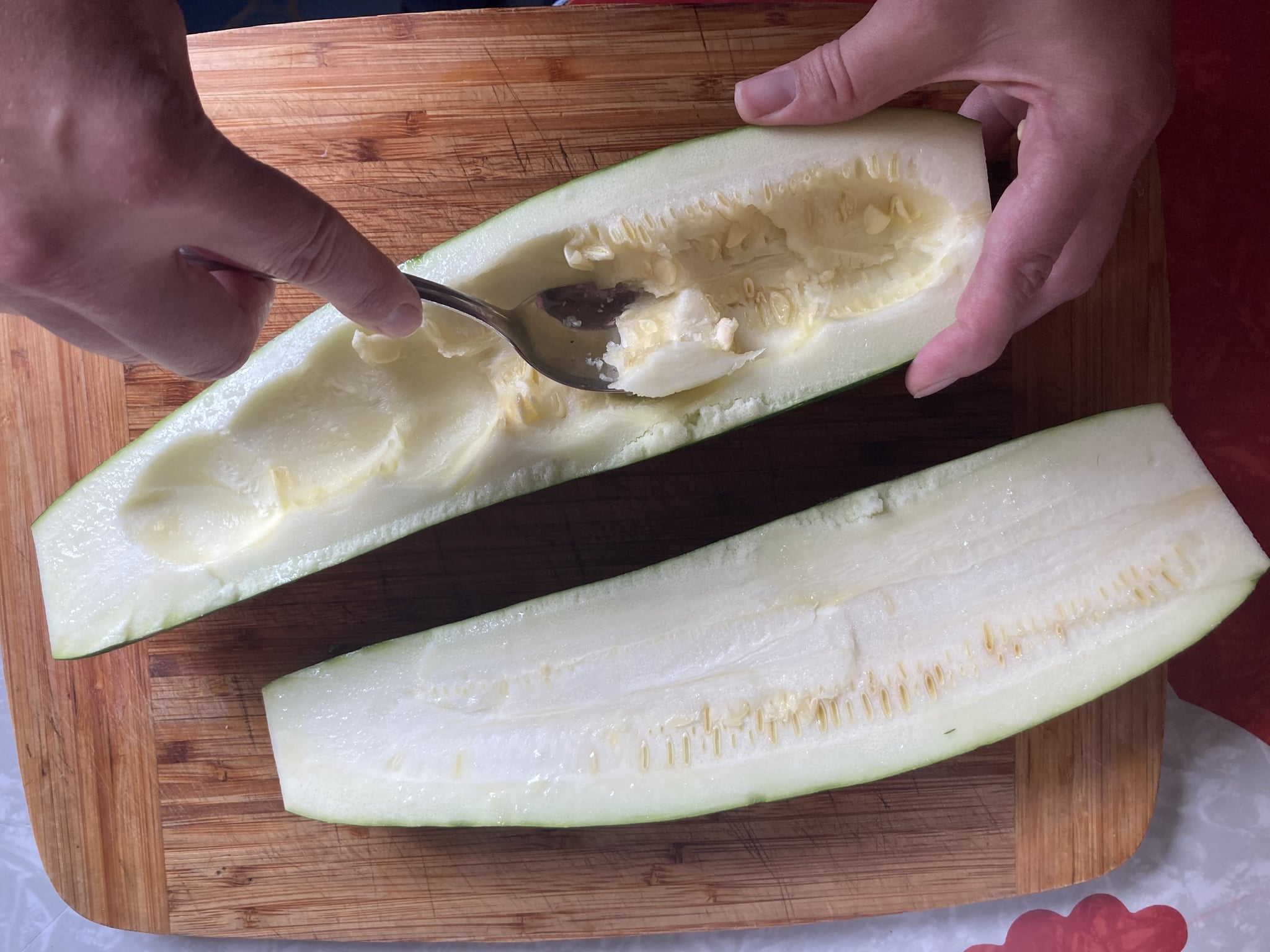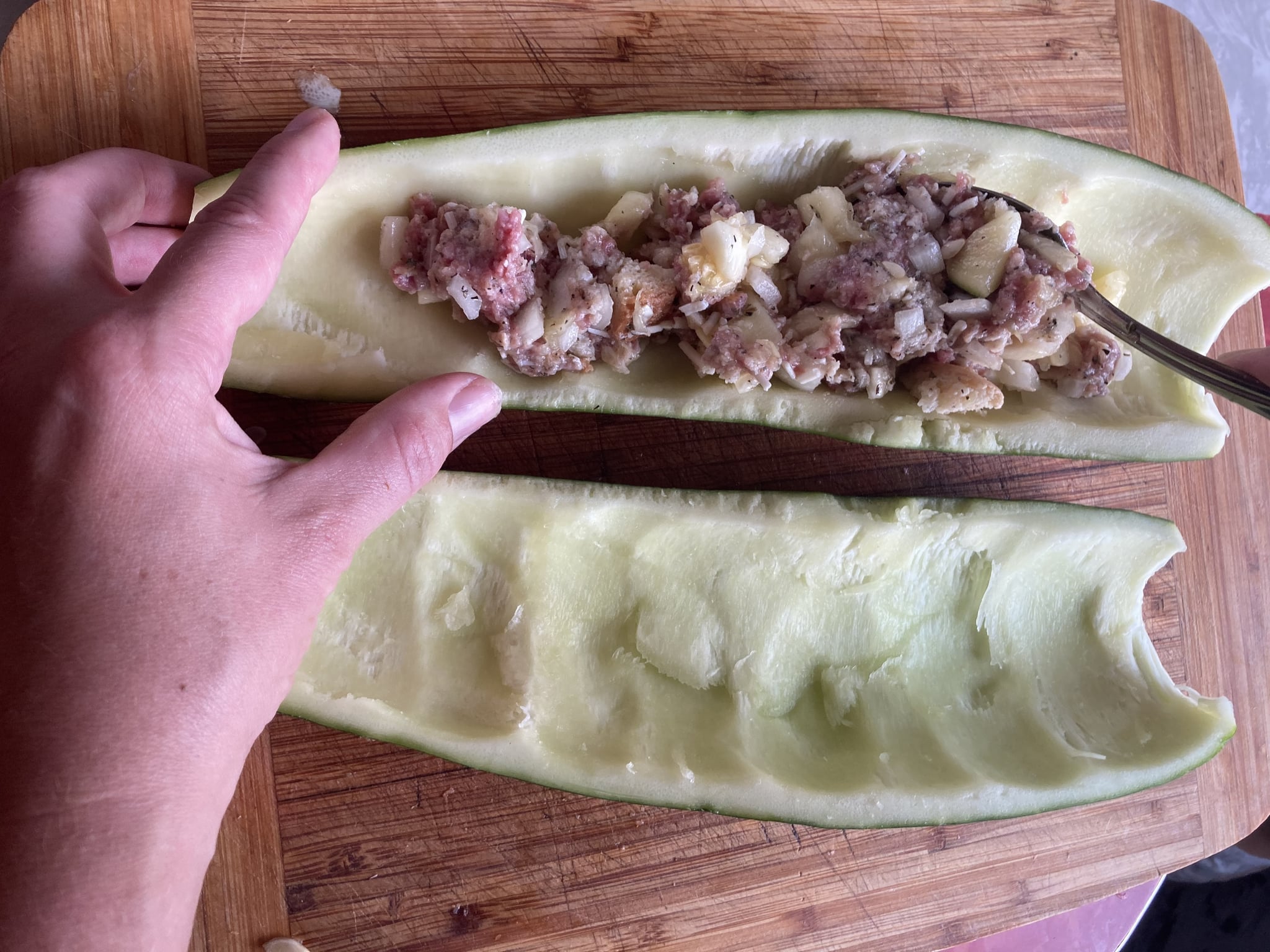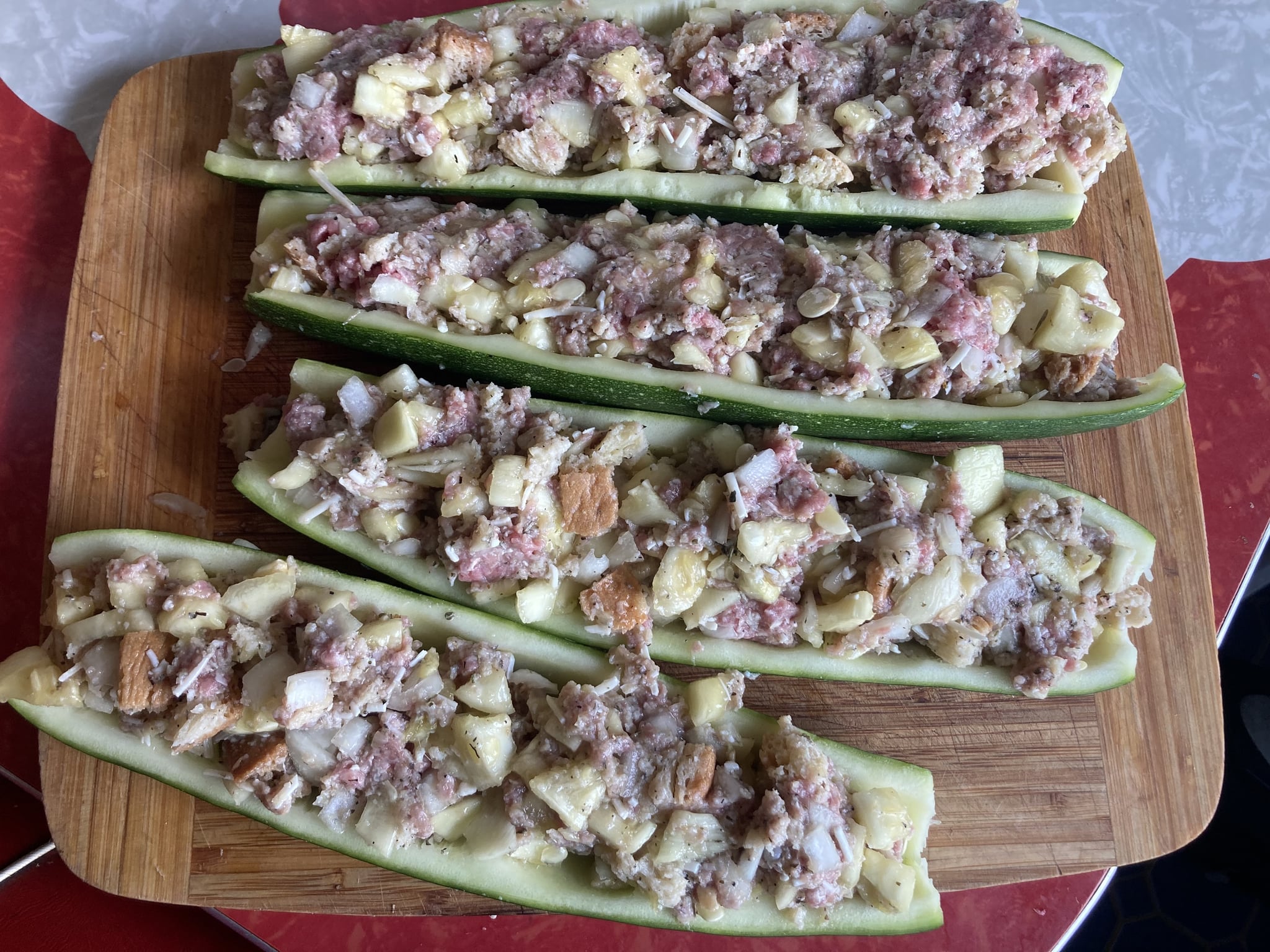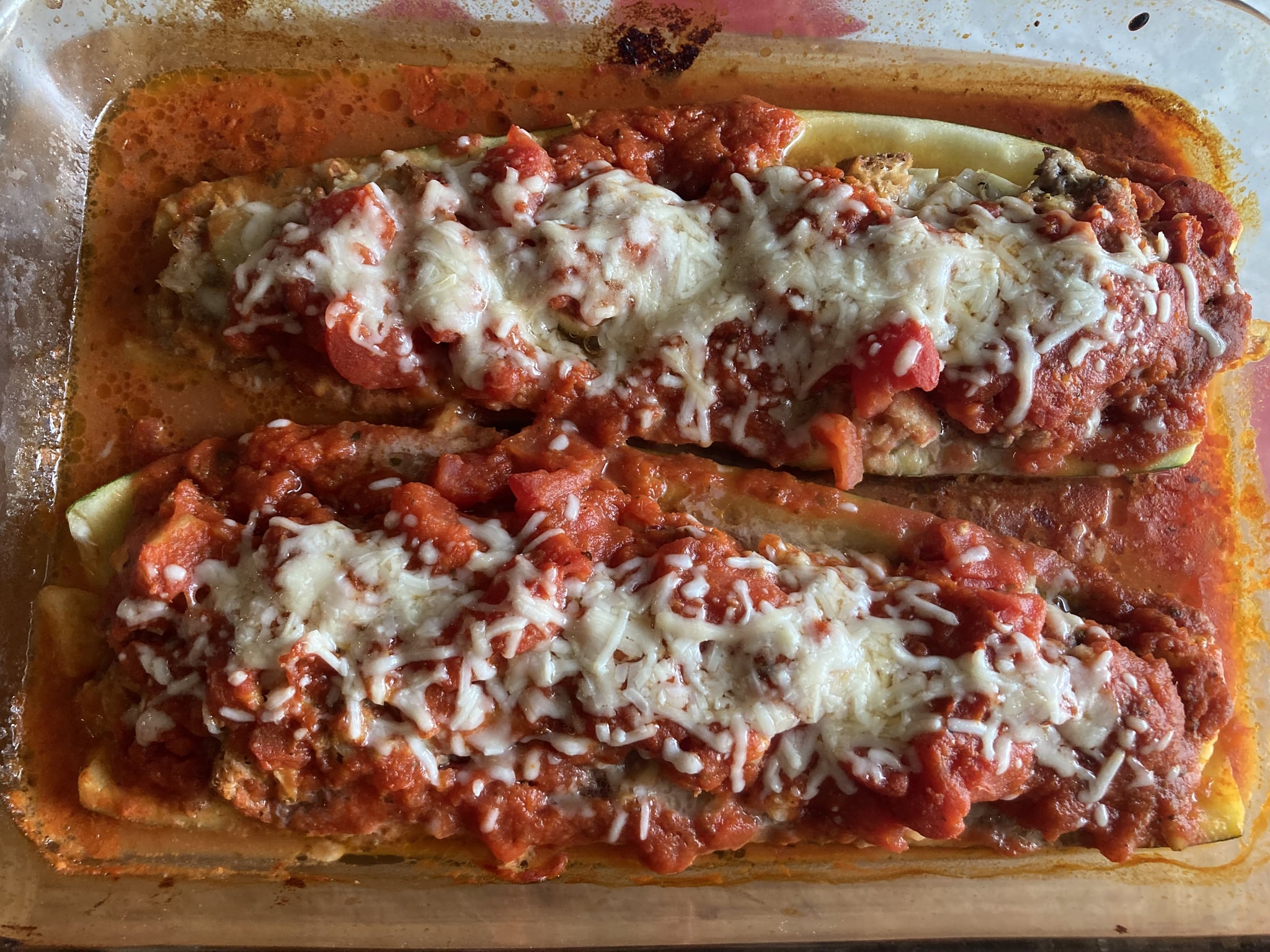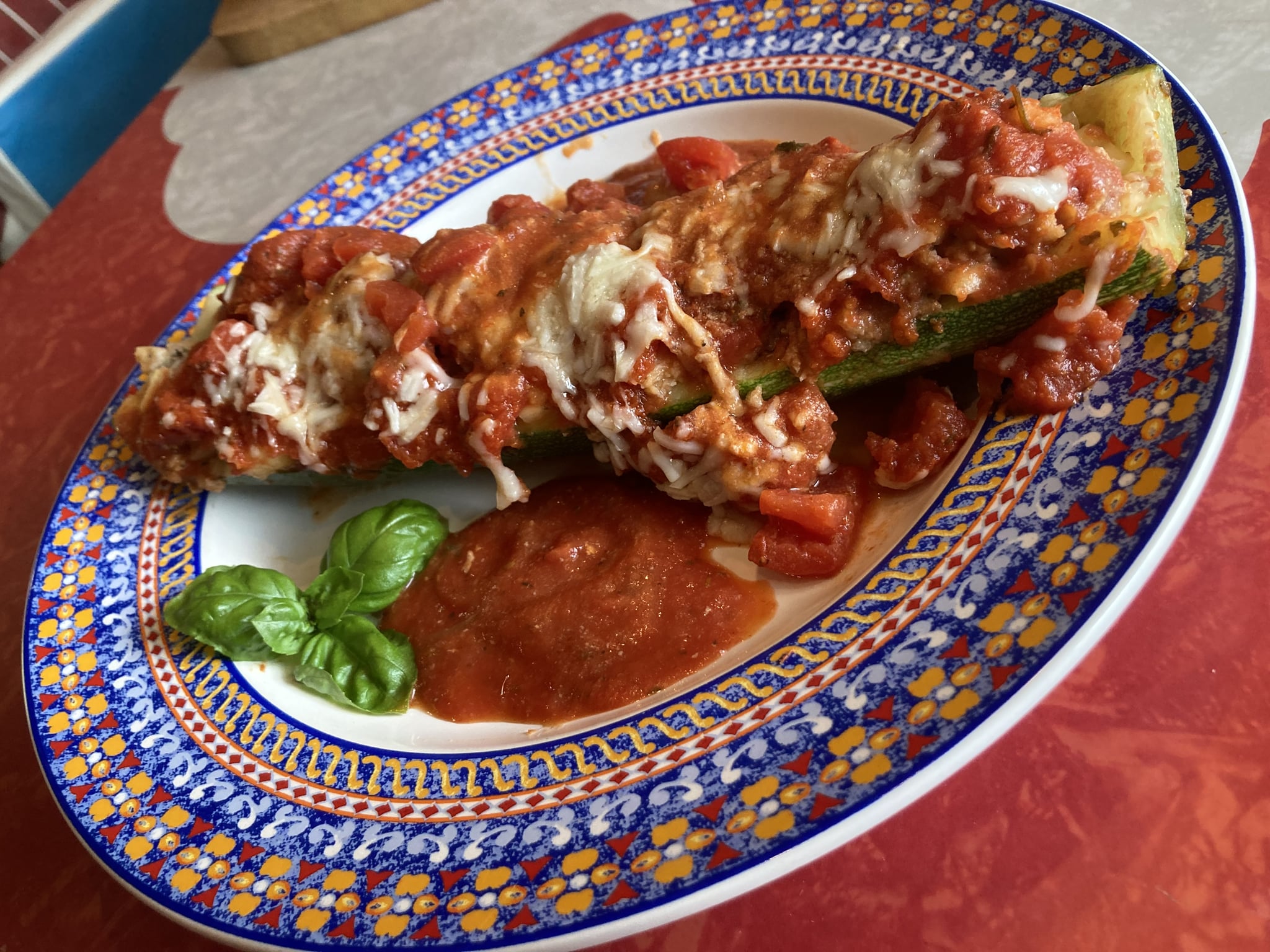 Stuffed Zucchini
Original Recipe
Notes
Keep in mind that zucchini size can vary greatly, and you may need to make adjustments based on the size of yours. If you can't find large zucchini, feel free to substitute 3 medium zucchini. If your zucchini are extra large, you may want to increase the amount of meat and cheese.
You might end up with extra filling that doesn't fit in your shells, and if so you can form them into balls and cook them alongside your shells.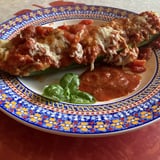 Ingredients
2 large zucchini
1 pound ground beef (may substitute ground turkey, sausage, or meat substitute)
2 eggs, lightly beaten
1 cup shredded Parmesan cheese, divided into 2 ½-cup portions
1 medium onion, diced
3 cloves of garlic, minced
2 slices Italian bread, torn into small pieces
1 tablespoon Italian seasoning mix (basil, oregano, rosemary, thyme)
1¼ teaspoons salt
½ teaspoon pepper
1 jar marinara sauce
1 can crushed tomatoes
Directions
Preheat oven to 350 degrees. Gather and prepare your ingredients.
Cut zucchini in half, lengthwise. Using a spoon, remove the flesh, so that the remaining shells are about ½ an inch thick. Chop the insides you removed, and put it in a bowl.
Add your onion, garlic, ground meat, bread pieces, salt and pepper, spices, eggs, and ½ of the cheese to the bowl with the chopped zucchini, and mix thoroughly.
Spoon the mixture into the shells. Top with diced tomatoes and marinara sauce.
Cover, and bake for 45 minutes. Remove cover, and place the remaining ½ cup of cheese on top of the shells, and return to the oven to bake an additional 10 minutes until the cheese is fully melted.
Carefully remove from oven, and enjoy! Note that the sauce will be pretty hot, so allow a few minutes to cool.
Information
Category

Main Dishes

Yield

4 shells

Prep Time

35 minutes

Cook Time

55 minutes

Total Time

1 hour, 29 minutes, 59 seconds
Image Source: POPSUGAR Photography / Julia Vorobiev