Trader Joe's Black Garlic Seasoning Review
Confirmed: Trader Joe's Black Garlic Seasoning Is Worth the Hype — Trust Me, I Tried It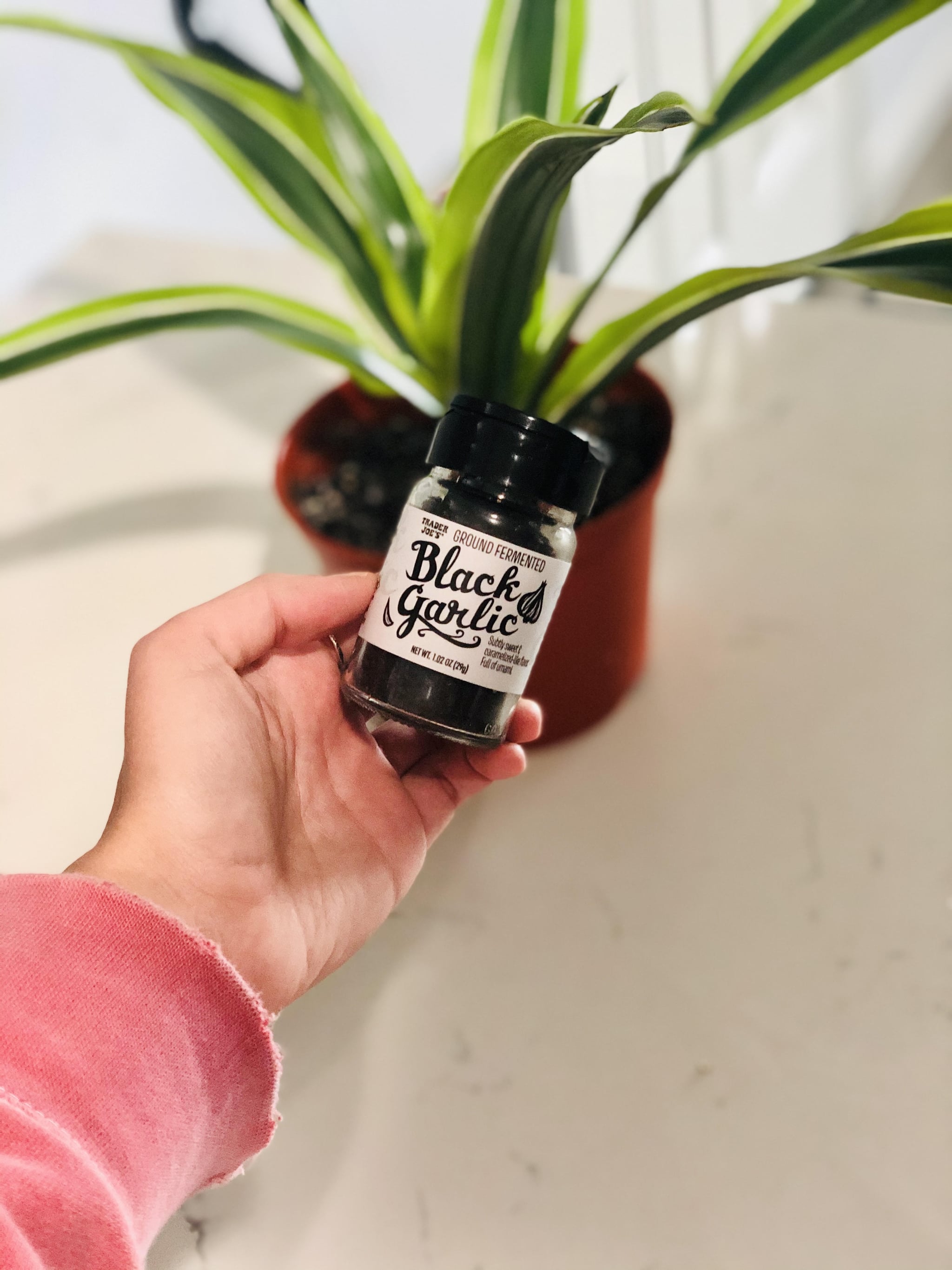 Trader Joe's has a lot going for it — it's affordable and delicious, and it packages up some of the most unique and genius products (i.e. cauliflower gnocchi, Everything but the Bagel seasoning, plantain croutons, etc.). So, it's no surprise that it added another unprecedented item to its stores — black garlic seasoning — and yes, it's crunchy, sweet, and really freakin' tasty to top on basically everything.
What Is Black Garlic?
I gave this a solid Google search before I purchased it, and it's not what I expected. Black garlic is fermented garlic that turns into a distinct black color throughout the process. To do this at home, it would take at least 30 days in a room of 130 degrees or warmer — AKA most of us would probably never make it for ourselves (so thanks Trader Joe's!). As a result, black garlic is softer, sweeter, and more mild tasting than regular garlic. It's also a bit more nutritious since the fermentation process boosts its health benefits — black garlic has even been coined as a superfood!
What Does Black Garlic Taste Like?
Well, for one, you can definitely tell it's garlic. The difference in taste is subtle, but it has a sweet aftertaste that makes it stand out from its regular garlic counterpart. It's essentially caramelized garlic, so as with any caramelized food, there's a sweet factor to it. While you don't need a heavy hand while dashing this garlic onto your food, I'd definitely recommend adding a more liberal amount than you would with regular garlic, as it's a bit milder in flavor than a garlic clove or garlic powder.
How Do You Use Black Garlic?
Admittedly, I'm not a huge chef, but I've put Trader Joe's Black Garlic on top of every meal I've made since I purchased it — from chicken to eggs to veggies and more. Heck, I even put it on a grilled cheese the other night and it tasted good. The packaging suggests that you add it to everything that you'd add traditional garlic to, so you know the deal (meats, fish, eggs, etc). I believe this garlic would taste particularly delicious in dips like sour cream, guacamole, or even cream cheese since its flavor is sweet and subtle.
Is It Worth It?
If it hasn't been made clear by now — yes, Trader Joe's Black Garlic Seasoning is SO worth it, and I wasn't expecting it at all. I do love garlic, but this black garlic seasoning wasn't an item that piqued my interest . . . until I tried it. It was love at first taste, basically, and now I've been dashing it over every meal I make like it's my job. The rich aftertaste has me hooked, and I'd totally take this seasoning over chopping up a clove of garlic any day.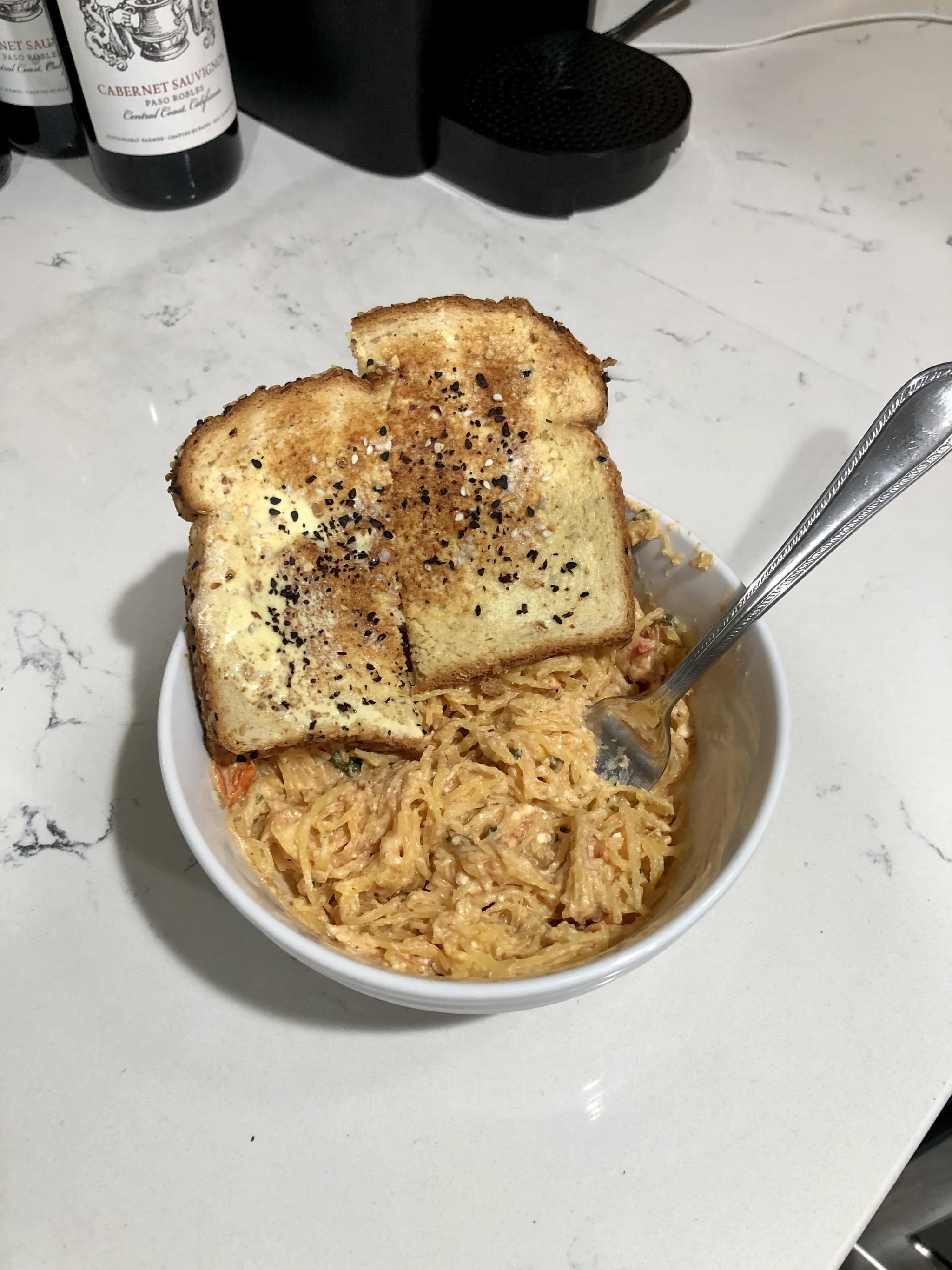 Image Source: POPSUGAR Photography / Haley Lyndes