Trader Joe's Pumpkin Curry Has the Perfect Amount of Zing to It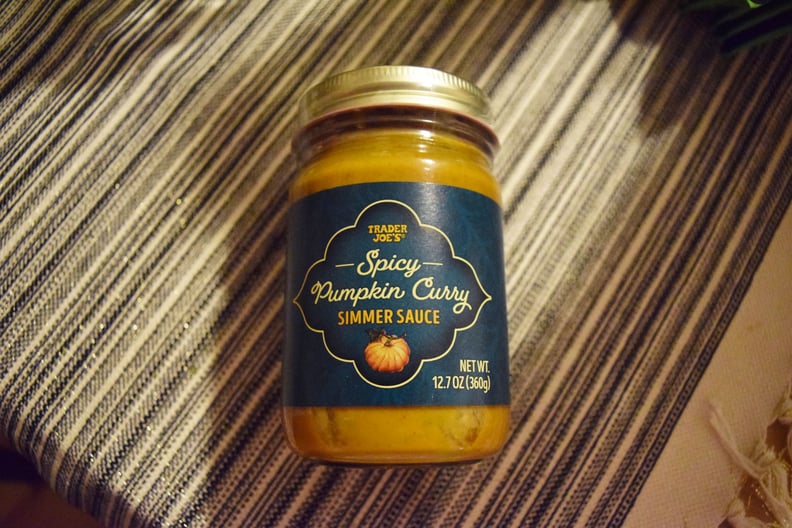 POPSUGAR Photography | Hedy Phillips
POPSUGAR Photography | Hedy Phillips
When I say I eat pumpkin everything during the fall, I really mean it. Pumpkin breakfasts! Pumpkin desserts! And now pumpkin curry. Trader Joe's spicy pumpkin curry is exactly what it sounds like — it's a simmer sauce that's a blend of pumpkin spices and curry spices. There's also a kick to it that doesn't pack too much heat, so it's not overwhelming. Overall, this is a Trader Joe's product that I definitely recommend.
The pumpkin curry is billed as a simmer sauce, so you can use it in any number of dishes. I imagine it would work really well to cook chicken or tofu in, I just conveniently don't cook chicken or tofu. To try it, though, I warmed it up on the stove and ate it with some rice. The sauce is thick and creamy and warms up in no time at all. You could also easily throw this in a bowl in the microwave to heat it up if you're into that.
As much as I love pumpkin, I was a little concerned with the blend of pumpkin and curry. Curry is such a strong flavor, and pumpkin is not nearly as potent, so I kinda assumed this sauce would just taste like curry. I was pleasantly surprised to note that it is a very layered sauce that showcases all of the components. While curry is the predominant flavor, the hint of pumpkin really comes through. The sauce also has the standard pumpkin spice ingredients to fill out the pumpkin flavor, along with some sugar and coconut milk. The zing comes from red jalapeño, but it's very subtle. It provides the heat you might expect from curry, but it only lingers in the back of your mouth. No burning here!
If you're looking for a tasty fall option for savory dishes, this is definitely a good item to pick up at Trader Joe's. It also comes in at an awesome price point — less than $3 for a jar, and the jar will go a long way depending on how you use it. I had an entire bowl of rice with plenty of sauce, and I could easily get three or four more meals out of what's left. If you're cooking a whole meal for a family, you probably need the entire jar, but again, it's less than $3.
I absolutely recommend grabbing a few jars of this if you spot it on the shelves at Trader Joe's. We all know how quickly limited-edition items sell out, and this one will most certainly be no different. Plus, it won't be on shelves for very much longer anyway, so grab a few jars (or, like, a dozen, no judgment) to keep in the cupboard for the next few months. Come December, you'll be glad you did!