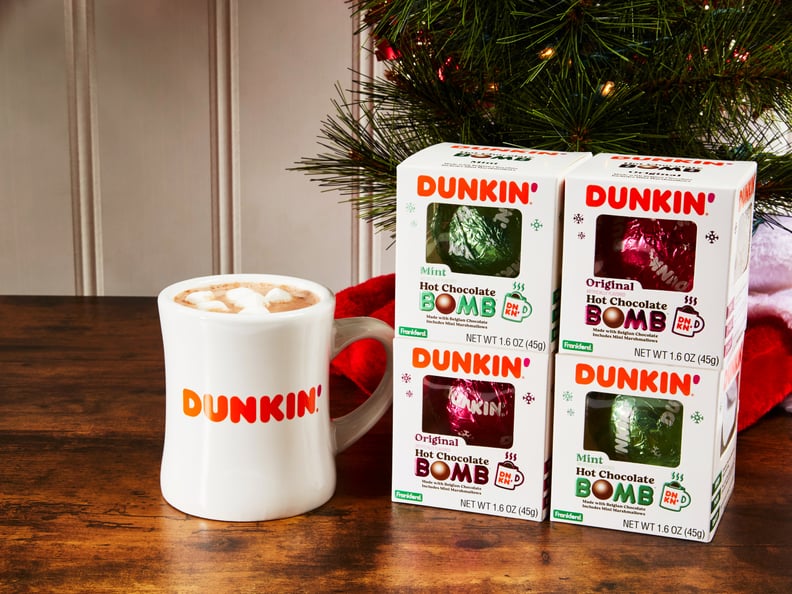 Courtesy of Dunkin'
Courtesy of Dunkin'
Dunkin' is heating up the holiday season with two delicious releases. Teaming up with Frankford Candy, Dunkin' is dropping Hot Chocolate Bombs, with two flavors inspired by the coffee chain's fan-favorite holiday menu items: the Original Hot Chocolate Bomb and the Mint Hot Chocolate Bomb. Retailing for $4 individually, or as a 12-pack for $55, the Hot Chocolate Bombs will be available across the US for a limited time only, so you'll want to stock up on these holiday treats while you can.
Wrapped in festively designed metallic foil, each Dunkin' Hot Chocolate Bomb boasts a spherical, Belgian milk- or mint-chocolate shell containing a handful of mini marshmallows (the superior marshmallow, IMHO). The bombs function like any other chocolate bomb; grab your favorite mug, drop in your Hot Chocolate Bomb, pour hot milk or water right on top of it, and peep the chocolate shell dissolve to release the mini marshmallows. Give it a quick stir to ensure your hot chocolate is fully mixed, and you're ready to sip on your favorite hot holiday drink.
"Hot chocolate has always been a top drink to cozy up with and enjoy on a cold day," Molly Jacobson, director of business development at Frankford Candy, said in a press release. "Because Dunkin' is a favorite daily destination for hot and cold beverages of all types, including hot chocolates, we're excited to work with Dunkin' to give fans a new and surprising way to experience their favorite Dunkin' hot chocolates and transport them into the holiday spirit at home."
Although the Dunkin' Hot Chocolate Bombs aren't on shelves just yet, the brand plans to release them later in November. Once available, you can purchase the Hot Chocolate Bombs online at Amazon and the Frankford Candy website as well as at a variety of local retailers, including Big Lots, Ross Dress for Less, H-E-B, and Christmas Tree Shops and That!