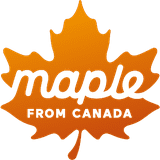 We partnered with Pure Maple from Canada to share why you should give real maple syrup a turn when cooking at home.
Sometimes, all it takes is one ingredient to elevate a dish: a sprinkle of flaky salt, a squeeze of lemon, a drizzle of real maple syrup. While people often use maple syrup in its most classic application — poured over a stack of pancakes — it's actually a unique ingredient that's infinitely adaptable.
But you want to ensure the syrup you're using is the real thing by looking at the label. Traditional pancake syrups are made with artificial maple flavoring and other processed ingredients, while Pure Maple Syrup from Canada is harvested from the sap of trees — it's a natural sweetener that adds richness to any dish. Whether you're preparing chia pudding or farro salad, maple syrup can be used in both sweet and savory applications. Keep scrolling to see the many different ways real maple syrup can be added into your cooking repertoire.