What Is Magnolia Market in Waco Like?
8 Reasons It's Worth Traveling to the Silos in Waco to Shop at Magnolia Market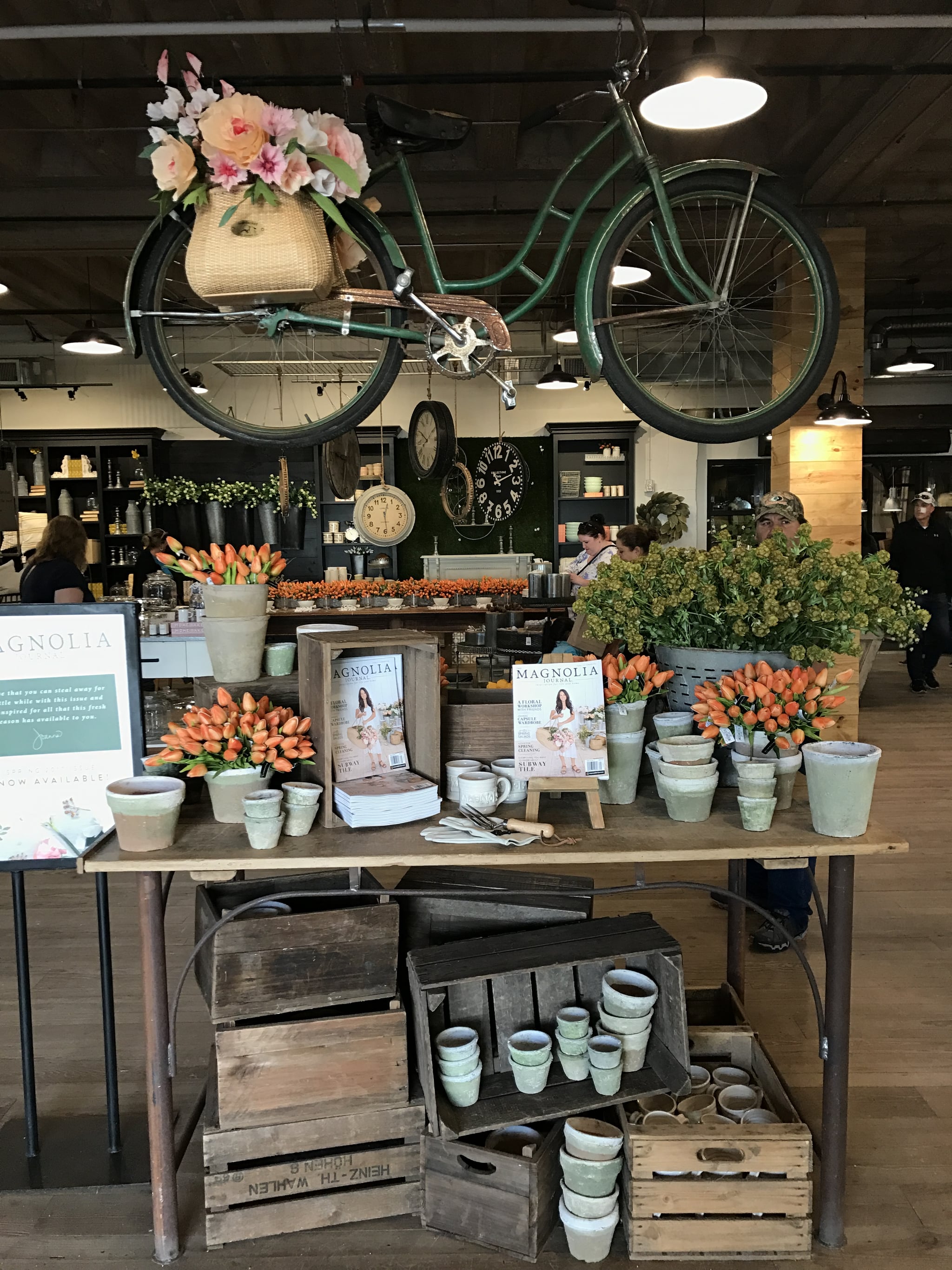 When you're sitting browsing Magnolia Market's online shop on your laptop from the comfort of your sofa, it might seem like there's no point in trekking to Waco, TX, to visit the brand's flagship (and only dedicated) retail store in person. But you're wrong. I recently made the trek to the Fixer Upper fan mecca and found that there are certain fundamental elements to the shopping experience you just can't get when doing it online. Here are my eight reasons it's worth visiting the Silos to shop Magnolia Market in person.
1. There Are Way More Products to Shop
As many gorgeous products as there are on magnoliamarket.com, there are twice as many stunning farmhouse-chic pieces — from servingware to faux flowers, wall paint to Joanna-esque fashion jewelry, and beyond — at the actual store. "Joanna wants to make sure that our guests that are traveling to Waco are able to purchase unique items that are not found online," a rep told us in March. My favorite purchase, a statement-making marble black and white striped cheeseboard, proves she's done just that.

2. The Displays Are Inspirational
The high-res product images on magnoliamarket.com are nice, but nothing beats seeing how beautifully Joanna and the Magnolia team display pieces in the store. Magnolia Market is full of inspiring display areas, including a model kitchen, office and entryway spaces, and even a stunning full-scale table setting. You'll want to replicate everything you see there in your own home.

3. There's an In-Store FedEx So You Can Ship Everything Home
One perk of shopping online is that your purchases are sent directly to you, making it super easy to get the Waco design look from afar; however, out-of-town Silos visitors have this same convenience, as a FedEx store has been installed inside of Magnolia Market! That's right, next to the register there's a huge shipping station so you can go from paying for your goodies to shipping them directly to your front door.
4. You Can Refuel With a Cupcake From Magnolia Bakery
By the time you're done perusing the aisles of Magnolia Market, you'll likely be famished. Shopping is hard work, after all. If you were sitting in front of your computer, your only snack option would be what's in your fridge — but at Magnolia Market, you need only walk a few feet into Silos Baking Co. for a scrumptious, freshly baked sweet treat.

5. The Lawn at the Silos Is the Perfect Place to Recuperate
No matter how nice your sofa is, we're guessing it doesn't beat lounging on the lawn at the Silos. Plush rugby-striped beanbag chairs and picnic tables beckon shoppers with tired feet while cornhole boards and swings are great for younger visitors who need to let loose. No matter what your style, there are plenty of recreational options directly outside Magnolia Market for you to enjoy once your shopping spree is done.
6. Chip and Joanna Occasionally Make Appearances
Superstardom has made it hard for Chip and Joanna to casually swing by the Silos complex, but the Magnolia brand's headquarters are located directly above the market, so the Gaines do come by on occasion. And if you're lucky, you just might get to see them! Chip's office overlooks the lawn behind Magnolia Market — and he's been known to quietly sneak up there to watch visitors enjoying themselves on the weekend. So while you're reclining on a beanbag chair, turn your head up to the sky and see if you can spot Chip inside the upstairs window.

7. Even If You Don't See Them, You Might See Their Family
Let's be honest: it's unlikely you'll spot Chip and Joanna themselves at the Silos, but there is a good chance you'll see one of their family members. Joanna's mother makes frequent appearances, often greeting guests to the Silos on the weekend, blogger Rachel Teodoro told us.
8. You Can Take an Envy-Inducing Instagram Snap
Right outside Magnolia Market's front door there's not one but two famous photo spots, perfect for snapping that Instagram-worthy picture. Stand beneath the #milestowaco frame for one pic and then pose prettily in front of the bakery's signature black and white brick wall for another. You're sure to get plenty of "likes."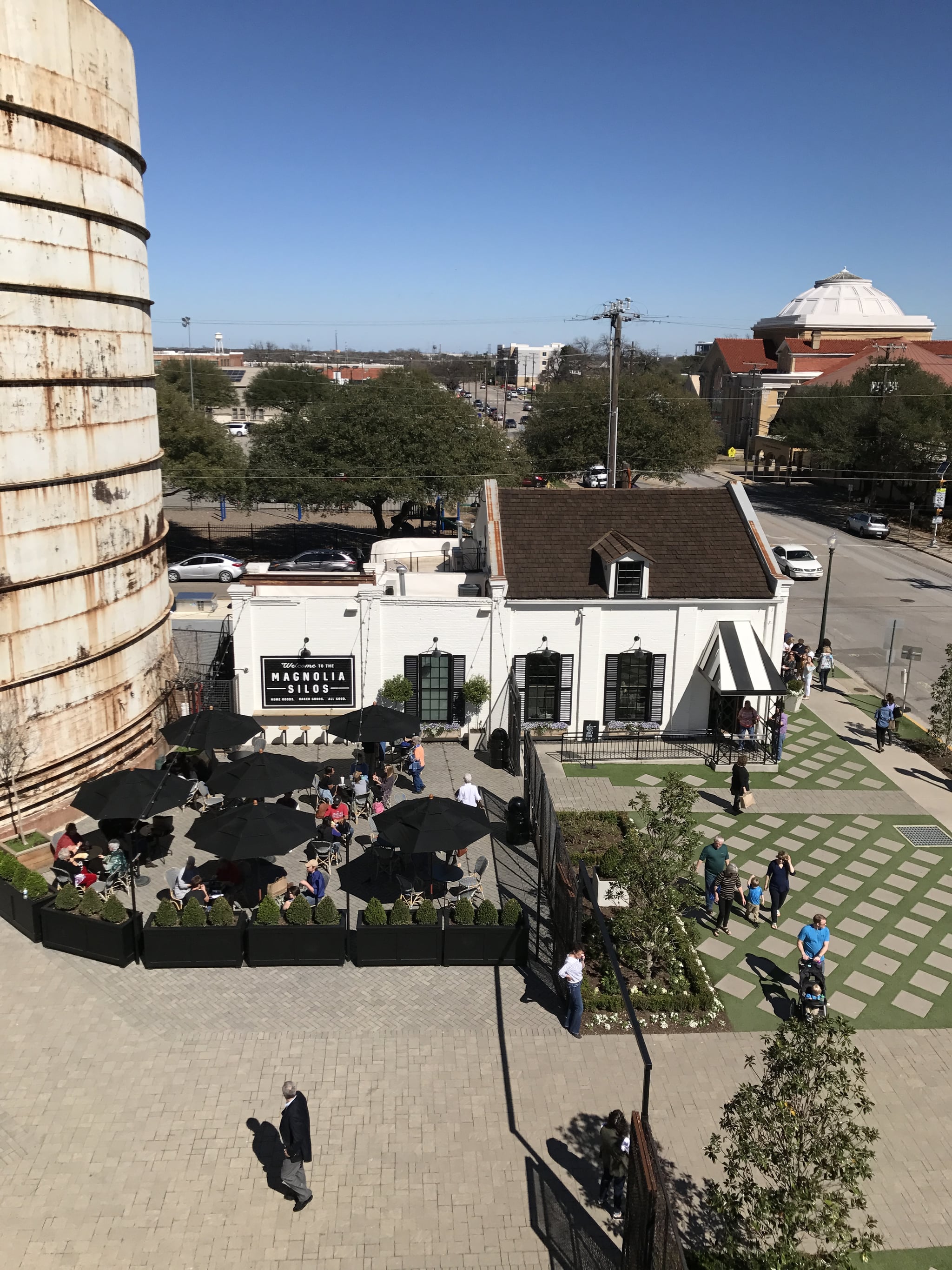 Travel and expenses for the author were provided by KILZ for the purpose of writing this story.
Image Source: POPSUGAR Photography / Maggie Winterfeldt