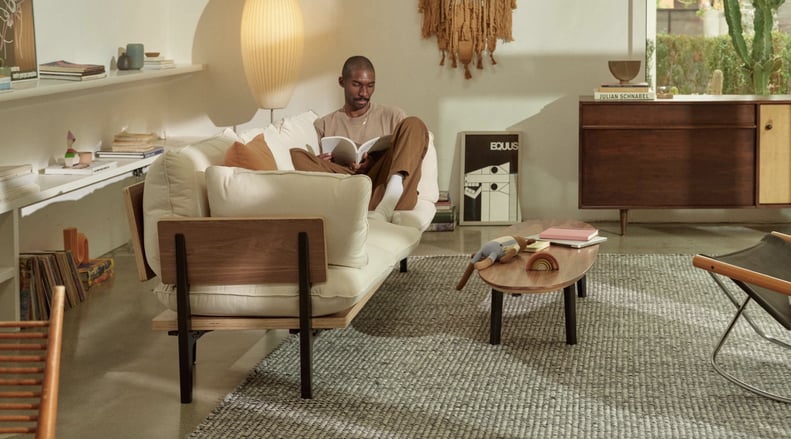 Floyd
Floyd
As POPSUGAR editors, we independently select and write about stuff we love and think you'll like too. If you buy a product we have recommended, we may receive affiliate commission, which in turn supports our work.
Shopping for new furniture online is a big task because there are so many brands and sites to browse. A lot of pieces can end up being cheap and not last long, which is why we love to turn to direct-to-consumer brands that specialize in making useful pieces that are designed to withstand life and last for years to come. One of our favorites is Floyd for its Instagram-worthy designs that go beyond just looking good. They're majorly functional and modular.
You may be familiar with Floyd's cool, modern bed, which is a customer favorite. But the brand's site has tons more to offer. From a standing desk for working from home, to shelves that come in an endless number of configurations, to even a comfy sofa that arrives in a box, these functional and space-saving pieces are sure to blow you away.
The best part about these pieces is that many of them are made to be adjusted throughout the years, so they can truly fit into any space. The sleek designs make any room feel larger and more spacious. These are truly picks that are investments and will stay in the family for years. Keep reading to shop just a few of our favorites and see which ones belong in your home.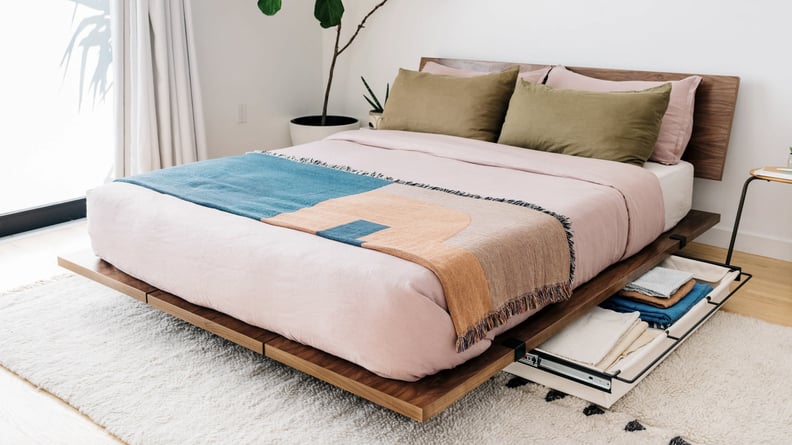 The Best Modular Bed Frame: Floyd Platform Bed
The Floyd Platform Bed ($595-$2,075) is probably the brand's most popular piece. You can choose it in whatever size you need with headboard and storage options. The twin size has two boards as the base, the queen has three, and the king has four. This means you can upgrade your bed frame throughout the years without having to purchase a totally new piece. How smart is that? Plus, it's super easy to put together. It comes in both a walnut and light birch choice, and you can choose between white and black hardware.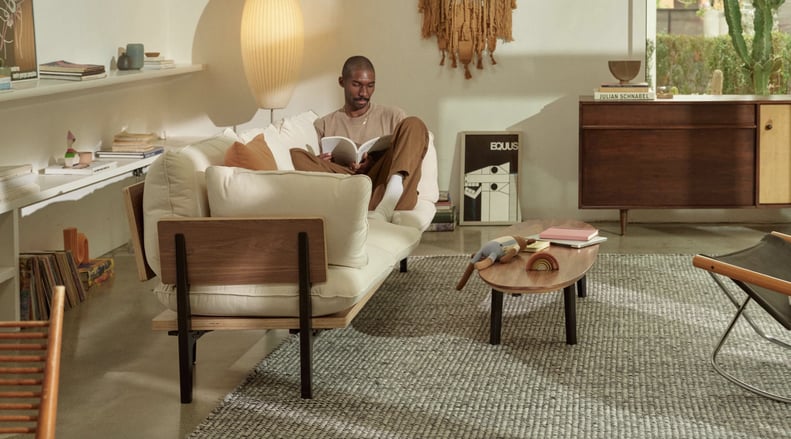 The Best Apartment Couch: Floyd Sofa
The Floyd Sofa ($1,275-$3,175) is a great, comfy piece for small apartments. The seamless and timeless design comes with legs, four pieces of wood, and eight cushions. Made with the brand's one-of-a-kind snap-together hardware, it takes less than 15 minutes to put together after opening the boxes it comes in. It's truly the perfect apartment sofa, and it comes in six upholstery color choices. You can choose the base in either walnut or birch wood, or even carry on the fabric theme. Want a sectional? It comes in an option with a chaise lounge, too.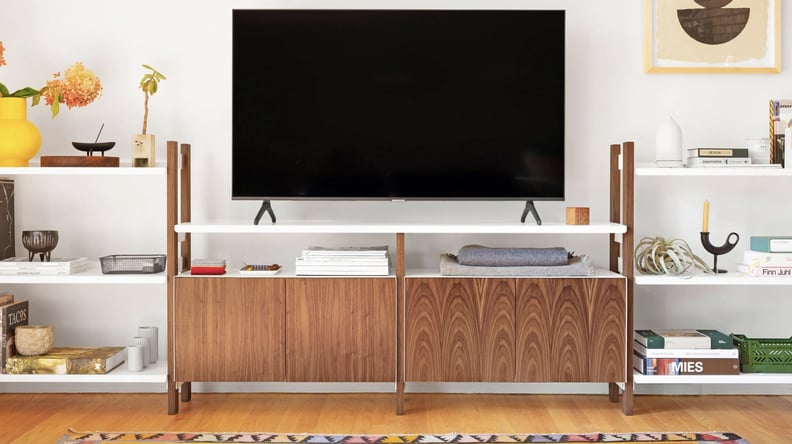 The Best Media Storage: Floyd Media Console
The Floyd Media Console ($875-$1,875) is one of the newer additions to the brand's functional line. It comes in a number of variations and finishes that fit perfectly into any space. Its versatile design is both sleek and useful for storing anything from books and tech equipment to putting your TV on display. The best part: you can custom configure it to be paired with the brand's handy shelving system, too.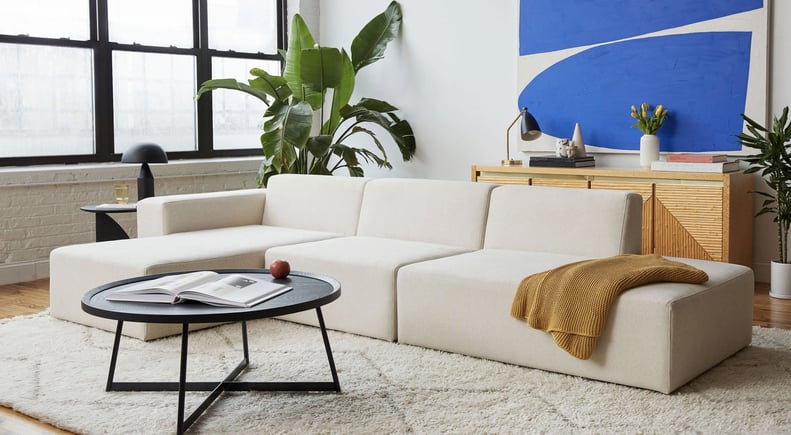 The Best Low-Profile Couch: Floyd Sectional Three-Seater Sofa With Chaise
Of all the brand's cool configurations, our favorite pick is The Floyd Sectional Three-Seater Sofa With Chaise ($2,785). The cool, low-profile sectional is right on trend with all the modern and comfy sofas we've been seeing lately. Made with a durable polyester, this piece is designed to last and withstand your daily life. It comes in a handful of configurations from two-seaters to larger corner sectionals, so you can truly get one to match your space.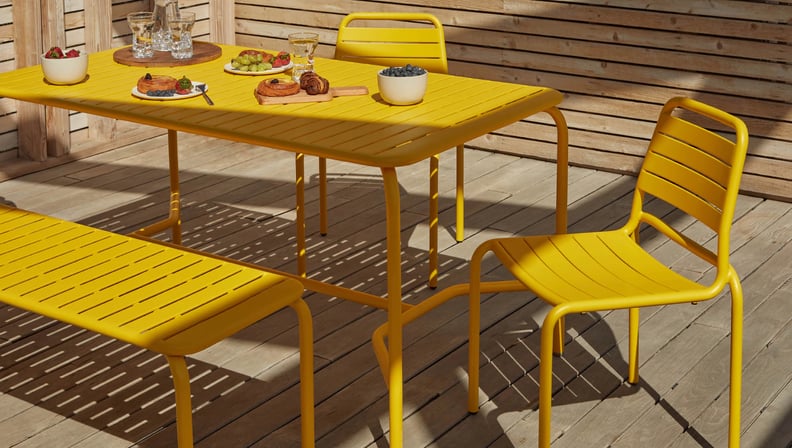 The Best Outdoor Furniture: The Floyd Outdoor Sets
When it comes to outdoor furniture, you'll want pieces that are durable, stylish, and long-lasting. The Floyd Outdoor Sets ($240-$495) are just that. The aluminum design is lightweight and easy to move around, so you can easily transition it from one space to another.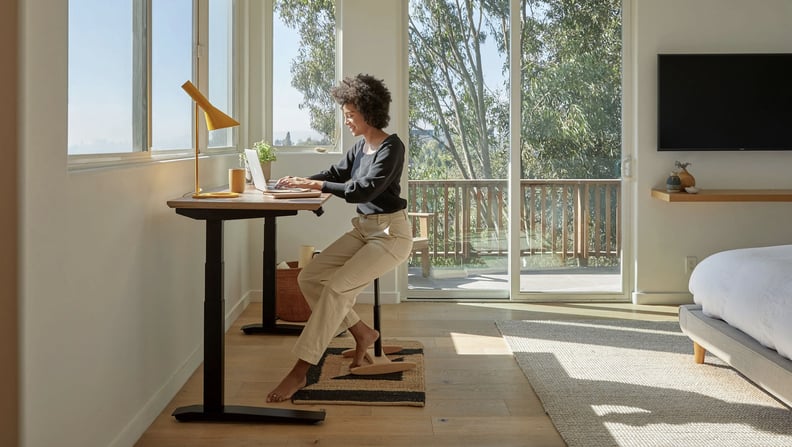 The Best WFH Desk: The Floyd Standing Desk
If you're trying to spruce up your WFH space, then The Floyd Standing Desk ($955-$995) is a choice worth considering. You can both sit and stand with this automatic desk, and you can choose it in your favorite wood color. It's also an editor favorite — read the full review here.
The Most Minimal Coffee Table: Floyd Coffee Table
The Floyd Coffee Table ($445-$485) is a minimal piece that would make any living room feel complete. It comes in both an oval option and a round option. You can choose it in either dark walnut or a light birch wood finish. The finishing touch is to choose black or white hardware that'll create either a midcentury modern vibe or a more Scandinavian minimal look.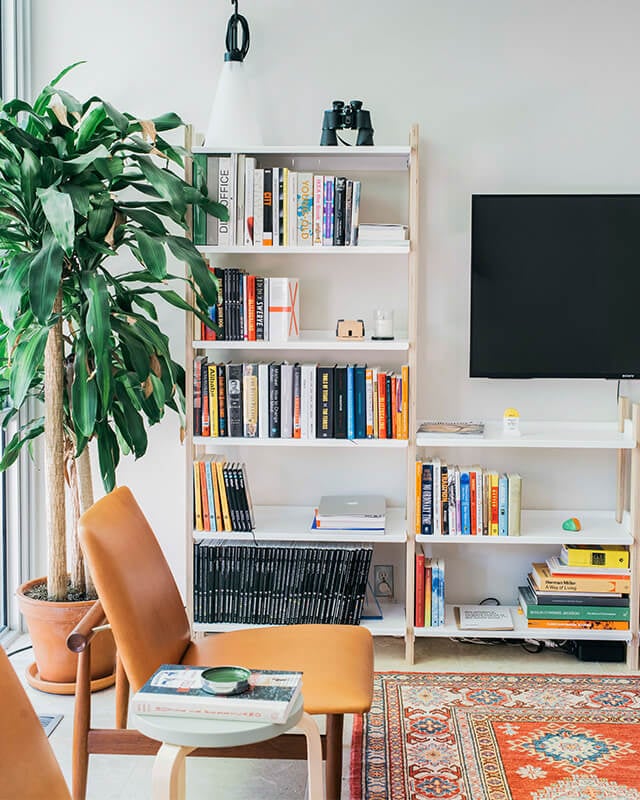 The Best Custom Shelves: Floyd Shelving System
The Floyd Shelving System ($460-$2,225 per piece) is so cool. The shelves comes in so many configurations that can easily be adjusted, so you can change the layout whenever you want. Buying add-ons and cabinets for it is easy, so you'll never tire of owning this classic shelving. The shelves come in black, white, and a fun green shade. They can be paired with either walnut or birch wood.