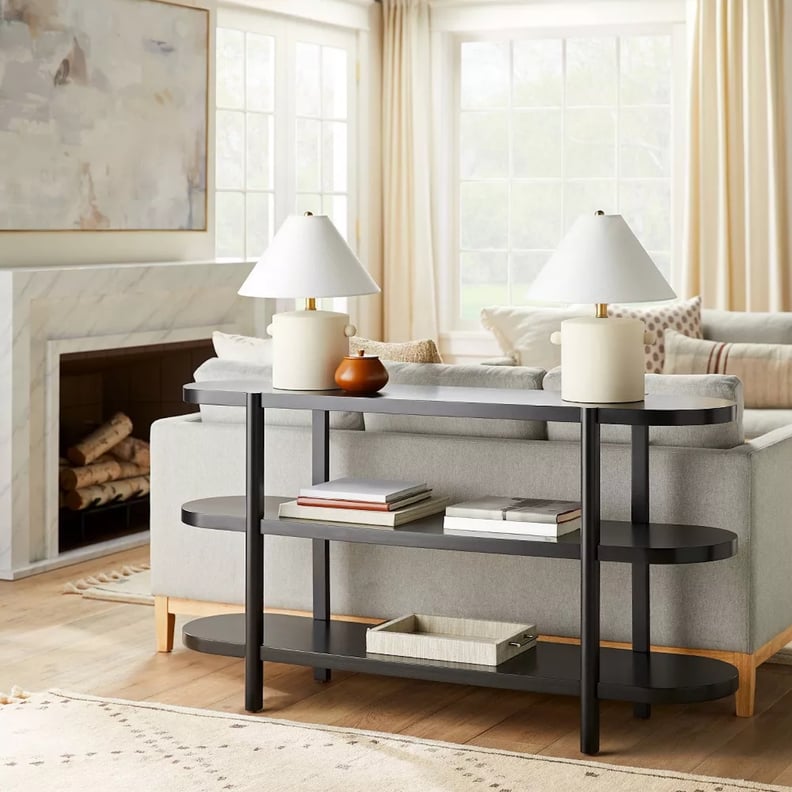 target.com
Every editorial product is independently selected by our editors. If you buy something through our links, we may earn commission.
Lighting has the ability to change the look and feel of a space, so it's both functional and decorative. If you're in the market for a new lamp to place on your bedroom nightstand, office desk, or a side table in your living room, it's important to be selective: does it match your bedroom, living room, or office decor? Does it give off the correct amount of light to illuminate your space? Is it sized for the surface you're placing it on? Is a floor lamp a better option? All of these questions are reasonable to consider, and to help you find the perfect lamp for your home, we gathered a plethora of choices from Target that look much more luxe than their price tags.
Whether you're looking for a floor lamp for your kid's room or a discreet lamp that will match your living-room decor, we've found a variety of lighting options that give off a warm glow all while contributing to your home's decor. From modern lamps to industrial-style lamps and even floor lamps that act as another piece of furniture, we've thought of all the lighting options that will elevate your home and give it a welcoming ambiance. Check out our favorite lamps with an affordable price tag from Target ahead.
— Additional reporting by Angela Elias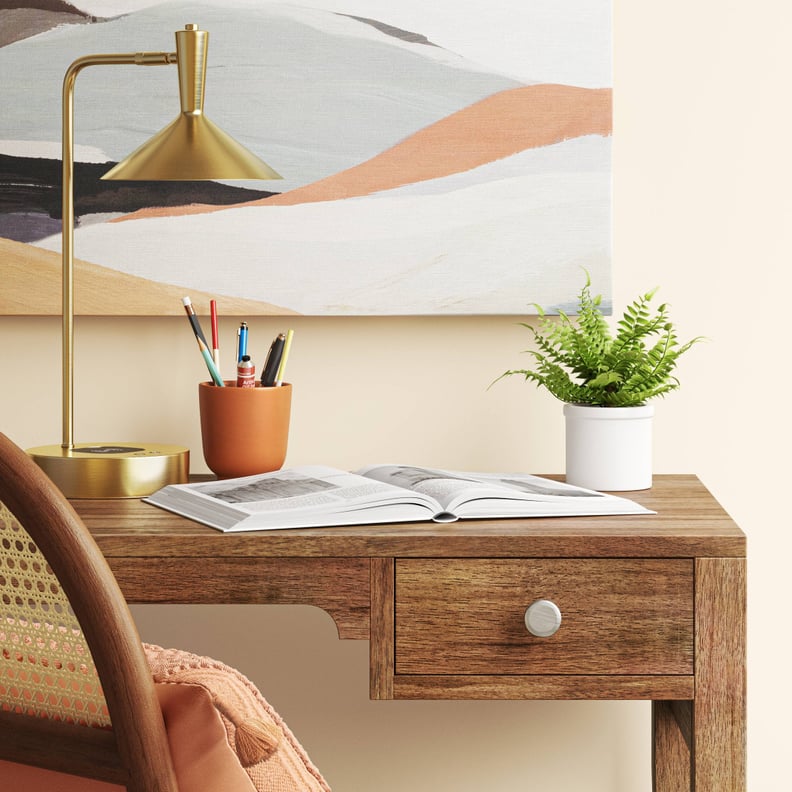 Best LED Wireless Charging Task Lamp
LED Wireless Charging Task Lamp ($60)
If you're looking for a lamp to add to your office desk, try this plug-free option. The lamp has a USB port and a wireless charging feature that makes it easy to navigate on top of any surface. We love its touch-activated sensor, which allows you to adjust its light brightness and color temperature.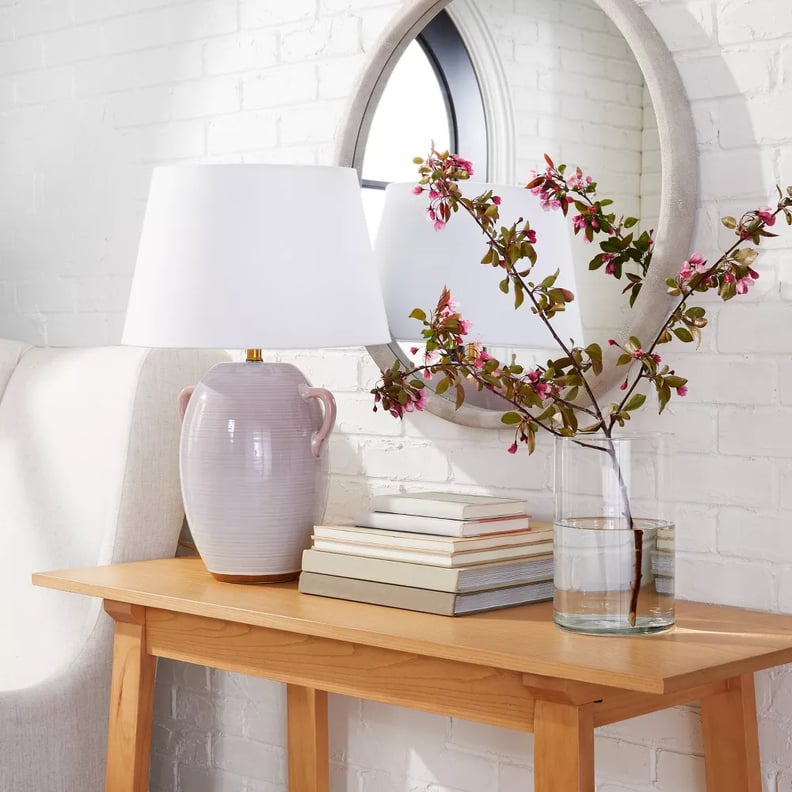 Best Jug-Shaped Lamp
Threshold Large Ceramic Jar Table Lamp ($95)
If you love the shape of vintage jugs, you'll appreciate this ombre beauty. It has a dimmable light setting, so it's easy to create instant mood lighting. The crisp white drum shade keeps it looking clean and modern.
Best Scallop Shade Lamp
Small Rattan Table Lamp with Scallop Shade Beige ($60)
If you want a lamp that doubles as a piece of decor, try this rattan option. Its small size is easy to fit in anywhere and its beige shade gives off a warm glow. Place it on a side table or console table for a unique look.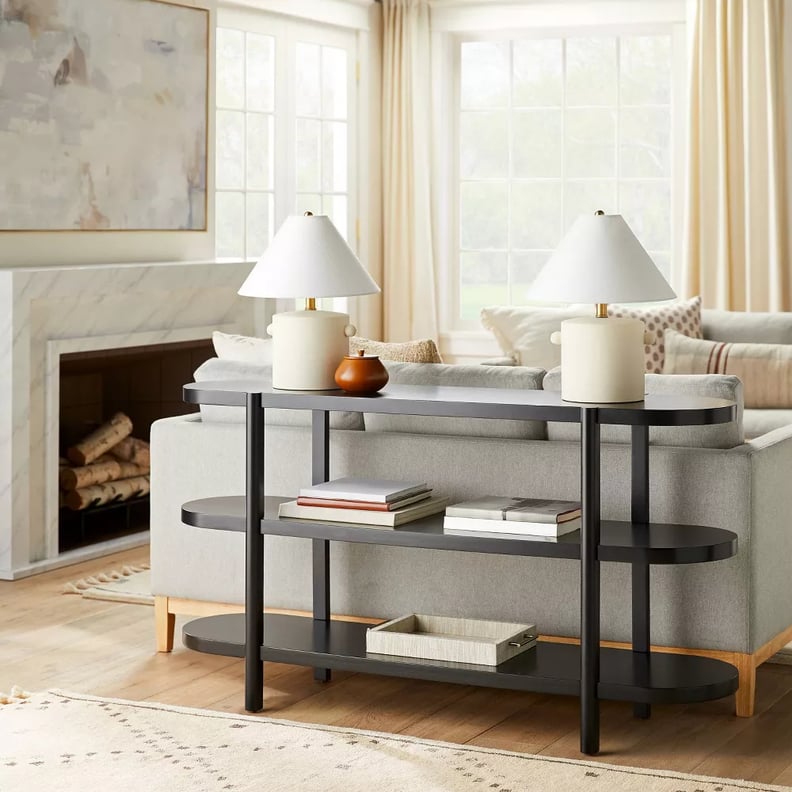 Best Ceramic Lamp
Threshold Ceramic Table Lamp with Knob ($60)
This Threshold lamp designed with Studio McGee is ideal if you're going for a clean, tonal look. The knobs give the ceramic base a sculptural feel and the empire shade adds to the modern aesthetic. It has over 50 reviews and boasts a perfect five-star rating. After selling out once, it's back in stock so grab one before the style sells out again.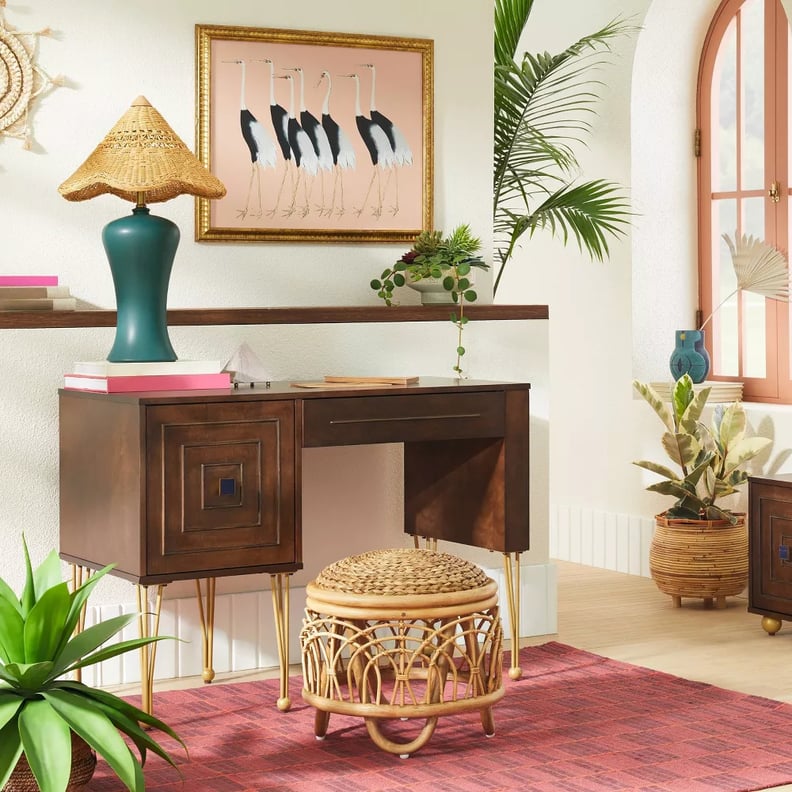 Best Rattan Shade Lamp
Opalhouse Ceramic Table Lamp with Tapered Shade ($80)
Between the eye-catching shade of emerald and the coolie-style rattan shade, this lamp stands out from the rest. Its tall silhouette makes a statement while the woven shade casts a warm glow.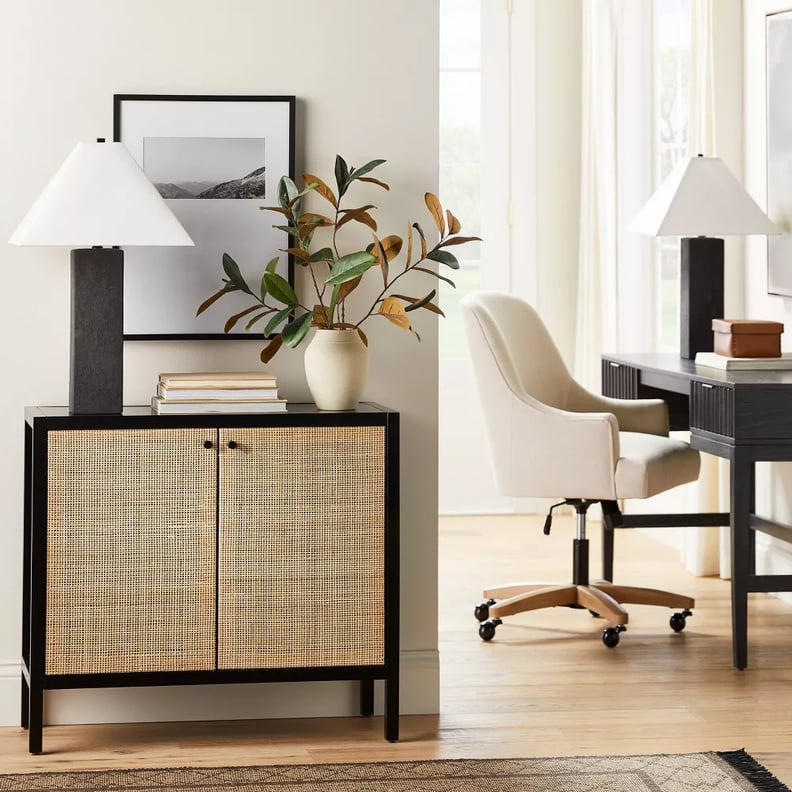 Best Modern Black Lamp
Threshold Square Table Lamp with Tapered Shade ($85)
If you're looking for a lamp with a simple, modern shape and a classic color palette, you can't go wrong with this option. The contrast of the straight black base with the tapered white shade creates a striking look. Place it next to framed black and white photography to create a timeless vignette.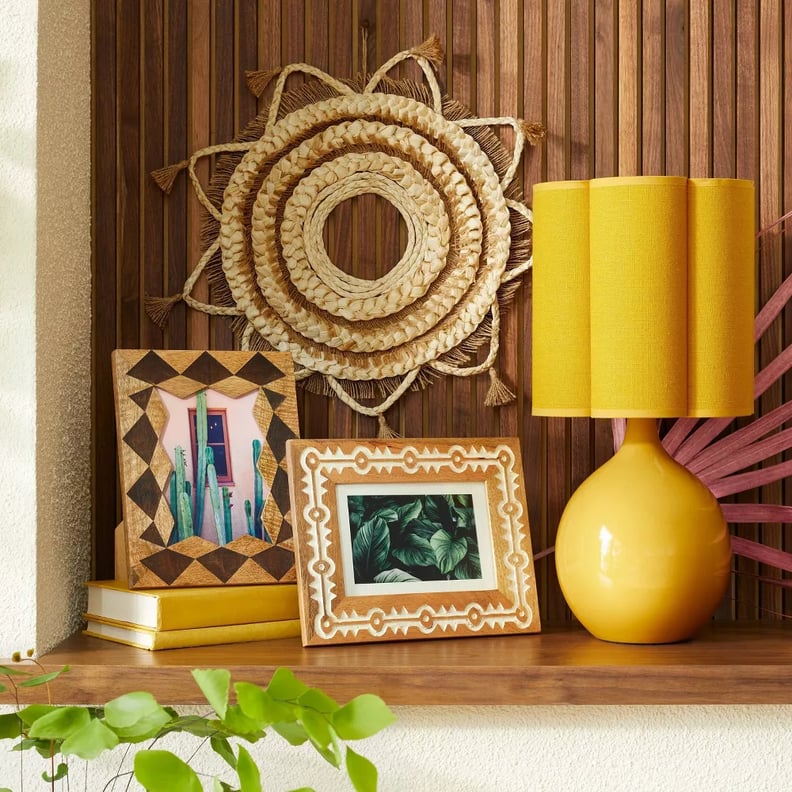 Best Colorful Lamp
Opalhouse Ceramic Table Lamp with Elongated Shade ($60)
If your space is in need of a pop of color, this little yellow lamp will solve that problem. Its scalloped yellow shade provides a tonal look, so you can enjoy its sunny hue from top to bottom.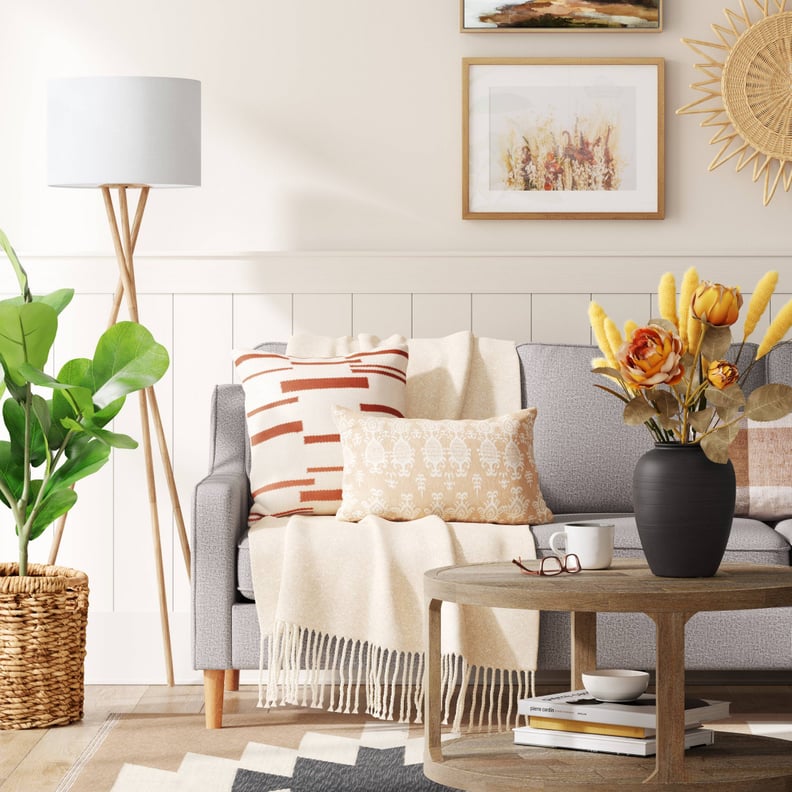 Best Tripod Floor Lamp
Threshold Floor Lamp ($105)
If you want a lamp that doubles as furniture, give this one a try. The lamp has a crisscross design that's captivating and is perfect for placing next to a couch or in an empty corner. It comes with an LED bulb too, so you don't have to worry about picking one up.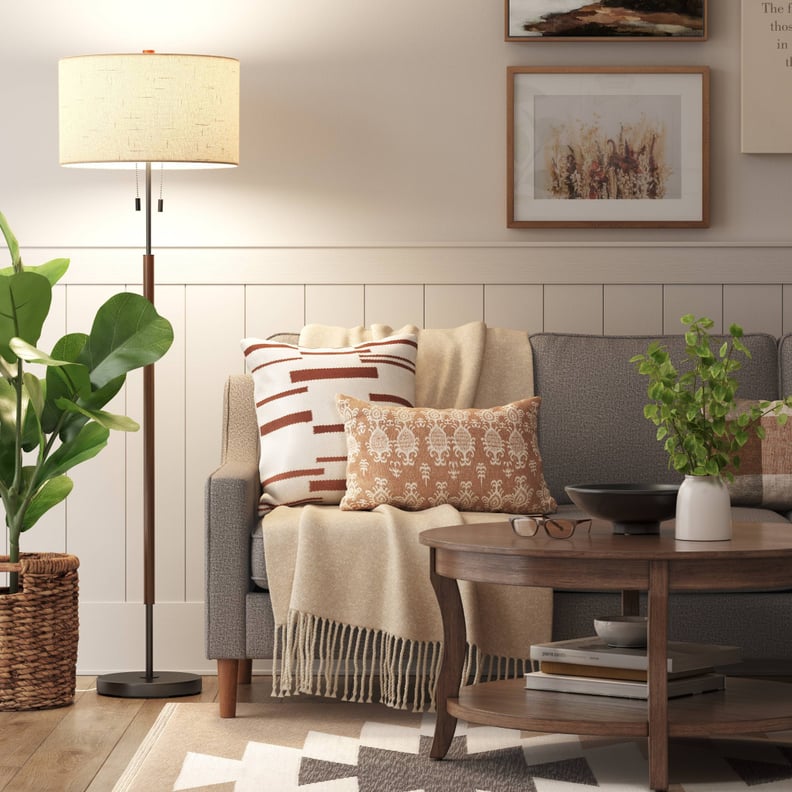 Best Traditional Floor Lamp
Threshold Cut Off Base Floor Lamp ($95)
If you're looking for an industrial-style lamp that will give your living room a warm glow, consider this floor lamp. The lamp shows off a sleek wood body with a linen drum shade. We love its two-socket design that easily adjusts the lighting level to best suit your needs.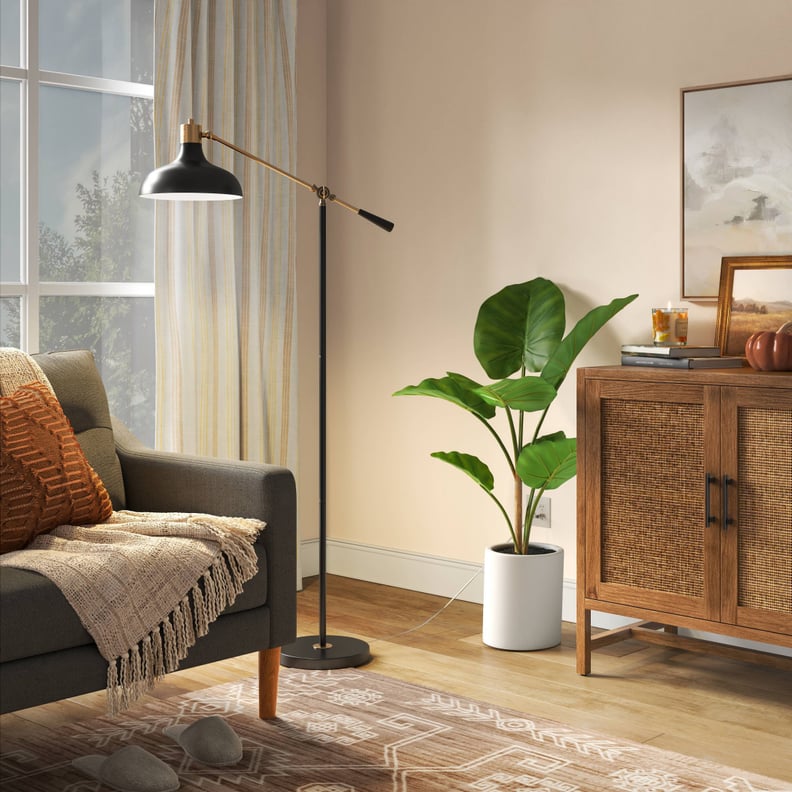 Best Schoolhouse-Style Floor Lamp
Threshold Crosby Schoolhouse Floor Lamp ($70)
If you like to read, this schoolhouse-style floor lamp is a great option. The lamp features an adjustable arm and shade so that you can get achieve the best lighting possible. We enjoy its antique look for a vintage feel.