As POPSUGAR editors, we independently select and write about stuff we love and think you'll like too. If you buy a product we have recommended, we may receive affiliate commission, which in turn supports our work.
Simply put: loft beds are cool. The idea of climbing up a ladder and crawling into your own elevated sleeping space is not only fun but also a great way to save room in a dorm or city apartment. There are a number of loft beds on the market for both kids and adults that can fit twin-size or full-size mattresses, and some even have desks to create a cozy work-from-home nook underneath — a small yet extremely useful feature.
Whether you're looking for a stylish and modern loft bed or one with a stairway that makes climbing up and down less of a risk and more of a common practice, there are a ton of contemporary designs to choose from. Ahead, find our favorite loft beds for both kids and adults.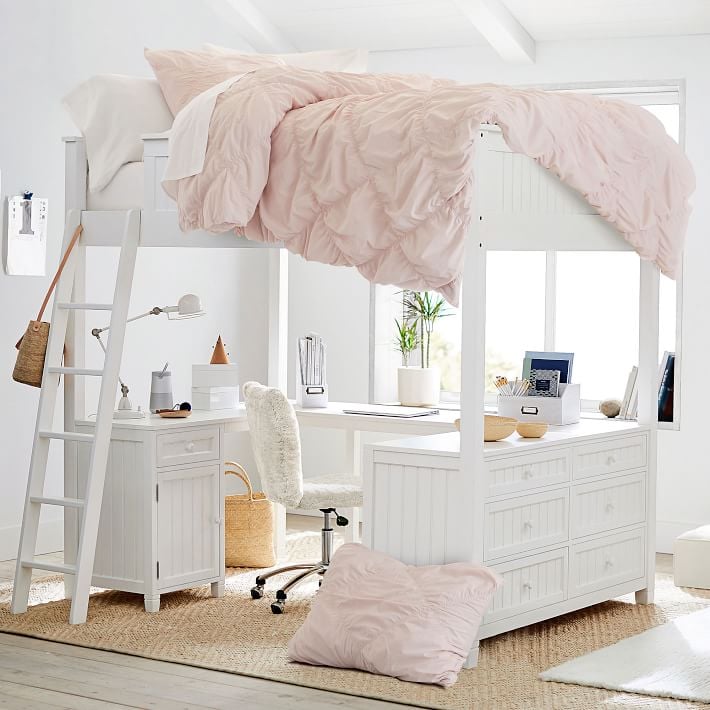 Best Loft Bed With Desk: Beadboard Teen Loft Bed
If you'd like your office to double as a bedroom space or vice versa, look no further than the Beadboard Teen Loft Bed ($3,599-$4,148). The full-size loft bed can be purchased with or without a mattress and contains a U-shaped desktop for all your work needs. Find a cabinet pedestal with a drawer, plus a six-drawer dresser underneath. Before purchasing, check its dimensions to ensure it fits in your room.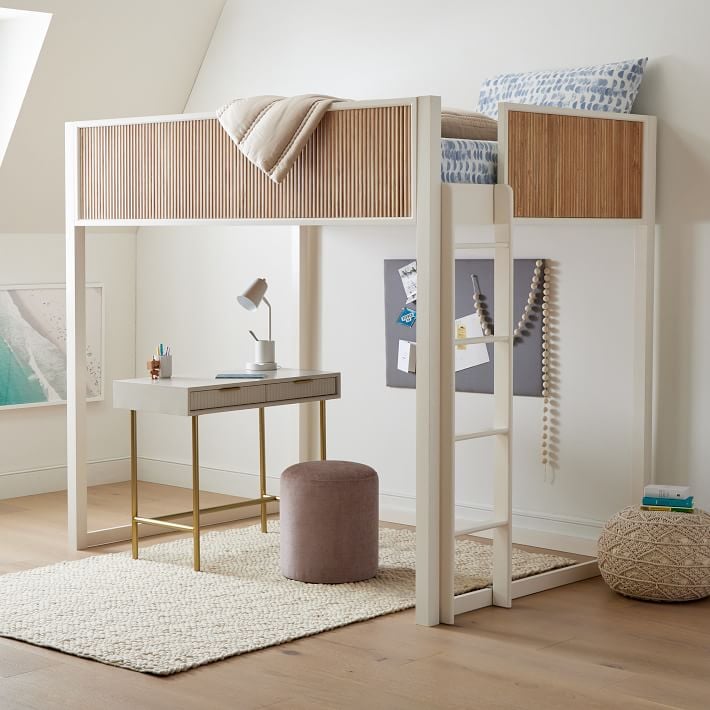 Best Modern Loft Bed: Quinn Loft Bed
What's not to love about modern? This Quinn Loft Bed ($2,069, originally $2,299) fits the bill with its clean lines and fluted sides. Its frame underneath is left wide open for you to fill with a desk, dresser, loveseat, or twin bed. This bed also fits a standard full-size mattress and does not require a box spring.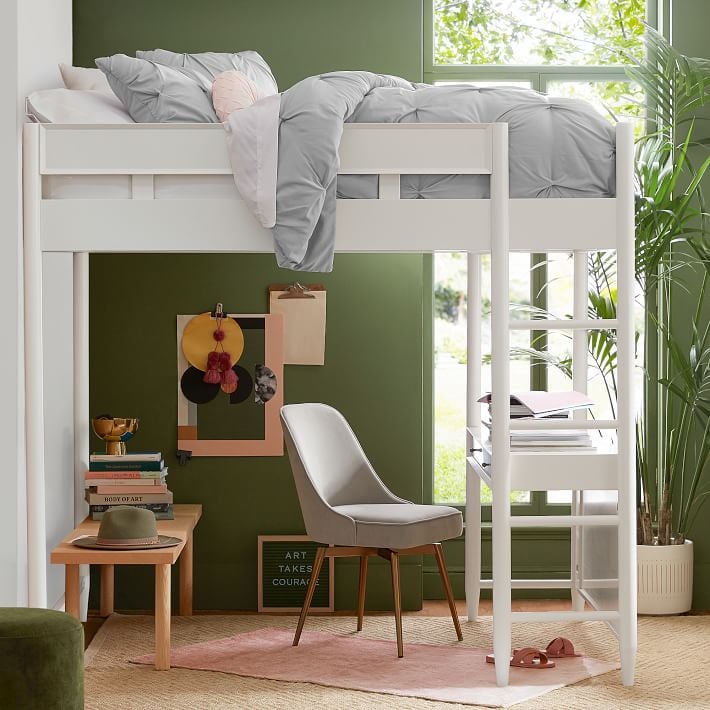 Best Full-Size Loft Bed: Mid-Century Loft Bed
Believe it or not, the slim pencil legs on this Mid-Century Loft Bed ($2,299-$2,748) can hold a full-size bed without a problem. The midcentury-style bed boasts tons of functions, like a desk with two drawers and a USB strip for your laptop, phone charger, and more. Available in acorn and white finishes, its sophisticated design is bound to suit your taste.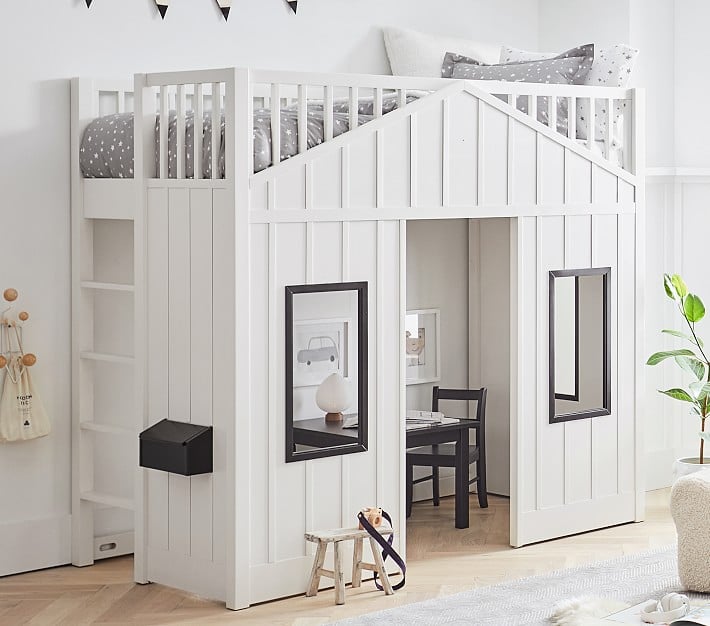 Best Loft Bed For Kids: Modern Farmhouse Loft
Excuse us, is that shiplap? This Modern Farmhouse Loft ($1,999) is quite possibly the coolest loft bed ever. Complete with three windows, a mailbox, an open doorway, a fixed ladder, and a twin-size bed, it's hard not to order this for yourself . . . as an adult.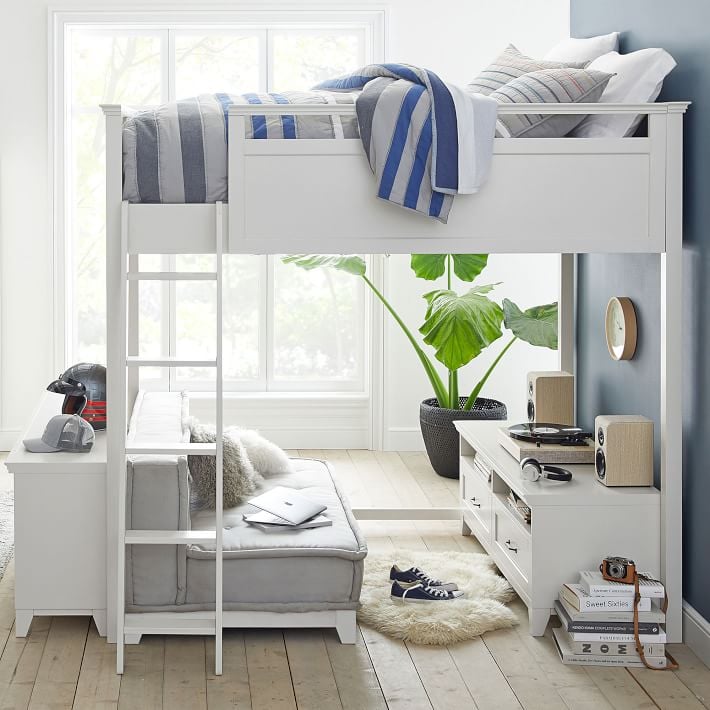 The Best Loft Bed For Adults: Hampton Loft Bed With Couch and Bookcase
We determined the Hampton Loft Bed With Couch and Bookcase ($3,999-$4,548) to be the best loft bed for adults because, quite frankly, it is. The loft bed includes a lounge spot, a media base, and bookcase, as well as a full-size bed (mattress sold separately). Choose from a number of different finishes to have the perfect loft bed for your apartment or dorm.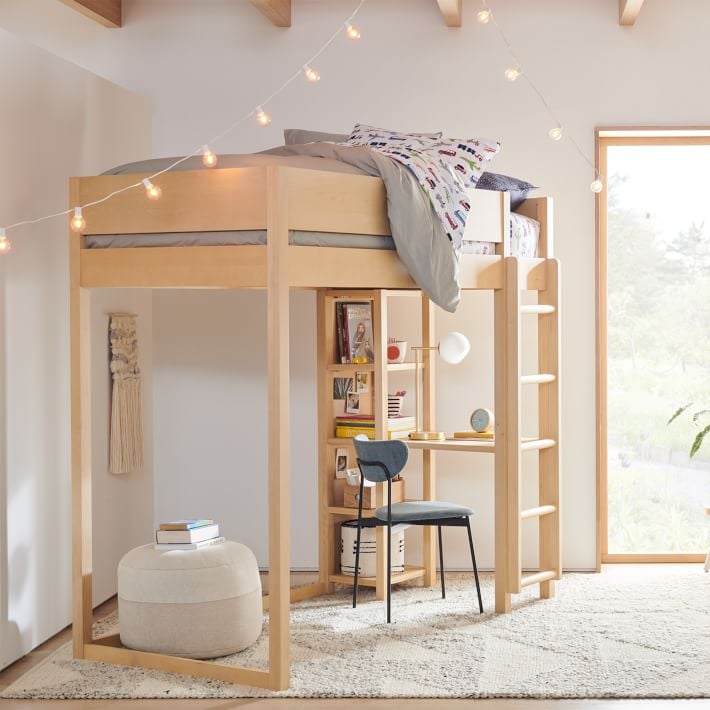 Best Twin-Size Loft Bed: Nash Loft Bed
The Nash Loft Bed ($1,599) boasts a minimalist design that contains a light wood finish. It has a desk and four cubbies for catching up on work and storing away extra supplies. Its fixed ladder can't be moved, making it a safe option for kids who like to run up and down.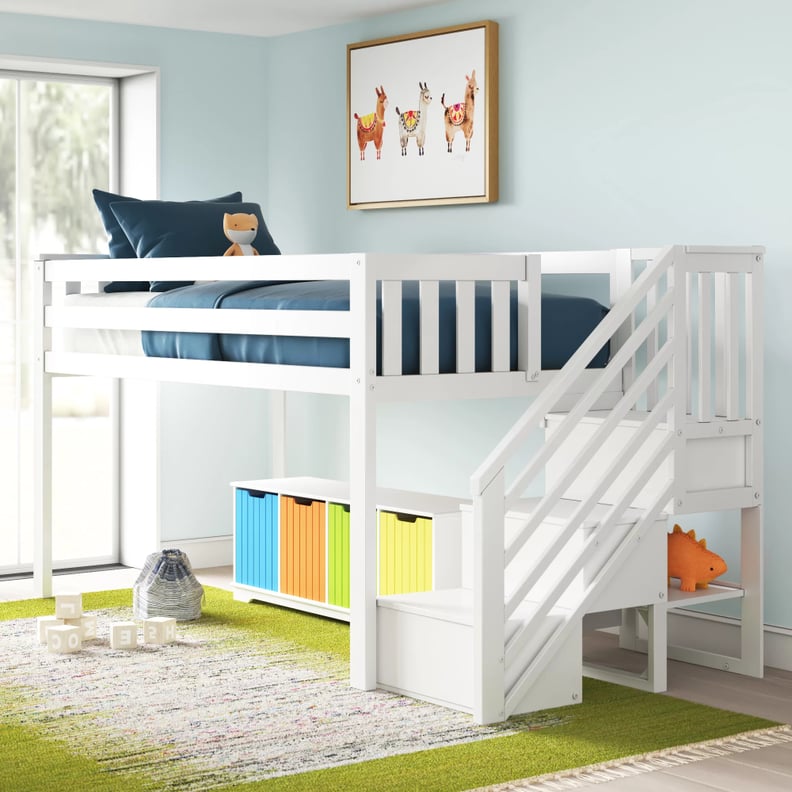 Best Loft Bed With Stairs: Kittitas Twin Solid Wood Loft Bed
Going to sleep in a loft bed has never been easier than with the Kittitas Twin Solid Wood Loft Bed ($720). The bed contains three solid wood stairs that'll guide your loved ones to bed with ease. Behind its stairs, you can find extra storage for stuffed animals and toys. Its low profile gives kids clearance to move around without bumping their heads.