The Most Stylish Bed Frames at Anthropologie
As POPSUGAR editors, we independently select and write about stuff we love and think you'll like too. If you buy a product we have recommended, we may receive affiliate commission, which in turn supports our work.
Shopping for a comfortable mattress can be grueling, but once you've found the one, the next step is to lock in a good bed frame — a much more enjoyable task. The bed frame is the centerpiece of your bedroom — the first thing that makes guests "ooh and ahh" as they walk through the door.
A statement bed frame says a lot, and Anthropologie has a slew of them. From minimalist platform bed frames to traditional canopy beds to boho designs with dramatic headboards, there are plenty of frames suited for small or large bedrooms. None of them require a box spring — which is a miracle if you have a foam bed. Did we mention there are even a few with built-in nightstands? If you want to invest in the bed frame of your dreams, take a look at our favorites from Anthropologie ahead.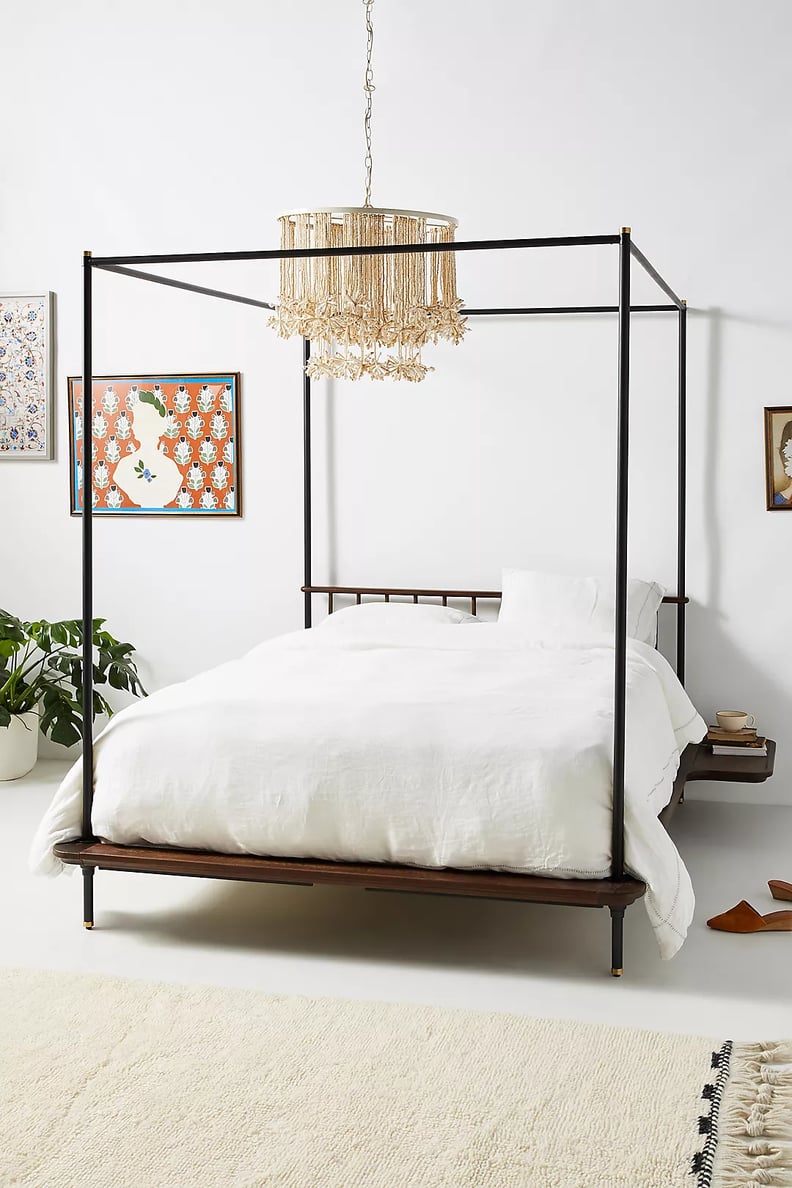 Dramatic and Airy: Kalmar Canopy Bed
The Kalmar Canopy Bed ($3,298) has a modern yet dreamy feel, with its four steel frames and subtle brass accents. The platform bed also features flanking nightstands, so you don't have to search for your own. A win-win, if you ask us.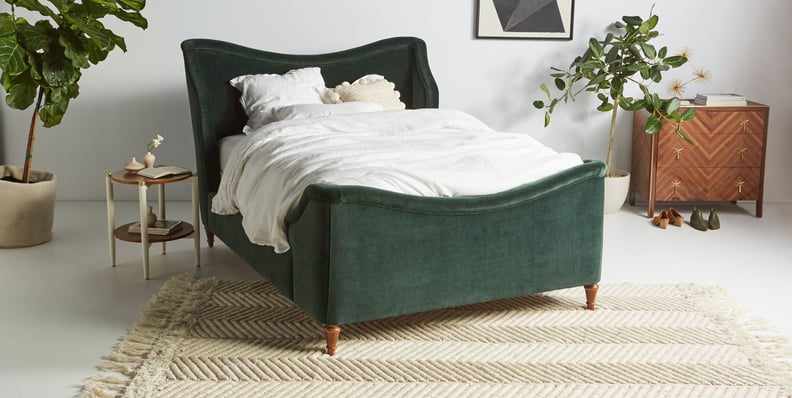 A Camelback Headboard: Elizabeth Bed
If you want a bed that makes you feel cozy and warm, the Elizabeth Bed ($3,598) is it. The velvet fabric comes in more than ten different colors, and its camelback-shaped headboard will make you feel comforted and protected. Fall asleep on a literal cloud with this dreamy piece.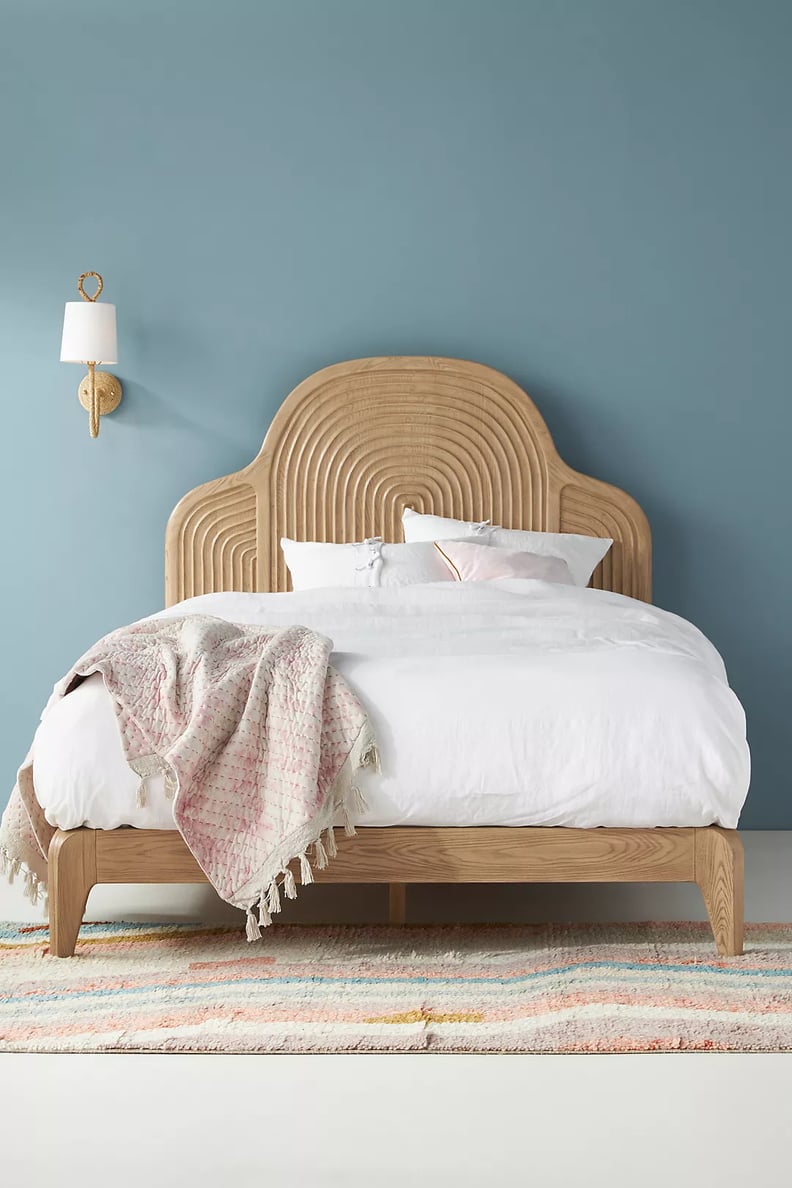 For the Boho-Lovers: Isla Bed
The Isla Bed ($2,598) feels like a dream. Its dramatic carved ash-wood headboard catches the eye while staying light and airy, allowing you to close your eyes and relax. It's easy to assemble, so you can hop into it almost as soon as it arrives.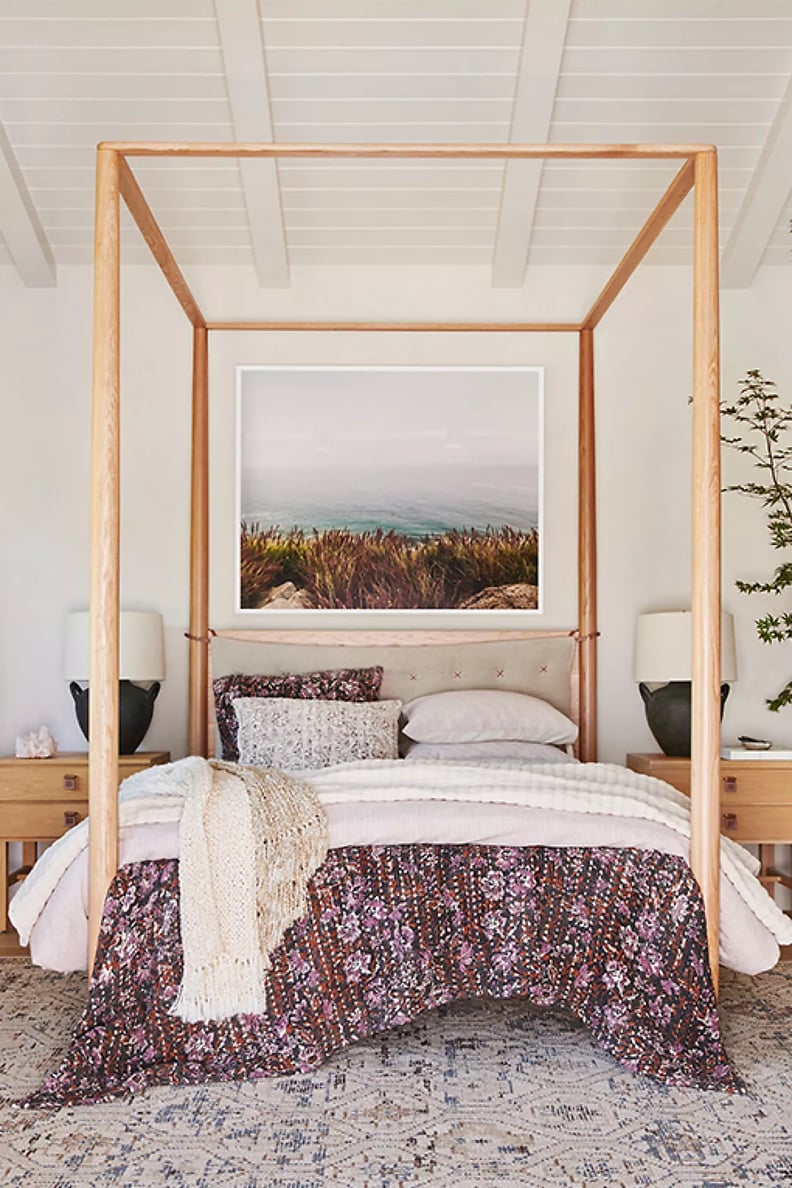 A Staple Piece: Shoppe Amber Interiors Penny Canopy Bed
Designed by Amber Interiors based out of Los Angeles, the Shoppe Amber Interiors Penny Canopy Bed ($6,200-$6,800) is made of natural oak, with a moss cushion covering its headboard to protect against head bangs. It's modern yet traditional, adding a whimsical flair to any bedroom. The frame is 48 inches tall, so make sure your ceilings are high enough for it.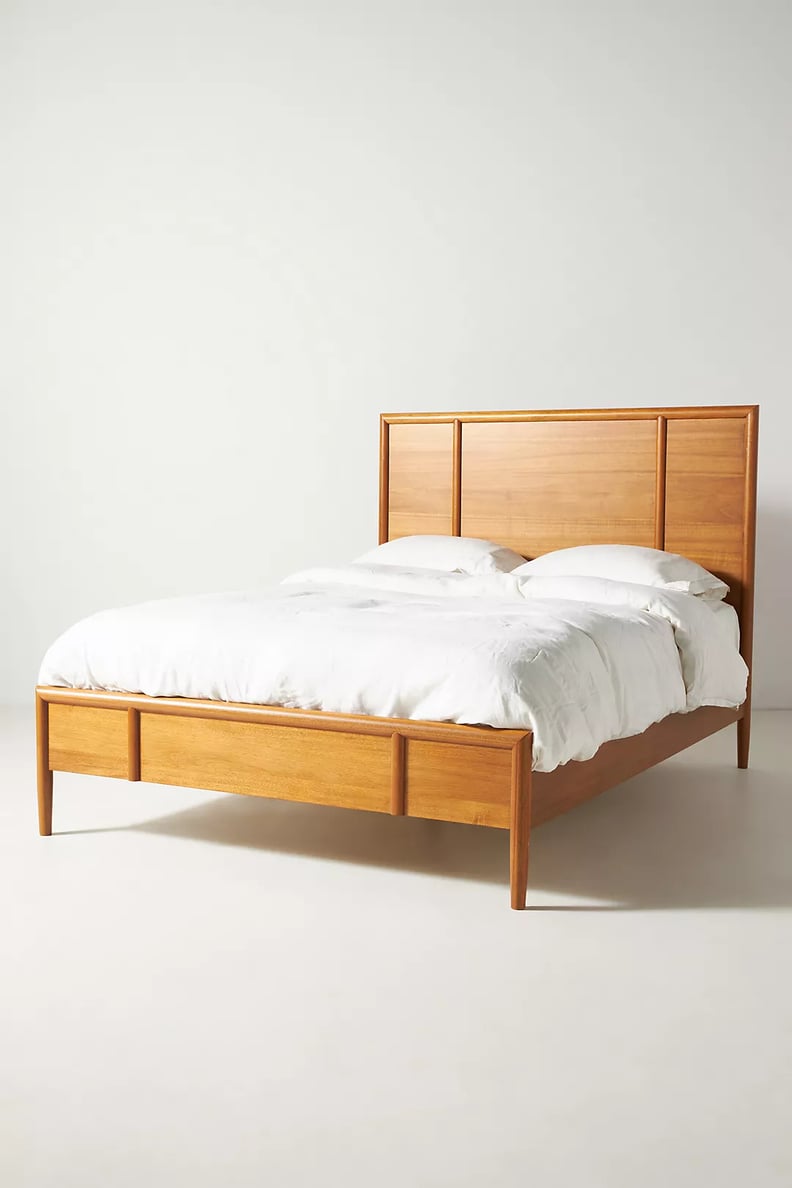 A Midcentury Modern Design: Quincy Bed
If you love midcentury designs, the Quincy Bed ($898) is for you. Made of breathtaking eucalyptus wood, this bed's beauty lies in its simple design. It's also easy to assemble, so you can build and enjoy it quickly.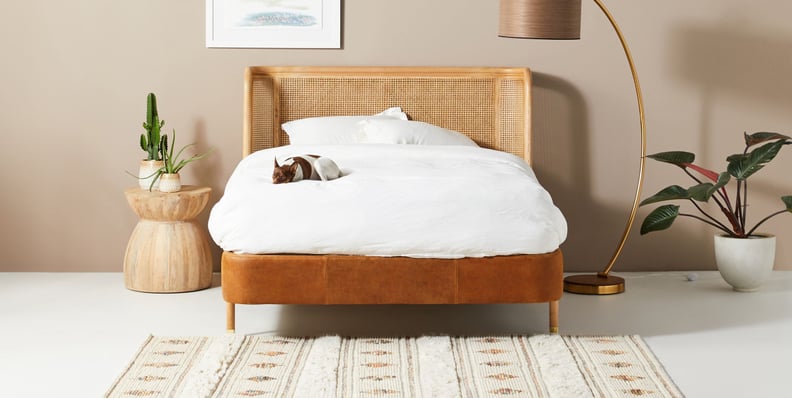 A Comfortable Option: Heatherfield Leather Bed
There's something to be said about the way the headboard on the Heatherfield Leather Bed ($2,798) hugs you. The curved canning makes you feel protected while still providing the necessary space to keep you comfortable and relaxed. In addition to its gorgeous headboard, the bed also features a leather frame that's perfect for contemporary bedrooms.
A Natural Look: Prana Live-Edge Nightstand Bed
The Prana Live-Edge Nightstand Bed ($2,698 – $2,998) is out of this world. The live-oak board features floating nightstands on both sides that are big enough to hold lamps, chargers, a cup of coffee, and more. Fitted with brass and wood accents, this piece is bound to make a statement.
A Piece of Art: Leather Cove Bed
The beauty of the Leather Cove Bed ($1,498– $1,798) lie in its detailed headboard: the dyed leather straps are woven together to create a piece of art. It's perfect for boho or contemporary homes.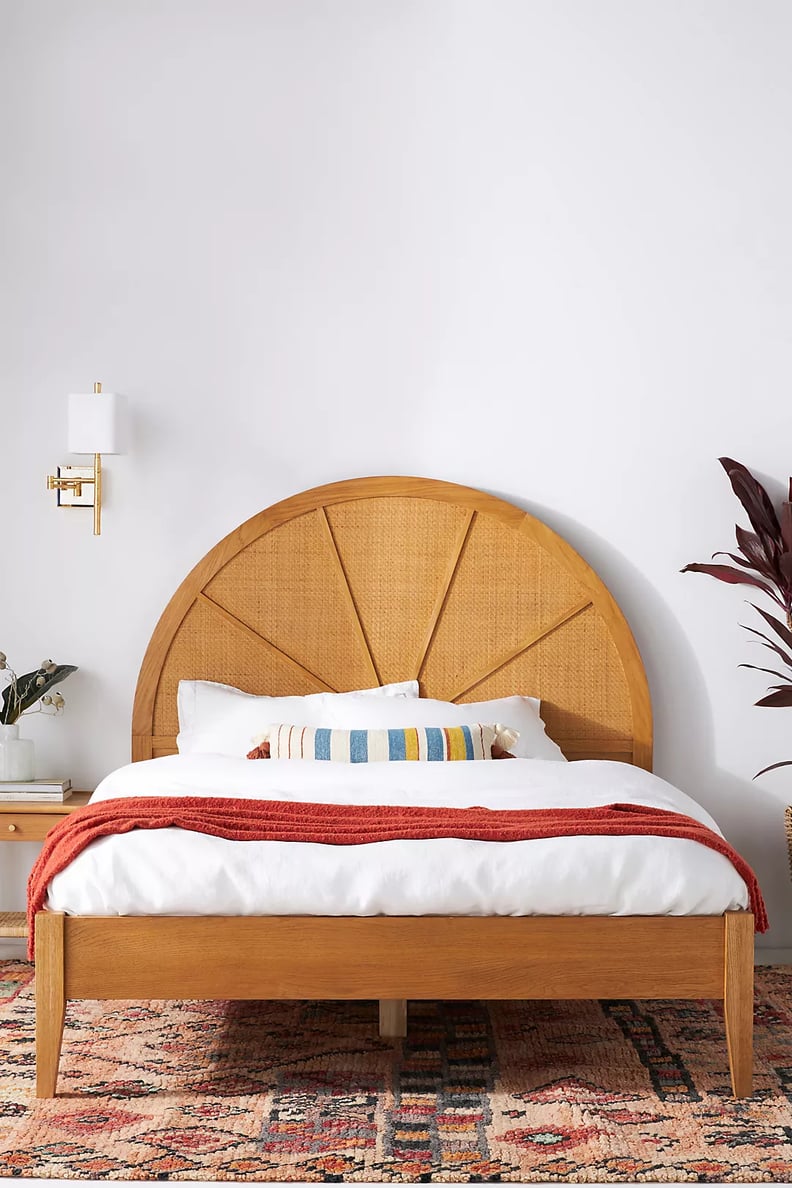 Traditional Meets Boho: Wallace Cane and Oak Bed
The Wallace Cane and Oak Bed ($2,198-2,498) is both statement-making and timeless. The cane headboard combined with the oak-wood frame is gorgeous.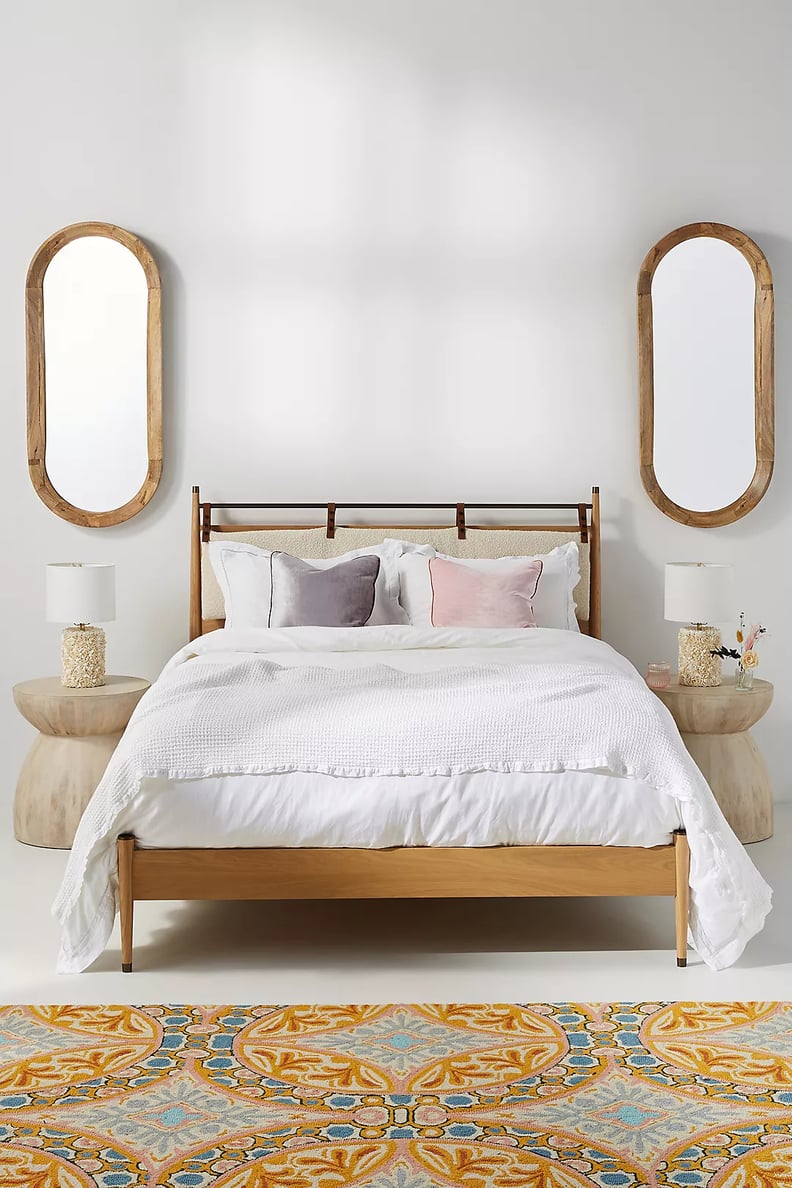 For the Minimalist: Hemming Bed
Accented with antique brass caps, the Hemming Bed ($998-$1,298) is modern and minimalist. It features an organic-oak headboard custom fit with a beige cushion to protect your head against any accidental bumps.