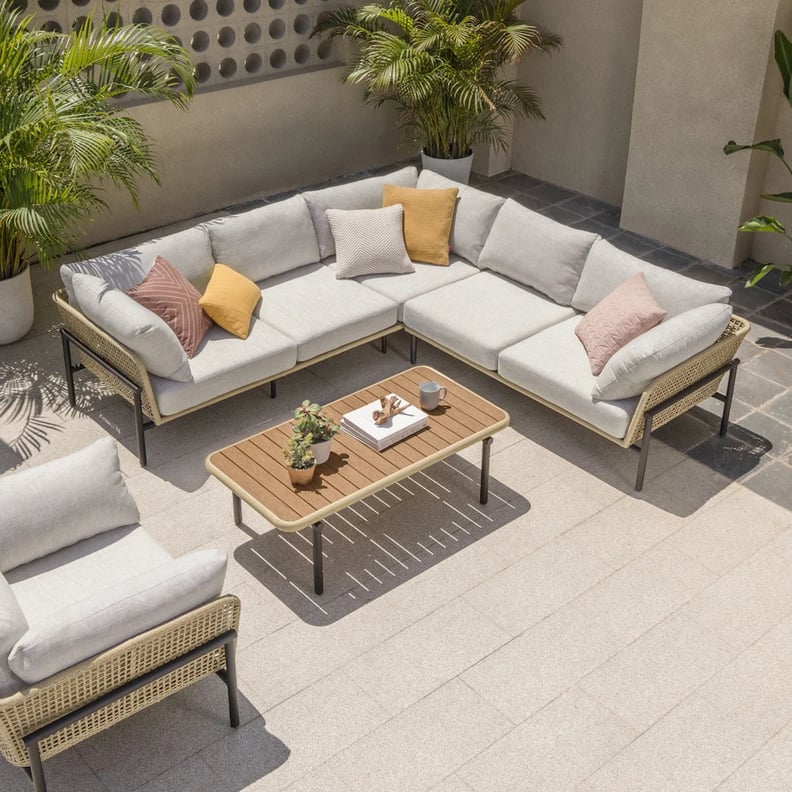 Castlery
Castlery
As POPSUGAR editors, we independently select and write about stuff we love and think you'll like too. If you buy a product we have recommended, we may receive affiliate commission, which in turn supports our work.
Shopping for the right outdoor furniture is no easy feat, considering the number of choices out there, so we love turning to direct-to-consumer brands. These smaller names offer unique design, detail-driven craftsmanship, and often quicker shipping times; it's also a great way to support small businesses. If you're not sure where to start, we suggest one of our editor favorites: Castlery.
Castlery has everything from comfy sofas to cool bed frames, and its outdoor pieces are up to par. In fact, we're big fans of the brand's Carrera marble dining table, the luxe Madison leather armchair, and the plush yet supportive Hamilton sofa. But Castlery's collection of furniture isn't limited to the indoors. Castlery's outdoor furniture line ranges from breezy coastal styles to more modern and upscale silhouettes. Whether you're looking for plush balcony chairs or an outdoor dining table for the whole family, it's all here. Many of the styles come in complete sets, but you can also mix and match pieces from the collection since it all complements each other. Ahead, we rounded up some of our favorite outdoor pieces from Castlery, including comfortable sectionals, stylish dining chairs, outdoor coffee tables, and so much more.
Some of them are on sale right now, so you won't want to wait. In fact, Castlery's Memorial Day sale already started. You can get $100 off when you spend a minimum of $1,200, $250 off when you spend a minimum of $2,500, and $550 off when you spend a minimum of $4,500.
— Additional reporting by Krista Jones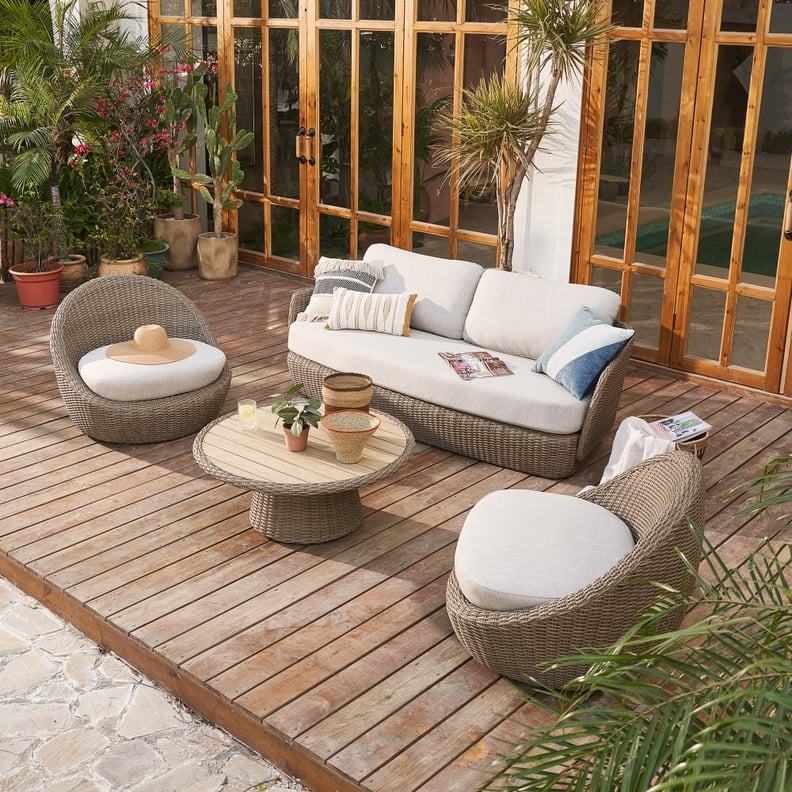 Best Wicker Lounge Patio Set From Castlery
Castlery Malta Outdoor Build-Your-Own Lounge Set ($3,419, originally $3,597)
With a breezy wicker weave and plush cream-toned cushions, the Malta Outdoor Build-Your-Own Lounge Set is perfect for the coastal patio. The curved silhouette gives it a modern flair, while the neutral tones complement a variety of spaces. This build-your-own set lets you choose between one or two lounge chairs, a pedestal coffee table, a drum-shaped coffee table, or no coffee table. It also comes with a three-seater couch. If you don't need the entire set, you can just get the sofa or the lounge chair.
Best Outdoor Teak Dining Set From Castlery
Castlery Rio Outdoor Teak Build-Your-Own Dining Set ($2,269, originally $2,387)
Go for a chic teak look with Castlery's Rio Teak Dining Table Set. This table is built to last, so you can expect your investment to pay off in the long run. Customize it to your outdoor entertaining needs, and choose between a 63-inch, 78.8-inch, or a 94.5-inch table, along with the amount of chairs or bench sizing. If your home is a balanced blend of contemporary farmhouse, this teak table is meant for your space.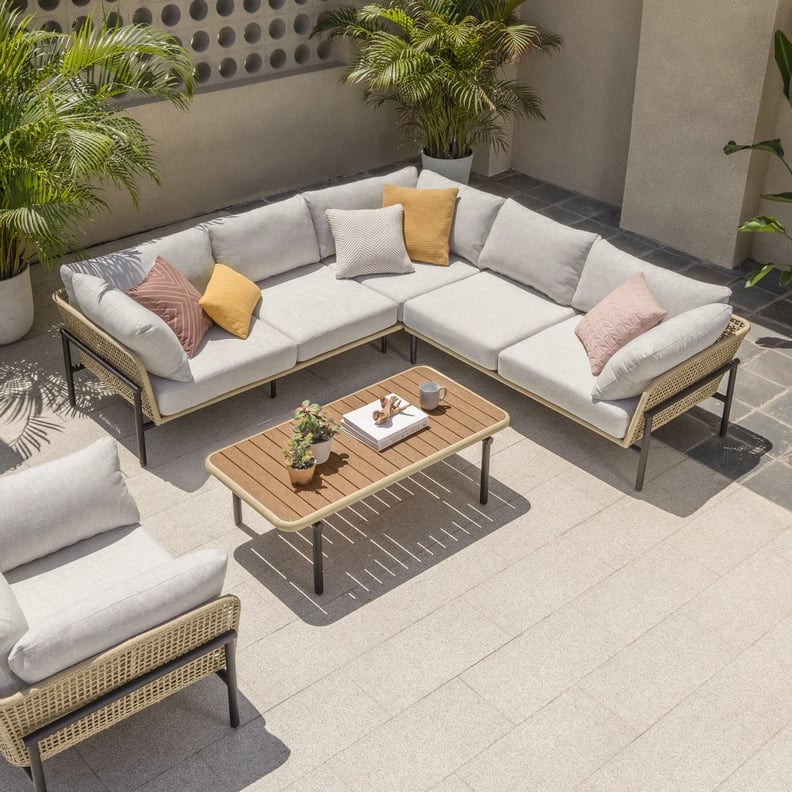 Best Large Outdoor Sectional From Castlery
Castlery Sierra L-Shape Sectional Sofa ($2,989)
In need of a large outdoor sectional? Get the stylish and comfy Sierra L-Shape Sectional Sofa. The L shape makes it perfect for a corner patio space. Plus, you can choose between a four-seater, five-seater, or six-seater. This sectional has rattan detailing and sturdy black metal legs, which give it a contemporary take on a boho look. The rattan adds texture while the metal legs add structure.
You can pair it with the matching Sierra Coffee Table ($399). It has wicker-wrapped edges for a breezy look.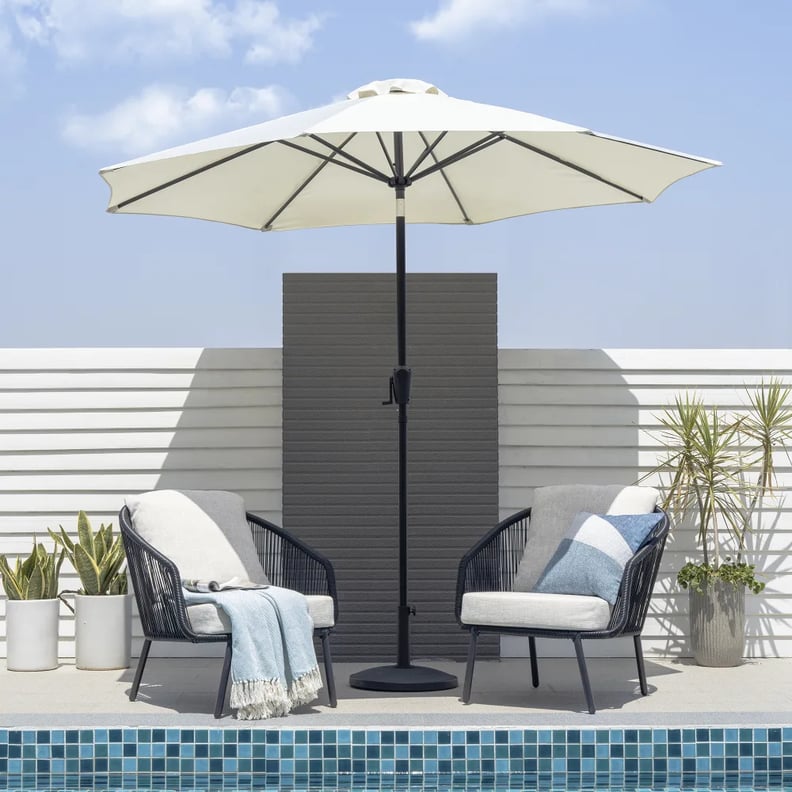 Best Modern Seating Set From Castlery
Castlery Riley Lounge Chair Set ($729, originally $799)
Go for a sleek and modern look with the Riley Lounge Chair Set. Its rounded design is modern and simple, but its plush cushions with backrest support deliver the lounge-worthy comfort you'll need in your backyard oasis. If you love the look of these lounge chairs, you can also get them in dining-chair form or as a complete dining set with a wooden table.
You can set up these chairs with the brand's Shade Round Outdoor Umbrella With Base ($229, originally $249).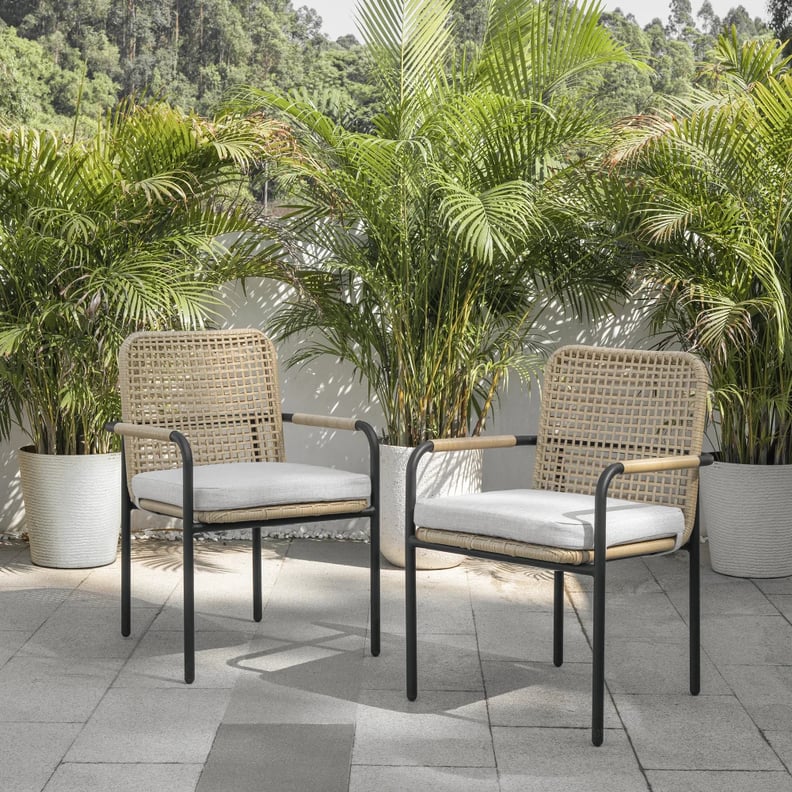 Best Modern Outdoor Dining Chair From Castlery
Castlery Sierra Dining Chair Set ($469 for two)
The modern-boho look of this Sierra Dining Chair Set sold us. The woven look is right on trend, the black legs give the chairs a contemporary feel, and the removable cushions make them cozy. Get them as a set of two or six, or make it a complete set with a dining table as well. These dining chairs will add both charm and comfort to your backyard space.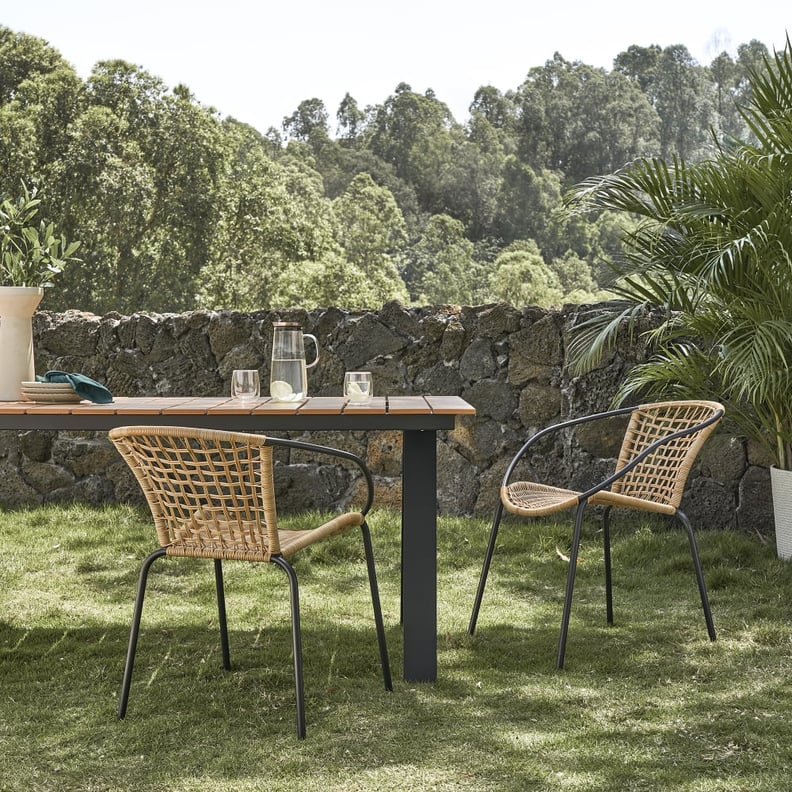 Best Minimalist Dining Chairs From Castlery
Castlery Como Dining Chairs ($629, originally $699 for six)
Looking to transform your backyard space into a paradise at home? The Como Dining Chairs have a breezy woven wicker seat with a curved black frame that delivers a modern yet boho look to your space. These chairs are minimalist but definitely make a statement. The dining chairs come in a set of six. You can mix and match with another table from the brand or with one you already have for a fresh new look this season.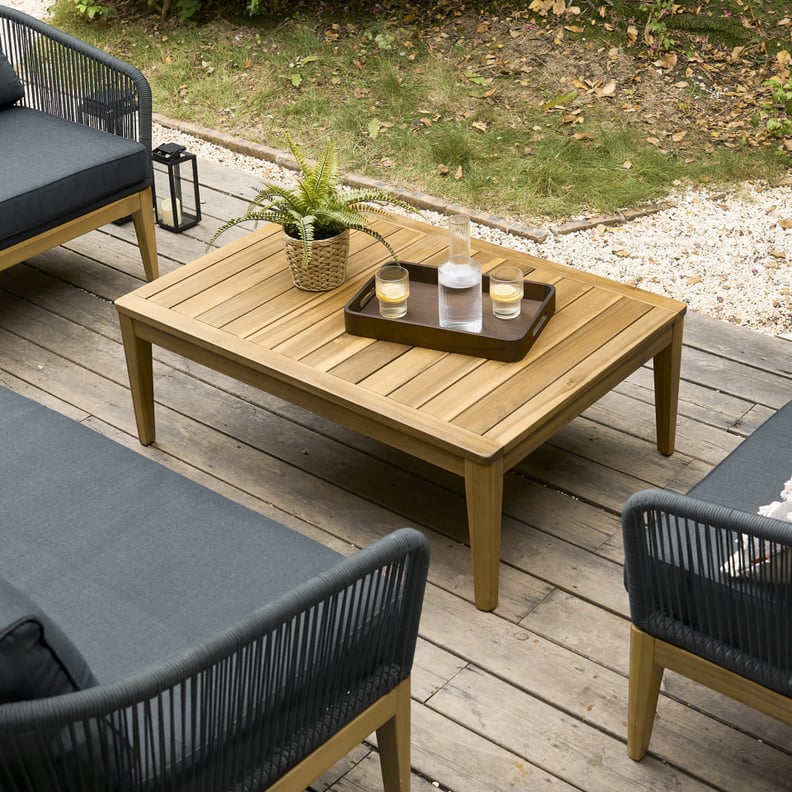 Best Outdoor Coffee Table From Castlery
Castlery Maui Outdoor Coffee Table ($249)
If you're in need of a coffee table to go with chairs you already own, try the Maui Outdoor Coffee Table. The wood finish is durable and will never go out of style.
Add the Maui Outdoor Lounge Chair Set ($1,229, originally $1,298) to create a sectioned seating area, especially for a smaller space. Looking for a full set? You can get the Maui Outdoor Loveseat, 2 Lounge Chairs & Coffee Table Set ($2,249, originally $2,646) on sale if you buy in bulk. Get it in taupe for a breezy, coastal vibe or black for something more modern.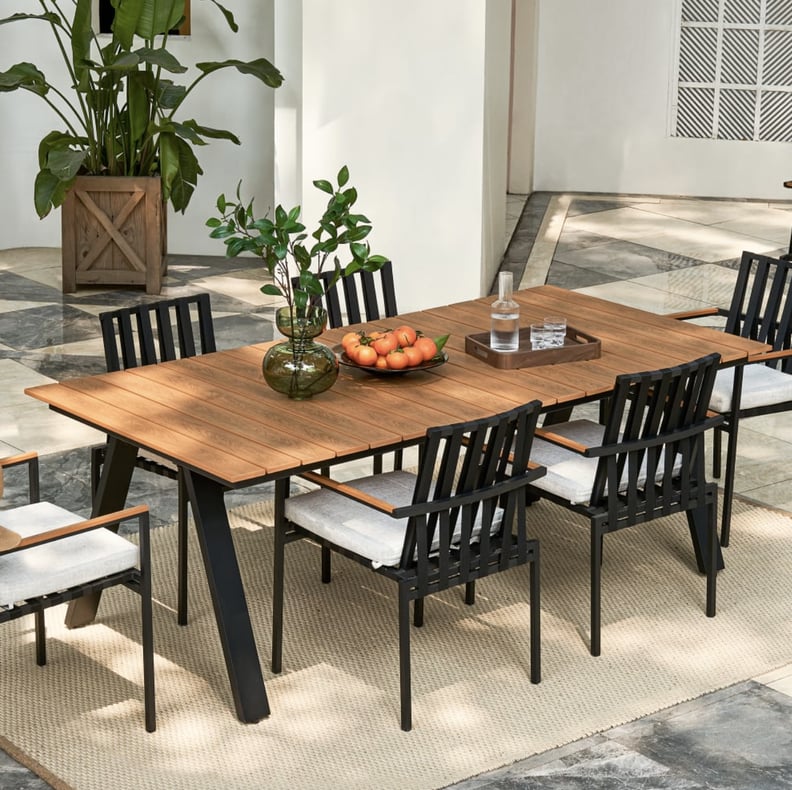 Best Outdoor Dining Table From Castlery
Castlery Sorrento Outdoor Dining Table ($899)
If you've been on the lookout for the perfect outdoor table, try the Sorrento Outdoor Dining Table. It's perfect for the home that's modern with a splash of farmhouse inspiration. The table has an aluminum frame with a resin-wood slat top. You can buy the matching chairs or pair it with ones you already own.
Get the Sorrento Dining Table With 6 Riley Chairs ($1,799, originally $2,098) if you're looking for a complete set.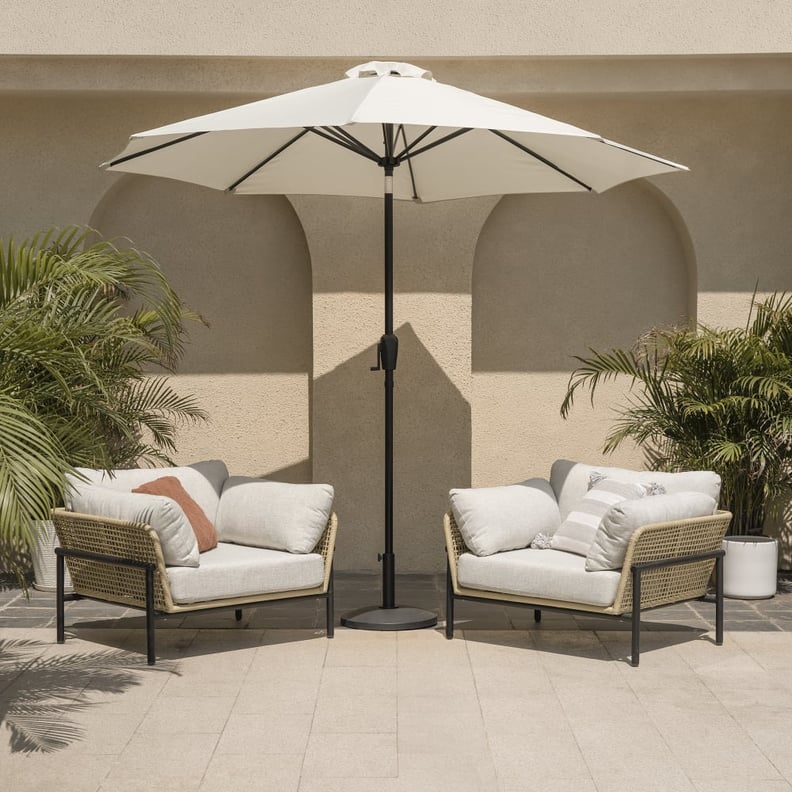 Best Plush Outdoor Lounge Chairs From Castlery
Castlery Sierra Lounge Chair Set ($1,519, originally $1,598)
If you're looking for chairs that are extra plush, the Sierra Lounge Chair Set is it. The lounge chairs are deep seated with plump cushions for a cozy and breezy experience. To make it extra lounge-worthy, this set also comes with two plush side pillows for each chair.
Add a coffee table to the set with the Sierra 2 Lounge Chairs With Coffee Table Set ($1,899, originally $1,997), or if you're looking for an option with more seating, get the Sierra Sofa, 2 Lounge Chairs & Coffee Table Set ($3,609, originally $3,796).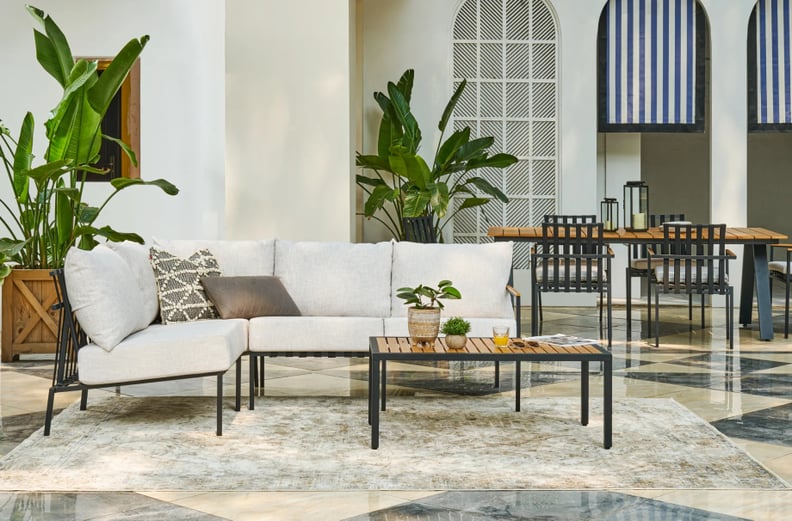 Best Outdoor Modern Sectional From Castlery
Castlery Sorrento Outdoor Sectional Sofa ($2,089)
The Sorrento Outdoor Sectional Sofa would be great in a corner patio. The five-to-six-seater sectional is fit for a modern space. The seats are relaxed and laid-back, while its sleek design will make any outdoor area look elevated and refined.