As POPSUGAR editors, we independently select and write about stuff we love and think you'll like too. If you buy a product we have recommended, we may receive affiliate commission, which in turn supports our work.
Stand alone decorations are fun and all, but wall decor — especially when it comes to Halloween — is truly what brings a room to life. Bats are a spooky staple, and since they fly, it would only make sense that your decorations do the same. Whether they're swarming your front door, hanging from your ceiling, or perched against wall accents, they're sure to bring your seasonal fall aesthetic to a fun new level. And bonus: they're all really easy to put up! From glitter and gold to bats with beady red eyes, there's something for everyone. Find your next Halloween decoration in the gallery ahead.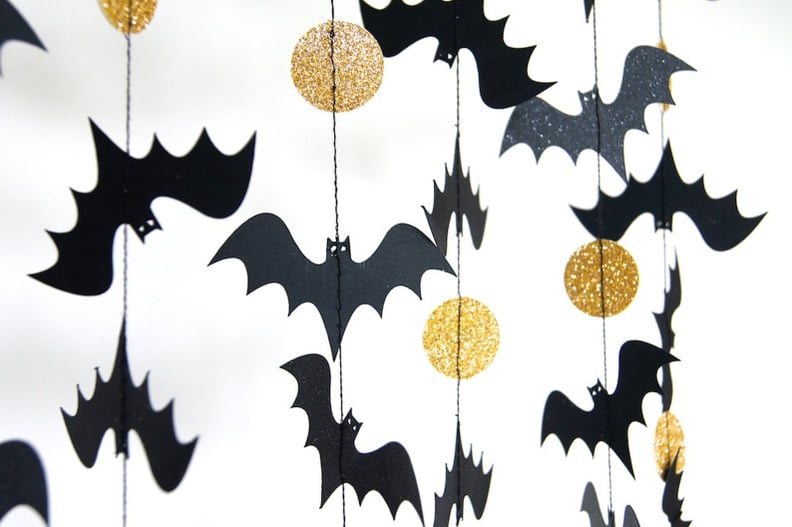 Bat Garland
Make a statement with this Bat Garland ($6) outside your door. It's available in transparent string, so your guests will literally feel like they're walking into a swarm of angry bats!
Assorted Felt Bats
Make your home look like it's being overtaken by an army of black bats with this Assorted Felt Bats ($19) set from Grandin Road. The set comes with 12 felt bats varying in size with wall-safe adhesive strips so you can tape them in any room.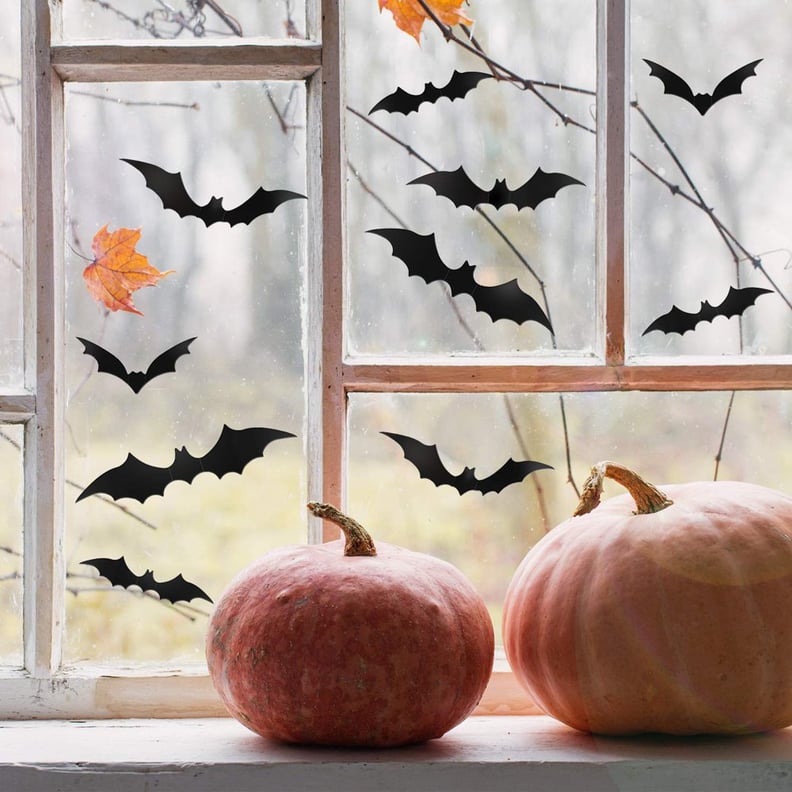 3D Scary Bats Wall Decal
These 3D Scary Bats Wall Decal ($14) can be styled on any smooth surface like walls, windows, or appliances. Included in the decal are 36 bat cutouts that can be removed and repositioned as many times as you like so your bats can travel throughout your home during this spooky season.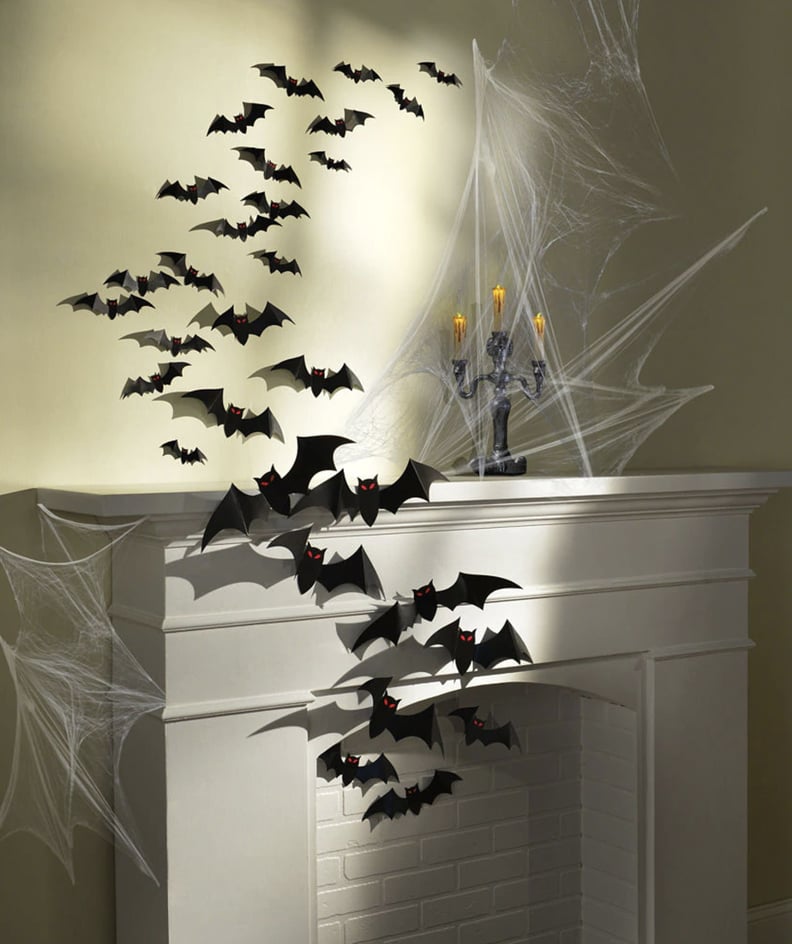 Bat Cutouts
Use double-sided tape to decorate your walls and furniture with these Bat Cutouts ($7) that feature red beady eyes and jagged wings which can be folded for a 3D effect. In this set you'll find 30 black bat cutouts ranging from small to extra-large.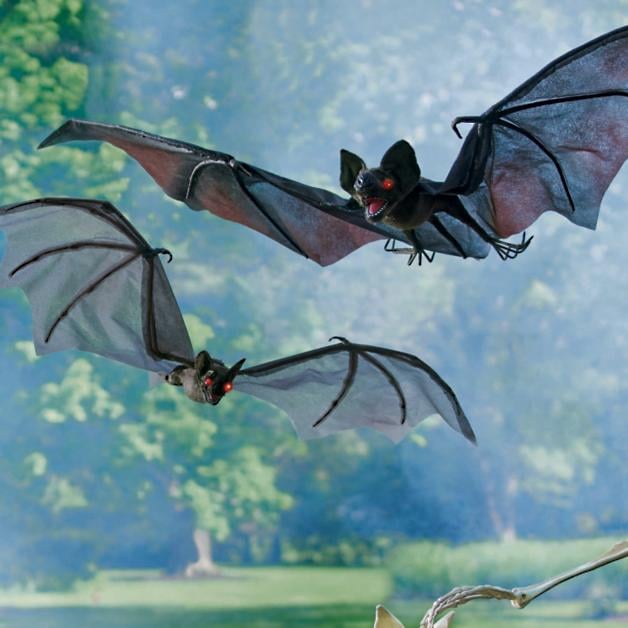 Halloween Bats with Flashing Eyes
Frightfully life-sized, these Halloween Bats with Flashing Eyes ($49) are attached to transparent strings so you can scare your family or roommates wherever and whenever you want. Batteries are included for blood-red flashing eyes.
Flying Bat Halloween Decor
Pre-folded for a flying effect, the Flying Bat Halloween Decor ($6) set will make for the perfect accent. These flying bats start as 10 piece sets but can be purchased in a quantity of up to 35 bats. They also come in different sizes.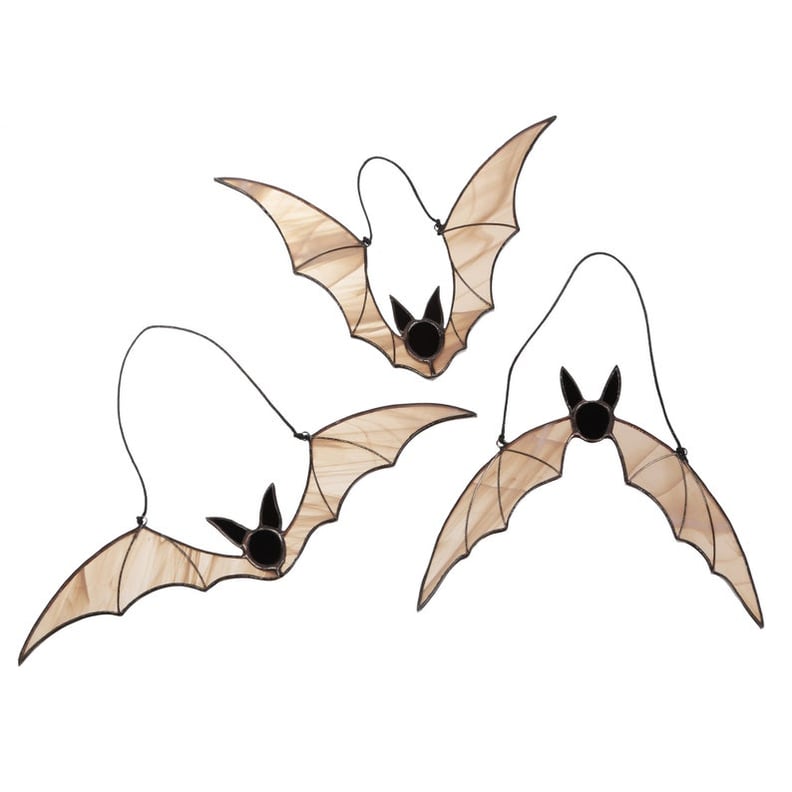 Glass Bat Halloween Horror Decoration
The Glass Bat Halloween Horror Decoration ($56, originally $63) includes a set of three glass stained bats that have been created as window fixtures with hanging wire. They're almost too pretty to be seen as scary, don't you think?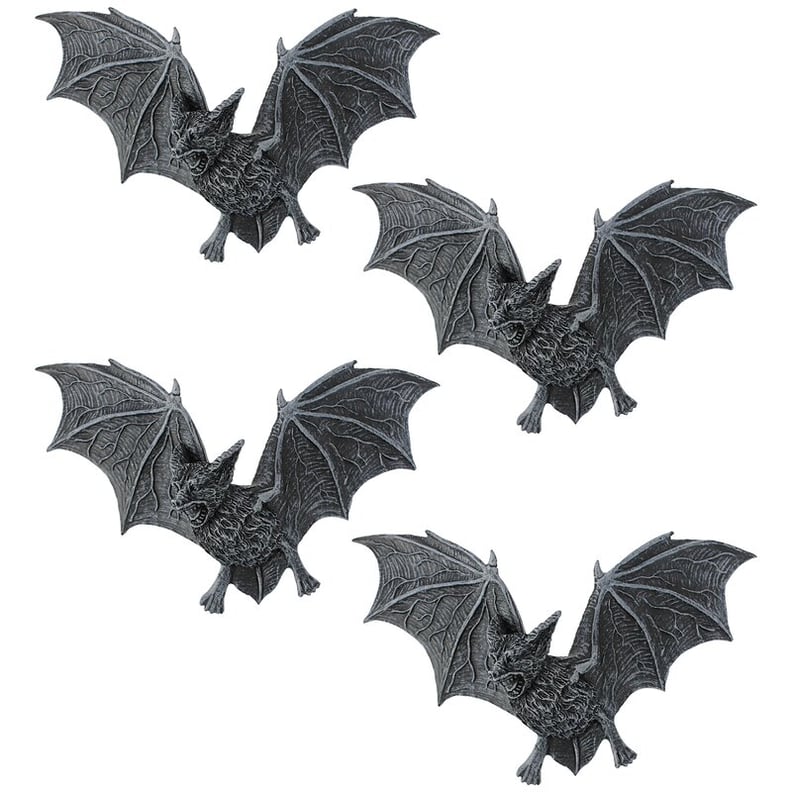 The Vampire Bats of Castle Barbarosa Wall Decor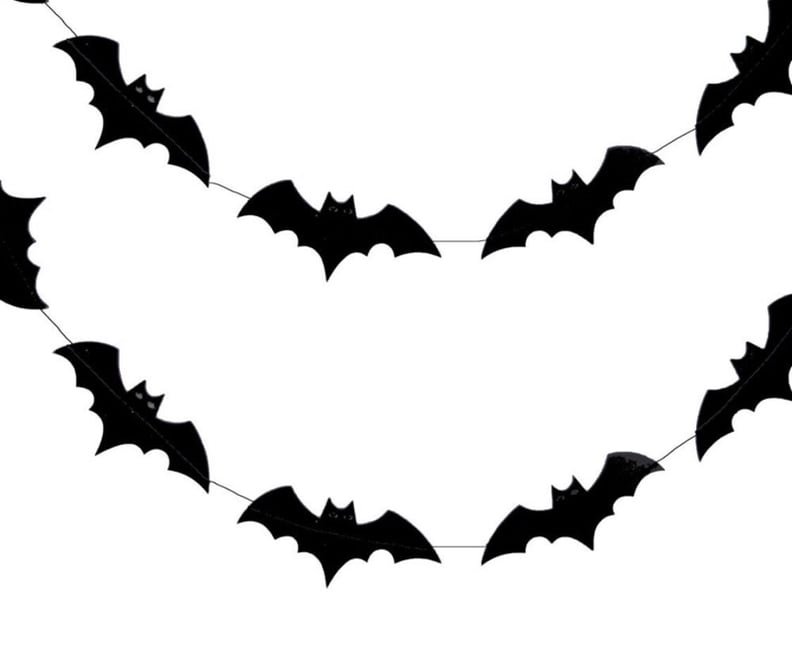 Bat Banner
This Bat Banner ($8) on Etsy can double as hanging garland or as a spooky photo backdrop for all your Halloween selfies. Choose from colors like orange, black, or both as well as several lengths to get the right fit for your space.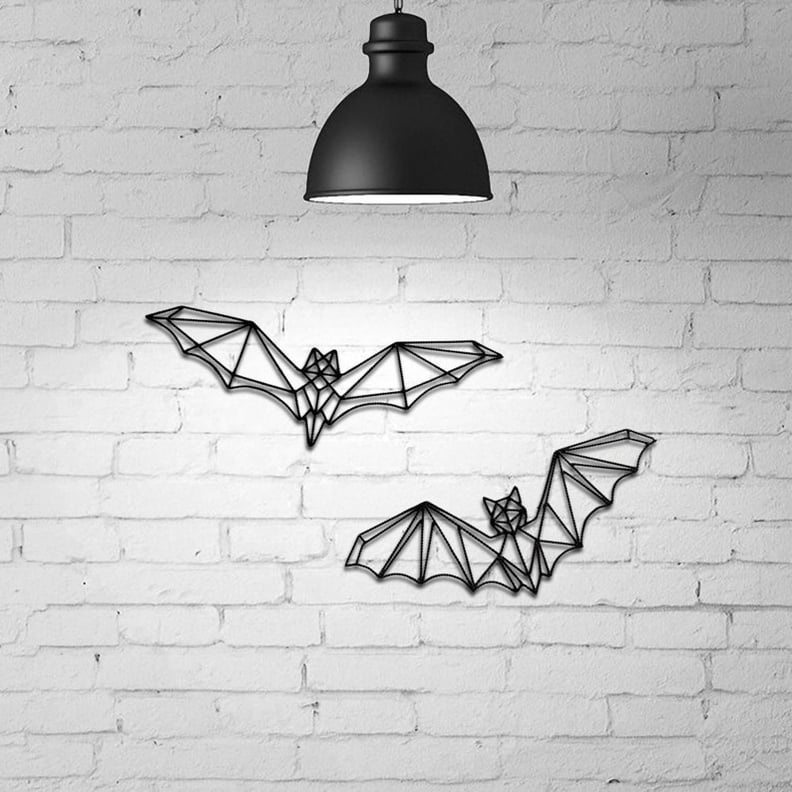 Geometric Bat Wall Art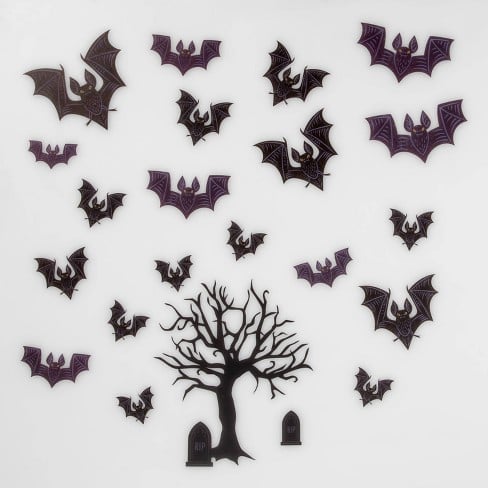 Tree and Bats Scene Halloween Wall Art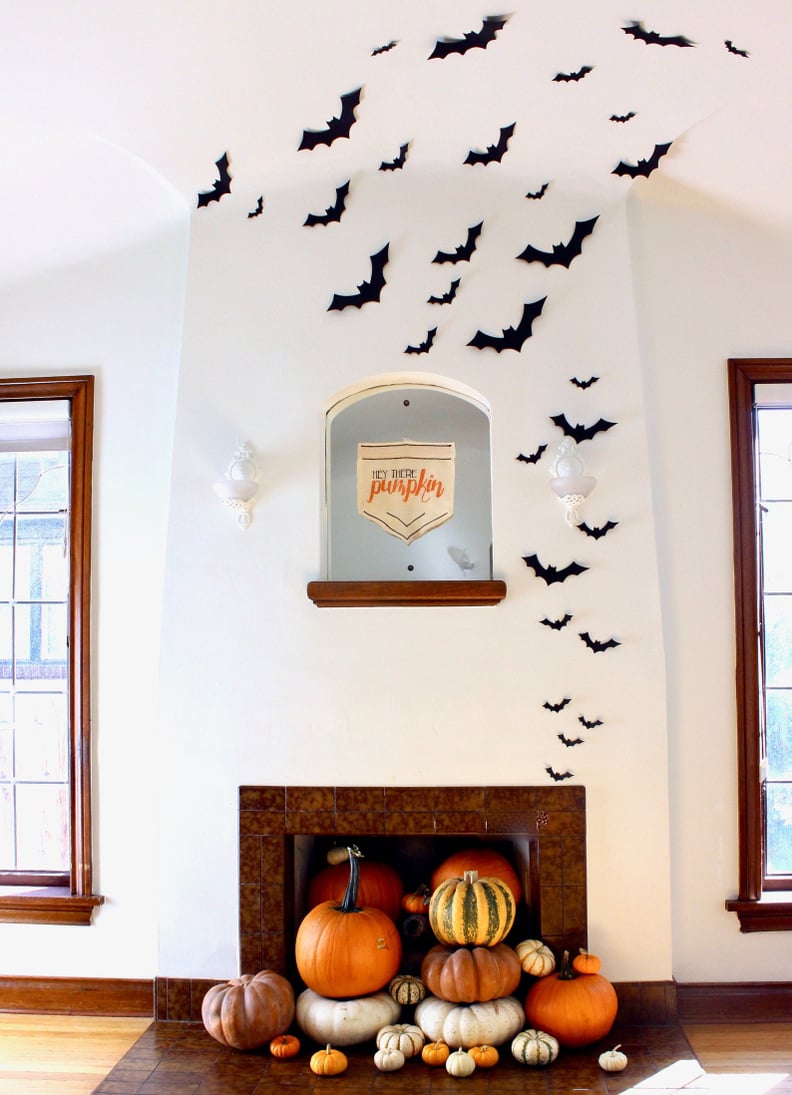 Black Bat Wall Hanging
This Black Bat Wall Hanging ($11) decor is all over Instagram, and we love how it looks against a white wall. This set comes with 30 pieces to really cover a blank space.