As POPSUGAR editors, we independently select and write about stuff we love and think you'll like too. If you buy a product we have recommended, we may receive affiliate commission, which in turn supports our work.
As someone who lives in a small apartment, I've made it my mission to find decor pieces that are both functional and stylish. While I am often tempted to buy cute (but useless) trinkets to decorate my space with, there's simply not enough room in my home to do so. To avoid overcrowding my home (and wasting my money), I've become extra selective when it comes to the things that are allowed in my house.
To decide if something is worthy, it must pass a simple three-question test. First, will this item fit in my home? If not, it (obviously) has gotta go. Second, is this product practical? What this means is that this product has to be something I need rather than just want. And third, does this product serve more than one purpose? When it comes to small spaces, items with versatility are a must.
With winter coming, I've been looking for products that will warm up my small space without cramming it. Of course, the first place I looked was Target. To my surprise, I found just the thing that would make my space cozier: the Hearth & Hand With Magnolia Arched Wood Throw Blanket Ladder ($80). This piece passed my three-question test with flying colors: one, it (shockingly) fits in my apartment; two, it is practical since it can be used to hang things; and three, it can serve more than one purpose since I can use it as a decor piece as well as a place to store blankets and hang towels.
What I Like About the Hearth & Hand With Magnolia Arched Wood Throw Blanket Ladder
First and foremost, this ladder is made with a gorgeous acacia wood that looks way more expensive than it is. It instantly elevated my space, making it seem more sophisticated as well as much cozier. It's also extremely lightweight (about eight pounds), which makes it easy to move from room to room.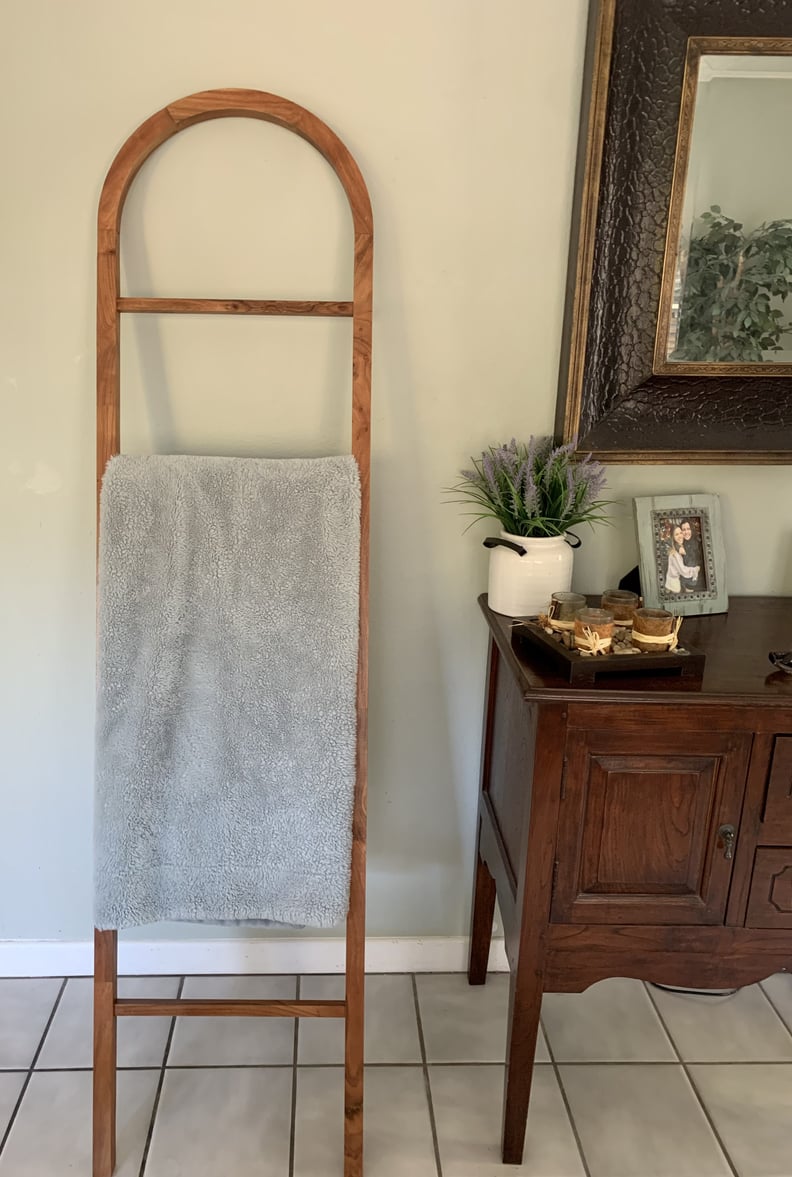 The main reason I got this ladder is I want to have it in my bedroom during the winter so I can display my favorite throw blankets on it. When the seasons change and the weather warms up, I want to move it to my bathroom to hold additional towels. I also like the idea of having it in the bathroom when guests visit so they can hang their towels from it since I only have one towel rack. Plus, it could also be nice to hang clothes on and have them right where I can see them. And even when I'm not storing things on this ladder, it's still a super-chic piece of decor.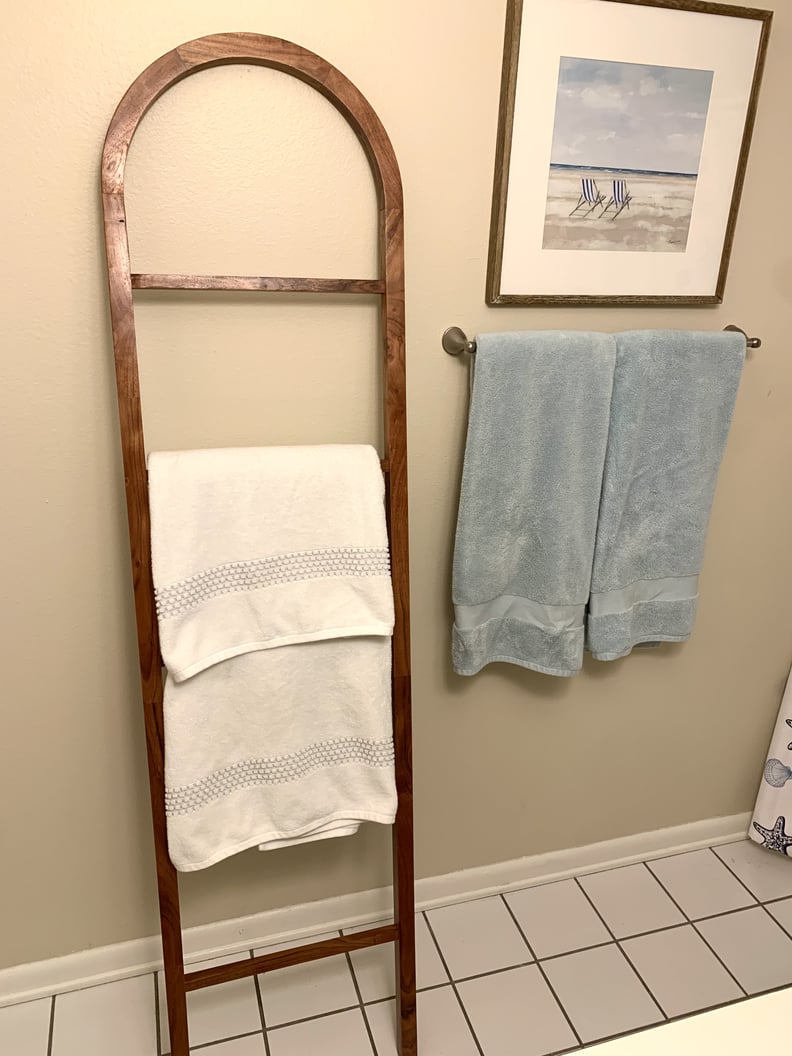 What's Worth Noting About the Hearth & Hand With Magnolia Arched Wood Throw Blanket Ladder
This ladder can stand alone or be mounted to the wall. If it is mounted to the wall, I will note that the hardware is black, which means it's easy to spot. To avoid this, you can choose not to mount it. I personally haven't mounted my ladder to the wall since I like having the option of displaying it in different rooms.
Who Is This Hearth & Hand With Magnolia Arched Wood Throw Blanket Ladder Best For?
This ladder is ideal for anyone who wants to warm up their home with a functional piece of decor. It's super sleek, very lightweight, and great for small spaces. I love how I can move it into different rooms and display anything I want on it. Plus, it's thin enough that if I don't want it out, I can easily store it in a closet. Overall, this ladder is a great, multifunctional decor accent that will warm up any home.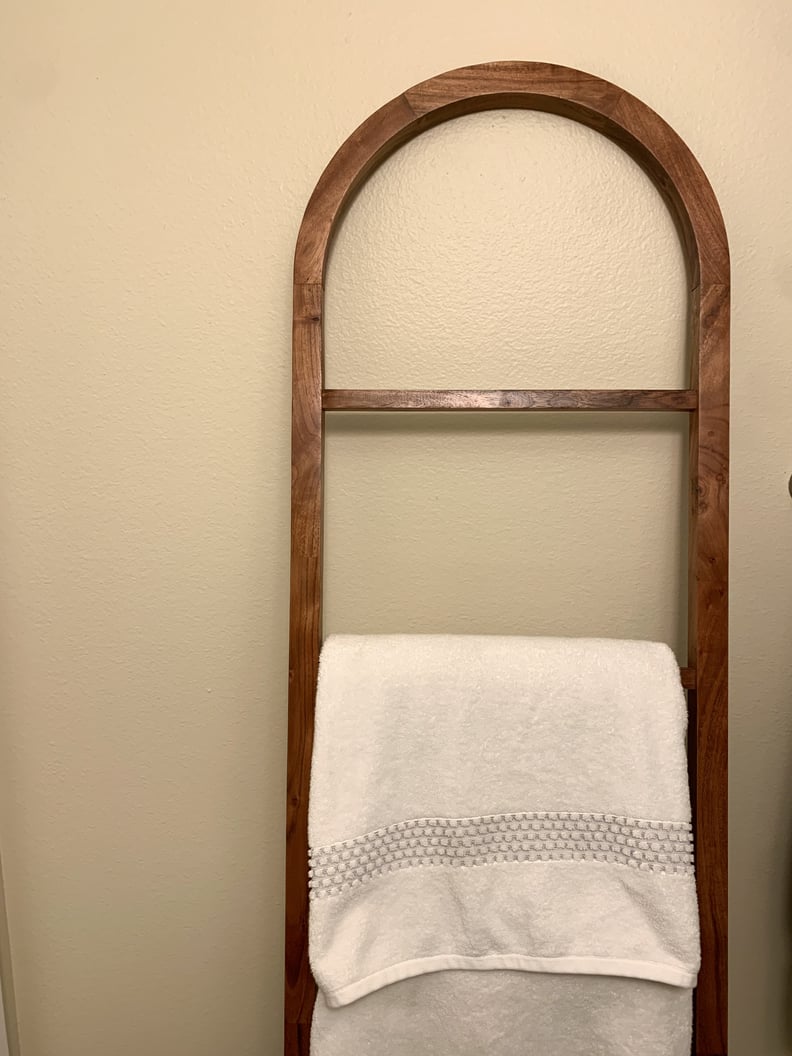 Additional Details
This ladder is six feet tall.
It weighs a little over eight pounds.
It is made from a soft acacia wood.
It has five rungs where you can hang things.
It can be attached to the wall if you want to keep it in one place.
Rating: ★★★★★