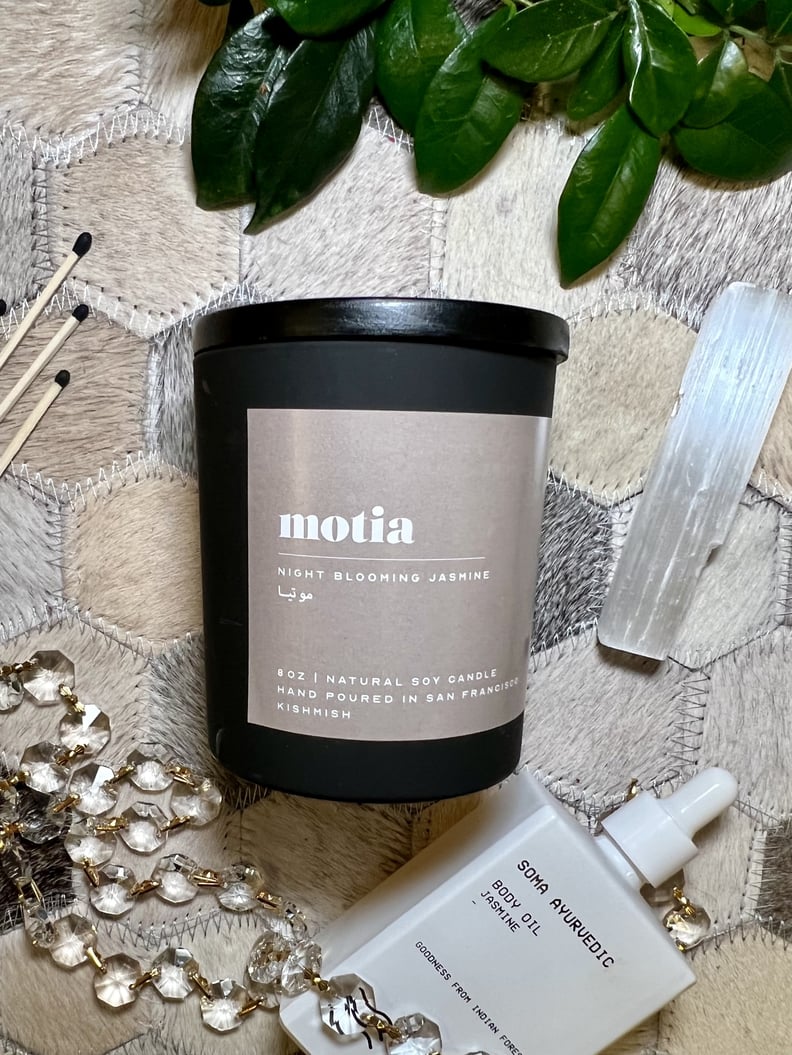 POPSUGAR Photography | Anvita Reddy
As POPSUGAR editors, we independently select and write about stuff we love and think you'll like too. If you buy a product we have recommended, we may receive affiliate commission, which in turn supports our work.
Something about the holiday season makes me want to buy all of the candles. Perhaps it's the golden flame's warmth and coziness, or the decadent scents that create the ambience of your desire. Candles are a terrific way to set the mood, whether you're feeling the festive vibe of warm spices and evergreen trees or the elevated vibe of something sensual, elegant, and luxe. The perfect candle can elevate your space, adding a touch of calmness and comfort. Plus, it's such an easy and cute gift to gift to give during the holidays. As I was browsing through Nordstrom, I came across South Asian-owned candle brand Kishmish ($30) that had scents inspired by South Asian flavors and fragrances. As an Indian-American, I knew I had to try out a few.
When it comes to fragrances, I'm picky, especially for my home. I want scents that transport me to a lavish vacation, but also embrace the comfort and coziness of my home. Kishmish's candles did just that. These candles fill the room with luxurious scents that will make your space feel elevated, but they also made me nostalgic for India, my home away from home.
I tried out Gulab and Motia, and as soon as I opened the boxes, I got an instant got a whiff of the divine yet comforting fragrance. I fell in love. I honestly could not decide which one to burn first. The scents are light and not overbearing. You won't feel like you walked into Abercrombie & Fitch in the 2000s. Yet, the candles are fragrant enough to fill a room within minutes of lighting. The eight-ounce candle has a 50-hour burn time and comes in four distinct fragrances. Keep reading for my in-depth review of Gulab and Motia, and the other scents you can try out!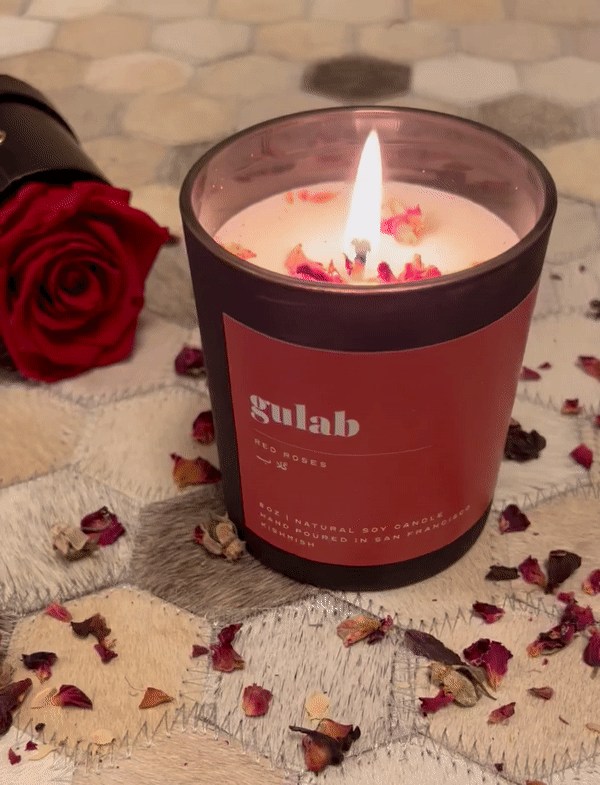 Kishmish Gulab Candle
The Kishmish Gulab Candle ($30) is lavish and luxe — it smells like a fresh bed of perfectly bloomed red roses. It's light, fresh, and floral. It reminds me of a decadent rose-based drink called Rooh Afza. The candle has top notes of rose water and dewy hibiscus, middle notes of Persian lily, and bottom notes of white woods and spring musk. It's topped with dried rose petals for that extravagant vibe. If you love red roses, this candle was made for you.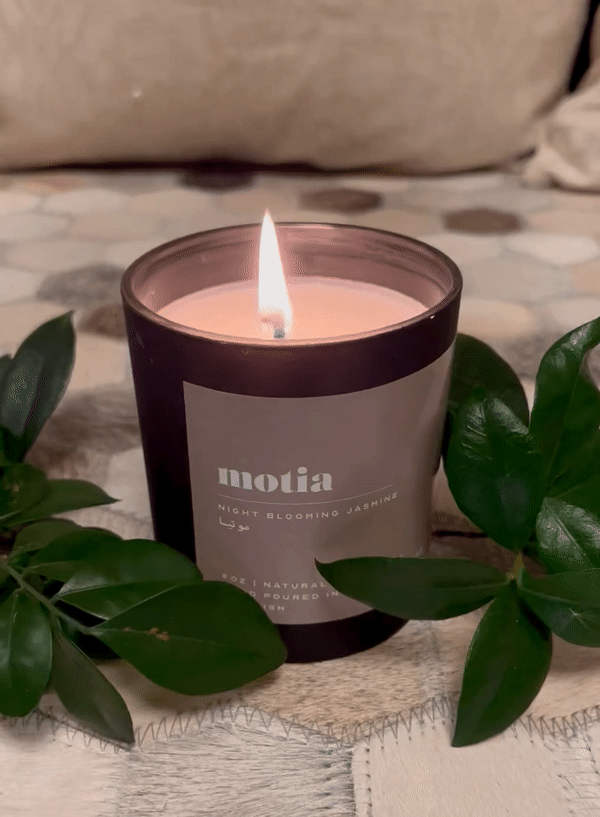 Kishmish Motia Candle
One of my favorite scents is jasmine, and the Kishmish Motia Candle ($30) is a dream come true. It has the most luxurious scent floral scent of jasmine that's fresh and light. This one instantly felt like home. I could picture the freshly made garlands of jasmine from India and putting them in my hair before going to the temple. We have several jasmine trees in the house, and this is very similar to fresh jasmine but smells more elevated and opulent. It's got a sensual vibe to it that's romantic yet comforting. The candle has top notes of clementine and daisy, middle notes of jasmine, neroli, and water lily, and bottom notes of vetiver and white musk.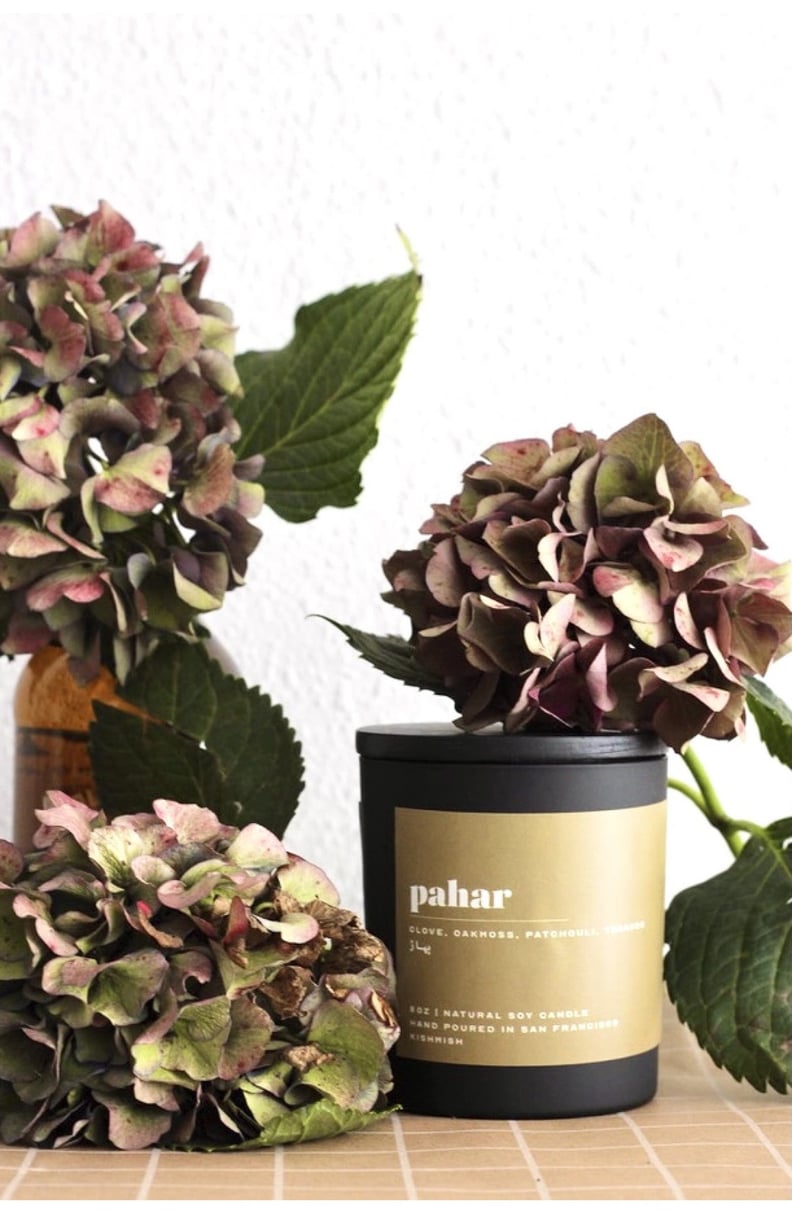 Kishmish Pahar Candle
The Kishmish Pahar Candle ($30) is a woody and aromatic scent that transports you to the foothills of the Himalayas. It has top notes of bergamot and candied orange, middle notes of geranium, leather, and rosemary., and bottom notes of oakmoss, patchouli, clove, and tobacco.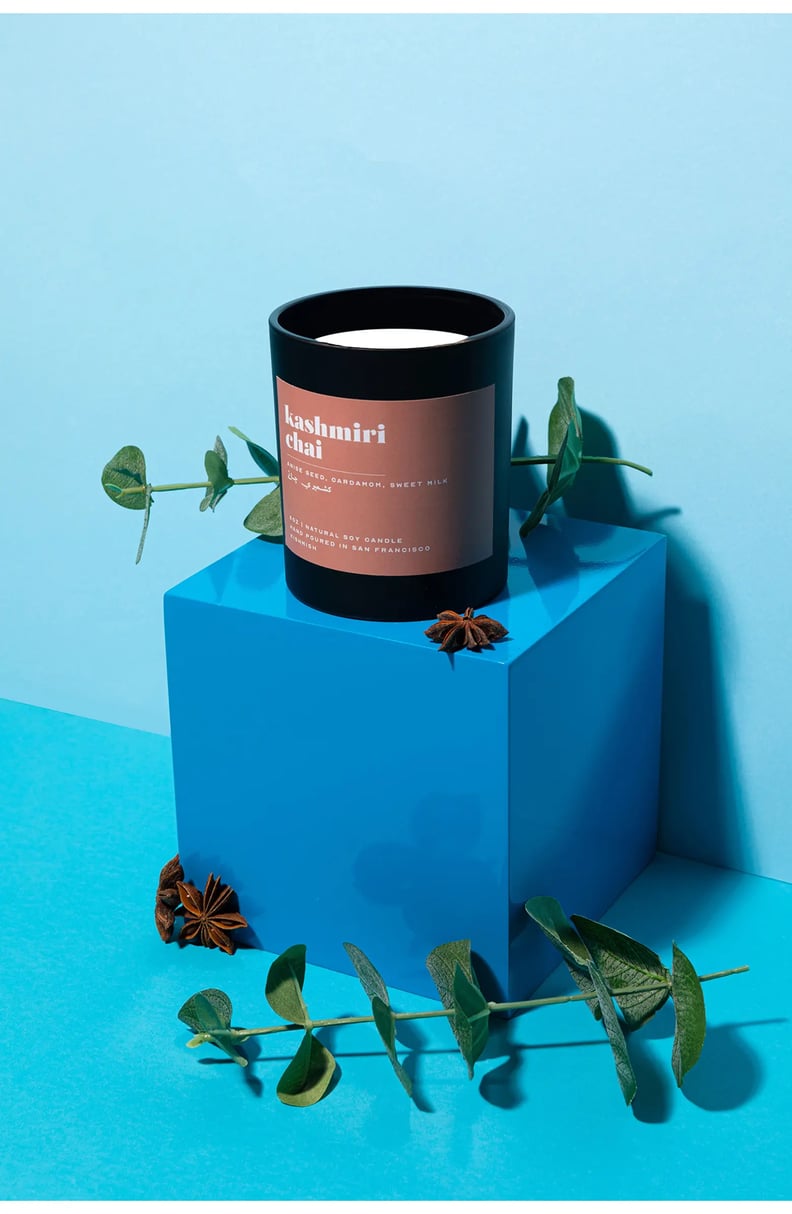 Kishmish Kashmiri Chai Candle
If you want something warm, sweet, and spicy, the Kishmish Kashmiri Chai Candle ($30) is a decadent one you'll want to add to your carts. It has top notes of cardamom, ginger, and eucalyptus, middle notes of star anise and nutmeg, and bottom notes of vanilla and coconut. It's a delish yet unique scent for the holidays, especially if you're totally over the pumpkin spice life.