As POPSUGAR editors, we independently select and write about stuff we love and think you'll like too. If you buy a product we have recommended, we may receive affiliate commission, which in turn supports our work.
When I first started working from home in 2020, it took me a while to realize I badly needed to create a dedicated work space in my apartment. I'd been working from my couch, at my kitchen table, out on my porch, and on the worst of days, in my bed. I was unfocused, and since anywhere in my house was a potential work spot, I began associating every room in my house with work. I realized I needed to create boundaries around which spaces would be specific to leisure, and which would be dedicated to productivity.
Before starting grad school in the summer of 2021, I moved into a small apartment where my office space and bedroom are now one and the same. I wanted to be intentional about my setup, so putting effort into creating a spot I enjoy spending time in — no matter how small — was a top priority when it came to building my own little workspace. The tips ahead are things that I did to create a small office space in my bedroom, and it's really made all the difference.
01
Prioritize Good Lighting
I'm at my most productive when I'm working in natural light. Since, my room has an east facing window, I made sure to set my desk up in the corner that receives most light throughout the day (especially during the winter!). If you don't have access to a window in your office space or room, I recommend the Verilux HappyLight ($30, originally $40) or this Flanney Sunset Lamp ($8, originally $15).
02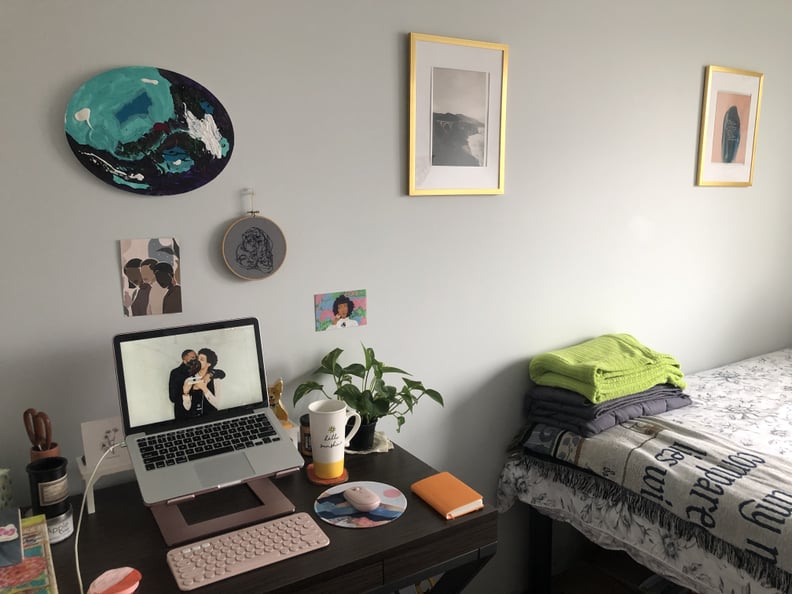 Try to Get Your Bed Out of the Background
Since I spend a chunk of time in Zoom meetings, I had my desk set up to face away from my bed (as shown) so it wouldn't be in the background. Not everyone may have the space to do this, but if you can, try rearranging your furniture in such a way that you can have a clean background during your calls — without your bed as a distraction. If worse comes to worse, you can also go to another room for a video call, and then return to your work space when you're done with your meeting.
03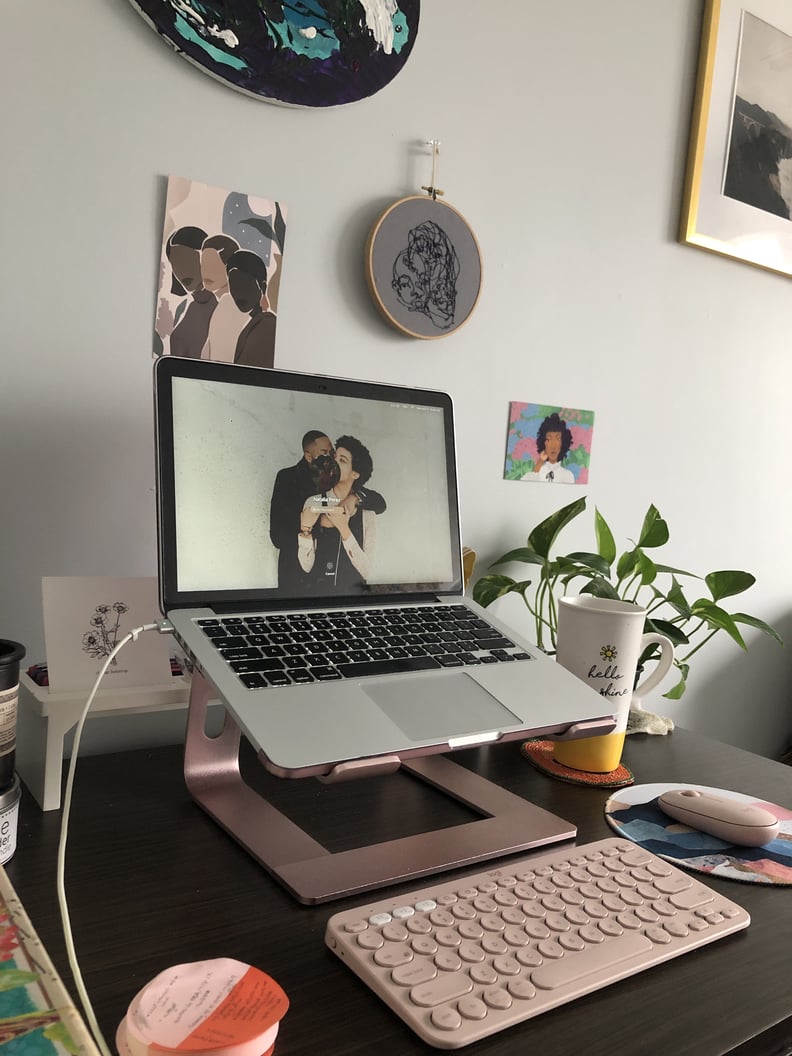 Pick a Color Scheme
The most effective work spaces are customized to fit the needs and tastes of the people working in them. I wanted this space to feel welcoming by picking colors I associate with joy and warmth, so that I'd feel excited to work there. Yellows, pinks and greens are my default color scheme for productive spaces, and I've found it encourages my creativity and helps me feel calm and comfortable.
Sticking to a color scheme also makes for a cohesive office space, which can encourage productivity. I feel happiest when surrounded by local art or pieces from small businesses, so I purchased an embroidered piece titled Lavender Blind Contour No. 1 ($55), and a set of upsimples Picture Frames ($33) to place artwork in.
04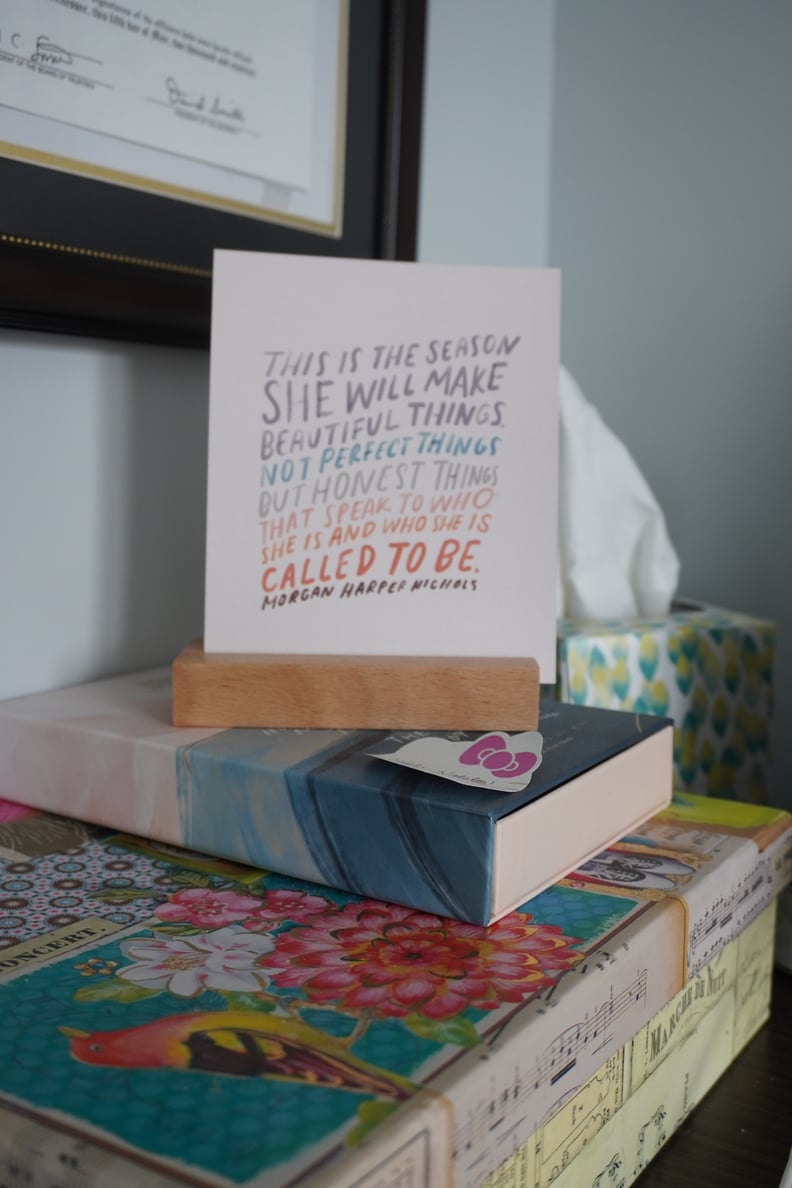 Invest in the Small Details
My favorite part about my desk space are the space details. All of them are uniquely personalized: papaya coasters, a corgi calendar, and lots of affirmations. As a words person, small signs of encouragement help me set my intentions for the day, and these Morgan Harper Nichols' 52-Week Affirmation Cards ($25) have been a great tool for that.
05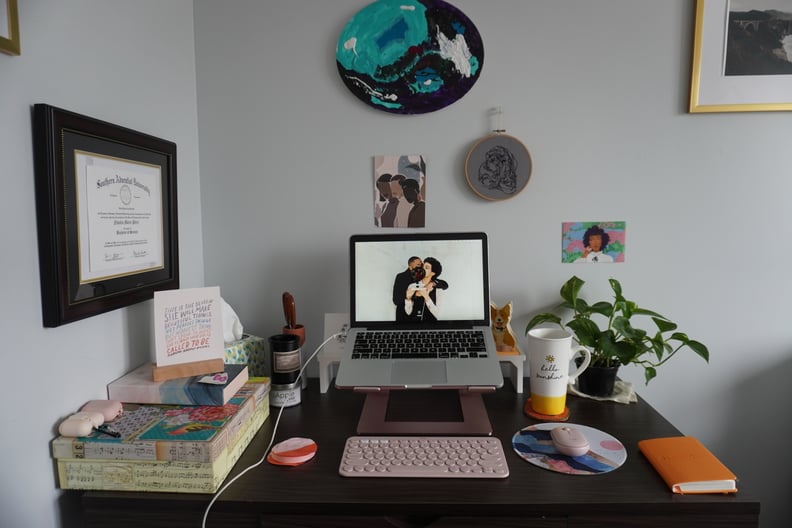 Make Your Space as Comfortable as Possible