At Home With POPSUGAR: How White Paint Completely Transformed My Once Ugly Apartment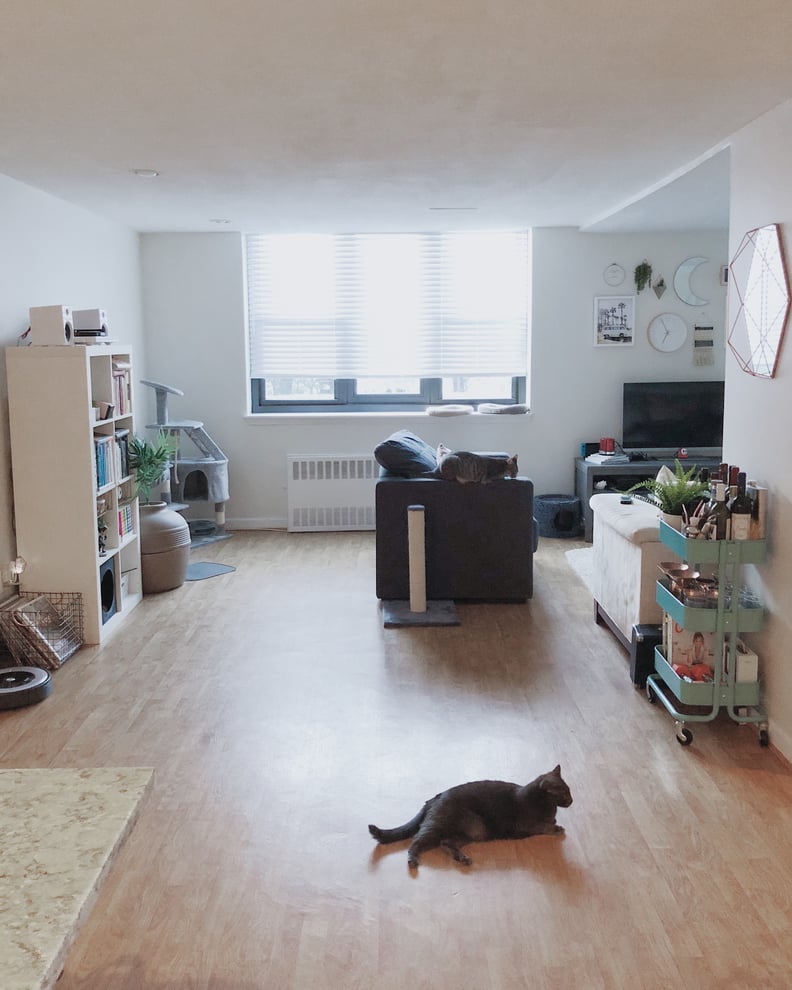 POPSUGAR Photography | Alessia Santoro
POPSUGAR Photography | Alessia Santoro
When I first laid eyes on my 750-square foot apartment on Long Island, NY, my fiancé and I had seen more apartments than I can even attempt to remember. I was sick of the search process, especially knowing that the closing and purchase of our place would take even longer once we did find something. I remember walking through the front door of our current home and my eyes immediately locked on the stale coffee-brown kitchen walls. Upon walking a few feet further, past the bedroom door, I noticed those walls were lime green. And the bathroom a few feet further from there? Purple. It was just . . . ugly.
I wanted to turn around and walk out there and then because of my aforementioned Sick of This Process™ mood (where were all the fully renovated, move-in ready dream apartments like the ones I was scrolling past on Instagram?!). Luckily, I had a real estate agent who was lovely, and she gently reminded me that as we were buying the apartment, we could paint over everything however we wanted without having to check with a landlord. Having only rented apartments until this point, it was like a lightbulb went off in my head. The space was small, the kitchen had old appliances and a peeling countertop, and the bathroom was so very dated, but it was actually an ideal space for us, and I was ready to transform it with paint — bright, white paint.
I decided to throw out the idea of accent walls and every other painting rule, instead opting to paint the whole apartment white. Painting in general is great, but I'll never use another color besides white again (even though some designers would probably want to fight me on that). Here's why:
Benefits of Painting Your Walls White
It's cheap. Paint can get pricy, so by purchasing a few larger containers of one color, we weren't forced into spending more on different color mixes. Plus, anything that's leftover is guaranteed to get used eventually, whether for touch-ups or in our next home.
It makes everything appear crisp and clean. There's something about walking into a bright white room that's akin to a deep inhale of fresh laundry. It just feels and looks neater than other colors, in my opinion.
Also, it makes everything more light and airy. We don't get a lot of natural light in our apartment, which is one of the only things I don't love about it. However, white paint helps a bit — the sunlight we do get bounces off the walls and makes everything feel more airy and open. (Because we don't get a lot of natural light, we went with a cool-toned white, Ultra Pure White by Behr).
White paint creates the illusion of more space. The white definitely opened up my space physically — it made the rooms seem wider and longer, and the ceilings higher.
It helps make decorating easier. White paint makes your walls the perfect background for any color furniture or decor. You won't be limited to neutrals in order to offset a mustard yellow bedroom or pale blue living room. Cool and warm tones play a part, but it's much easier to navigate than working with multiple colors.
White walls photograph well. If you, like me, love sharing photos of your space, it's amazing what white walls will do for your Instagram feed. They really make whatever else is in the room pop.
Keep reading to see how I used white paint throughout my entire apartment to open it up, make it feel lighter, and give myself all of the decorating color options. It sounds so simple and obvious, sure, but still, the before and after photos don't lie!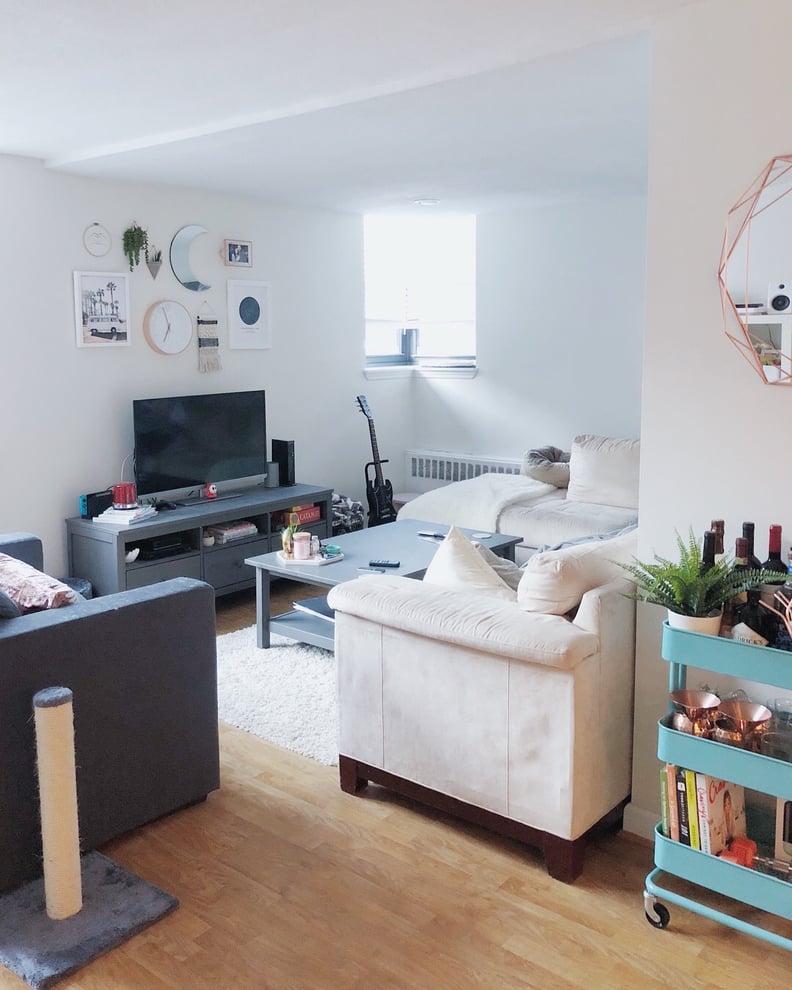 What My Apartment Looks Like Now
Everything pops with a white background! Most of our furniture is neutral, so I'm able to use color with our other decor, like our teal blue bar cart, pink throw pillows, and rose gold everything.
The Main Part of Our Apartment: Before
This is the view of the inside of our apartment from the kitchen, and most of what you'd see when you walked through the front door. Even with the apartment empty, I felt like having medium-brown walls, especially the wall with the window, made the space feel so small and closed in.
The Main Part of Our Apartment: After
After we painted all of the walls white, it feels so much roomier in the space, despite this photo being full of furniture (and our two cats).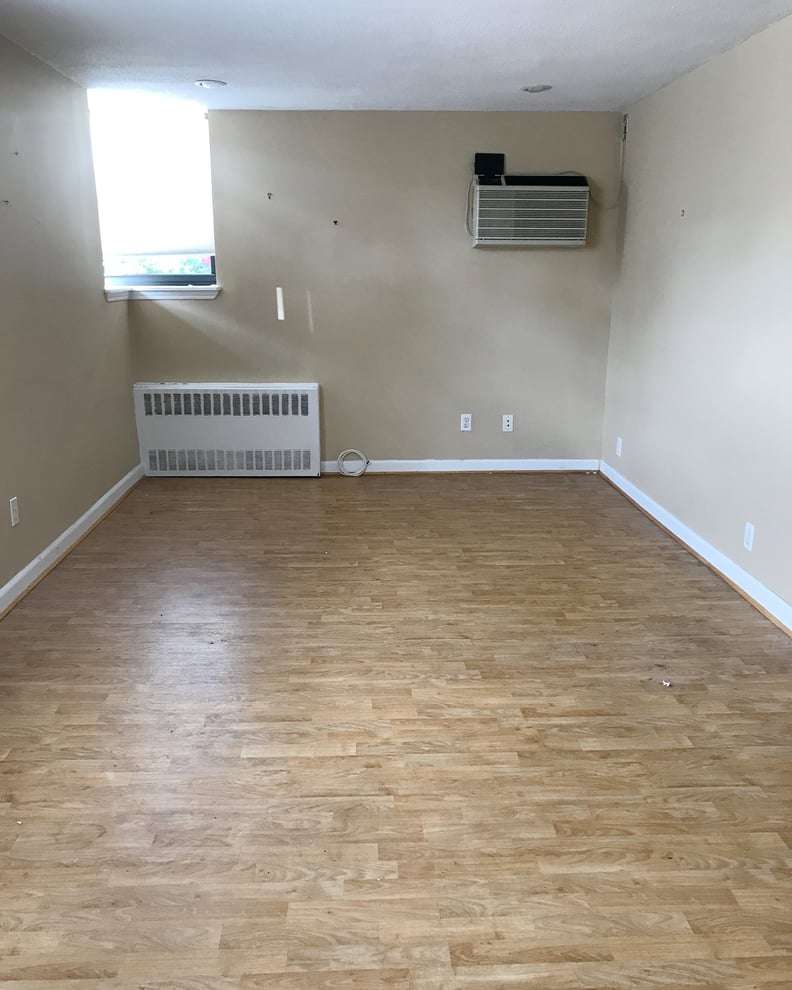 The Living Room: Before
Even though the paint in this photo doesn't look that dark, the first time I looked into this room it felt to me like the walls were closing in. (I told everyone that it reminded me of the trash compactor Luke Skywalker, Han Solo, Chewbacca, and Princess Leia were trapped inside of in A New Hope — everyone rolled their eyes, but it's a good reference, sue me!). I knew there was going to be a lot going into this space (see next photo), so honestly, painting it was the only thing that could be done to make it feel less cramped.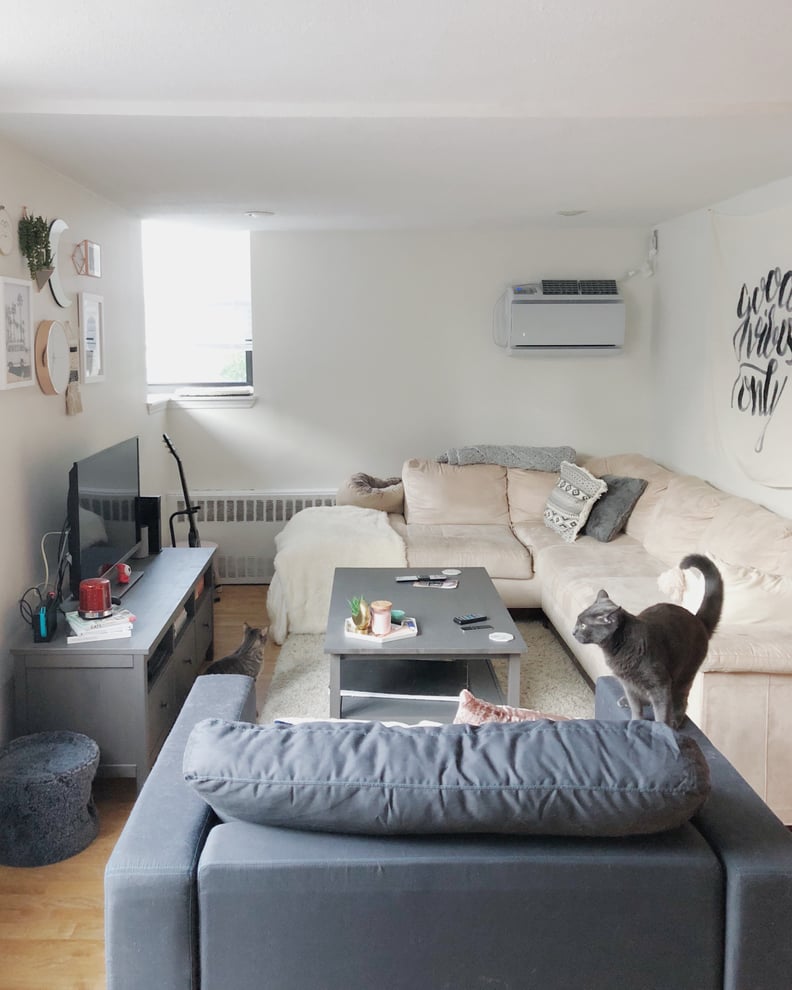 The Living Room: After
Despite our living room being absolutely crammed with a huge couch, a giant Lovesac Sactional chair, a coffee table, shag rug, and TV console, this photo is so airy compared to the before photo. And even though I was going for this, I do love that the big pieces of comfy furniture mean that the room we spend the most time in ourselves and when guests are over is cozy and welcoming.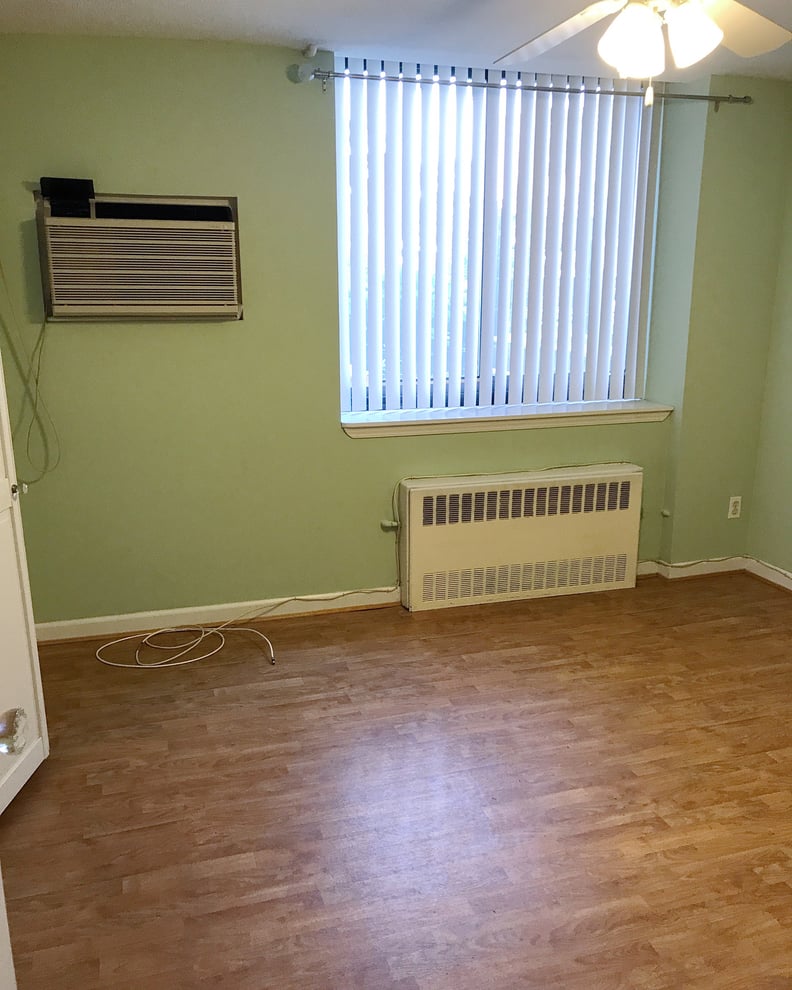 The Bedroom: Before
Y'all. This room. It was almost the reason I said no to this place. Looking back, that's obviously so silly. Don't ever let lime green paint stop you from achieving your dreams! (Unless you love lime green paint, then use it everywhere!) This room was the hardest to tackle, as it took three coats of white paint to truly cover up the slime-green color.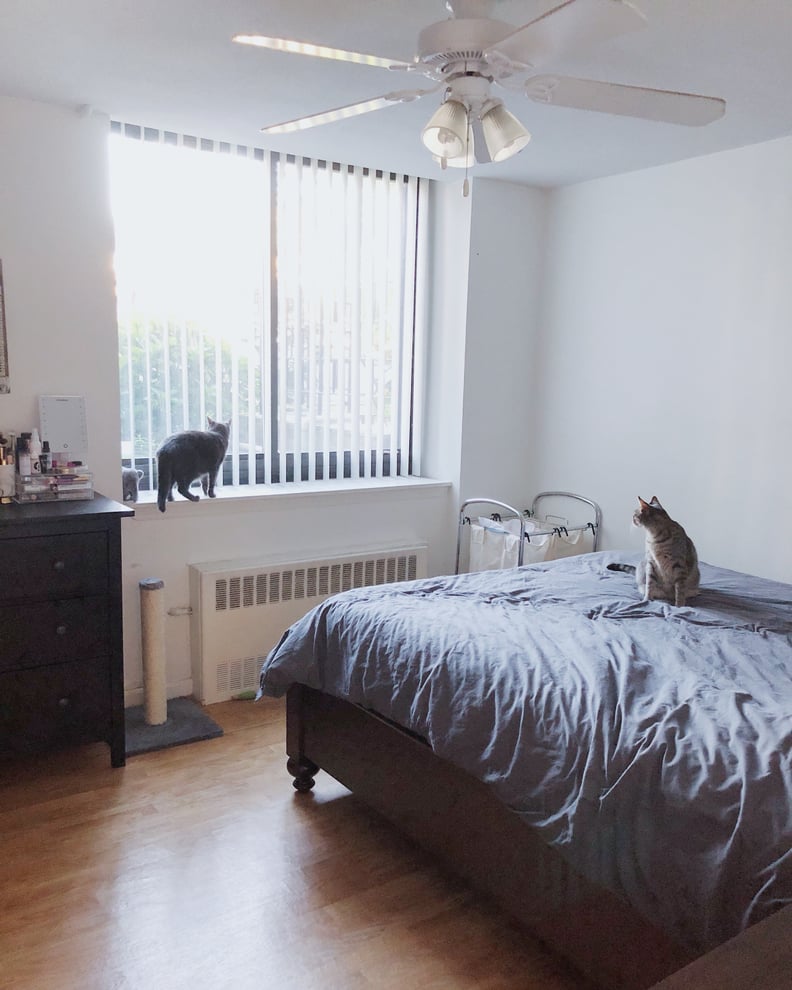 The Bedroom: After
I know I'm overusing the words light and airy, but, like . . . look! Even with a dark gray duvet cover and a nearly black dresser, the white paint turned this once wacky looking room into a delightfully bright space.
The Kitchen: Before
You can't see too much of the paint in this room, unfortunately, but as you can tell from the space behind the refrigerator, it was a dark shade of . . . something. It was the color of whatever would result should mustard and coffee choose to have a baby together. Paired with the terrible backsplash that I knew we likely wouldn't be replacing any time soon, everything just looked so tired in this poor room. White paint to the rescue, once again!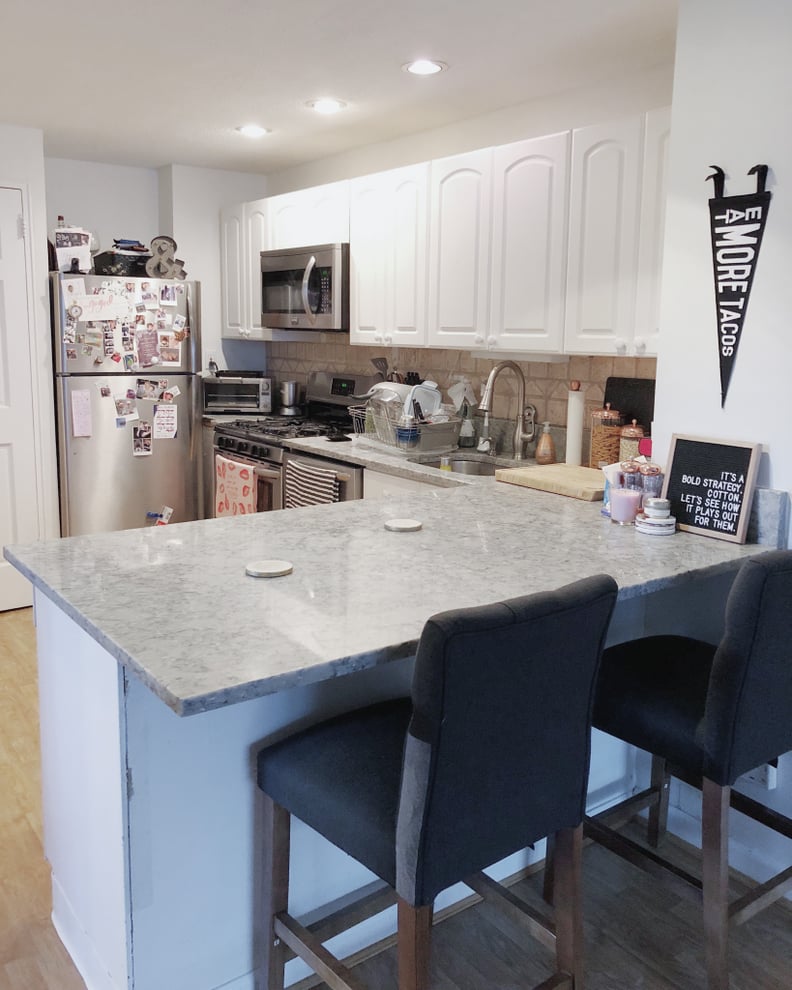 The Kitchen: After
I wish I had photos of what the original kitchen looked like after paint, because even though we had to upgrade our appliances (the ancient dishwasher was broken, so it was in our best interest to replace everything with a bundle price) and we chose to splurge on a quartz countertop to replace the peeling laminate one, everything looked so much better after paint even though it was old, cracked, and broken. Even the not-my-taste backsplash looks like less of an eyesore.