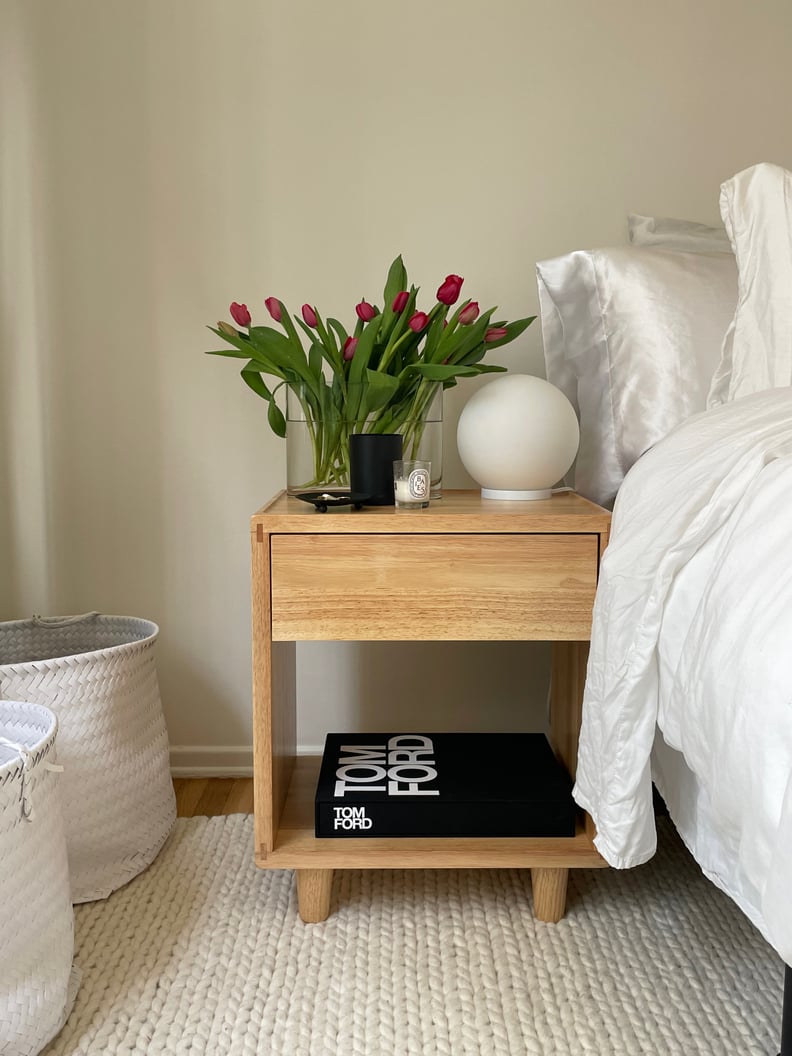 POPSUGAR Photography | Renee Rodriguez
POPSUGAR Photography | Renee Rodriguez
As POPSUGAR editors, we independently select and write about stuff we love and think you'll like too. If you buy a product we have recommended, we may receive affiliate commission, which in turn supports our work.
I recently moved cities and into a new apartment, and while I used to think furnishing a new space would be exciting and exhilarating, I've found that it's been more stressful than anything. I love spending hours scouring furniture stores and testing out comfy couches, but all of the options can get a little overwhelming at times. Plus, since I'm living on my own now, I've been looking for pieces that will be easy for me to assemble by myself, which is easier said than done.
When it came to my bedroom in particular, I wasn't entirely sure what direction I wanted to go in aesthetic-wise, so when it was time to pick a nightstand, I knew I needed to purchase something that was minimal and would go with a variety of different pieces. After speaking with coworkers about Thuma's amazing minimal designs that were both functional and easy to assemble, I decided to test out the Thuma Nightstand ($395), and I'm so happy I did.
What I Like About the Thuma Nightstand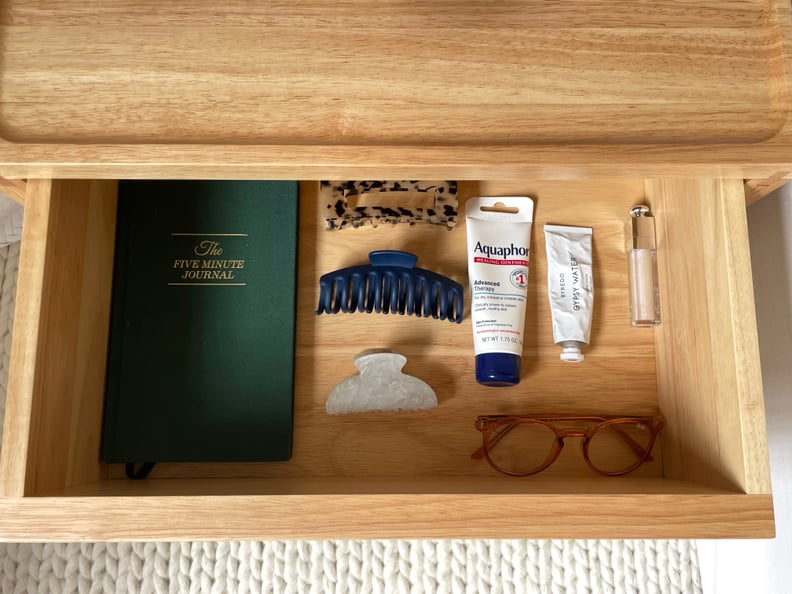 In all honesty, there isn't a single thing I dislike about this product. What initially attracted me to this nightstand was the sleek and minimal design, but after receiving it in the mail, I fell in love with it for so many other reasons. The craftsmanship and quality of the piece are unmatched — and I say that after viewing hundreds of different pieces of furniture in person while on my search for the perfect pick.
Although I was a little worried at first that I would have difficulty setting it up after receiving it, it actually came completely assembled and was light enough to carry from my front door into my bedroom without any help.
Plus, the nightstand can either be installed exactly as it is, or it comes with four feet that you can add to the bottom for more height. I decided to add the feet to the bottom, which took me less than a minute to secure. All in all, the entire installation took me less than five minutes flat.
Before this nightstand arrived, I was using a side table without a drawer, which looked cute in theory but wasn't entirely practical. There was barely any space for me to put my phone and a water bottle, which made my room look disorganized and messy. The top of the Thuma nightstand features a sub-set tray with smooth, beveled edges, which keeps everything safe from sliding off and leaves plenty of room for my phone, water, and even books. The drawer in the nightstand, which features traditional Japanese spined joint corner connections and has no metal hardware, is spacious and has plenty of room for everything I need. (And even a few things I don't — like candy.)
What's Worth Noting About the Thuma Nightstand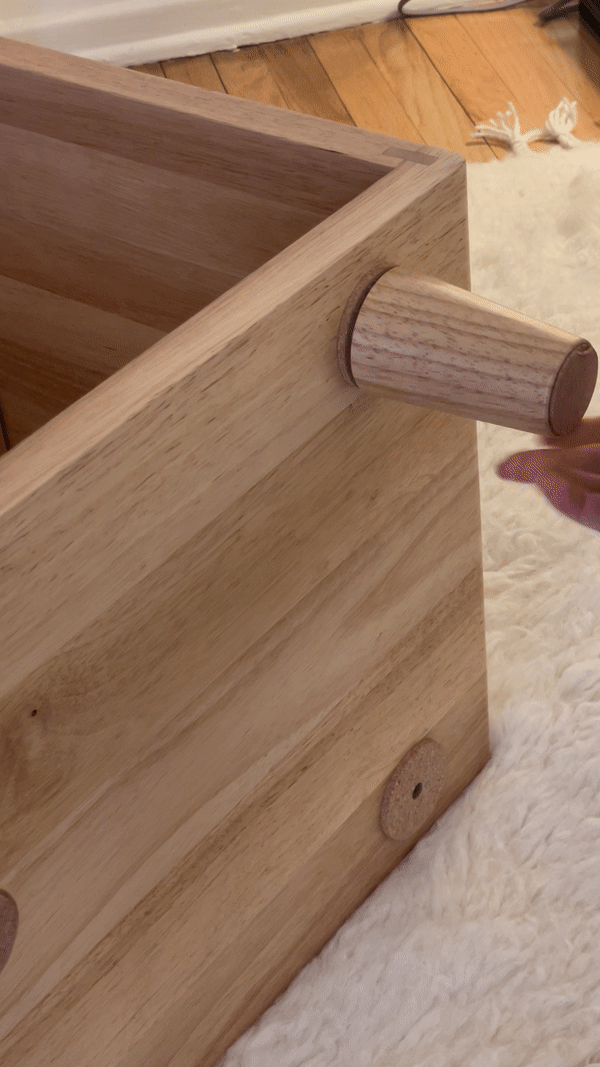 Whether your living space is large or small, you'll most likely love the size of this nightstand. It's small enough that it works for an apartment dweller like me but large enough that it would look just as at home somewhere more spacious. Not to mention, the design is so functional that it offers plenty of room to store anything you have in mind, whether it's in the drawer or the open space below.
Who Is the Thuma Nightstand Best For?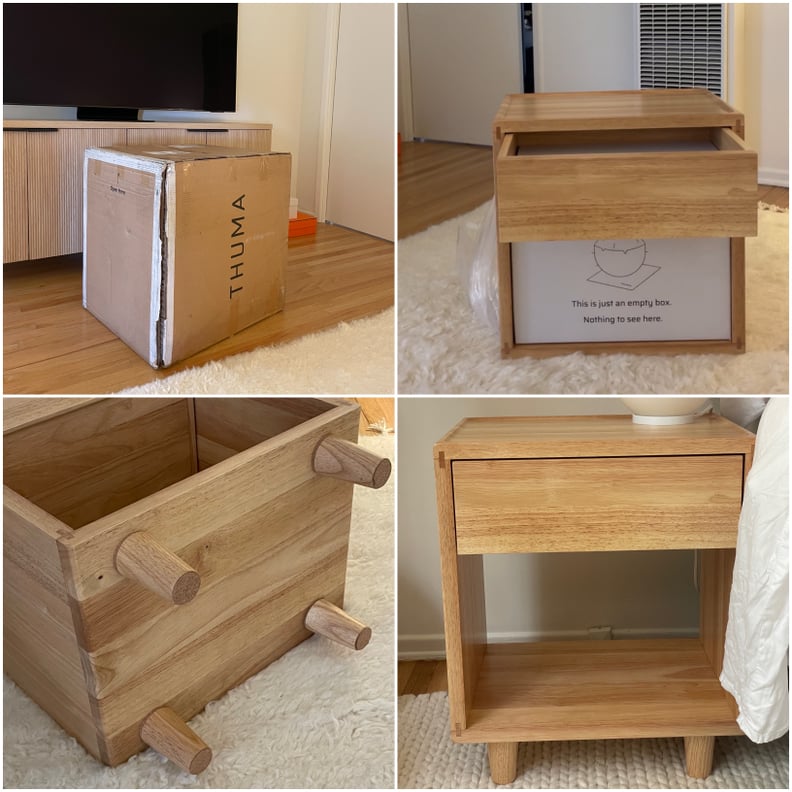 I think the Thuma Nightstand is perfect for anyone who is looking for a sleek, chic, and unique piece of furniture but doesn't want to spend a lot of time assembling it. If you've been on the hunt for something that is a great price for the craftsmanship, is functional, and will last you years to come, the Thuma Nightstand is the perfect pick. It is minimal and sophisticated and would look good paired with practically any aesthetic.
Additional Details About the Thuma Nightstand
Available in colors natural, walnut, and espresso
Made of upcycled eco-friendly solid wood
Drawer space measures 16" x 12" x 4.5"
Open space below the drawer measures 12"
Optional legs are included
Body measures 20" without legs or 24" with legs
Each corner is equipped with a preapplied cork-padded bottom for floor protection
Where Is the Thuma Nightstand Available?
The Thuma Nightstand is available directly on the Thuma.co website.
Rating:
★★★★★