Hispanic Heritage Month: Jesse & Joy Reflect on Latin Music
I Could Listen to Jesse & Joy Talk About Latin Music For Hours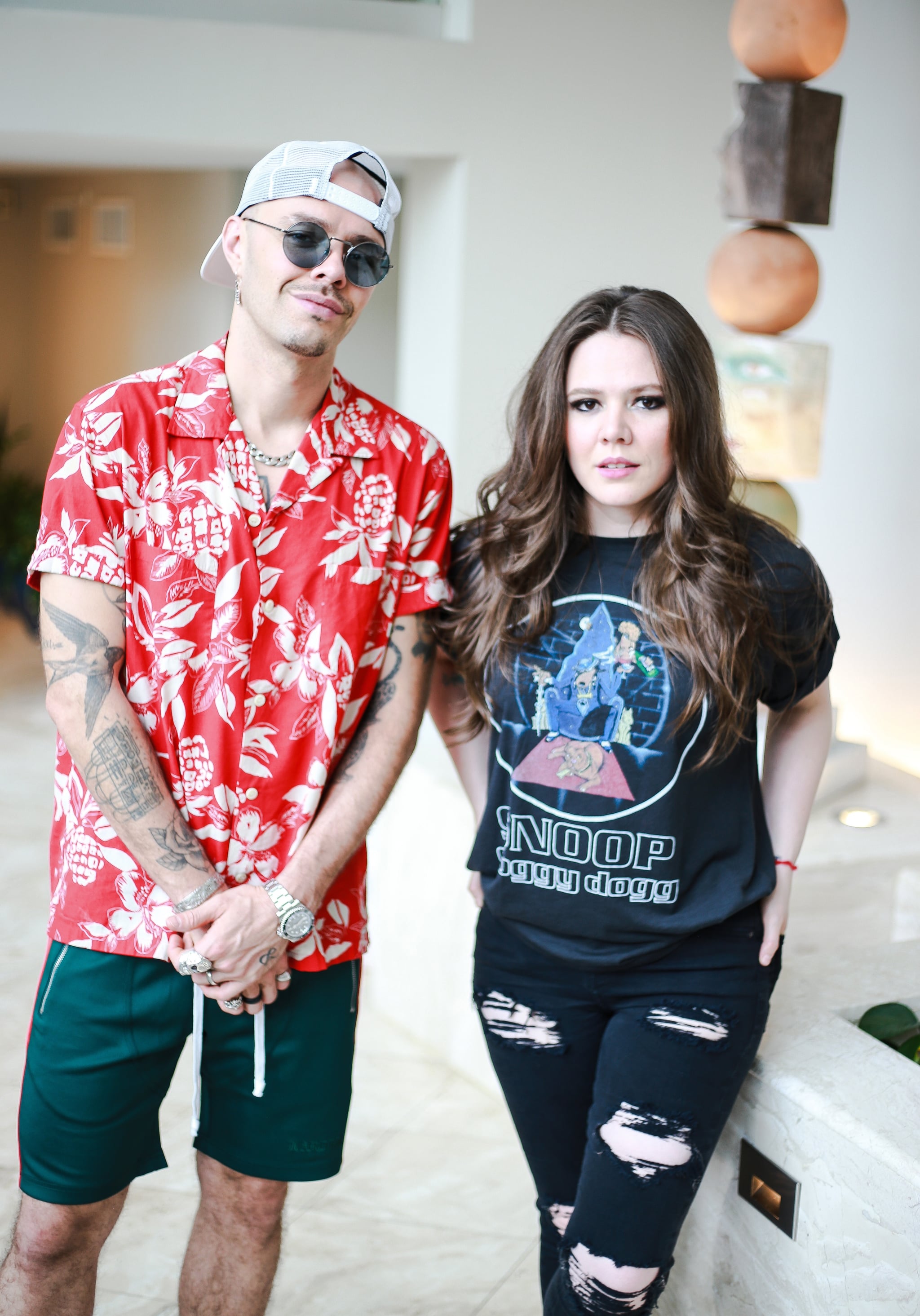 Image Source: Gladys Vega/Getty Images
When you think of Jesse & Joy, you think about wholesome music, melodies that fill your soul, and vocals so soft you could compare them to running a knife through butter. The brother and sister duo rose to fame in 2005 when Sin Bandera introduced them at the Mexican Teletón, and their debut single, "Espacio Sideral," was certified gold by the Asociación Mexicana de Productores de Fonogramas y Videogramas.
To this date, Jesse & Joy have released four studio albums, one live album, and one EP. They have toured internationally and won a Best Latin Album Grammy Award, as well as six Latin Grammy Awards in various categories. They continue to represent Latin music at the highest standard, mostly in Spanish — even though they are Mexican-American — and always staying true to themselves.
Their music, and their personal style, reflect who they really are. They don't allow social pressures to dictate how they portray themselves, and that authenticity is their biggest asset. What I love about them is that their music is timeless. It continues to appeal to the younger audiences, but at the same time, it's music we can play around our parents without them complaining about "lo que la juventud escucha."
We had the opportunity to interview Jesse & Joy for Hispanic Heritage Month, and we were able to get a sneak peek into their lives, their creative process, and what's next for them.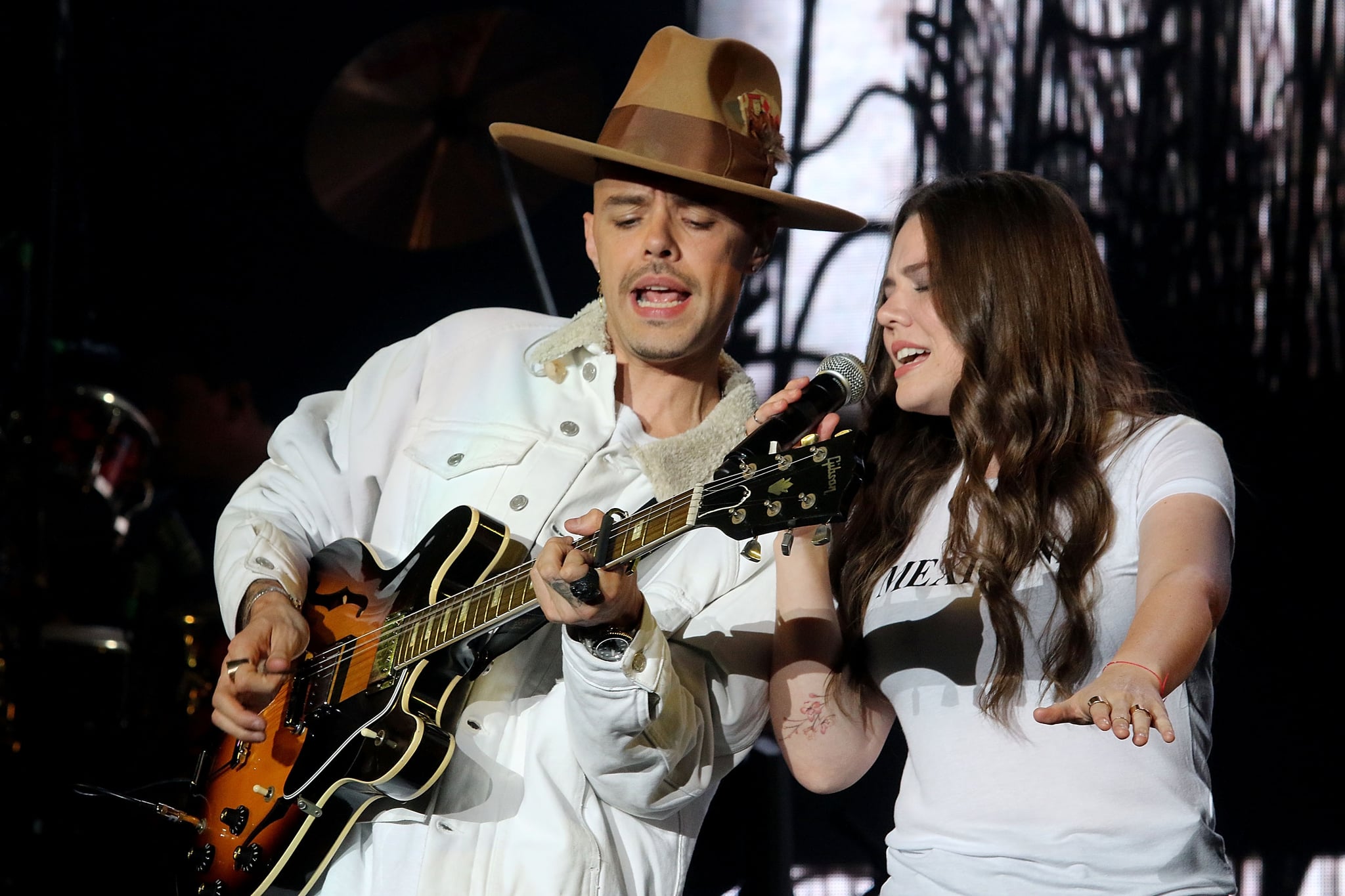 Image Source: JC Olivera/Getty Images
POPSUGAR: You are Mexican-American. How does that influence the music you make?
Jesse & Joy: Our bicultural influence has always been present, whether it's a song or an album all in Spanish, or the music that we grew up listening to in English. Same as if we release something fully in English, it's part of us and who we are. It's in our DNA.
PS: Why is it important to you to highlight your Mexican heritage?
J&J: Because it is who we are, what we know, what inspires us, and where we come from. It's always important to highlight and proudly embrace who you are and where you come from.
PS: What inspires you to write your songs?
J&J: Everything does: life, love, family, our personal experiences, friends' stories, and music itself, it's just a magical thing — the more we write the more we want to keep on writing.
PS: For each one of you, what has been your biggest accomplishment?
Jesse: Doing what I love to do with my talented sister, having a beautiful family, and living the happiest life I could ever imagined.
Joy: Well, Jesse & Joy has been a career itself. I've been able to dedicate my life to one of my biggest passions: music. Not only for the love of it, but I get to share it with my brother and best friend and also with the world. This is something that makes me feel fulfilled both personally and professionally. At the same time, my wife and I had our first baby this year and it really feels like my biggest accomplishment yet.
PS: You recently performed at Los Dells, the largest Latin music and arts festival. How do you prepare to take on such an important event?
Jesse: First we have some McDonald's fries, then we work out a bit, and since we're currently on tour all over the world that pretty much is our everyday rehearsal.
Joy: Each and every show has their own importance. It feels kinda like a first date every time we play at a city/music festival we haven't played at before, yet there's this connection and familiarity through music that makes it less nerve-wrecking. Los Dells is only hours away from where our mom was born, so in a way we felt right at home. Before the kickoff of every tour, we have months of rehearsals to get the band and show ready, and once the tour begins it's kinda like a workout routine every night. It also feels like a party: you can't replicate a party no matter how much you want to, the vibe and energy are new with every single crowd.
PS: Jesse already mentioned it, but you collaborated with McDonald's at Los Dells. Can you tell us more about this project?
J&J: We aren't strangers to working with McDonald's. We had partnered up a couple of years ago, and it was a very lovely experience. This time around wasn't the exception. They have been making their way through some of the hottest Latin music festivals across the country, and we were happy to celebrate the third stop of their "Vive tu Ritmo Tour" at Los Dells, where they gave us a way to get closer to fans right before the show. A little hangout with fans and fries is quite a good combination, hard to turn down.
PS: What do you attribute the evolution of Latin music to, and how do you see yourselves in this whole movement that is taking over?
J&J: We can't talk about Latin music without mentioning Gloria Estefan, Ricky Martin, and Shakira — to mention a few. They helped put Latinx on the music map and were some of the first to break that barrier.
Today we also have the digital revolution playing a huge part. We can listen to music from all over the world on whatever digital platform that's only a click away. We no longer have to leave our homes and go to a record store and buy a whole album from a "strange" band hoping it'll have more than one good song. That said, each and every artist knows that options are limitless so basically the bar is higher than ever, but as a result you have songs like "Despacito" from Luis Fonsi that find their way beyond language.
Jesse & Joy has been around for almost 15 years, we've grown musically in the public eye (and ears). We've seen so many different genres in trend along the way and we've managed to stay true to our sound while evolving with the industry at the same time. Whether or not we like it, we are and have been part of Latin music history since "Espacio Sideral."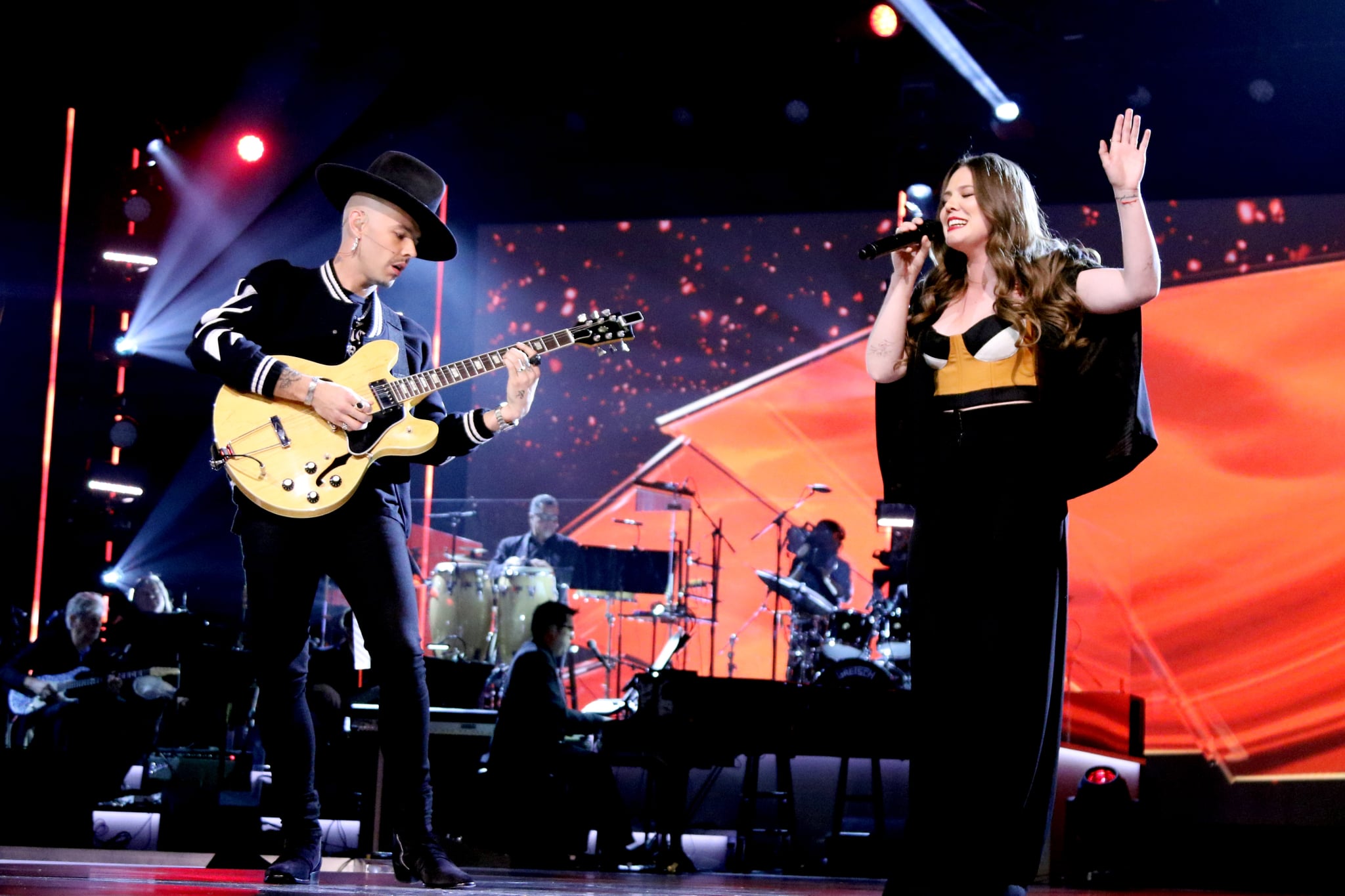 Image Source: John Parra/Getty Images for LARAS
PS: Why do you think the whole world is starting to recognize Latin music now, regardless of language?
J&J: Because now they are open to listen to it. Music is setting an example the world should follow outside of music, because music not only showcases part of every artist's culture, but by fusing with others, it's showing the power that lies with diversity and how everyone can relate to something so humane as music because deep down we are all the same.
PS: How have you had to adapt to the changing times and sounds to make your music as timeless as it sounds?
J&J: We just keep searching for the best song, the best album we can write, and then we focus on the sound in the studio. When we produce something, we want to both surprise with something fresh and at the same time be almost instantly recognized for our sound. It's a tough one to achieve but when you get that result, it rips a smile right out of our hearts.
PS: What has been the most valuable experience you've both learned in this industry?
J&J: Be yourself, work hard, and enjoy the moment.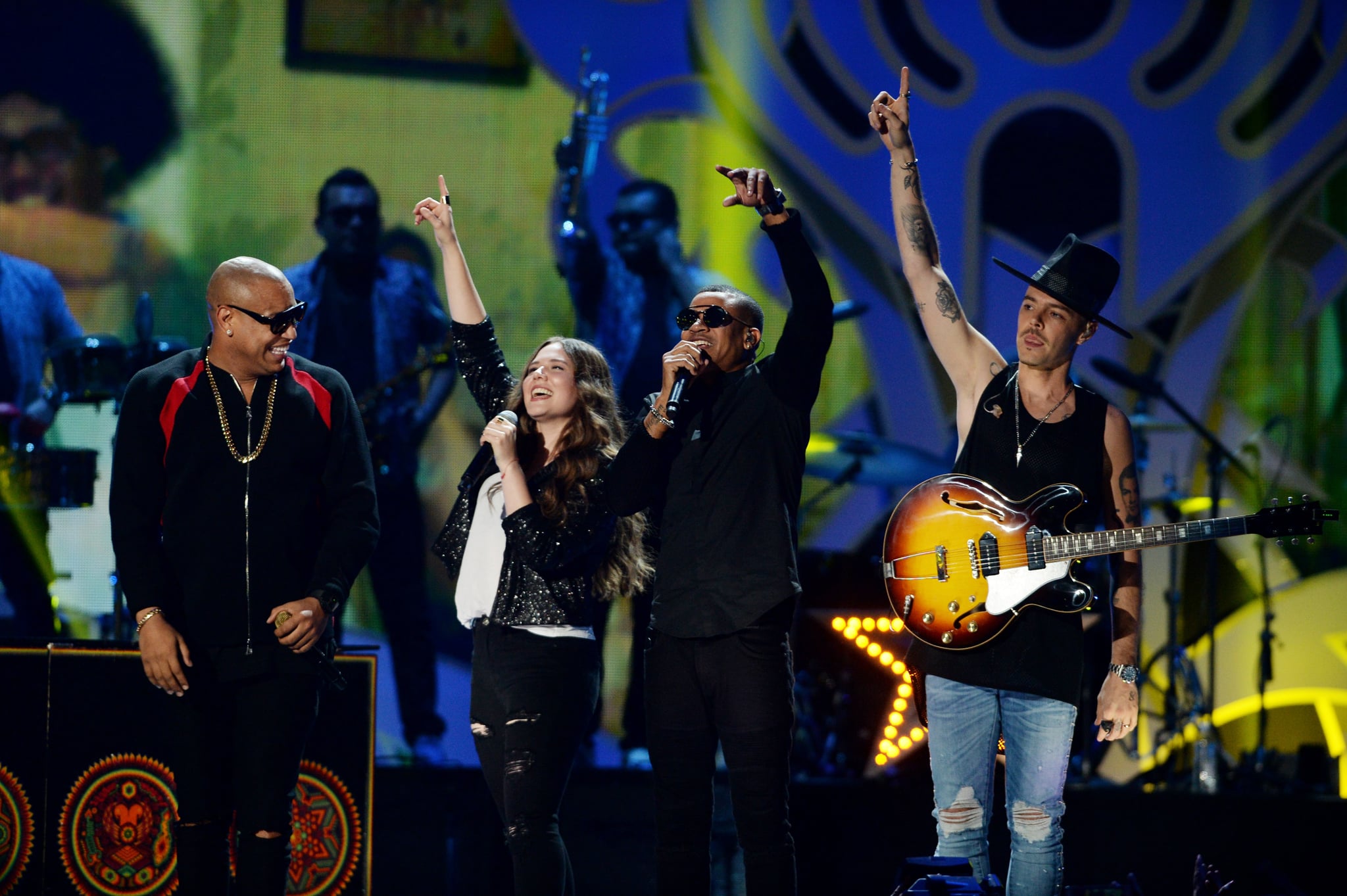 Image Source: Jason Koerner/Getty Images for iHeart Radio
PS: What have been some of your favorite collaborations you've done or who have been the artists that you've most enjoyed working with?
J&J: We love that life has put us in such a blessed position that we get not only to pick who we collaborate with but to do it with people that we love, admire, and share a beautiful friendship with like Juan Luis Guerra on the song "Un Besito Más," Alejandro Sanz on "No Soy Una de Esas," Gente de Zona on our song "3am," and one of our latest releases "Mañana Es Too Late" with our hermanito J Balvin.
PS: What will we see next from Jesse & Joy?
J&J: We have new music coming out soon, new album, and new tour so it's gonna get even more fun and crazy in a few weeks.