How Telemundo's El Señor de los Cielos Has Improved
If You Love El Señor de los Cielos as Much as I Do, You Have This Badass Woman to Thank!
If you've been tuning in to Telemundo lately, you've noticed that their series have drastically changed. Long gone are the days when telenovelas ruled prime time, with exaggerated acting and over-the-top storylines. We, as audiences, are evolving, and networks have had to play catch up in order to get our ever-decreasing attention and hook us with new stories, a lot of action, and different protagonists.
That's what the network is doing, producing what they call "super series" that give Hollywood a run for its money and are completely in Spanish. Budgets have increased, and you can tell by the quality of the scripts, casting, special effects, and locations. There's been a lot of changes behind the scenes too, with more women taking the lead, like Mariana Iskandarani, production vice president of Telemundo Global Studios and executive producer of shows such as Pasión Prohibida, Señora Acero, Corazón Valiente, and, most recently, El Señor de los Cielos — which you can watch Monday through Friday at 10 p.m. on Telemundo.
I was recently in Mykonos, Greece, visiting the set of the new season of El Señor de los Cielos — which takes place both there and in Mexico — when I met Mariana. I had just arrived at the hotel with a few other colleagues and a Telemundo rep when this very energetic woman breezed through the lobby with a small crew, defining some last-minute details for the next day's scenes. She stopped and greeted us and was very polite and funny. She treated us like she'd known us her whole life and answered every preliminary question we had.
Seeing her so confident in the way she commanded the situation was very empowering, because this was a Latina woman who was in charge of pretty much this whole production, and she was making it happen. I was determined to talk to her and learn about what she does and how she keeps the show going. This is what she told me.
POPSUGAR: How would you define your job as executive producer?
Mariana Iskandarani: This seems like such a simple question! What I'm going to say might sound ambiguous, but I think executive producers do everything and do nothing at the same time. We work in finding the right people to make this whole thing work. We have an idea, we know what we want and what we're looking for, and then we have to gather all the tools to make it happen. Working on TV is all about teamwork, and we have to make sure the team is just right, because if one person fails, we all fail.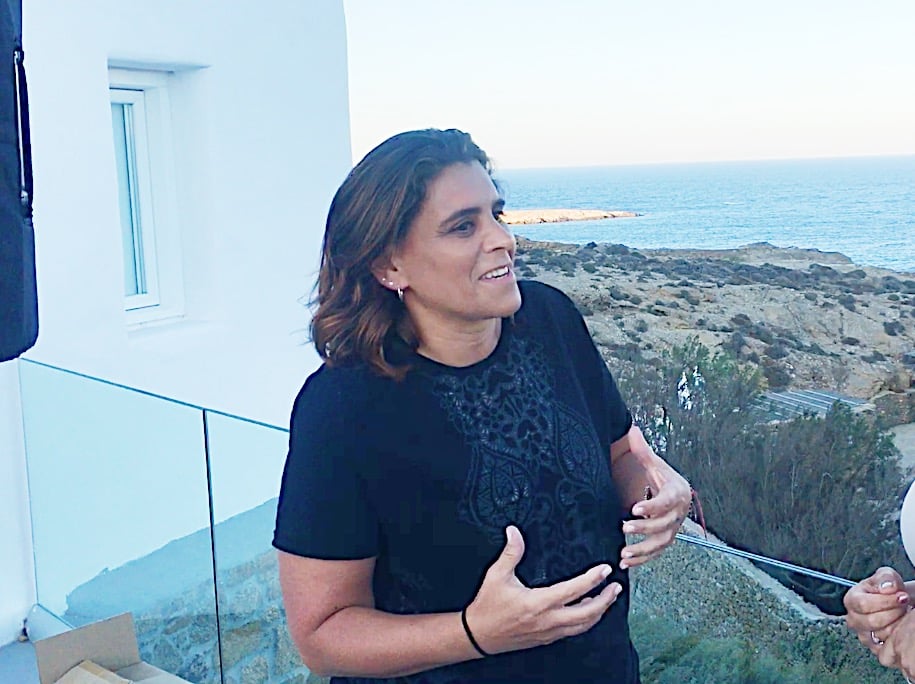 PS: How do you prepare for a production of this magnitude?
MI: A production like El Señor de los Cielos is huge, especially when you add an international trip like this one. There are 25 people from the Mexico crew, plus another 70 people who are local to Greece. It's hard work, thorough, detailed, and above all, it comes with a lot of responsibility. We have to find the right production house who understands what we're going for and can deliver it. As you've noticed here, we also have a beautiful mix of Spanish, English, and Greek, trying to communicate everything and understand each other the way we need to be understood. But that integration of cultures is so enriching in the end. We lived it last year when we shot season six in Istanbul, and this year we've been lucky too, putting together a team that feels like family.
PS: What was the most challenging moment of this whole production?
MI: The most challenging moment came when we got the scripts and realized the quality jump we're making. Finding the right balance between that quality and the reality of the budgets was crucial. Today's audience is more demanding, and we have to be up to their standards, we need to evolve with them. While our budgets are huge, we still have to make sure everything stays within them. So that's the most challenging part.
Obviously, this quality jump comes in part because we're tapping movie directors and photographers, production designers that have other backgrounds in the entertainment industry, raising the bar for our casting process as well. All of that takes more time.
We're also working with single cameras, so what we could do in one shot or two before takes us four or five displacements, and that consumes so much time and it's reflected on the budget. But it's also reflected in the quality, and making our stories as real and truthful as possible.
PS: Where did that quality jump come from?
MI: I think it all began two years ago with a change of management and with Marcos Santana's leadership. He realized TV is changing and we have to change with it. He guided us into the right path, and we all aligned under the same idea. Audiences are changing. Options are countless now, and if we don't change and grow with them, we're going to fall behind. The reason why Telemundo has continued to be number one and a leader in Hispanic audiences in the US is because we make bets, take risks, and are not afraid of change.
PS: What is the biggest change we'll see in this season of El Señor de los Cielos, besides having a more Hollywood feel?
MI: Quality that's not only coming from changing equipment and hiring an awesome crew. Scripts have raised the bar, there's a lot of action sequences, much more speed, a lot more sex, so much violence. And all that, it's not just because. All of that is justified within the story. A story that viene con todo y mucho más fuerte.
Travel and expenses for the author were provided by Telemundo for the purpose of writing this story.