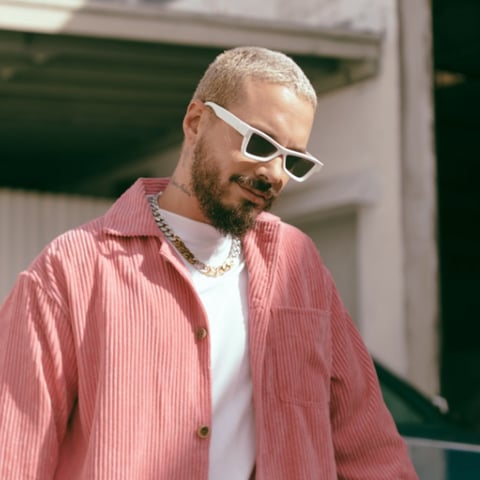 Courtesy of Apple Music
Courtesy of Apple Music
A lot of us are still learning to navigate the temporary new normal upon us, and celebrities are not exempt from it. For J Balvin, it's all about going back to basics and taking this moment with as much positivity as he can. In an interview with Apple Music's Zane Lowe, he opened up about how he's taking this situation and using it for his benefit, sharing a few tips that work for him and might work for you, too.
First and foremost, he's been busy promoting his new album, Colores, which has brought a lot of good vibes and has inspired fun, shareable content, like a twerk push-up challenge set to "Negro" and Zumba choreo set to "Amarillo."
Balvin is also excited to wind down and find different ways to continue growing culturally, spiritually, and mentally. "I think it's a good moment for us to go back to basics," he said, "and that's what I'm trying to do."
He added: "I just think it's time for us to go back to simple. I've been in pajamas all day and just . . . oh, man, I think this is a gift right now for us." Balvin urged people to try to see a positive side to this, to see how a lot of us were complaining about work or not having time for ourselves, "and now we have all the time to be with us."
Balvin revealed that the internet has helped him a lot, providing great tools. He's been in constant communication with his producers, Sky Rompiendo and Tainy, and they've been brewing up some great ideas. "The internet really has helped us a lot through this moment," he said. "It's time to create. I think for moments like this great opportunities are born."
He is positive that a lot of good is going to come out of this: ideas, community bonding, and people are going to "level things up." Balvin feels grateful that he has this time to reconnect with himself and that he's relearning the value of things. "Next time that we go out we're going to value more simple things like have a coffee in the streets, talking with anybody," he said. "All those things that we see normal. They're not normal now. We miss them."