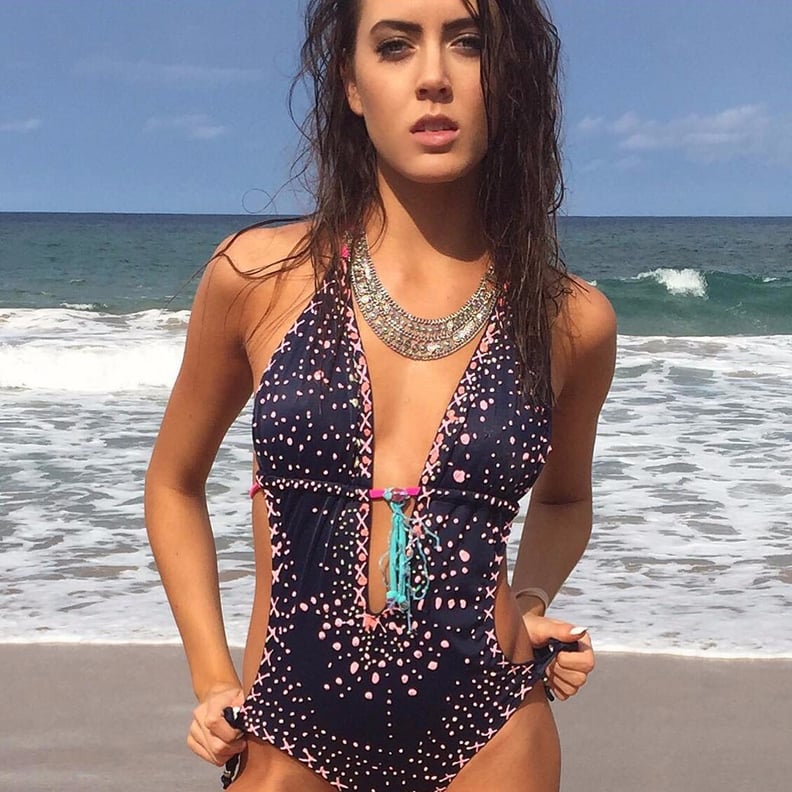 Latin America is home to some of the most beautiful beaches in world. That's why we're not surprised to see Latinas drawing inspiration from these gorgeous coasts to create the perfect swimsuit lines.
These 12 brands bring an authentic Latin essence, creating pieces any woman would want to wear. From bold and vibrant prints to frilly and flattering styles, there's seriously something for every taste. Don't forget to pack one or two — OK maybe a few — for your next vacation! Keep reading to learn more about your new favorite swimwear brands, and then check out some more Latin-created fashion lines and bridal ateliers.
01
Milonga
The Colombian swimwear brand Milonga prides itself in catering to the woman who loves boho-chic fashion. The unique cuts and colors of the brand's swimsuits are perfect for those who want to stand out on the beach.
02
Luli Fama
It should come as no surprise that Luli Fama's designer, Lourdes "Luli" Hanimian, took inspiration from her native Cuba and Miami — the city she grew up in — for her feminine swimsuit designs. Admirers of pastels and prints will become easily obsessed with this brand!
03
Del Mar by Berjheny
Being born on the coast of Venezuela and raised in Aruba, beach life was the only life that designer Berjheny Del Mar knew about. She combined that with the skills her couturier passed onto her to create her line of feminine and empowering suits, Del Mar by Berjheny.
04
Agua Bendita
For Catalina Álvarez and Mariana Hinestroza, creating a swimwear brand was more about following their passion for design and at the same time honoring their Colombian heritage. The result was Agua Bendita, a brand that showcases talent of artisans from their home country through stylish swimsuits for women worldwide.
05
Yemaya Swimwear
Carla Pallares, the designer behind Yemaya Swimwear, credits her Paraguayan background and her life adventures for pushing her to create a swimwear line that captures the carefree spirit of the goddess of the ocean.
06
Nicolita
Since launching Nicolita back in 2003, Nicole Di Rocco has stayed consistent to her vision of designing swimsuits that are inspired by Cuba's glamorous 1940s era. The brand gained popularity for providing pieces that were flattering on curvaceous figures.
07
Pauleth Swimwear
Pauleth Rincón took last year's International Swim Fashion Week by storm with her line, Pauleth Swimwear. The designer specializes in hand-painting unique prints on her swimsuits to give her customers an exclusive experience.
08
Lybethras
Every woman who wears a Lybethras ultraflattering swimsuit is considered a muse to the brand. However, the company has been collaborating with Brazilian model Júlia Pereira on her own line of bathing suits since 2015.
09
Ayra Swimwear
Genesis Vegas's line, Ayra Swimwear, was born from her love of nature and the ocean. Her Panamanian roots inspire each one of her designs, but she also works with Colombian artisans to bring her visions to life.
10
Del Maar
Del Maar prides itself in being an Australian brand with Latin American essence. And that's because the two Australia-based designers behind the swimwear line have incorporated cuts and styles from their native countries, Mexico and Peru, as well as feature exclusive handmade styles from Brazil and Colombia.
11
ále by Alessandra
You might know her for being the supermodel and fashion icon that she is, but did you know Alessandra Ambrosio also has her own line of swimsuits? The model's lifestyle brand, ále by Alessandra, sells beach-chic swimwear inspired by Alessandra Ambrosio herself.
12
Corpo Bonito
Looking your best isn't enough for swimsuit brand Corpo Bonito — it also strives to make each customer feel their best. That's why the brand aims to always provide authentic Brazilian suits with luxurious qualities that will make anyone feel confident in a new swimsuit.