Meet the Latina Scientist Behind the CORBEVAX Vaccine
This Latina Scientist Helped Create a COVID Vaccine That's Accessible to All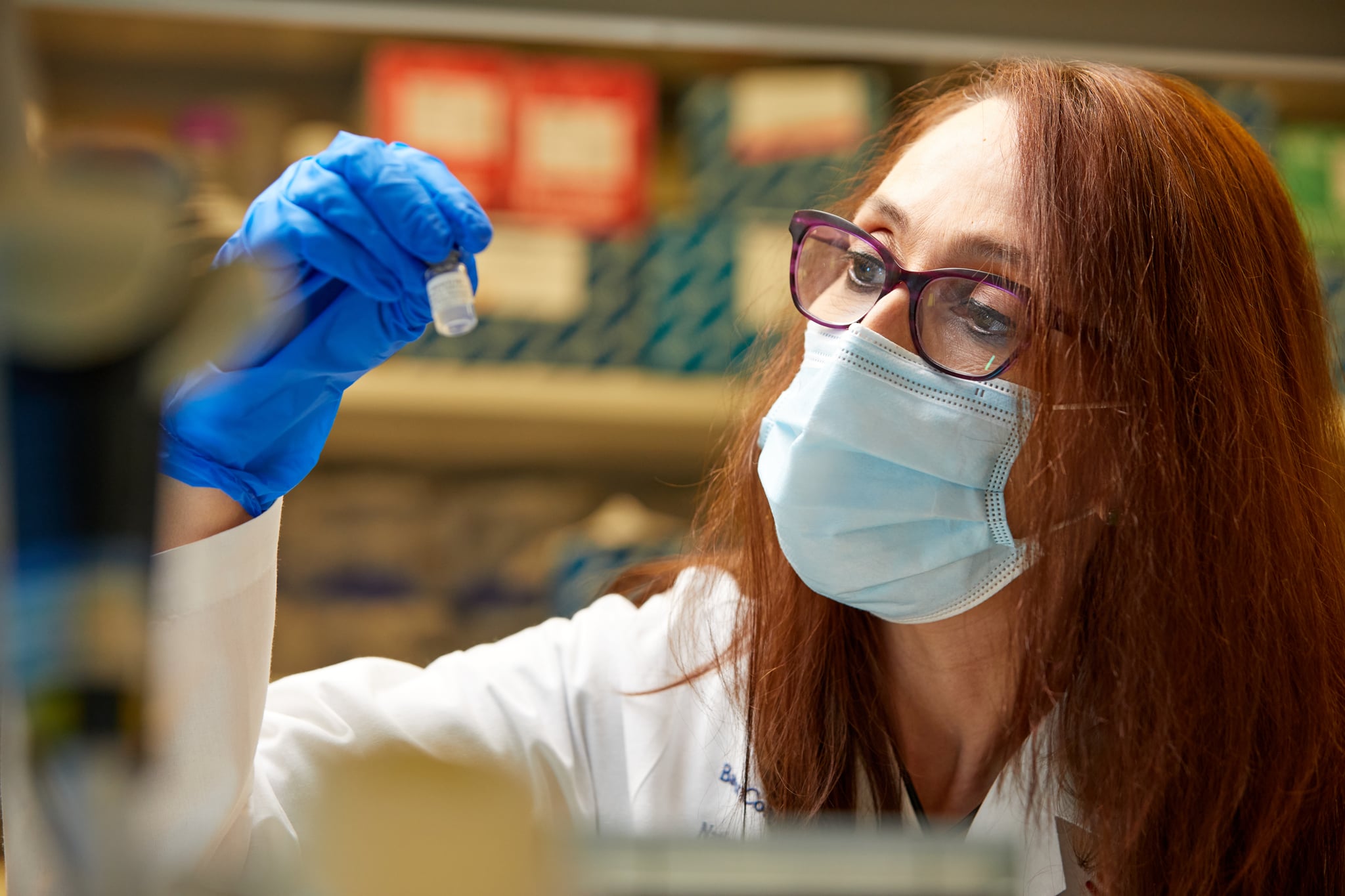 "Growing up, I was pretty geeky," Dr. María Elena Bottazzi, the Latina scientist who co-created a new COVID-19 vaccine that will change global-health equity, tells POPSUGAR. "I always enjoyed studying biology and science." The Honduran microbiologist is co-director of Texas Children's Hospital Center for Vaccine Development at Baylor College of Medicine, where she has studied tropical medicine for more than 10 years. She was recently nominated for the Nobel Peace Prize after developing the CORBEVAX vaccine with Peter J. Hotez. Her goal was to give back to her native country by creating an easily reproducible and globally affordable COVID vaccine.
This desire to help others is what first attracted her to microbiology, she says. She loves the public-health aspect and studying how pathogens are influenced by the environment, and she can still interact directly with affected patients. "I love community research where the community is involved," she says.
Bottazzi has faced plenty of barriers throughout her career. Early on, she learned to be strong and dedicated to her work, thanks to being raised by a single father who overcame his own struggles. "There are going to be barriers, whether because you're a woman, Latinx, or have an accent," she says. "But you have to be strong, because you have to do what you have to do. Be curious, have self-initiative and the courage to know that you'll never make everybody happy."
It is this curiosity, passion for science, and desire to help her community that led Bottazzi to partner with Hotez — and to subsequently develop a COVID-19 vaccine that has not only earned her the recognition of her colleagues, but is also paving the way to vaccinate the world against a coronavirus that's already killed more than six million people. Bottazzi explained to us what makes the CORBEVAX vaccine affordable and how she hopes it will close the vaccine equity gap.
What Is the CORBEVAX vaccine?
The CORBEVAX vaccine is a new patent-free COVID-19 vaccine developed by Bottazzi and Hotez. The technology behind the vaccine (see below) makes it an ideal candidate to vaccinate those in low-income countries.
What Is the Science Behind the CORBEVAX Vaccine, and What Makes it Affordable and Easily Reproducible?
"The vaccine is produced by microbial (yeast) fermentation technology — similar to that used for the production of the recombinant hepatitis B vaccine in use for the last three decades," Bottazzi says. "It is a vegan vaccine technology with no human/animal cells or human/animal proteins."
Bottazzi says that the CORBEVAX vaccine can be easily reproduced in countries such as India, Indonesia, Bangladesh, and Vietnam because they "currently produce their own versions of a recombinant hepatitis B vaccine through yeast fermentation." She continues, "This approach taps into existing infrastructure in order to rapidly scale and produce a low-cost and widely accessible COVID-19 vaccine for global health."
This protein-based technology is what makes the vaccine easy to make — especially at a large scale — while also being low-cost. The technology also has a track record of being safe and effective, including for children. Bottazzi explains that this vaccine has the advantage of needing only simple refrigeration storage and a vegan process that makes it "suitable to close both the global vaccine equity gap and the vaccine hesitancy gap."
Is the Vaccine Already Available, and What Is the Process of Getting It?
"So far, CORBEVAX has been released for emergency use authorization (EUA) in India for adults and children over the age of 12," Bottazzi says. "In addition, it is expected that EUAs for CORBEVAX will be released in India for children between ages 5 and 11 and also as a booster dose for these populations."
How Will CORBEVAX Be Distributed?
Bottazzi's team is currently working with global agencies, such as the World Health Organization, for prequalification and emergency use. Meanwhile, Bottazzi hopes to continue evolving vaccine programs and developing novel vaccine approaches to close both the vaccine equity gap and the vaccine hesitancy gap. As a Latina scientist at the top of her field, she hopes that her story will help shape the next generation.
"By amplifying our story, we're telling people that it can be done," she says. "We can remove a lot of barriers, advance science and research, and prove that we can do this again [with other vaccines]."
Image Source: © 2021 Texas Children's Hospital. All rights reserved.