Latin-Style Pork Chops
This Dominican Fried Pork Chops Recipe Makes the Perfect Summer Weekend Meal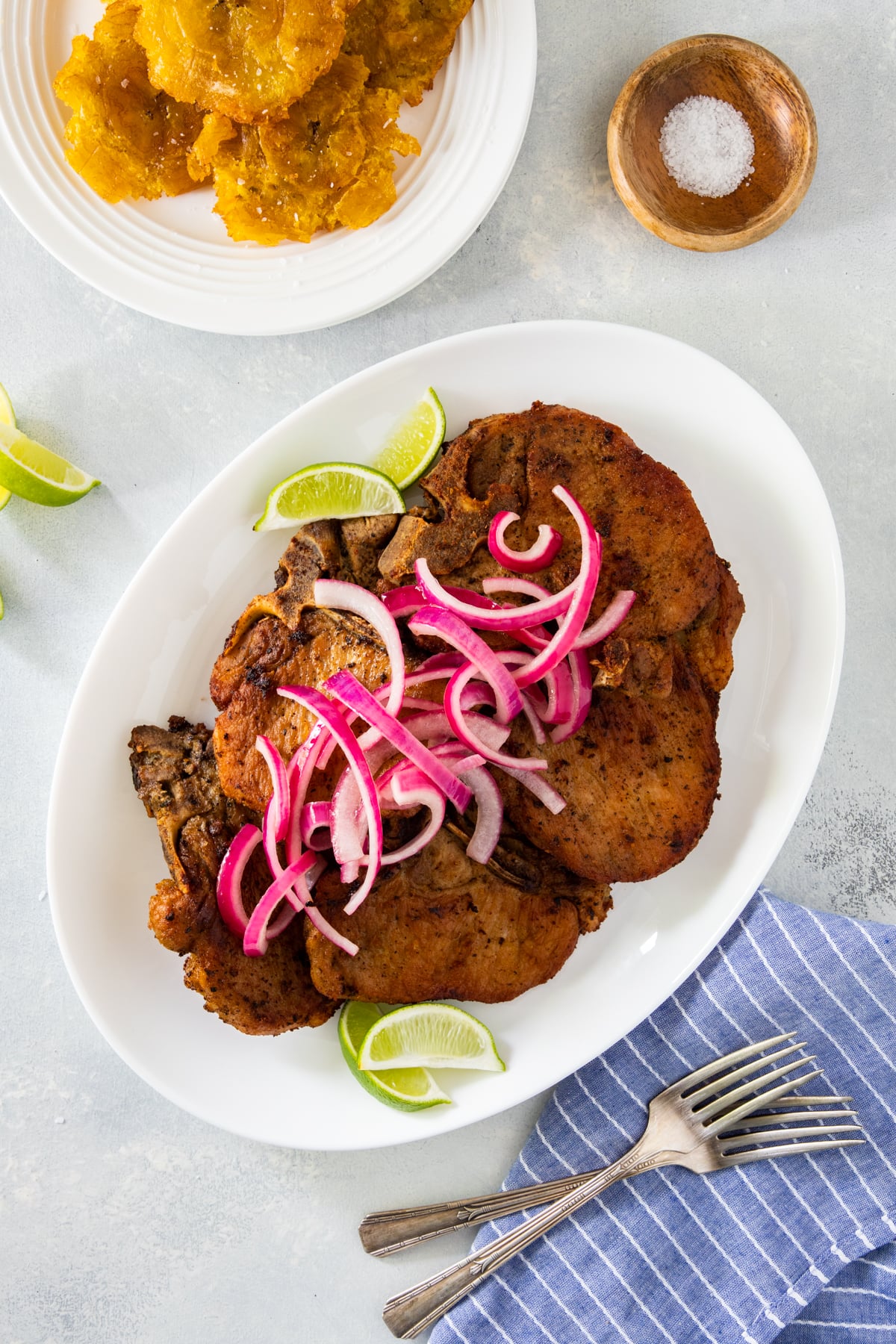 These Dominican fried pork chops are so good and a great meal option to enjoy with the family. Crispy on the outside and juicy on the inside, this easy-to-make dish is jam-packed with flavor.
Growing up in the Dominican Republic, fried meats like these pork chops were always my favorite. In most cases, Dominicans fry meat without flour or cornstarch. Instead, we rely on brine or marinade for flavor and color. To ensure that the meat stays juicy, we precook it with a bit of water until it's tender. Then, we deep-fry it in hot oil until the outside is golden brown and crispy, about three to four minutes on each side.
This flavorful dish is one that you'll want to prepare over and over.
Fried Pork Chops
Vanessa Mota, My Dominican Kitchen
Notes
After frying the pork chops, transfer them to a platter for serving and top with a delicious onion relish.
Serve it with a side of tostones, or rice and beans.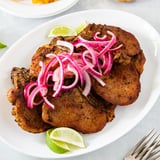 Ingredients
1 cup red onions, sliced
1/2 cup apple cider vinegar
3 pounds pork chops, center-cut
1 tablespoon lime juice, freshly squeezed
1 teaspoon garlic powder
1 1/2 teaspoons oregano
1/2 teaspoon salt
1/2 teaspoon ground black pepper
2 cups + 1 tablespoon oil, separated
Directions
Place onion slices in a bowl with 1/2 cup of vinegar and a pinch of salt. Reserve for later.
Season the meat with lime juice, garlic powder, oregano, salt, and pepper.
Over medium-high heat, cook the pork chops, adding 1/4 cup of water. Stir and add a bit more water as it becomes necessary. Cook for about 30 minutes or until tender. Remove from heat.
In a deep skillet, heat 2 cups of oil over medium-high heat. Fry the pork chops a few at a time until golden brown. Do not overcrowd the pan. Transfer the pork chops to a plate lined with a paper towel to remove excess oil.
Drain the vinegar from the bowl with the onions. On a separate pan, heat 1 tablespoon of oil. Add the onions. Cook for 30 seconds and turn off the heat. Do not cook longer than 30 seconds or the onions will become wilted.
Transfer the pork chops to a platter for serving. Top with the onions. Enjoy with a side of tostones, or rice and beans.
Information
Category

Main Dishes, Pork

Cuisine

Other

Yield

6 servings

Prep Time

10 minutes

Cook Time

45 minutes

Total Time

54 minutes, 59 seconds