Get Ready to Give Your Mani the Tropical Summer Vacation It Deserves With KathleenLights' Nail Polish Collection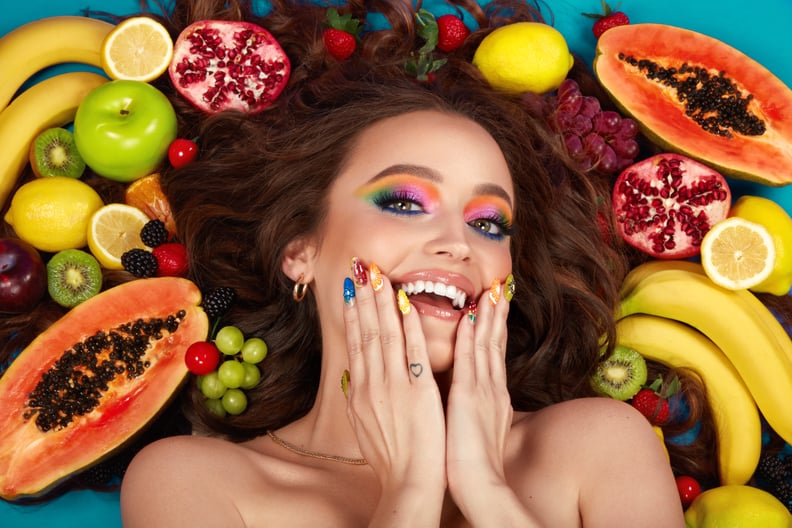 Courtesy of KathleenLights and Lights Lacquer
Courtesy of KathleenLights and Lights Lacquer
Every editorial product is independently selected by our editors. If you buy something through our links, we may earn commission.
Beauty YouTube vlogger and influencer Kathleen Fuentes, better known as KathleenLights, is celebrating summer with a fresh, vibrant, and colorful new collection of her vegan, cruelty-free, and seven-free nail lacquer brand Lights Lacquer.
This Cubana from Miami is bringing juicy colors and lively shades, perfectly curated and picked at just the "ripe" time, to the "Sweet as Summer" collection, a homage to her tropical roots. This is the perfect add-on to your summer manicure, sure to transport you to that vacation in paradise you've been dreaming of.
The shades include Cherry Jelly ($10), a cherry pop red with a translucent jelly-like finish; Who Loves Orange Soda? ($10), an electric orange with a tangy brightness with an opaque base and matte finish; Slice of Life ($10), a bright canary yellow with zesty lemon hues in a cream opaque base; Now & Later ($10), a sour apple green with sweet kiwi hues and translucent jelly-like finish; Barry ($10), an electric vivid cobalt blue with blueberry undertones in a cream opaque base; and My Jam ($10), an ultraviolet purple with grape jam hues and translucent jelly with a matte finish.
To complement the summer sweetness, Lights Lacquer also released juicy nail art stickers ($7) to add more variety to your mani. The sheets of sweet fruit decals are super easy to apply and can last up to two weeks. The collection is exclusively sold online at Lights Lacquer's website, and you can purchase the bottle, or the whole collection ($52).
Additionally, if you want to go all the way, you can get a Sweet as Summer Collectors Edition ($70), which includes the full collection, two sheets of the nail art stickers, and a special note from Kathleen.