Put Pen to Paper With 24 Mental Health Journaling Prompts, Because Starting Is the Hardest Part
Ever sat down to journal with the best of intentions, only to stare at a blank page for five minutes? Journaling can be calming, rewarding, good for your mental health, and even (dare we say) fun, but not if you don't know where to start. If you're journaling for mental health, the pressure gets even more intense to write down the "right" things or journal the "right" way.
Well, good news: there's no right or wrong way to journal, but if you're stuck with getting started, you've come to a good place. We asked therapists to share their favorite journaling prompts for mental health, and they delivered — big time. Your mental health will thank you, explained therapist Keischa Pruden, LCMHCS, owner of Pruden Counseling Concepts, because journaling allows you to see your thoughts and feelings on paper. "In many instances, writing allows a person to release negative emotional energy from their bodies and minds and makes room for positive energy and thoughts," Pruden told POPSUGAR. That positivity can create change in your everyday life.
So check out these prompts to focus your mind, then pull out some paper and your favorite pen, pick a prompt, and get started. It's not as intimidating as it seems, we promise.
01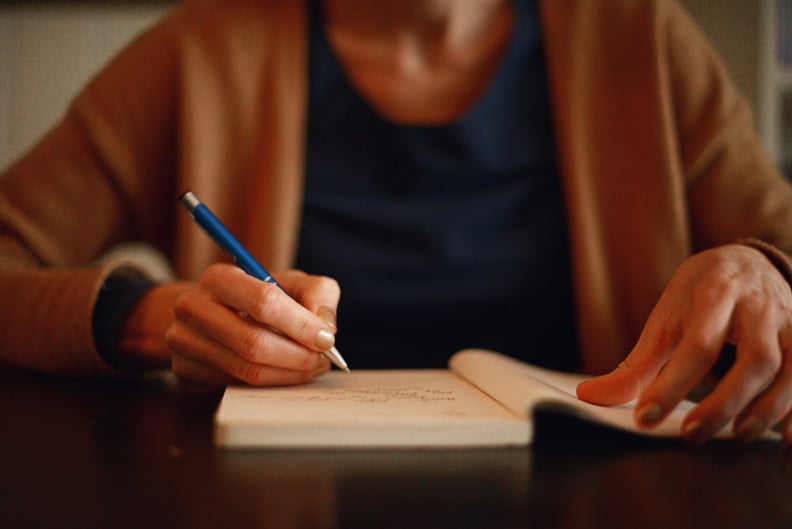 Reflect on Your Day
There's a lot you can learn from a single day, and your journal is a great place to do it. By reflecting on your day and evaluating your choices and emotional reactions, you can see where you devote your "mental, emotional, and physical energy," said Julianne Schroeder, MS, LPC, NCC, a therapist and therapeutic yoga instructor.
The idea is to see clearly what you can and can't control, "and then focus on the former," added Sabrina Romanoff, PsyD, a clinical psychologist at Lenox Hill Hospital in New York City. These kinds of prompts help you see how you're living "out of alignment with reality," Dr. Romanoff said, and encourage you to find different approaches to tough situations.
Try these prompts:
When did I feel most at peace today? Where was I and what was I doing or not doing that was helpful? What about that moment can I replicate?
What bad pattern did I reduce today?
How am I better than yesterday?
How can I do better? What would be another way to respond to a difficult situation today?
02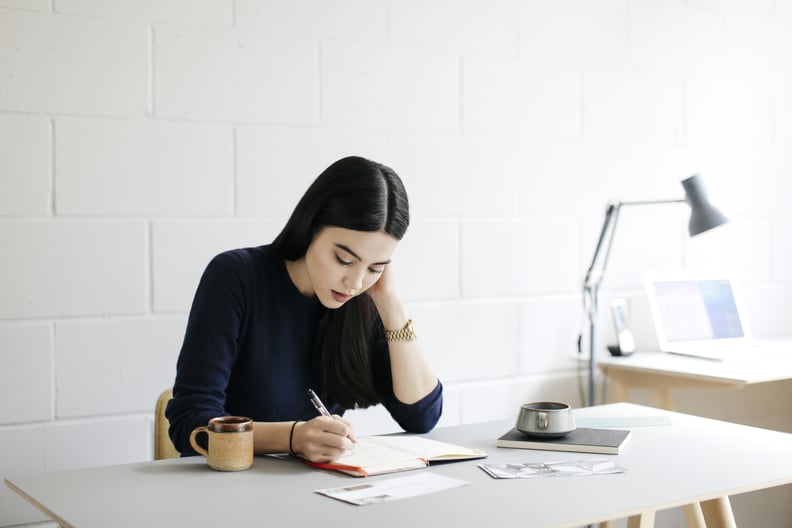 Express Gratitude
Practicing gratitude (even when it feels like there's nothing to be grateful for) helps shift your mindset "from what is going wrong in life to what is going well," said psychologist Courtney Cornick, PhD, owner of Caya Wellness. It's so easy to complain about what's going wrong, added clinical psychologist Tricia Wolanin, PsyD, that we rarely slow down to think about what's going right. And after you journal about what you're grateful for, read it over a few times, suggested Sabrina Spotorno, LMHC, a therapist at Monument. This will help the sense of peace and acceptance sink in.
Try these prompts:
Describe a seemingly simple moment of joy, relief, or contentment in your day in as much detail as possible.
What am I grateful for today? List one to three things.
What is going well in my life? Explore various components, like relationships, family, career, me time, travel, spirituality, and friendship.
03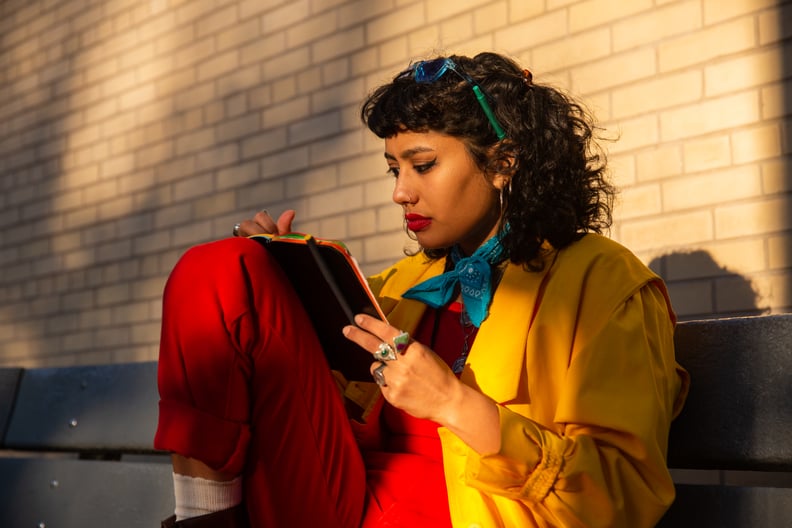 Set Goals and Intentions
Journaling about small goals can help if you're "having a hard time getting things done or feeling overwhelmed," said Sari Chait, PhD, a clinical psychologist and owner of the Behavioral Health and Wellness Center in Newton, MA. She recommends focusing on something small, like reading five pages of a book or making a grocery list, "which may seem trivial, but if you write out a goal, you are more likely to achieve it." That sense of success can increase your motivation to keep checking off your goals.
You might also find it helpful to journal about broader intentions and things you want to accomplish. Ask yourself what your life is fostering and promoting in the world, suggested therapist Emily Stone, PhD, LMFT-S, owner and senior clinician at The Unstuck Group. She encouraged writing continuously on this for five minutes, then reading what you've written out loud. "Notice your thoughts and feelings about what you have written. What do you want your life to keep creating?"
Try these prompts:
What is one small thing you want to accomplish today?
My life is creating . . .
04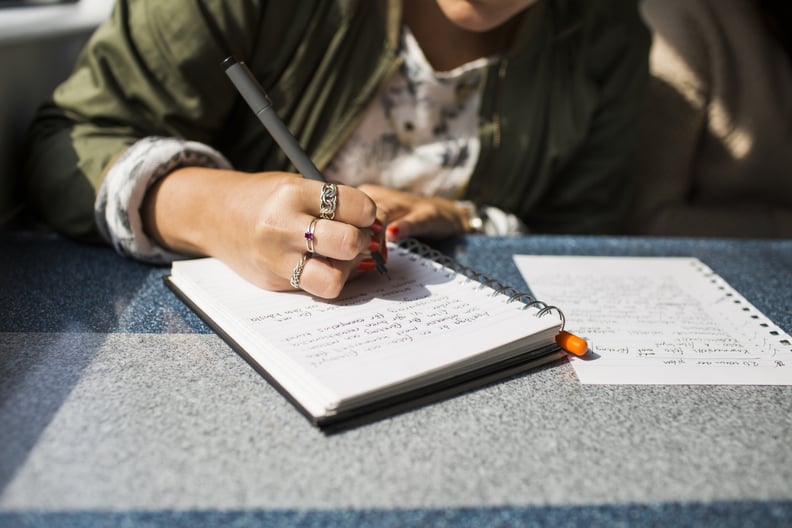 Record and Release Your Emotions
Sometimes you just need a place to vent, and your journal is a great place for it. For this, you can follow a structured prompt or simply free write, said licensed mental health clinician Kylie O'Driscoll, LAMFT, of Berman Psychotherapy. She sets a timer for 10 minutes and doesn't stop writing until it goes off. "This is a great practice to release all the thoughts, emotions, and fleeting ideas that pop into our heads and have the space where we can process later if we chose to do so," O'Driscoll told POPSUGAR.
You can also try a more specific prompt, like the first one listed below, suggested by licensed professional counselor Natolie Grey Warren of InPowerment Counseling & Consulting Services. This prompt, focused on forgiveness, can help you unearth something you might be holding against yourself. "Self-forgiveness releases these thoughts and feelings and ultimately frees up mental and emotional baggage."
Try these prompts:
I forgive myself for believing . . . I forgive myself for feeling . . .
Ten-minute free write about your emotions.
05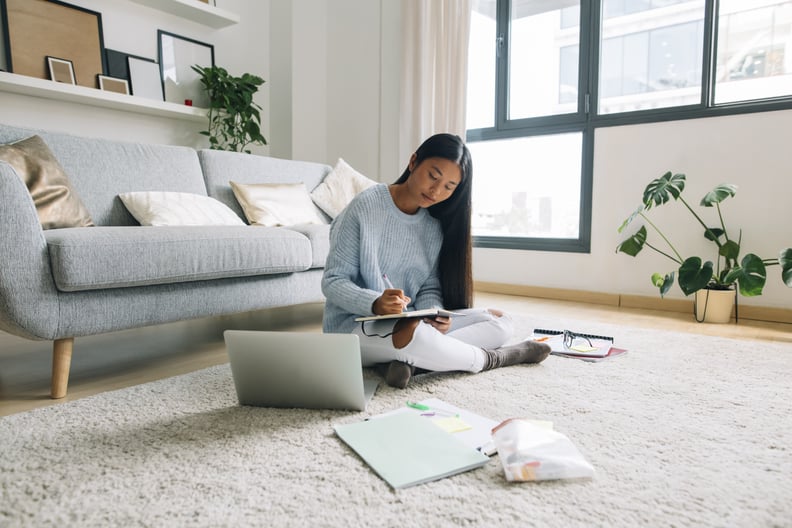 Discover How You Can Grow
Journaling can help you take stock of your life as it is and find ways you can create positive change. "Taking stock of yourself helps you realize what works and what needs to be changed," said therapist Shari Foos, MFTfounder, The Narrative Method.
"Make this kind of self-evaluation an ongoing practice to help you continuously realign yourself as you deal with life's changing tides." It also helps you see what you can control in your life, said Schroeder and Andrea Hipps, LBSW, a social worker and divorce coach. "It's easy to place blame on situations or people who make our lives more difficult," Hipps explained. Intentional journaling can help you shift your mindset from "victim to creator" and help you see how you're getting in your own way.
Try these prompts:
What can I do tomorrow to cultivate more peace in my life? How can I remind myself of the agency (control) I have, and where do I need to release and accept my limitations?
List three habits that do and three habits that do not support my becoming the person I want to be.
How am I contributing to my own unhappiness?
06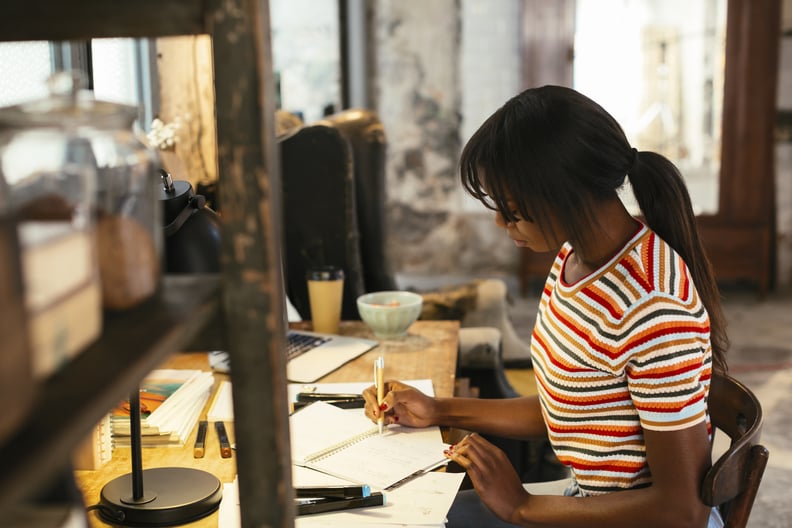 Practice Affirmations
Daily affirmations help improve our mood, said Hui Ting Kok, LMHC, helping you focus on positives instead of negatives. In doing so, you can improve your self-esteem, confidence, and motivation and handle stress more effectively.
Try these prompts:
Today, I am proud of . . .
This is evidence that I'm wonderful and capable . . .
I am good because . . .
07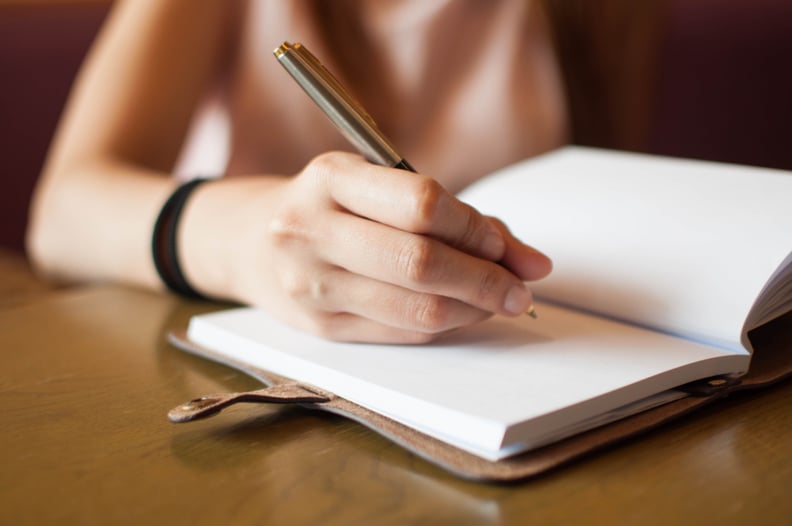 Center Yourself in the Moment
If you're feeling anxious or overwhelmed, it's helpful to ground yourself in the present and in your body, Schroeder said. Journaling is one way to do this, added psychotherapist Skylar Ibarra, LCSW, of Lenarra Therapy, because it forces you to slow down and "approach the situation with curiosity instead of blame. What assumptions are we treating as facts? What information are we filling in?" You want to pause the story in your head and put it down on paper, where you separate reality from anxiety.
Try these prompts:
What is the story I am telling myself about this situation? What history am I pulling in, and what assumptions am I making?
Where am I holding tension or other sensations in my body? What is my body signaling to me about my emotional state? What is it like to notice these sensations? How can I care for myself in this moment?
08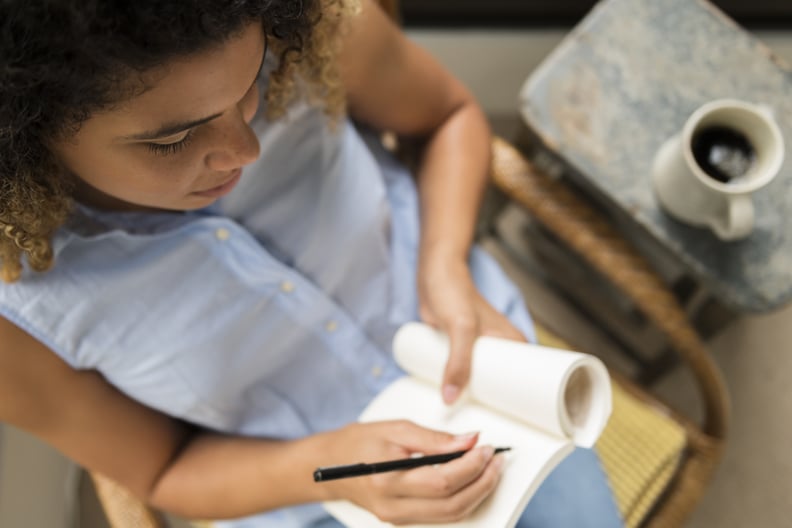 Cultivate Peace and Joy
Sometimes, it's helpful to focus on emotions and experiences that comfort you, especially if you're dealing with intense anxiety or trauma, said relationship and anxiety therapist Sara Weand, LPC, in Annville, PA. Tapping into feelings of safety and trust can help you feel empowered, she explained. If you can, it's helpful to go into vivid detail, added therapist Lauren Auer, LCPC, at Steadfast Counseling, which helps you reconnect with those feelings at a deeper level.
But if a happy or peaceful experience isn't coming to mind, try jotting down an inspiring quote or the lyrics to your favorite song, said Janika Joyner, LCSW, CCTP, of Higher Elevation Psychosocial Services. "Reading words that are meaningful and inspiring can uplift a person's mood and create a sense of peace," she explained.
Try these prompts:
What is the best day you've had in recent memory? Get super detailed about everything that happened that day. Is it possible to replicate some of the elements of that day in the near future?
Describe a situation or place that makes you feel safe, protected, loved, or calm.
Write down the lyrics to your favorite song or a quote from a poem or inspirational post.
09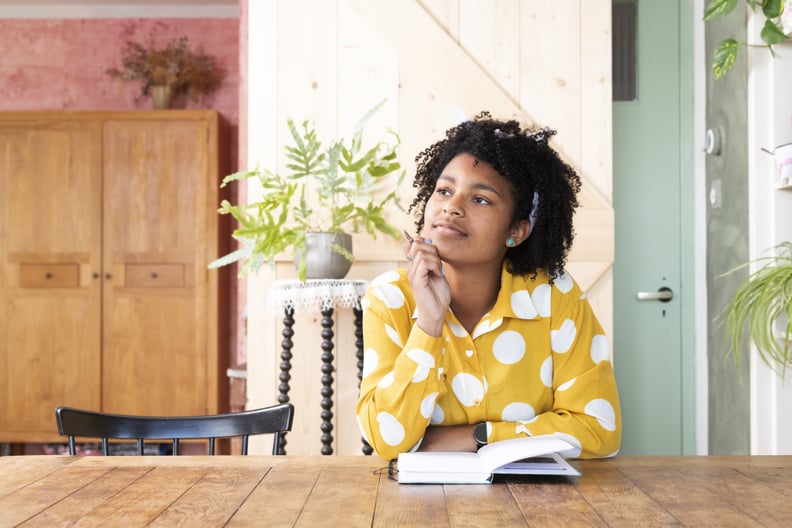 Dream Toward the Future
"Some of the most effective journaling prompts tap into the idea of the future or how you would like your life to be," said Natalie Bernstein, clinical psychologist and mental health coach. By doing this, you're allowing yourself to focus on the life you want to be living, "rather than thinking about the overwhelming aspect of having to get there," explained therapist Luis Cornejo, LMFT, founder of PsychoSocial. You're creating motivation by giving yourself a glimpse of what your life could be like after you go through the work, Cornejo told POPSUGAR.
Try these prompts:
If you could wake up tomorrow and your life would be exactly the way you want, what would it look like?
Write a letter to your future self, the person you hope to be in the future. Where do you live? What kind of job do you have? Are you in a relationship? Be as specific as possible.