Kaitlyn and Nick Have Sex on The Bachelorette
Why Is Sex on The Bachelorette Such a BIG DEAL?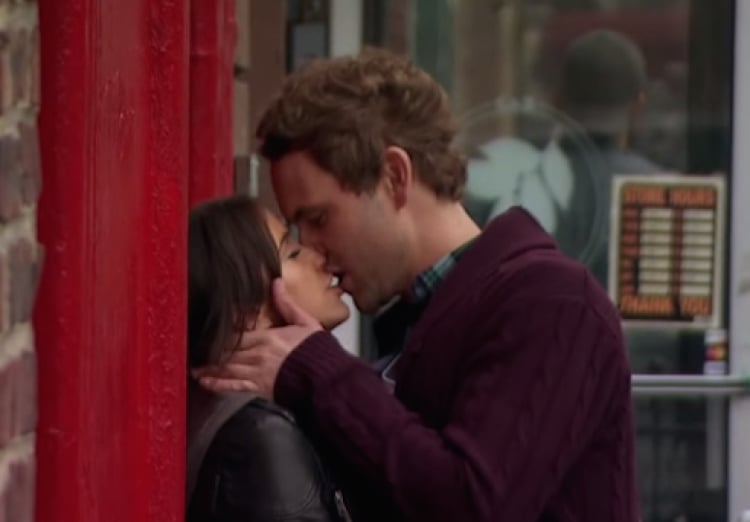 As any avid watcher knows, people never have sex on The Bachelor and The Bachelorette. Well, except in the sacred fantasy suite — but that's different. After all, it's perfectly acceptable to sleep with three people at the same time as long as you don't use the word "sex," only hear heavy breathing, and never actually address it or admit it happened.
Which is why last night's episode was so — yes, we'll admit it, Chris Harrison — "shocking." In what's shaping up to be the sexiest season yet, Kaitlyn and Nick Viall (who returned after being the runner-up in Andi Dorfman's season) take their date to the hotel room — cue sex noises — and then it appears that Nick takes a "walk of shame" the following morning. We won't see the aftermath of this unprecedented overnight date until next week, but people were freaking out — and I won't even get into the slut shaming that's been going on this season (we haven't come very far since Trista Sutter was called a "slut" for kissing two guys). Everyone from comedian Amy Schumer to former and current stars of The Bachelor and The Bachelorette have weighed in on social media. See what they're saying below.
Oh no someone slept with a guy they're dating and considering marrying! Showing love for @kaitlynbristowe pic.twitter.com/ye15yYqAZq

— Amy Schumer (@amyschumer) June 23, 2015
Just remember, when you judge me, you do not define me, you define yourself. think about that before sending out negativity to any1 tonight

— Kaitlyn Bristowe (@kaitlynbristowe) June 22, 2015
Sex is not shameful. Whether we admit it or not, sex is important part of many serious and meaningful relationships #TheBachelorette

— Nick Viall (@viallnicholas28) June 23, 2015
Both men and women have an equal right to have sex without judgement #TheBachelorette #bachelorette

— Nick Viall (@viallnicholas28) June 23, 2015
Rule no.1 Never kiss and tell, Rule no.2 Never kiss and tell twice.... #FianceTypeStuff #TheBachelorette

— Andi Dorfman (@AndiDorfman) June 23, 2015
Former star of The Bachelorette Jillian Harris came to Kaitlyn's defense a few weeks ago, sharing this on her blog:
I am absolutely APPALLED AND DISGUSTED with the way some humans think it is ok to talk to Kaitlyn on her social media channels. I feel absolutely sick and sorry for not only Kaitlyn, but those who feel the need to say such horrible, judgmental things to someone they have never met and truly only means good. I have heard a few times on my own pages "well if you can't take the heat don't be a public personality" well pardon my langugae that is a SHIT excuse for being allowed to be a bully. Just because someone took a risk and shared it with the world then they should be subject to verbal abuse??? NO ONE deserves to be talked to like that and treated like that. Miss Bristowe, is a REAL human being with a REAL heart and feelings. If you are one of those people … this message is for you: If you have those opinions, talk shit to your friends and heck even on your own social media platforms … but please for the sake of at least your own dignity keep that crap to yourself. If you think someone is a slut … like actually… do you think calling them a slut is a good thing? Do you think it will help? How about putting forth love, support or guidance? If you think someone is ugly, why in frick sakes do you feel it necessary to tell them that? Do you know that she reads those things? That they hurt just the same as if I were to tell YOU those things? Please please people … there is enough hurt and sadness going on in this world, lets try to keep it clean, positive, friendly and full of love! PLEASE!!!! … there … there is a little "Tony" inspired guidance for any of you nasty internet trolls. LE SIGHHHHHH…