Sexy Fidget Spinner Halloween Costume
You Can Now Buy a Sexy Fidget Spinner Costume, and Goodbye, I'm Moving to Mars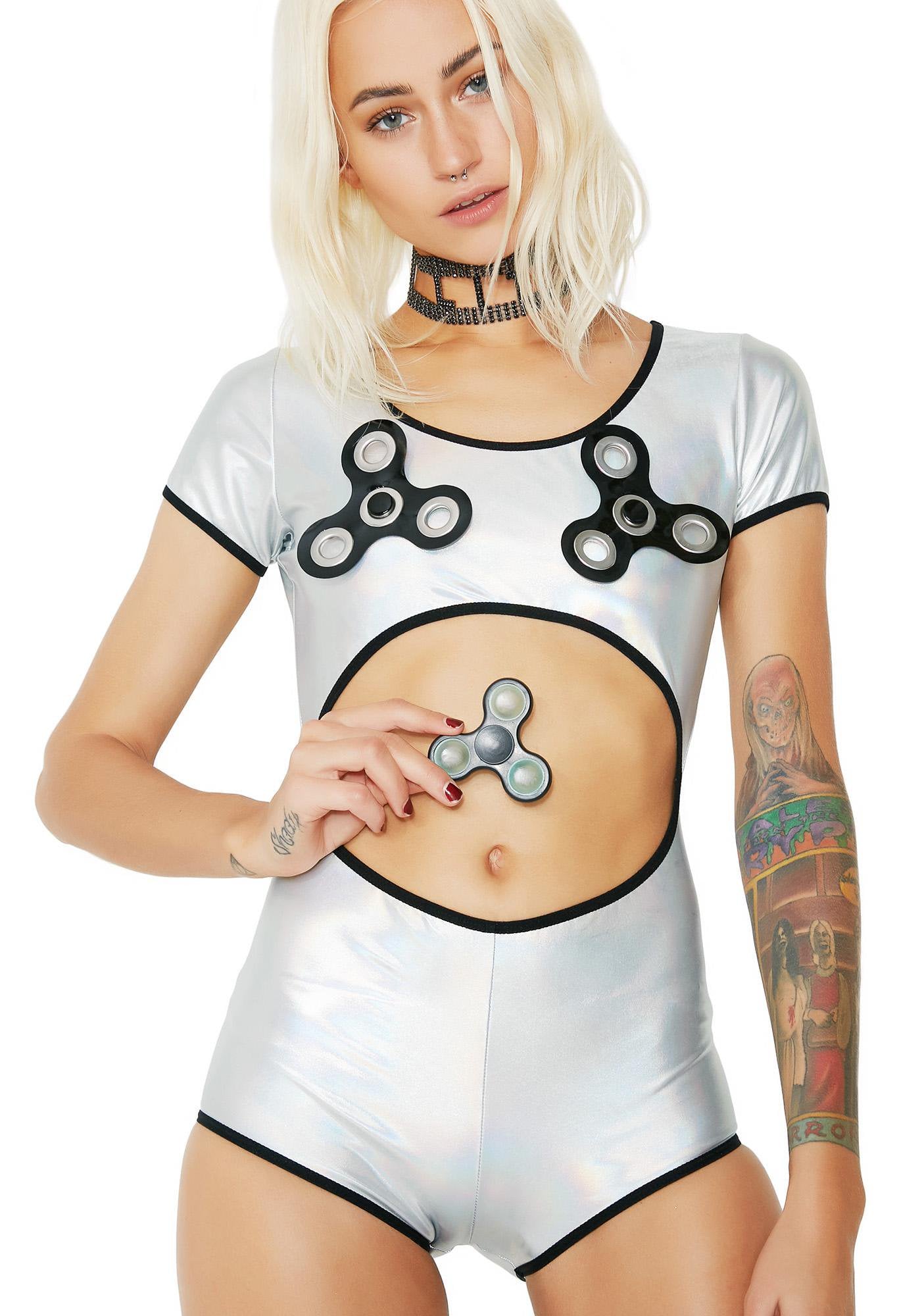 At this point, we're feeling pretty numbed by the hoards of absurd Halloween costumes that debut year after year, so we were hardly surprised to learn that a sexy fidget spinner costume exists out there in this strange, strange world. It's safe to say those are four words I honestly never thought I'd type in succession during my writing career . . . but hey, this is 2017 we're talkin' about here, so I guess anything is possible.
Fidget spinners may have started as a means for children to soothe their jitters, but, for whatever unknown reason, they quickly took over the entire planet this year, undeniably becoming 2017's hottest handheld gadget. In an attempt to "sexify" the trendy toy, online retail company Dolls Kill created a skimpy Halloween costume inspired by it. The $38 iridescent silver bodysuit costume features prominent cutouts in both the front and back and black fidget spinners oh-so-conveniently situated over the breasts. The product description suggests, "Complete your look with some black thigh-high boots and they won't be able to get enough of ya!", referencing the addictive nature of using a fidget spinner.
Honestly, the first thing that came to mind the first time I saw this hilariously preposterous outfit was the fembots from the Austin Powers: International Man of Mystery movie — except instead of intimidating others with bullet-shooting boobs, this fidget spinner costume would likely encourage people to touch your chest unannounced so they can give the toys a spin. Blegh.
Image Source: Warner Bros.
Quite predictably, people have a LOT of passionate feelings about this "sexy" costume — most of which are borderline horrified. If you're in need of a good ol' laugh, read on to see what the rest of the internet has to say about the fidget spinner costume, and if you simply can't resist the ever-present temptation to emulate the popular gadget this Halloween, we have a supereasy way to DIY the costume sans tacky rayon material.
I'm done. Just saw a "sexy fidget spinner" costume. Halloween is cancelled y'all

— Ariel Bayatfar (@ABayBayy_) October 14, 2017
Whenever you're feeling down in the dumps, just remember there's an actual sexy fidget spinner costume that exists. #motivational #halloween

— crippling saltiness (@saltysmartass) October 14, 2017
I JUST SAW A SEXY FIDGET SPINNER COSTUME WITH FIDGET SPINNERS ON THE BOOBS THAT AND IT'S CALLED "FIDGET ME" I"M SOBBING

— Angie~🌷 (@angiefuwafuwa) October 18, 2017
Just saw an ad for a sexy fidget spinner Halloween costume and I want to smash my phone

— Ronnie (@ronnieladu17) October 19, 2017
millennials:
companies: here's a sexy fidget spinner costume!!!!!!!

— emily 🦇 (@ketchupdotcom) October 5, 2017