Should I Have a Big Wedding?
I Had a Huge Wedding — and I Don't Regret It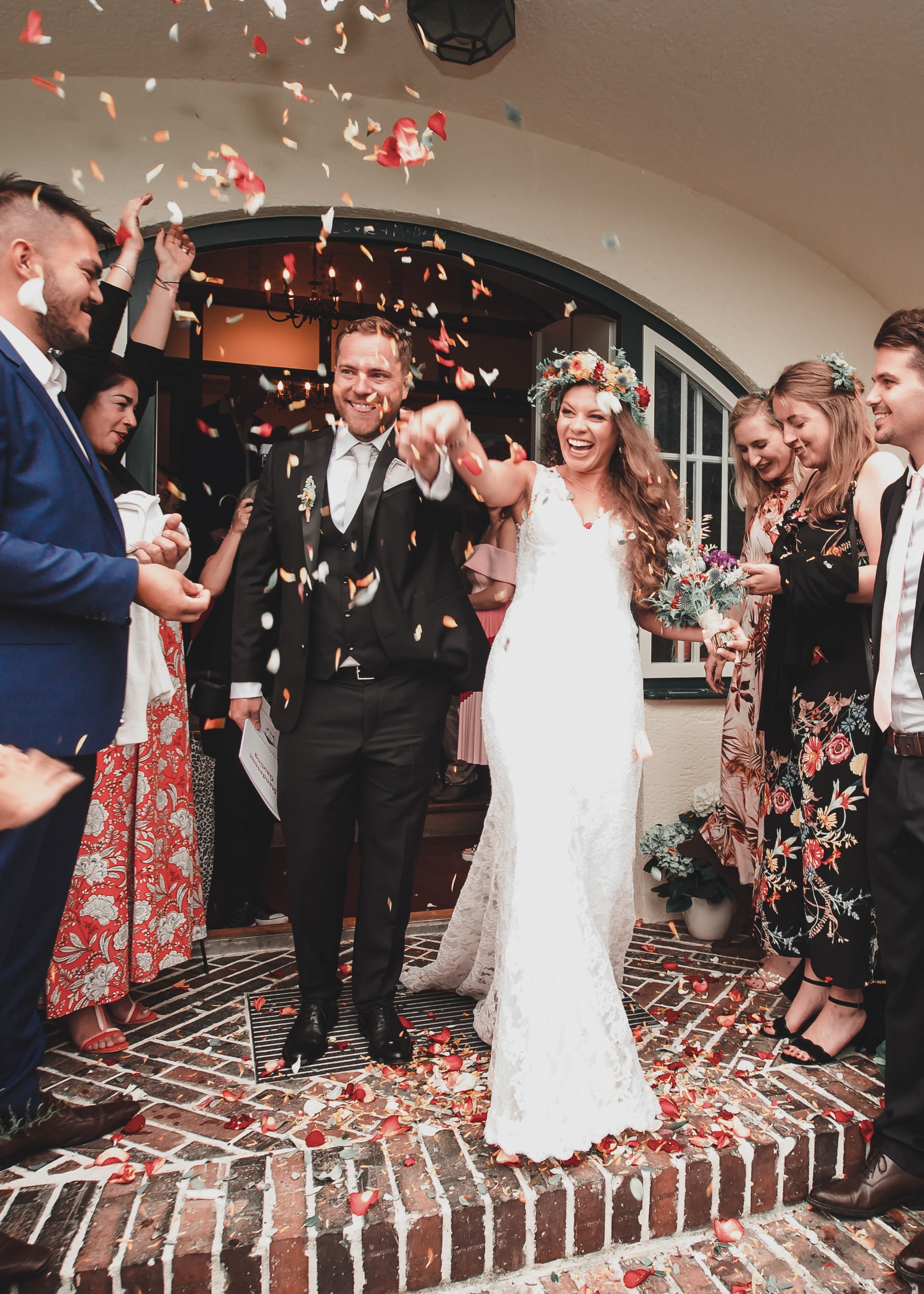 When people learn I'm Greek-American, their minds often turn to the movie My Big Fat Greek Wedding. I'm frequently asked, "Is that movie accurate? Was your wedding like that?" Yes, I respond. All of it. That movie basically sums up my wedding. I even have the pesky brothers who taught my fiancé all of the naughty swear words in Greek.
Planning a wedding can be stressful — particularly when it comes to the guest list. Maybe one partner prefers an intimate affair while the other wants to invite all of the neighbors in the subdivision. In my case, my husband and I knew from the moment we got engaged that our wedding was going to be big — and loud.
When I said "yes" to my not-Greek boyfriend, my mother began planning the biggest, fattest Greek wedding that she could. I had no control over it, and I did not care. My parents raised four very unruly children, and none of us ended up in jail, so my mom earned the right to plan my entire wedding, and it was big. The invite list was over 450 people — that kind of big.
I remember sitting with my then-fiancé in my parents' family room one weekend. We had booked the grand hall, I had picked my dress, and next came the tightening up of other details. "OK," my mom said, bringing out three sheets of paper covered in names. "It's time to talk guest list." She had a certain mischievousness in her voice. I knew exactly what that meant.
"You're inviting the entire church, aren't you, Mom?" I asked.
"Nooo," she said. "But there are many people who we have to invite. So get started on your list, too."
Our list didn't even compare to my parents'. I'll admit that at first, it bothered me a little. My young, selfish mind thought, "Isn't it our wedding? We should get to invite more people than my parents!" But then I realized that the people on this grand guest list helped raise me, too. They wanted to attend my wedding and help us celebrate. Looking back, I feel grateful.
On the big day, when my three brothers opened up the church doors, the congregation was packed — standing room only. Thankfully, it wasn't as uneven as the movie: my husband's side of the church actually had guests in it, too. I felt the love of everyone as I walked down the aisle to the altar and again after we were announced as "husband and wife."
The wedding reception felt like fireworks. My husband and I walked through the doors, and the Greeks lived up to their loud stereotype: cheering, standing, and whistling. After we ate and sauntered through our first dance as a couple, my husband and I floated through the classy decorated hall (not obnoxious, and very blue, like the movie) and greeted every single table. My husband shook the hands of people he had never met, and I hugged them all. We didn't mind taking time out of our night to thank people who wanted to be present at our wedding. We felt the opposite, actually — really freaking grateful.
I don't regret having a big fat Greek wedding at all. Some people may argue that having a large wedding is overly lavish and unnecessary. Sure, you're right. But sometimes, having large weddings is just part of your big, tight-knit culture. I feel honored that my parents could invite all of their closest relatives and friends. They were proud of their one and only daughter, and I was not going to be the one to rob them of that joy. If I had to do it all over again, I would — for my parents. Because sometimes your wedding day is bigger than you.