10 Tips For Navigating Dating Apps While Social Distancing
Feeling lonely right now? You're not alone (ironic, isn't it?). With self-isolation and social distancing in place, everyone is spending more time at home and away from their family and friends, and with that comes more time to be on online dating apps. OKCupid recently reported massive spikes in matches, messages, and virtual dates globally since stay at home orders began in March, indicating many singles are still craving connections even when they can't physically be with someone. When polled, the online dating portal's 70,000 users reported they're looking to emotionally connect vs. have a virtual hookup, and most respondents indicated the best parts of virtual dating are that it's low pressure followed closely by being able to get to know the other person better.
If the OKCupid findings reflect the sentiment of the majority of singles out there, it means virtual dating is our answer right now to form meaningful connections during these tough times. But what are our options and how do they work? As a textbook extrovert, I've spent my first few weeks of lockdown trying them all, and I'm here to share the myriad ways to turn your dating life into a virtual success story while at home. Here are my 10 biggest tips.
01

The League Live
Leading the charge in virtual dating options, The League offers video profile options, in-app video chat at any time with any match, and a virtual speed dating arena dubbed The League Live. At launch, live-matched speed dating took place on Sunday evenings, but in response to users spending more time at home, the company upped the ante and now offers Sunday and Wednesday night options for live video dates. "League Live participation doubled a few weeks after users began working from home," League founder Amanda Bradford told POPSUGAR. "We also saw a 41 percent jump in usage for video calling and a 200 percent jump in users choosing to create a video-first profile."
02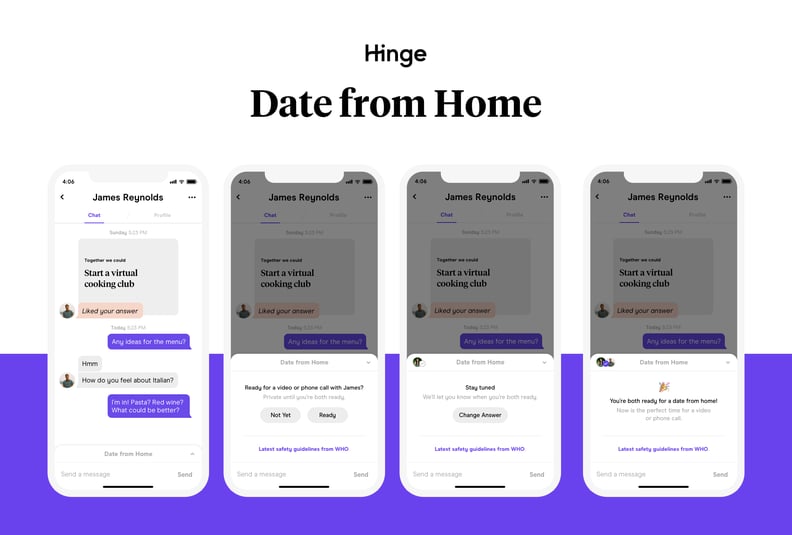 Hinge Date From Home
The latest feature from Hinge, Date From Home, gives users the option to easily let their matches know when they're ready for a digital date. That period between matching, chatting, and transitioning to a date can be tough to navigate, and Hinge recently surveyed its users to find about a third agree that they felt the least confident when turning conversations into actual face-to-face meetings. To keep chats from fizzling out before someone makes the ask, users can now indicate they're ready to "date from home" with a match and the selection will remain private until that person selects the option as well. When both parties agree, Hinge will notify the pair, encouraging them to move things off the app and onto the video chat platform of their choice. This genius little fix has potential to drastically improve our cadence on dating apps in general, long after this pandemic is behind us.
03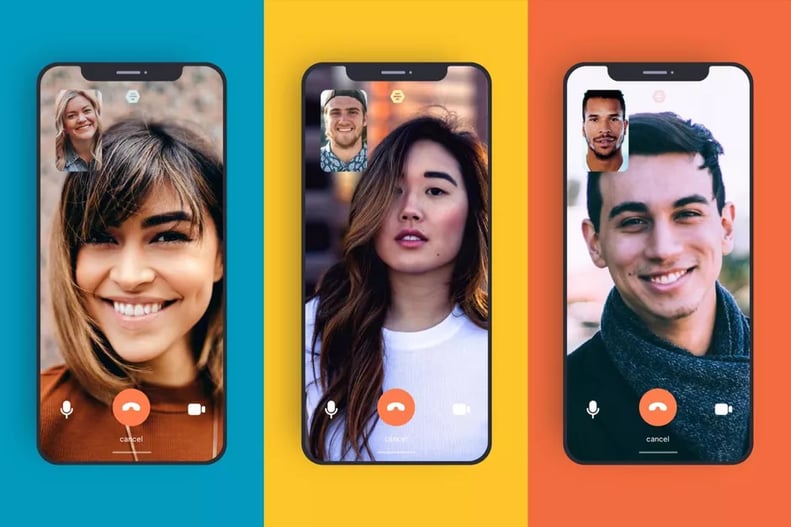 Bumble Video Chat
Bumble Video Chat became available in June 2019 and offers virtual dating right from the chat window at any time. Participants must have already matched or expressed mutual interest, but from there, you simply use the video function to begin the conversation and/or in response to a message. I've come up against a bit of resistance when suggesting a video chat in this arena, garnering responses like, "Perhaps later, I'm about to go surfing," and this winner, "Maybe we slip into some virtual reality suits and see where that takes us." I have had one successful video chat on Bumble, though it waned as we discussed the venues we'd visit when we could go out in public again, and ended with half promises to meet in-person eventually.
04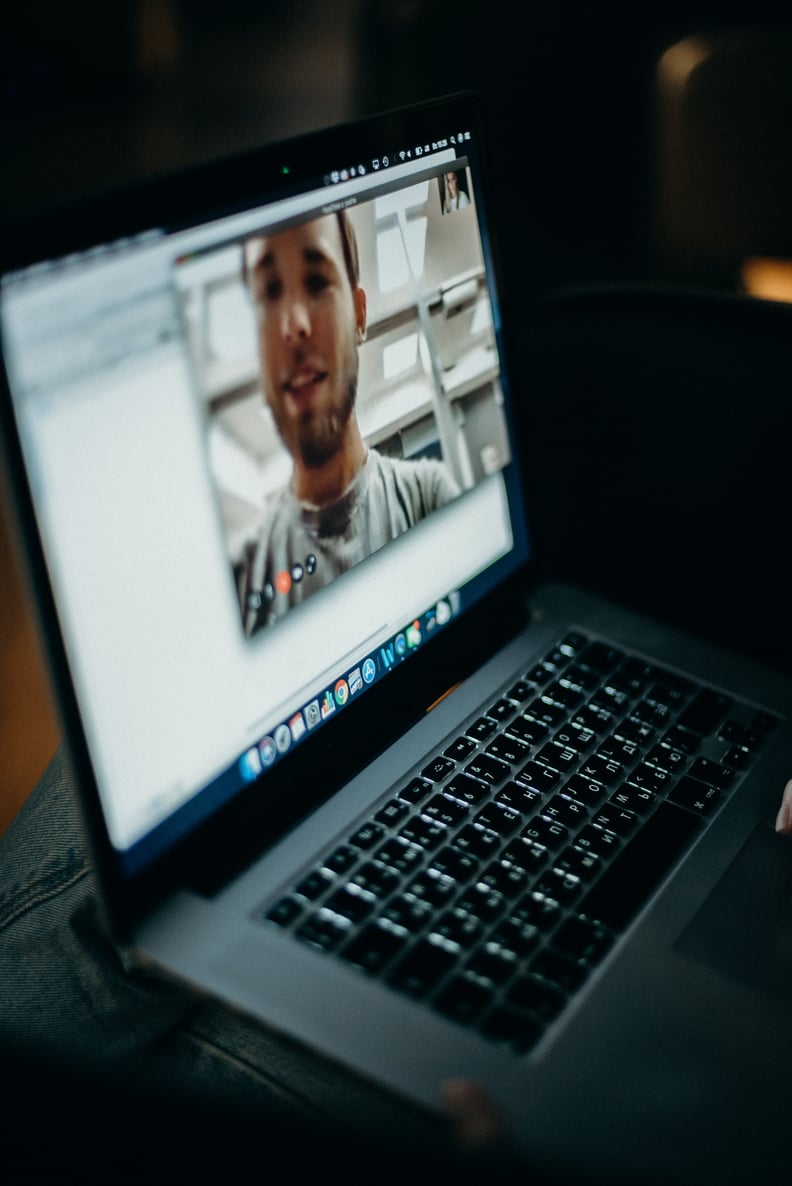 Video Happy Hours With Strangers
Hear me out. My friend recently invited a few friends to join a video conference happy hour, and also had her guy friend invite a few of his friends as well. It resulted in a virtual mingling opportunity reminiscent of a bar, except it was, of course, through a screen. While flirting on a Brady Bunch-style interface is no easy task, in these trying times, it was a welcome challenge. At first it wasn't exactly seamless — people talked over each other and introductions had to go around more than once as new folks joined, but it felt so good to meet new people that eventually we all got the hang of it and have since turned it into a weekly gathering. Try organizing something like this with another single friend and see what happens. It could be your new weirdest date story or maybe even a modern meet-cute.
05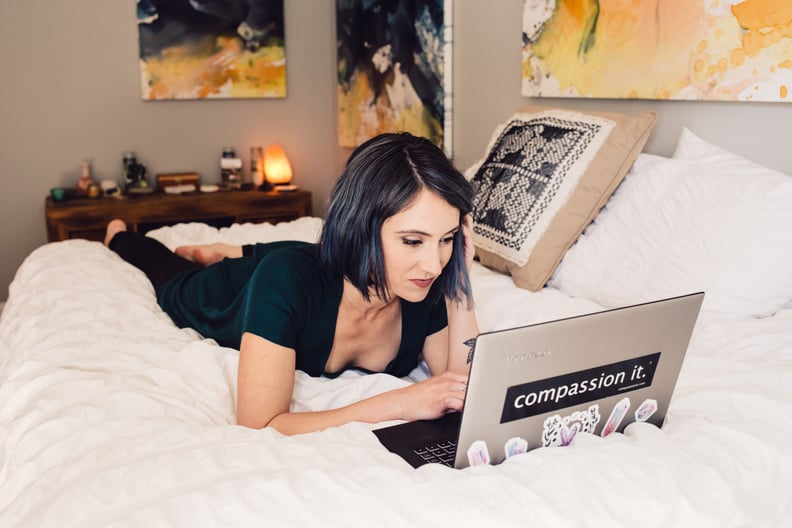 Video Conference Dates
Instead of chatting in-app, take the next step with your match and move things to the computer for a virtual date that doesn't have to feel like a work meeting. The trick is to still dress nicely, set the mood with maybe a candle and a beverage of choice, arrive on time, and keep the date to an hour at the most. But be careful to exit your date gracefully, even if you're not feeling a match.
06
Two Words: Marco Polo
Effortless and engaging, the Marco Polo video app lets you toss romantic banter back and forth, step away for however long you like, and tap back into the chat when you feel like it because you don't need to be "live." Videos don't disappear, and you can use it whenever you have time, even if your schedule doesn't match the other person's. Free to download and so easy to use, this app is a total game-changer.
07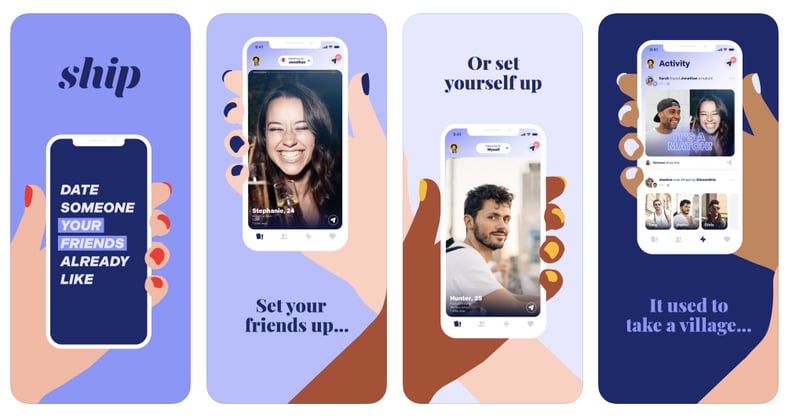 Prospecting
If video chatting just isn't your thing, use this time to fill the pipeline. Spend a bit more time than usual swiping, matching, and conversing, and if you get bored of all that, I suggest outsourcing it. You don't have to go as crazy as I did when I let my mom take over my dating apps, but perhaps check out Ship, the dating app from the team over at Betches that lets your friends help you assess romantic candidates. If that's still too much screen time, hand the whole thing over to a professional. "If you want to get serious about finding love, now is a great time to call in a coach for help," Matchmaker Skylar Korby told POPSUGAR. "It's not about finding as many people as possible, it's about finding the right person. That's what a matchmaker can do for you." Once I get tired of running this virtual show, I may hand things over to Skylar.
08
Revamp Your Dating Profiles
Now is a great time to make sure your dating profiles are in tip-top shape. I recently had a consultation with Agape Match's Erika Ettin, co-host of the podcast So, We Met Online..., who gave me some profile tips like, "Saying you value integrity is boring. Talk about your favorite food instead." She also suggested no more than four photos so they have enough to get excited about you but not enough to nitpick the things they don't like. With a profile glow up and a new perspective on chat openers, Erika has me primed to do some of my best work.
09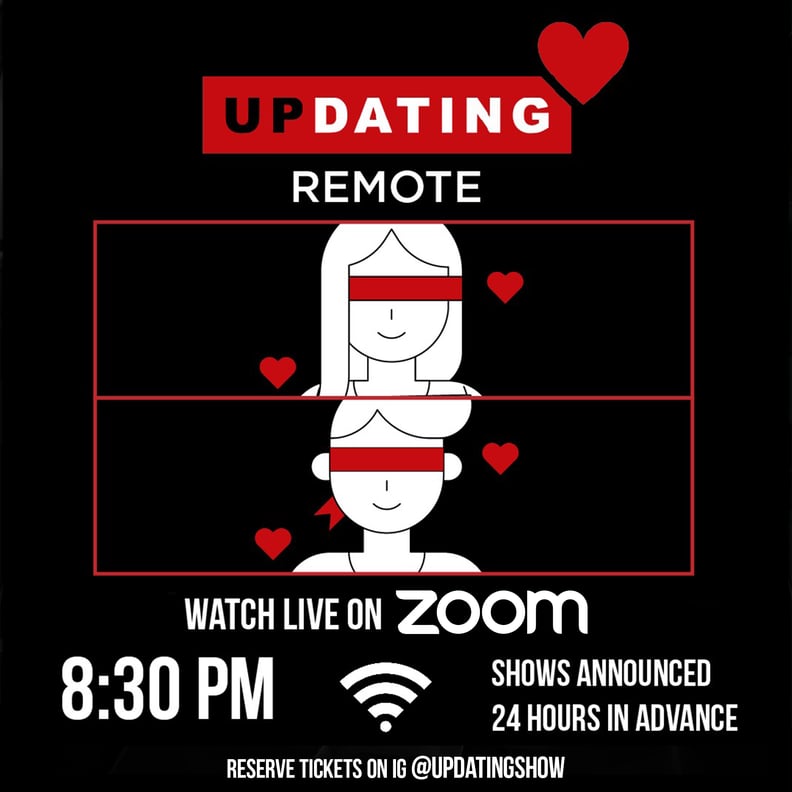 Watch a First Date Instead
UpDating has officially gone virtual. Brandon Berman and Harrison Forman, the duo that blindfolds strangers and coaches them through their first dates on stage, recently took to the internet to keep the show going amid self-isolation. Grab some popcorn and tune in to UpDating REMOTE (on Zoom) to watch live as singles have a virtual date. If you're so inclined, you can even chime in during the date, or stick around after the show for live casting. Tickets are free, though the team is gathering donations for The First Responder's Children's Foundation.
10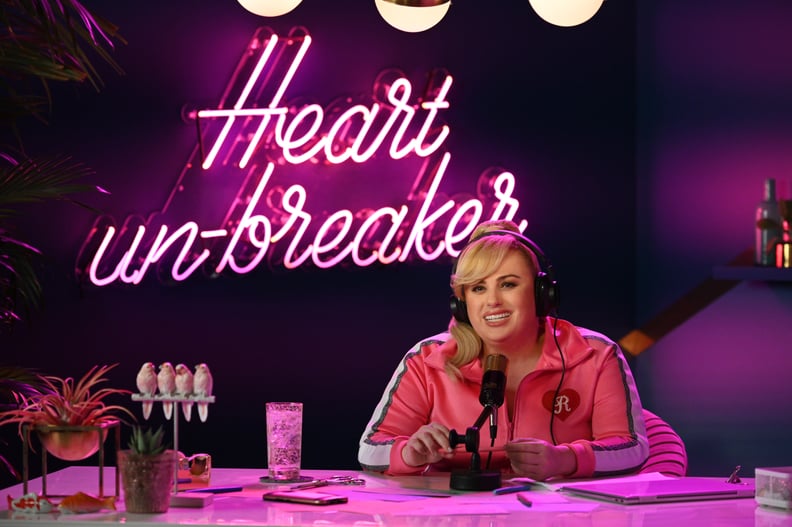 Call the Match Hotline
Tired of talking to your loved ones about your dating life? Match just launched the Dating While Distancing Hotline where singles can chat live with an expert about their dating concerns. From feedback on how to react to an ex reaching out during quarantine to setting up a successful video date, the hotline is free to all and here to help at 1-888-302-6224.