How to Use a Vibrator For Maximum Pleasure, According to Experts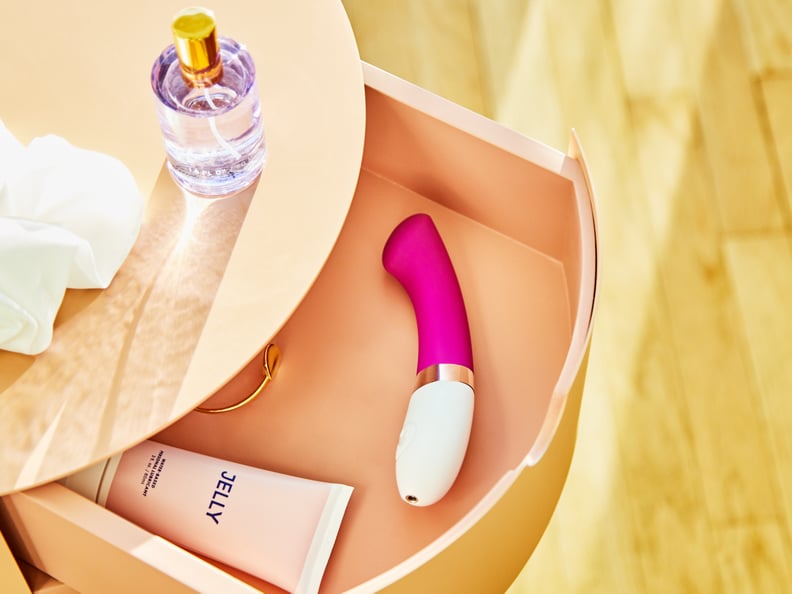 POPSUGAR Photography | Matthew Kelly
POPSUGAR Photography | Matthew Kelly
Vibrators are one of the most popular sex toys out there, and for good reason. They're available at a variety of price points, adaptable to different bodies, and very satisfying to use.
"Vibrators are for everyone," says Megwyn White, certified sexologist and director of education at Satisfyer. "And they can be used to enhance sexual experiences." At their most basic, vibrators are tools for pleasure and erotic play, and they're meant for people of all genders and experience levels.
In the world of sex toys, vibrators are a sort of jack-of-all-trades, coming in a variety of shapes, functions, and forms. For example, there are gender neutral sex toys, vibrators for couples, and clitoral vibrators like oral sex simulators and blended internal and external vibes. But with so many options out there, learning how to use a vibrator — and where to use a vibrator for your particular body — can take time and practice.
Whether you're exploring masturbation or introducing sex toys into your partnership, using a vibrator for the first time can be intimidating. But don't let the nerves fool you, says White. "[Vibrators are] very intuitive and a great way to get more in tune with your body."
Below, White explains the basics on how to use a vibrator to maximize comfort and pleasure.
Types of Vibrators
With so many options out there, it can definitely take some trial and error in finding the perfect vibrator for you. Before jumping in or pressing the "add to cart" button, first consider how you'd like to use your toy and what you'd like to get from a vibrator. Ask yourself the following questions:
How important is a waterproof toy?
Do you want a powerful motor or something quiet and discreet?
Do you prefer external stimulation, internal stimulation, or a mix of both?
Is this vibrator for solo play, partnered use, or both?
What's your budget?
Once you have a general sense of your must-haves for a vibrator, consider the style of toy that might suit you best. If you're not sure what you might like, here's a list of the most common types of vibrators to gauge what you love and what you don't.
Bullet Vibrator. A bullet vibrator is the no-frills, down-and-dirty standard of vibrators. Usually the least expensive, bullet vibrators are small, typically bullet-shaped vibrators with only a few strength settings. Bullet vibrators are only safe for external use, and they're great for discreet clitoral or nipple stimulation. This type of vibrator is a good option for people who are new to vibrators and want to explore the sensation without breaking the bank. To get started, check out POPSUGAR's best bullet vibrators under $100.
Rabbit Vibrator. A rabbit vibrator is a type of mixed stimulation toy that blends internal and external stimulation for a massive amount of pleasure. Rabbits are designed to be safely used in the vagina and externally on the clitoris or penis. Rabbits look like a dildo with an additional "arm" attachment to stimulate the clitoris, and typically, this extra arm looks like two rabbit's ears, but not always. Rabbits are great if you love a blended orgasm, but should not be used for internal anal sex. As an additional type of stimulation, rabbits sometimes incorporate G-spot stimulation in the design, like the We-Vibe Nova 2. To shop rabbit sex toys, check out POPSUGAR's best rabbit sex toy roundup.
G-Spot Vibrator. This type of vibrator is meant for internal vaginal play and is designed to stimulate the G spot — an erogenous zone of the vagina located about an inch or two inside the vagina on the wall nearest the belly button. Typically, G-spot vibrators look like dildos with a curved bulb at the top of the vibrator or have ridges and other textured designs to stimulate the G-spot. If internal sex gets you off and you enjoy the adaptability of internal and external play, the G-spot is a tried and true classic. Shop POPSUGAR's favorite G-Spot vibrators here.
Anal Vibrators. The biggest distinction between a vibrator designed for vaginal play versus anal play are the safety features. Anal toys, like the B-Vibe Rimming Plug 2, will always have a flared base — helping the user insert the toy in and out more easily, and preventing the toy from getting "lost" in the rectum. This also means vaginal and anal vibrators can't be used interchangeably. Anal sex can come with a learning curve, so anal vibrators tend to be less beginner-friendly than other internal or external vibe options. Check out POPSUGAR's anal sex toys here.
Wand Massagers. Wand massagers are for external use only, and they're best for those who crave intense, powerful clitoral stimulation. Wands like the Magic Wand Rechargeable Massager are reliable and easy-to-use, but can be a bit bulky to handle due to their larger size and ice cream cone shape.
Couples' Vibrators. In general, pretty much all vibrators can be used for partnered sex. But couples' vibrators generally feature a design with two people in mind. For example, they come as a double-ended vibrator or bluetooth-enabled toys that control a vibrator's settings from a remote or app. If accessibility is a consideration, White says the Satisfyer Endless Fun is a great option for some disabled couples because it has a non-gendered, multi-use design and "even has the flexibility to shift shapes and reach many desired angles." For recommendations, these couples' sex toys hit the best spots.
How to Use a Vibrator
Once you've decided the type of vibrator you'd like to try, here are a few things to keep in mind if you're wondering how to use it.
Always make sure your vibrator is charged, especially for a brand new device. Instructions on how to charge your vibrator will be in the instruction manual provided with your toy. "It's important to charge the device for a total of four hours after removing it from the box to condition the battery," says White. Then, once your toy is ready and charged, take some time to explore the settings, features, and buttons before you get started.
Take time to set the mood. Once you feel comfortable with the toy itself, it's time to get your environment ready as well. "It's nice to make sure that you have time to yourself where there will be no distractions and you can stimulate your mood by making it romantic for yourself," says sexologist Marla Renee Stewart, a sexpert for Lovers. Consider playing music, rubbing lotion or oil on your body to relax, and placing some lube, a towel, and your toy of choice close by. If you typically watch or listen to porn while you masturbate or have certain foreplay rituals with a partner, feel free to incorporate that here as well.
Add lube. Now that you have the hang of your new vibrator, it's time to add lubricant. Lube adds "glide" to your toys and body, making external and internal touch much more comfortable by reducing friction, says White. However, not all lubes are made equal, and you'll need to ensure you have a lube compatible with your specific toy. As a good rule of thumb, silicone-based lubricants should never be used with silicone toys because they degrade the quality and safety of the material. Oil-based lubricants are long-lasting and often toy compatible, but are not condom-safe and can stain sheets. Therefore water-based lubricant will be your best bet, as it is compatible with toys and condoms, and it has a silky texture needed to increase pleasure. White recommends Satisfyer's water-based Gentle Classic lubricant as a beginner's essential.

Explore your body. Next, take time to explore your body and its natural reactions to stimulation. "Notice what area of the body you gravitate toward and lean into pleasure there," says White. "You may feel nervous at first but go slow and enjoy yourself. Sexual pleasure is not meant to be intimidating; it's empowering." For solo play, Stewart says most people settle into one of two positions: laying on their back (with a pillow under the butt for added comfort) or laying belly-down with a pillow or wedge under the pelvis. Once you're in a good position, use one hand to run the vibrator over your body and genitals, and the other to touch your body or steady yourself on the bed. As you get more confident, try out the different settings on your device and see what you love and what you don't enjoy.
Experiment with pressure, angles, and rhythm. When you're ready, use your vibrator on your genitals. "Don't be afraid to explore different erogenous zones and vary the pressure and movement of the vibrator for a more pleasurable experience," says White. Pay special attention to the clitoris and experiment with pressure by pressing the toy more firmly or gently against the clit. Adjust the toy's speed and intensity settings, and try a mix of steady contact and grinding.
Remove expectations. Often, people expect immediate, intense, life-altering orgasms from vibrators and other toys. And while this can definitely happen, it's more helpful (and just plain healthier) to avoid setting goals for your body, especially when you're still in the beginning stages of exploration. "There's no rush to get anywhere or for you to orgasm. There's a reason that building pleasure can take time," says White. "Focus on enjoying the journey, which means staying connected to your body as you trust your instincts . . .your pleasure is yours, and it is meant to be explored with tenderness and appreciation."
Aftercare is a must — for you and your toys. When you're feeling satisfied with your play, don't rush to put your toy away, throw your clothes on, and get back to your day. Instead, take a few moments for aftercare by checking in with your body, drinking water and attending to other basic needs, and reflecting on the experience. "Self-pleasure sessions can stimulate a lot of feel-good chemicals, and giving yourself space to just breathe and tune in to the sensations you feel can help you receive more of these benefits," says White. Then, once you're ready, always clean your sex toys after every use. Gentle soap and water is fine, but you can always try these sex toy cleaners as well.
How to Use a Bullet Vibrator
Bullet vibrators are perfect for concentrated, direct stimulation. "Many people like to tease their genitals with the bullet by moving it around to various parts of the labia or teasing the clitoris," says Stewart. In addition to the clit, the vulva has a number of erogenous zones. The bullet is also adaptable across genitalia, and Stewart says it's a great choice for teasing the shaft and head of the penis as well.
To orgasm, most people with vulvas use a bullet directly on the clit or on the clitoral hood. You can not only experiment with pressure and placement, but also how you hold the bullet vibrator itself. For intense, precise stimulation, use the tapered tip of the bullet. If your genitals are very sensitive, try holding the bullet sideways for a broader, all-over sensation.
How to Use a Rabbit Vibrator
When using a rabbit vibrator, White says it's best to go slow, as it may take time to get used to a toy that not only is inserted inside the vagina, but also has an additional "arm" attachment to stimulate the clit. To start, use the rabbit like a normal vibrator, stimulating the vulva, clit, and labia. After applying lube to both the toy and the vagina, you can use the rabbit for internal vaginal stimulation. You may enjoy just allowing the toy to "sit" in the vagina without motion, or you may move the toy in and out of the vagina with gentle or intense thrusting motions. "You can also try switching positions and rocking your hips to help encourage your pelvic floor muscles to fire, while also encouraging different angles of stimulation," says White.
To maximize sensations in the clit, feel free to part the labia or pull back the clitoral hood for direct contact and added intensity. Generally, people use one hand to hold the rabbit in place inside the vagina. If it's comfortable for you, it also may help to use your other hand of fingers to grind or "anchor" the clitoral attachment over the clit.
If power is important to you, consider opting for a rabbit that has independent motors — meaning both the dildo portion and the rabbit ears have a motor and can be set at different intensities to customize the experience.
How to Use a G-Spot Vibrator
G-spot vibrators are primarily meant for internal, vaginal use — though they can also be used for clit stimulation. As with any internal toy or sex, White says to always make sure you are properly aroused before inserting anything into the vagina.
"Once you are aroused, you can use a lubricant to make the process of inserting the vibrator more comfortable," says White. Then, insert the G-spot vibrator and experiment with placement, position, pressure, and vibration settings. Some people simply keep the toy stationary inside the vagina and combine the vibrations with clit stimulation or other types of play. Others like to move the G-spot vibrator around.
To see what you prefer, try gently moving the toy up and down inside the vagina, in small circles, or forward and backward (meaning, towards the belly button, then gently back towards the spine) in rhythmic motions and on different vibrational settings and patterns. White says incorporating movement can maximize pleasure, and you can always grind your hips against the toy while it's in the vagina. If you're using the toy with a partner, experiment with different positions that will further stimulate the G-spot.
Where to use a Vibrator
While vibrators are typically associated with genital play, they're also the perfect tool to discover other areas of sensual pleasure. The body is full of erogenous zones, like the inner thighs, lower back, and chest. "Most people head toward the nipples and genitals, but you can also place [a vibrator] on the back of your knees, on the nape of your neck, or even on your feet for some reflexology arousal," says Stewart.
Focusing on these erogenous zones — either for simple relaxation, foreplay, or sex — can not only feel satisfying, but increase your comfort level incorporating sex toys in the bedroom. If playing with a partner, always talk to them ahead of time as you explore vibrators and find what combination of toy and stimulation works for you.