Romantic and Elegant Mexican Wedding
Irene and Emmanuel's Mexican-Inspired Big Day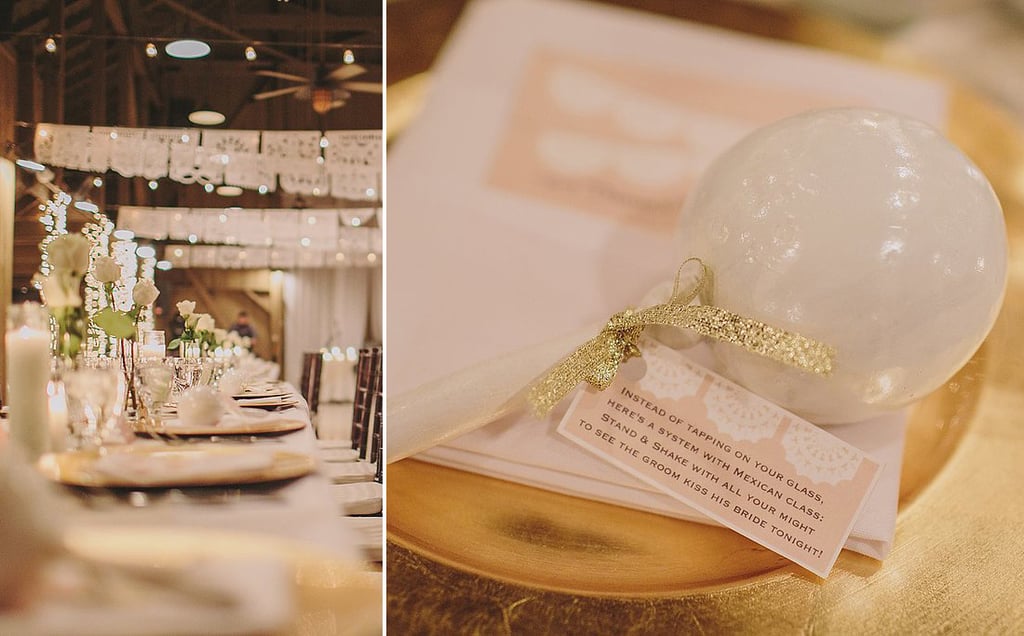 Did you take on any DIY projects?
"Since we planned the wedding in a short six months time and everything happened so quickly, I did take on a few DIY projects. The following were DIYs:
"Centerpieces — I kept the centerpieces very simple, with white roses in a simple cylinder vase.
"Escort cards/wedding favors — mini tequila bottles with the guests' name(s) and table numbers.
"Lace table runners — purchased the lace and cut each runner individually.
"Wedding suite (table numbers, menus, wedding programs, etc.) — designed via Etsy and printed everything myself.
"Mexican Maracas — had one placed on every other seat and added a cutesy tag that read,"Instead of tapping on your glass, here's a system with Mexican class, stand and shake with all your might, to see the groom kiss his bride tonight."
"Grandparents & Mother of the Groom Table — we set up a table to honor our late grandparents and my husband's late mother with their photos and lots of candles."
What didn't go according to plan and how did you solve it?
"For the most part, everything went great! There were a few little details that didn't work out exactly as planned (I had ordered a maraca — the Mexican musical shaker — for each guest. However, UPS lost one of the boxes, and I wasn't able to get the shipment on time. Which is why they were placed on every other seat) along with a few minor things, I will say, a lot of this can be attributed to my amazing wedding coordinator who took care of everything the day of!"
Photos by Anna Delores Photography