This Couple Got Married at Schitt's Creek's Rosebud Motel
Let's Pop Some Zhampagne For This Couple Who Got Married at the Schitt's Creek Motel
Mitch Potashner and Kim Fishman were determined to make their wedding day simply the best, and you better believe they accomplished that goal. After rescheduling their nuptials several times due to the ongoing COVID-19 pandemic, the Canadian couple wound up tying the knot on April 25 at the Rosebud Motel featured in Schitt's Creek, becoming the first duo to ever do so. Yep, that calls for a zhampagne toast! (But please hold the raisin this time, Twyla.)
With help from Fab Fête Planning Boutique, Mitch and Kim transformed the building — located in Orangeville, Ontario, and known in real life as the Hockley Motel — into the Fishpot Motel as a mashup of their last names. They swapped out the planters, old-school soda machine, and plastic lawn chairs that typically decorate the front of the motel with red velvet rope and a flower-adorned stage right there in the parking lot. Plus, just a few yards away stood their own version of the Schitt's Creek town sign, which subbed out that suggestively positioned brother-sister duo for a far more appropriate and very adorable photo of the bride and groom.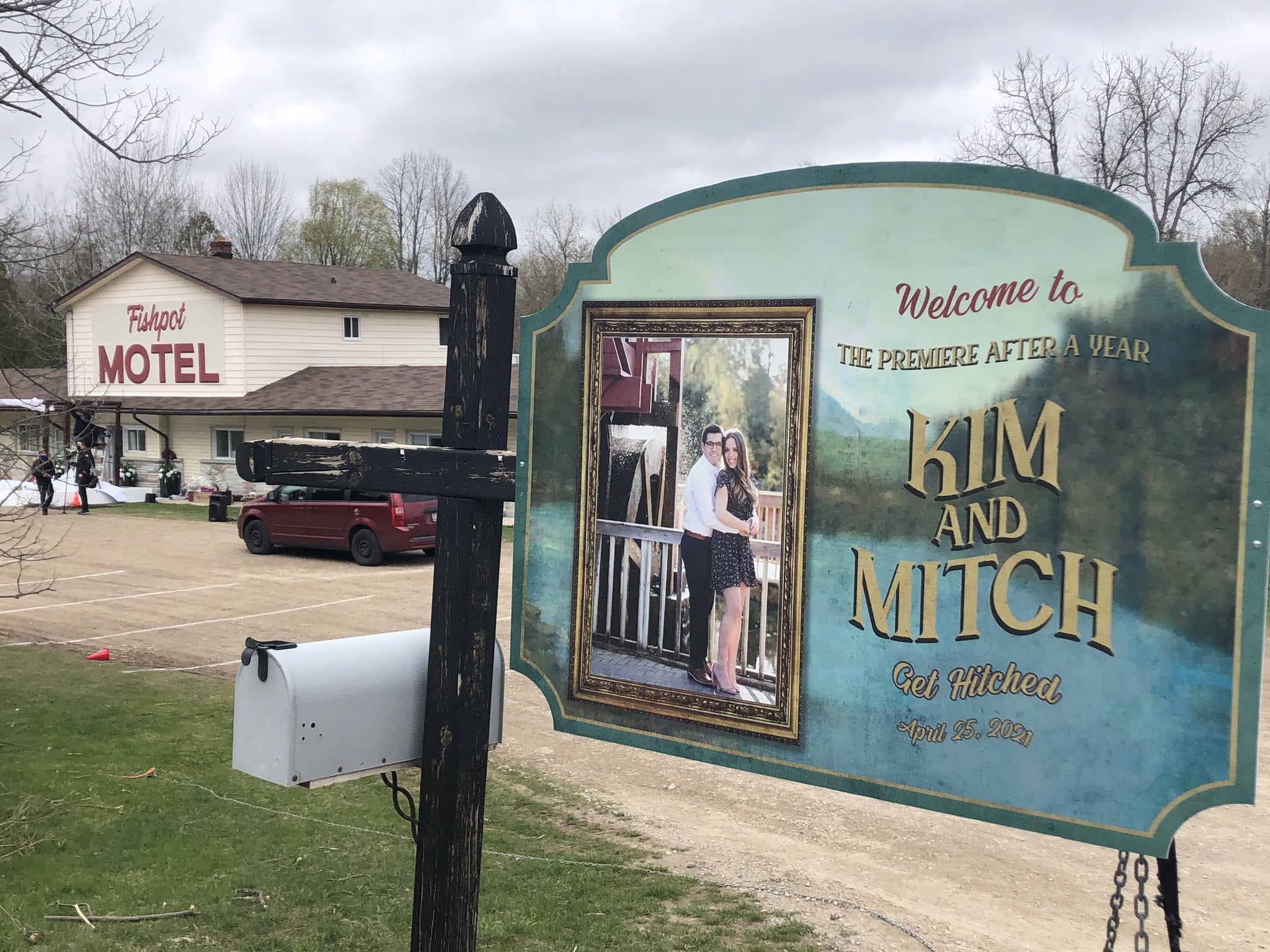 Image Source: Mitch Potashner
Mitch said it felt "surreal" to exchange "I dos" in the exact spot the entire Schitt's Creek cast spent six seasons filming. "From the first site visit to the day of the wedding, every time we visited the motel, we felt connected to something bigger," he told POPSUGAR. "You start to remember some of the memorable scenes of the show that took place in front of the motel." He and Kim first became hooked on the sitcom early last year, looking to it as "a nightly distraction from the reality of the pandemic." He added, "We were captivated by its unique humor, creativity, and the invaluable messages ingrained within the show — messages about what is really important in life."
"We had backup plans for the backup plans."
Getting hitched in the Rose family's front yard wasn't always Mitch and Kim's plan. Following an April 2019 engagement, they scheduled a traditional 250-person wedding to take place in Toronto 13 months later, but the pandemic had different plans. One date postponement soon became two, and they planned a total of five different wedding variations due to constantly changing local safety guidelines. "We had backup plans for the backup plans," Mitch joked.
Once they settled on a socially distanced backyard wedding, restrictions adjusted yet again about a week beforehand, forcing them to pivot. Kim was then struck with a bright idea, telling her then-fiancé, "My dream would be to get married at the Rosebud Motel." Coincidentally enough, her father happened to know the building owner, so they were able to easily book the venue and arrange a COVID-compliant gathering. Ten people had chairs set up in the motel parking lot, a handful of attendees watched from their parked cars, and most guests tuned into a live stream of the ceremony.
Speaking of the live stream, it likely provoked a few shocked "Oh, yay, David!" exclamations from those watching, because Dan Levy himself popped in to say congratulations! The motel owner, who knows Dan for obvious reasons, had the actor film a video to play during the ceremony, so David Rose basically RSVP'd as (virtually) "attending," rather than "pending" as Moira famously prefers.
Dan Levy sent a congratulatory message to an Ontario couple who got married at the motel from Schitt's Creek - 📹 Kimberly Fishman #Ontario #Wedding #DanLevy #SchittsCreek pic.twitter.com/vpVStZh7Ak

— blogTO (@blogTO) May 3, 2021
Despite the whirlwind of cancellations and delays preceding it, Mitch and Kim's big day was just as magical as David and Patrick Brewer's. "While the pandemic has been an incredibly difficult time for everyone, we decided early on to focus on what we did have, rather than focusing on what we don't have or can't do anymore," Mitch said. "In the end, we had the most amazing wedding that we never in a million years could have envisioned being a part of before the pandemic."
Ahead, check out all the photos from Mitch and Kim's ceremony at the Fishpot Motel — including snaps of their parents dressed as Johnny and Moira! — and join us in sending our best wishes and warmest regards to the newly married couple.