Sequin Hidden Message Pillow
If You're Suckered Into Hosting the Holidays, Let These Hidden-Message Pillows Speak For You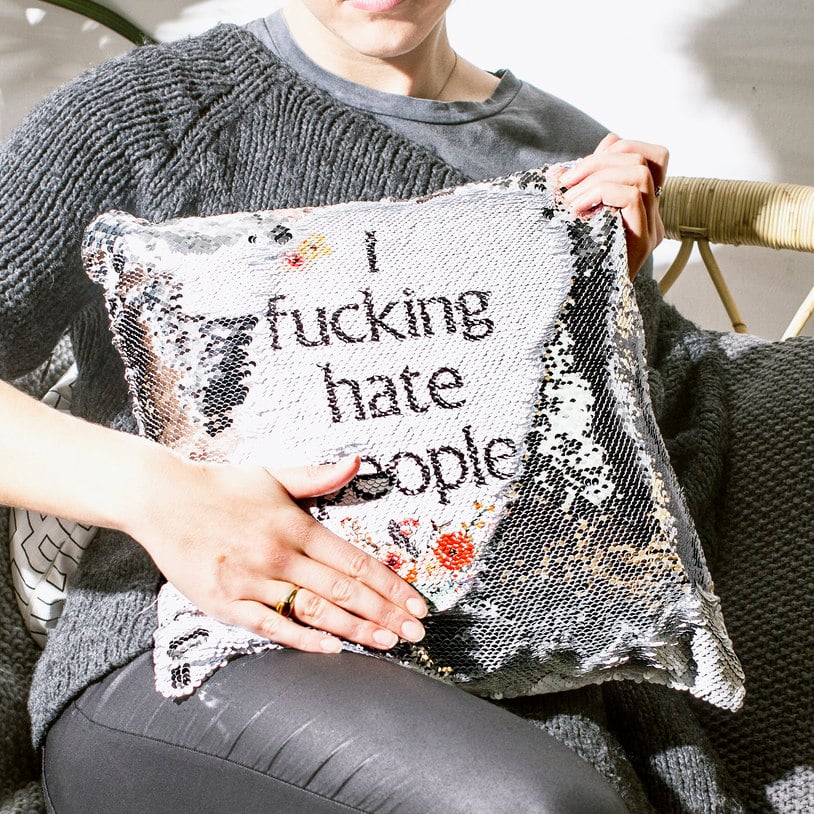 There's no denying that hosting family for the holidays totally sucks! While some twisted individuals enjoy the decorating and the cleaning, I prefer to go elsewhere and let someone else stress over napkin sets and garland. However, if there ever is a time when my family pressures me into hosting, I will be decking the halls and covering my couch with dozens of Personalized Hidden Message Pillows.
There's no longer a need to keep your feelings bottled up, because the pillows let you say "screw you, in-laws" without muttering a word. The sassy pillow possibilities are endless: For the cool mom who can't stand her brother-in-law Mike, see below. For the 20-something sibling whose family won't stop asking if she's dating, the "I f*cking hate people" is the ideal response. And how hilarious is it to think that your husband's creepy uncle could be resting his arm on a chic sequin pillow with a snarky hidden message? Let's just hope he doesn't stroke the sequins and find out the truth.
While the $40 personalized pillows aren't available yet in the US, and I'm still avoiding hosting duties like the plague, you best believe all my presents will be delicately wrapped in "Merry F*cking Christmas" wrapping paper and my cards written with curse-word-adorned pencils. Until then, happy holidays, ya filthy animals.