Why Hoda Kotb Hosting the Today Show Is Important
Why the Unity of Hoda and Savannah Is So Important For Our Daughters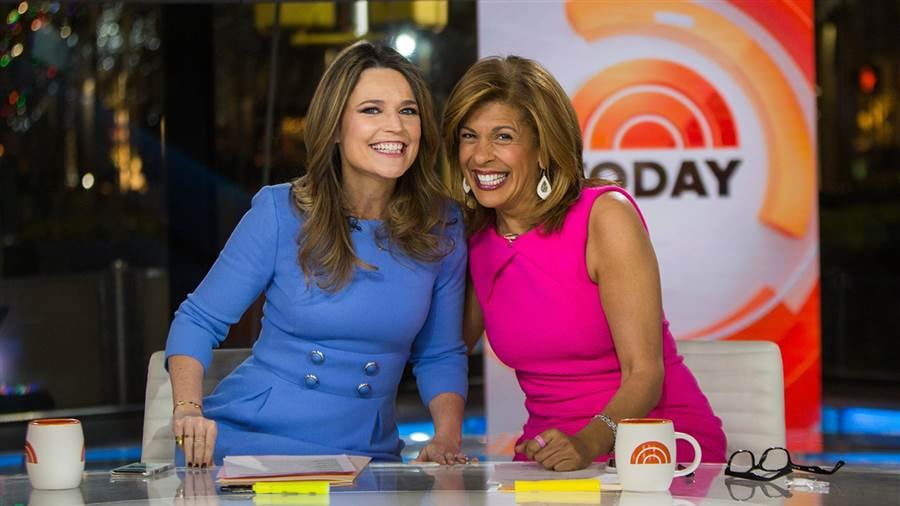 The climate surrounding women in the workplace has been bubbling hot for decades, and finally, women are sick of being burned. After Matt Lauer was fired from the Today show after multiple sexual assault allegations, Hoda Kotb stepped in and was recently named co-anchor with Savannah Guthrie. Two women will sit behind that famous desk and make history hosting one of the biggest shows on television — together. This one is for our daughters, and for Hoda and Savannah's daughters, too.
They're showing their daughters, and the world, that women can be powerful bosses at work and care for their families.
Both Hoda and Savannah have small children at home. Hoda's daughter Haley is still a baby, while Savannah's little girl, Vale, is flourishing in toddlerhood alongside her younger brother, Charley. And as us moms know, working while having kids waiting for us at home is really freakin' hard. Finding the right balance (no matter what job you have) is pretty much impossible. Guilt squeezes its way through, making it difficult to thrive as both a mother and a career woman.
After work, we find ourselves pressing our feet on the accelerators, wanting to get to our kids faster. And on the weekends, we revel in the time we get to spend with them. But our chosen careers are a part of our identity — ones that we don't want to bury under laundry and diapers. Hoda and Savannah prove that your identity can still stay intact even after you have children. They're showing their daughters, and the world, that women can be powerful bosses at work and care for their families. Men aren't the only ones who can fulfill that role. Women can do it too, and a lot of the time, do it better.
The female duo is also demonstrating the importance of female unity. Together, women can accomplish anything. When Hoda was first named Today's coanchor, Savannah said, "Hoda, you are a partner and a friend and a sister, and I'm so happy to be doing this." In return, Hoda said, "I'm pinching myself. There's no one I'd rather be sitting next to in 2018 than you." Their obvious comradery has already lit a fire and sparked inspiration in viewers everywhere. Since Hoda has taken over Lauer's spot, Today has beaten their ABC rival, Good Morning America, in ratings, which has both female and male cohosts. The public is ready for women to be in charge, and so are Hoda and Savannah.
Our daughters will grow up seeing that women will rise no matter what, that power means nothing if you abuse it, and by working hard, speaking up, and being kind, you will get where you want to go. They'll also realize that they don't have to choose between work and family. They can have both. We can hold our jobs, and we can hold our own.