Being a Woman of Color at the Women's March in Washington
We Need to Talk About This Issue With the Women's March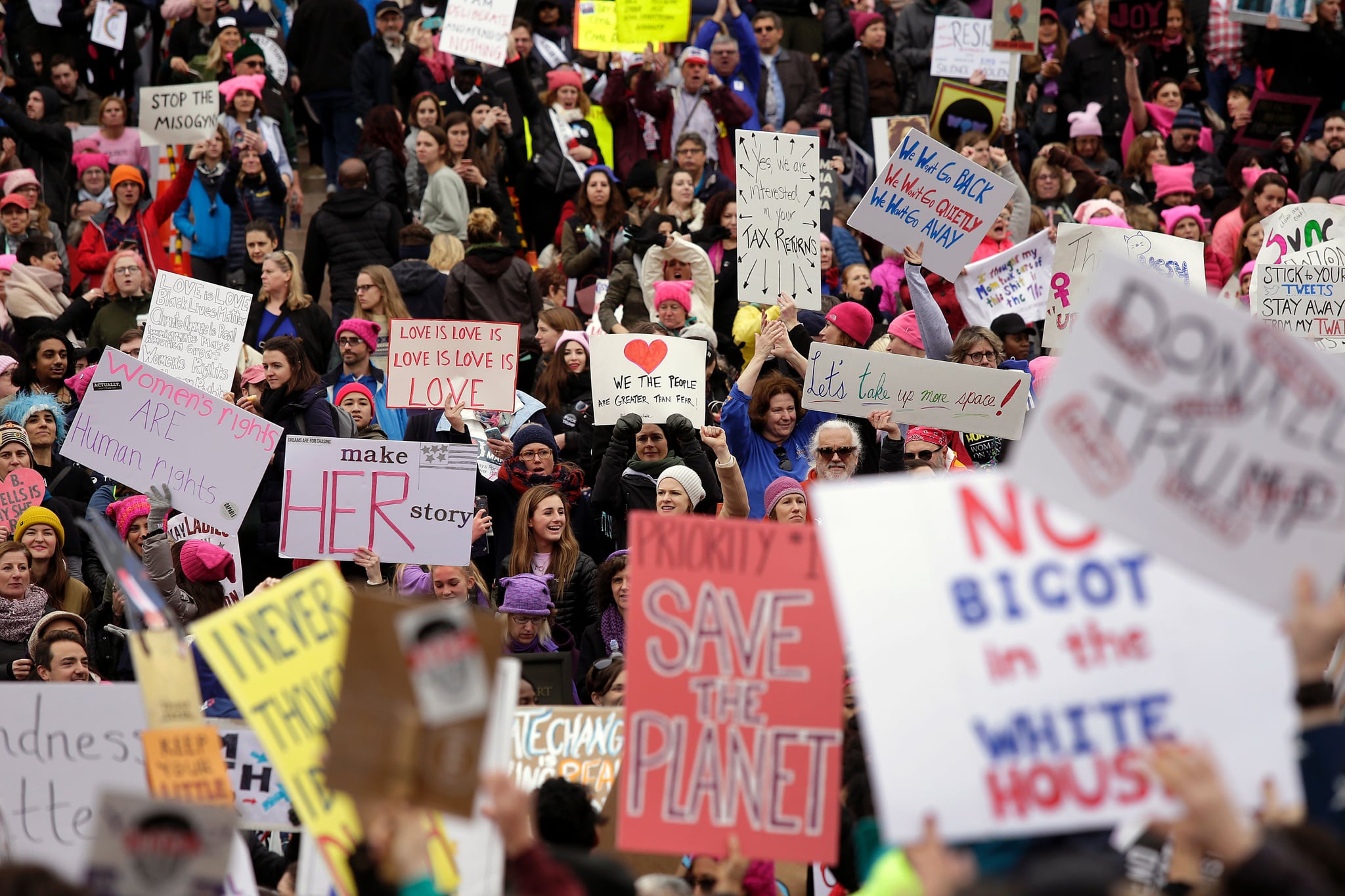 Image Source: Getty / JOSHUA LOTT
I bought my bus tickets for Washington DC about a week before the Women's March. At the time, it felt important, crucial. I am a journalist and an Indian-American woman of color, the child of immigrants. If I wasn't going to turn up and be counted, who would?
Me and 60 other bright-eyed, sleep-deprived souls left on the 3 a.m. bus out of Port Authority in NYC together. They carried signs under their arms that read "BLACK LIVES MATTER" and "WOMEN'S RIGHTS ARE HUMAN RIGHTS." When we arrived at Union Station hours later, the air was brisk and thick with excitement — we were here, in full view of the Capitol building, stomping through the grounds that bore witness to the one of the lowest inauguration turnouts in recent history, and ready to testify to our anger and desire for progress. I stepped over soggy cigar butts and trash cans full of streamers to follow a trail of women wearing pink hats.
It took me about a minute to notice I was surrounded on all sides by white women. Many people of color are familiar with that sinking feeling that comes when you realize you're the only nonwhite person in the room. It's like loneliness mixed with apprehension. I was feeling that times a thousand — for as far as I could see in every direction, I was a shrinking minority.
For as far as I could see in every direction, I was a shrinking minority.
I was supposed to meet up with a few different groups of friends, but there was no cell service in the area. So I stood in the crowd by myself. It wasn't until the speakers started taking the stage that I felt truly alone. Many of the white celebrities like Scarlett Johansson, Michael Moore, and Ashley Judd were placed near the top of the schedule. The women of color who had crucial perspectives to lend on trans rights, Black Lives Matter, sex work, occupation, and Islamophobia were shunted to the end of the roster.
By the time march co-organizer Linda Sarsour, a Palestinian Muslim-American, took the stage, people in the crowd were done listening. "Let's march!" they chanted, drowning out her speech. When Angela Davis spoke, I only heard about every other word because the people near me had started talking among themselves. There was no respect for the seasoned activists of color. These people were here to march, not to learn.
At one point, Madonna climbed on stage to talk about anger and resistance. She confessed to fantasizing about blowing up the White House. People laughed. The cops, who showed up in full riot gear, swayed on their feet and looked bored. How would they have reacted if she were black or Muslim and saying these things?
After the March, I read that no one had been arrested. "Isn't it wonderful," someone gushed on Facebook, "how we could have such a peaceful protest?" The contrast was huge between the Women's March and the protests we've seen in the last year for Black Lives Matter or #NoDAPL. There were no snipers poised on the roofs of Washington DC waiting for a woman in a floppy pink hat to step out of line. Demonstrators cheered cops as they rode past on motorcycles. This was not a protest of anger; it was one of privilege.
This photo of activist Angela Peoples standing in front of white women has gone viral.
I had the overwhelming feeling that people were at the march to find catharsis, to commiserate the election together. It was a bizarre realization to find myself in a crowd of what felt like mostly white women when 53 percent of white women had voted for Trump. It wasn't people like me who elected him; it was people like them. And yet they were still out here, having a party with other like-minded, like-privileged people. "I shouldn't have to march," I thought. "I should be at home, taking care of my people."
Before I left for the march, some of my friends were telling me not to go. "Don't do emotional labor for white women," one said. I didn't understand what she meant — "I'm going for me," I told her. "I have to be there." But she was right. There was speculation before the march about whether there would be room for women of color.
"Don't do emotional labor for white women," a friend said. I didn't understand what she meant — but she was right.
"I don't know that I serve my own mental health needs by putting my body on the line to feign solidarity with women who by and large didn't have my back prior to November," Jamilah Lemieux wrote in Colorlines. "Many of the White women who will attend the march are committed activists, sure. But for those new-to-it White women who just decided that they care about social issues? I'm not invested in sharing space with them at this point in history."
In every single way, the day was historic: record turnout, the largest gathering of disabled Americans ever, beloved leaders delivering advice and inspiration, thousands of people lining up through the National Mall, chanting in unison and ready to stand up for what they truly believed in. In the end, though, it felt separate from me.
That's not to say that all women of color felt the same way I did. There were many of them present at the march in DC (and in the marches across the country), though they were vastly outnumbered. And many took away inspiration from the day. One of my friends, also Indian-American, said the day was about holding "out-of-touch, elderly and unaffected men posing as representatives and ourselves accountable." This was a march, she continued, about people. "Thousands of people, just like me, just like you." She found power in the day, even when I thought it was lacking.
By the time I got back home, back on the bus with 60 now-exhausted souls, I felt quiet. My body ached but my mind was settled. I went and I saw. I witnessed the day. I participated and helped shut down the city. The effects of our action have yet to be seen but regardless of what happens next, nearly 5 million people committed themselves to fighting on. I intend to keep doing the important work I need to, and I expect all 5 million of these people to show up and join me.