Donald Trump Talks About Penis Size
Trump Just Talked About His D*ck Size — God Bless America
Trump defends the size of his hands, and his manhood: #GOPdebate pic.twitter.com/ONRc3MIMQT

— NTA by Mic (@NavigatingTrump) March 4, 2016
This just happened — a man running for president of this country said he has a big d*ck. During Thursday's GOP debate, Donald Trump was responding to Marco Rubio's comments about Trump having small hands.
"He hit my hands. Nobody has ever hit my hands. Look at those hands. Are those small hands?" he said. "And he referred to my hands, if they're small, something else must be small. I guarantee you there's no problem. I guarantee it."
The debate audience roared, but Twitter users lost their minds before looking for the nearest shower.
Donald Trump has just guaranteed America that there is no problem with the size of his, er, manhood. That's one way of making history.

— Brit Hume (@brithume) March 4, 2016
Potential candidate for the United States just said he has a huge dong on live national television

— ಠ_ಠ (@MikeIsaac) March 4, 2016
IT FINALLY HAPPENED. IT'S A LITERAL MEASURING CONTEST.

— Benjy Sarlin (@BenjySarlin) March 4, 2016
In 2020, all male candidates will have to disclose penis size before Iowa caucus.

— michaelscherer (@michaelscherer) March 4, 2016
As Michelle Obama would say: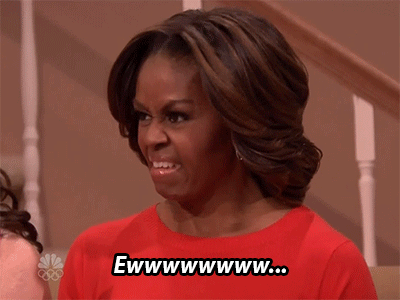 Image Source: NBC
Moving to Canada is looking pretty good right now, eh?